Matthew Knies and Nick Abruzzese link up for goal in win over Germany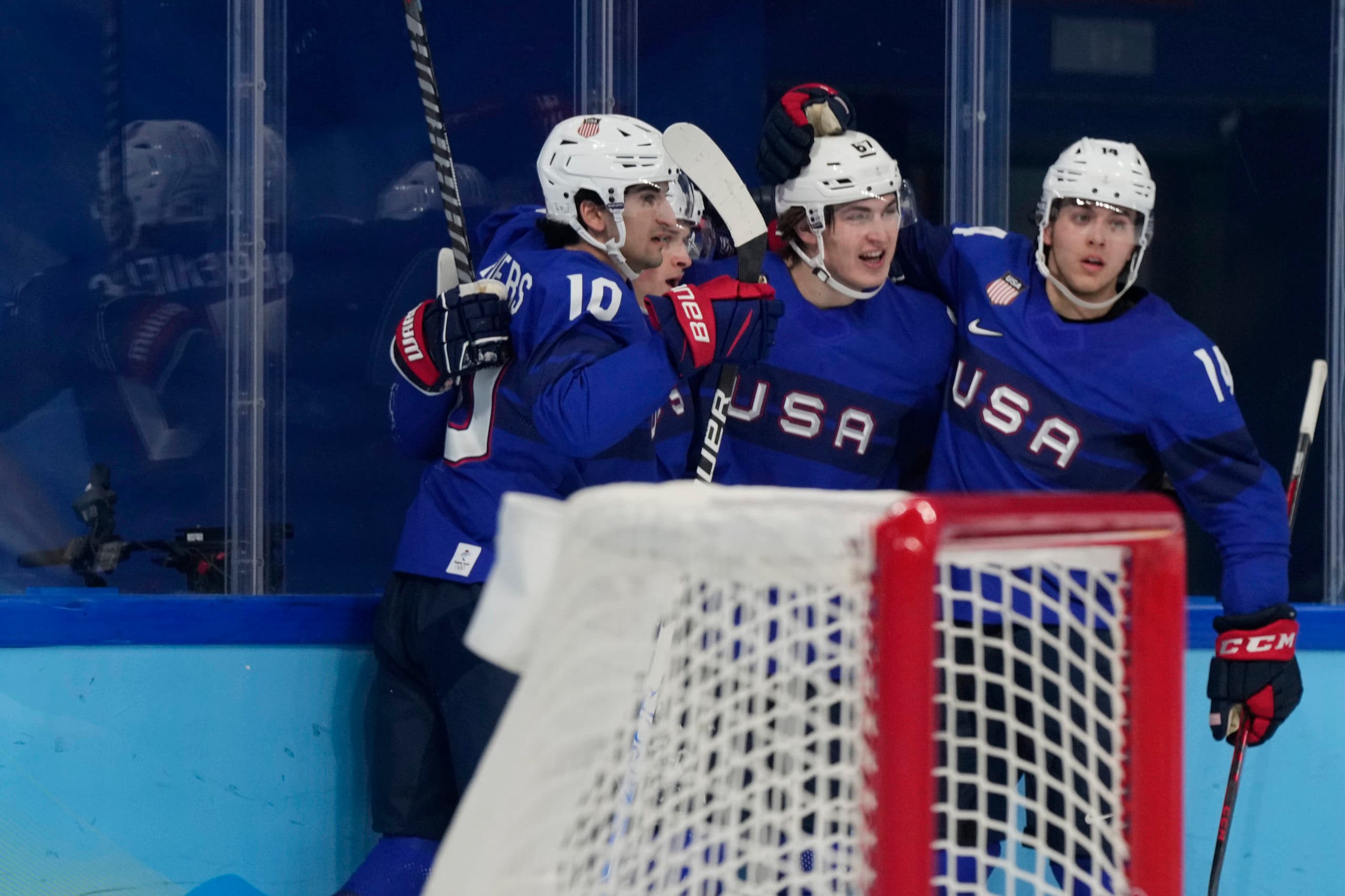 Photo credit:George Walker IV-USA TODAY Sports
The final day of the Men's preliminary round in Beijing had four games and they did not disappoint.
Early in Beijing saw Slovakia take on Latvia, a bit later we had Sweden taking on Finland, and early in the morning we had a set of games — Canada vs. China and USA against Germany.
One of the things I like about the Olympics is that every team makes it past the preliminary round. With teams getting the chance to play elimination hockey, it makes it more exciting.
More teams risking it all — I love that.
Slovakia vs. Latvia
Each of these games today had something special to offer if you're a Maple Leafs fan, especially this one.
Slovakia ended up defeating Latvia in regulation, but it was the first goal of the game which got it started.
And that goal was scored by former Maple Leaf, Martin Marincin.
With a 5-2 win, Slovakia gets their first points of the tournament and places them in third for the qualification round.
Finland vs. Sweden
The winner of this game would finish in first place in Group C during the preliminary round.
A lot of players related to the Maple Leafs were in this one. On Sweden, there's prospect, Pontus Holmberg, who unfortunately didn't get much ice-time during this game. For Finland, you've got Leo Komarov, Mikko Lehtonen, and Miro Aaltonen.
In terms of players related to Toronto, not much happened.
Going into the third period, Sweden had a 3-0 lead. Finland came storming back, scoring their second goal with five minutes remaining in the game. With less than three minutes left, Finland scored the game-tying goal. Lehtonen, who led all Team Finland players in ice-time had the secondary assist on it.
The game went to overtime and Harri Pesonen scored two minutes in and won the game for Finland.
With the win in overtime, Finland is only one point ahead of Sweden in Group C. But both teams remain in the first and second slots, meaning that with a Canada and Sweden will likely see each other at some point in the elimination rounds.
Canada vs. China
Speaking of Canada, they finished out the fifth day of Men's Olympic Hockey with a commanding 5-0 win over China.
Matt Tomkins, who comes in playing his first game at the Olympics gets the shutout, stopping all 26 shots he faced.
Canada led 2-0 after the first-half of the first period, and then Toronto Marlie, Josh Ho-Sang got going.
The 26-year-old entered the zone with a lot of speed, cut across, and made an incredible pass over to Eric O'dell, who easily put it in.
That's Ho-Sang's second assist of the tournament and he wasn't done there.
Team Canada entered the third period with a 4-0 lead after Kent Johnson potted his first Olympic goal.
During the third, Canada had a power play and Ho-Sang, again, found himself on the scoresheet with a secondary assist on the power play.
With the win, Canada finishes in second place in Group A, only behind the United States.
USA vs. Germany
Now, if you enjoy watching Maple Leafs prospects, Team USA is the team to watch.
After the first period, the United States and Germany were tied, making this game incredibly interesting. But the Americans have a lot of skilled players and it came to the forefront during the second.
Five minutes into the period, USA has the pressure. Some hard work by Nick Abruzzese behind the net eventually leads to a wrap-around attempt, which comes right in front to Matthew Knies, who makes no mistake.
Knies' first goal of the tournament and two Maple Leafs prospects link up to score a goal. That's exciting.
The United States would add another, which then made it interesting late in the game. Germany would apply a lot of pressure and score, but they weren't able to score another as they fall to the US 3-2.
With the win, the United States sits in first place in Group A. Germany's lone win slots them in third place to finish of the preliminary round.
The qualification games will take place on Monday night and Tuesday morning (in Canada), with each team getting a chance to be in the elimination rounds. It should be fun!