Matthew Knies played himself into a full time roster spot in 2022-23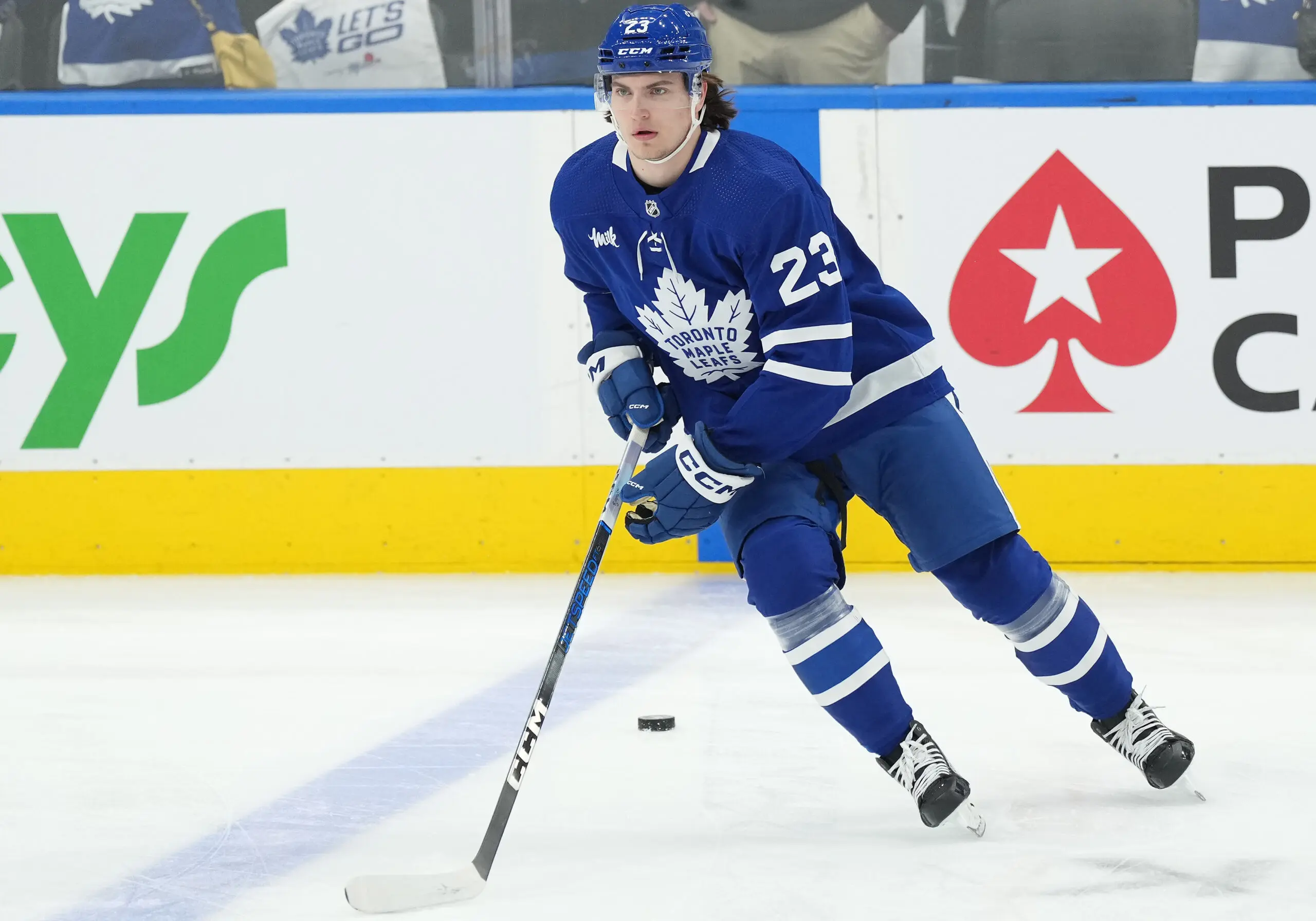 Photo credit:Nick Turchiaro-USA TODAY Sports
The motto all season for Maple Leafs fans regarding Matthew Knies was "temper your expectations". 
When Toronto drafted him in the second round of the 2021 draft, their first of three picks, not too many people outside of draft enthusiasts knew who he was. A 6-foot-3 power forward with just under a point-per-game in the USHL during his draft year? Not bad, but this wasn't an immediate saviour or anything. 
Excitement started to grow when Knies scored 15 goals in 33 games during his freshman season with the University of Minnesota. That excitement remained when he kept that pace in his sophomore season, scoring 21 goals in 40 games. His goal-scoring ability, which always seemed to shine in critical moments, combined with his physical game and his aggressive forecheck, was exactly what the Leafs needed up front. And, contrary to the motto mentioned in the intro, he made an impact with the team far sooner than expected. Today, he's the subject of The Leafs Nation's latest year in review.
The counting stats 
| | | | | | | |
| --- | --- | --- | --- | --- | --- | --- |
| Team | Games | Goals | Assists | Points | +/-  | Avg. TOI |
| 2022/23 (TOR) | 3 | 0 | 1 | 1 | +1 | 13:07 |
| 2022/23 Playoffs (TOR) | 7 | 1 | 3 | 4 | +3 | 13:07 |
There were rumblings from the start of the 2022-23 season that Knies would join the Maple Leafs at the end of the year. Finish up his season with the University of Minnesota, then sign his entry-level contract and join the Leafs in time for the final stretch of the NHL season going into the playoffs. Straight forward plan. He had expressed interest in doing so early on in the season, so the next step was a strong performance on the ice that year. And, he held up his end of the bargain. 
As I mentioned before, Knies finished his sophomore season with 21 goals and 42 points in 40 games. After a heartbreaking loss in the NCAA championship final to Quinnipiac University, he put pen to paper with the Maple Leafs, and made his NHL debut on April 10th against the Florida Panthers. 
The signs were there with Knies in the three regular season games he played early on. Physically, he looked like he belonged, and rarely found himself in the wrong spot on the ice. But it was the playoffs when he really started to come alive. He spent a good chunk of his time with Ryan O'Reilly and Noel Acciari early on, getting some looks on the top line with Auston Matthews and Mitch Marner towards the end as well. 
Go back and look at the important goals that were scored in the team's short-lived playoff run. Whether it was O'Reilly's game-tying goal in Game 3 against Tampa, Rielly's overtime winner in that same game, Alex Kerfoot's overtime winner in Game 4, or John Tavares' series clinching overtime winner in Game 6, Knies was on the ice for all of them. He didn't register a point on all of them, but the fact that he was on the ice for all of those moments says a lot about the trust the coaching staff has in him.
The fancy stats 
There isn't really much to report on from an analytics standpoint regarding Knies given that he only played in ten total games for the team in 2022-23. We're just going to look at his analytical numbers in the playoffs, since the final three regular season games were a bit of a crapshoot and involved multiple key players getting rested. 
| | | | |
| --- | --- | --- | --- |
| Season | Corsi% | Expected Goals | High Danger Chance % |
| 2022/23 (playoffs) | 50.0% | 59.51% | 61.11% |
From NaturalStatTrick.com, stats at 5v5
That said, what we saw from Knies in the playoffs are very encouraging signs for next season. His Corsi-for percentage (CF%) ranked fourth among Leafs forwards at 5v5 behind only Auston Matthews, Mitch Marner, and William Nylander. 
He was also the best forward when it came to his high-danger scoring chances, finishing with a ratio of 22-14 in high-danger chances generated versus allowed in that category. His high danger chance percentage ranked fourth on the team overall, behind only Morgan Rielly, Luke Schenn, and Erik Gustafsson (and the latter only played in two playoff games). He also finished second on the team behind Michael Bunting in expected goals/60, third on the team overall if you include Gustafsson, and maintained the third-highest shooting percentage behind only Sam Lafferty and Rielly at 10.64%.
There's often a disconnect between analytically-driven fans and those who rely on the eye test and nothing else, which is why Knies is such a perfect player for this market. In the limited sample size we saw from him in 2022-23, he passed both tests. And not only did it impact him, it spread to his teammates too. 
What the numbers mean for teammates
What I got from scanning Knies' numbers with each of his teammates is that, if he's going to play in the NHL next year (which he absolutely should be), he's best served in the top six with the best players on the team. Below are some numbers with Knies and without Knies for Auston Matthews and Mitch Marner, who he found himself playing alongside at certain points throughout the series 
| | | |
| --- | --- | --- |
| Player | Corsi with Knies | Corsi without Knies |
| Matthews | 56.90% | 55.05% |
| Marner | 67.74% | 50.27% |
From NaturalStatTrick.com, stats at 5v5
As you can see, Matthews wasn't really affected one way or another whether Knies was playing with him or not, but the difference between Marner's possession rating without Knies compared to with him is rather shocking. The impact he had on those two when he was playing with them is clear, and although they were both certainly fine without him, they controlled the puck more when he was on the ice. That being said, it wasn't entirely sunshine and rainbows for everybody Knies played with. His line with Ryan O'Reilly and Noel Acciari, the other two forwards he played with the most, didn't control the puck as often as it may have seemed.
| | | |
| --- | --- | --- |
| Player | Corsi with Knies | Corsi without Knies |
| O'Reilly | 38.89% | 36.99% |
| Acciari | 39.29% | 40.34% |
From NaturalStatTrick.com, stats at 5v5
These metrics are a non-issue for now, given the Maple Leafs don't know if O'Reilly or Acciari are coming back, and even if that happens, it would make more sense for him to play in the top six. This line wasn't much of a possession-driven line to begin with, but Knies' corsi-rating was easily the highest of these three players, and considering the amount of shifts those two players started in the defensive zone (77.7% for Acciari and 47.3% for O'Reilly), it's not shocking that their possession numbers were lower than Knies'. 
What This Means For Next Season 
As alluded to off the top, Knies played well enough both in terms of the eye test and the analytical sheet, and the question shouldn't be whether or not he makes the team next season, but rather where he plays in the lineup. And given the impact he was able to have on Matthews and Marner specifically, his home should be in the top six. 
A full season of Knies in the top six could translate to a 40-50 point season if things go according to plan, and a presence like the one he brings is one the team has desperately lacked among their top lines since the departure of Zach Hyman. He won't goon it up like a Tom Wilson type, but his imposing 6-foot-3 frame combined with his strong forecheck game will render him a force to be reckoned with next season, and it will only be amplified by the players he skates alongside.