Max Ellis looks back on first week since joining the Maple Leafs organization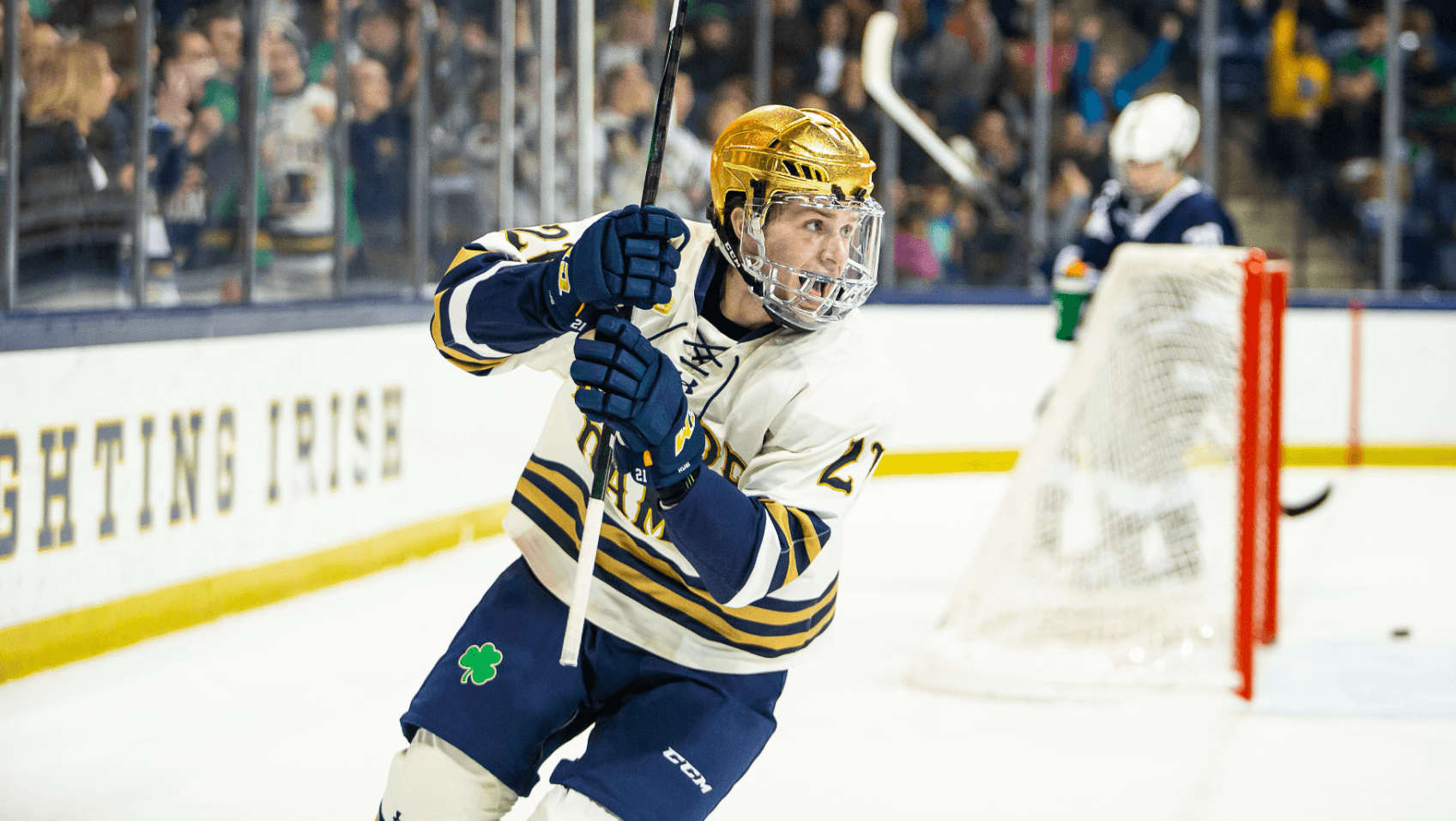 Photo credit:@NDHockey / Twitter
After three years at Notre Dame, Max Ellis took a chance and signed a two-year entry level contract with the Toronto Maple Leafs that begins next season.
The 22-year-old finished his final season in college, scoring 16 goals and adding 12 assists in 39 games — all while also being a Hobey Baker nominee back in January.
"I think what I bring is speed and a little offensive ability," Ellis said in regards to what he brings and what he wants to improve on. "I think I need to work on just playing tight, playing in the middle, just playing in traffic. We did something like that today (Wednesday) with working with pucks along the walls and playing in battles one-on-one, so I think it's been incredible. I mean, the resources here are fantastic and I think it's going to be great for my game."
After signing a contract with the Maple Leafs that begins next season, Ellis joined the Toronto Marlies on a PTO for the rest of this year. There'll be an incredible amount of development time for the 22-year-old.
He said that was a big part of why he chose to sign in Toronto.
"I think that's a big part of it," Ellis said about development. "The other part was, you know, it's a historic franchise. I mean, they're a storied franchise with a high offense and I like the style they play, but yeah, definitely the development. I mean, obviously, they (the Marlies) share the same stuff with the Leafs, so it's second to none. It's been fantastic and it's probably one of the big reasons I signed here."
Throughout the first week, Ellis has taken in a few practices with the Marlies and has even gotten into his first AHL game. He debuted on Toronto's third line alongside Bobby McMann and Marc Michaelis (who was also coming back into the lineup after missing five months due to an injury). Ellis looked really solid in his first game and even got a spot on the Marlies' second power play unit.
"
You can see the craftiness and play making ability of
Ellis
, pretty smart player," said Marlies head coach Greg Moore after the game.
As the Marlies fight for playoff seeding, though, it's difficult to judge where Ellis will be for the rest of this season. During Wednesday and Thursday's practices, a number of other college players who've been signed to AHL contracts, including Ellis, spent time with development staff while the Marlies practiced on another rink.
It could be that they rotate in and out of the lineup for the rest of the regular season, or it might be mostly spent with development staff. Either way, Ellis really enjoyed his first week in the organization.
"I think here, I mean, just in my first week, the amount of resources they have has been incredible," said Ellis. "Working with the development staff, the shooting coaches, the skating coaches, it's been second to none."
It's not just the development staff that's been second to none, though. There's been a number of players who've joined the Marlies later in the season, and every single one has spoken highly of how close the team is and how comfortable they feel coming in.
"From the moment I got in, everybody introduced themselves," said Ellis. "And then, in the first game, like, guys came up and said 'Just be confident.' Everyone gave me a tap on the back and just said 'Do your thing, you're here for a reason.' It makes you feel like you're a part of that group, you're not just one of the new guys."
After he and Notre Dame teammate Graham Slaggert played their first AHL game, Slaggert also raved about how comfortable the team made him feel. One person he pointed out right away was Marlies captain Rich Clune.
"Rich Clune is a great guy," Slaggert said. "He came up to me right away, said he saw the National Tournament games we played and just made us feel at home right away."
Ellis had the same feelings about Clune and the rest of the Marlies.
"Rich was awesome," said Ellis. "He came and introduced himself, talked to us about the systems, said if there's anything we need to talk to him and he was there for us, still is. He's been a big guy for our adjustment, but everyone's been awesome to talk to."
Ellis and Slaggert join the Marlies with a familiar face already on the team — Alex Steeves. The three spent two seasons together at Notre Dame and Ellis said Steeves has been a massive help since joining the organization.
"He gives us some perspective of what we're coming from," Ellis said of joining the Marlies with Steeves already here. "He knows both systems — where we were and where we're going. So it's easy for him to help us adjust and transition. He gives us what you need to look for, what you need to try to do. It's been awesome to have a familiar face. Even with Graham [Slaggert], it's great to have a familiar face. You know, moving to a new place and a new team is hard, but having some familiar faces is making it easier."
Moving to a new city can be a lot, but the experience alone in the first week will leave a lasting impression on you for a long time. But this city, to Ellis early on, is great.
"It's been fantastic," Ellis said of his first thoughts of Toronto. "The city's incredible, the people are all super nice, and the facility here is just incredible."
The 22-year-old also mentioned that he would be spending all summer in Toronto — a city worth experiencing in the summer months. But of all the great things you can do, what is Ellis looking forward to experiencing most?
"I don't know," he said with a chuckle. "I think it's been a hectic week, I haven't looked forward to next week, let alone this summer. But, from what I've heard with the water so close, it's beautiful in the summer, so I'm excited to see, maybe a couple baseball games in the summer with the top open. That's something new."
After hopefully what feels like a long summer in Toronto, it'll be interesting to see what Ellis has in store for the Marlies next season.
POINTSBET IS LIVE IN ONTARIO
PointsBet Canada has officially launched in Ontario! Get a $25 free bet just for 
signing up right here!