Meet Brennan Menell, Toronto's newest RD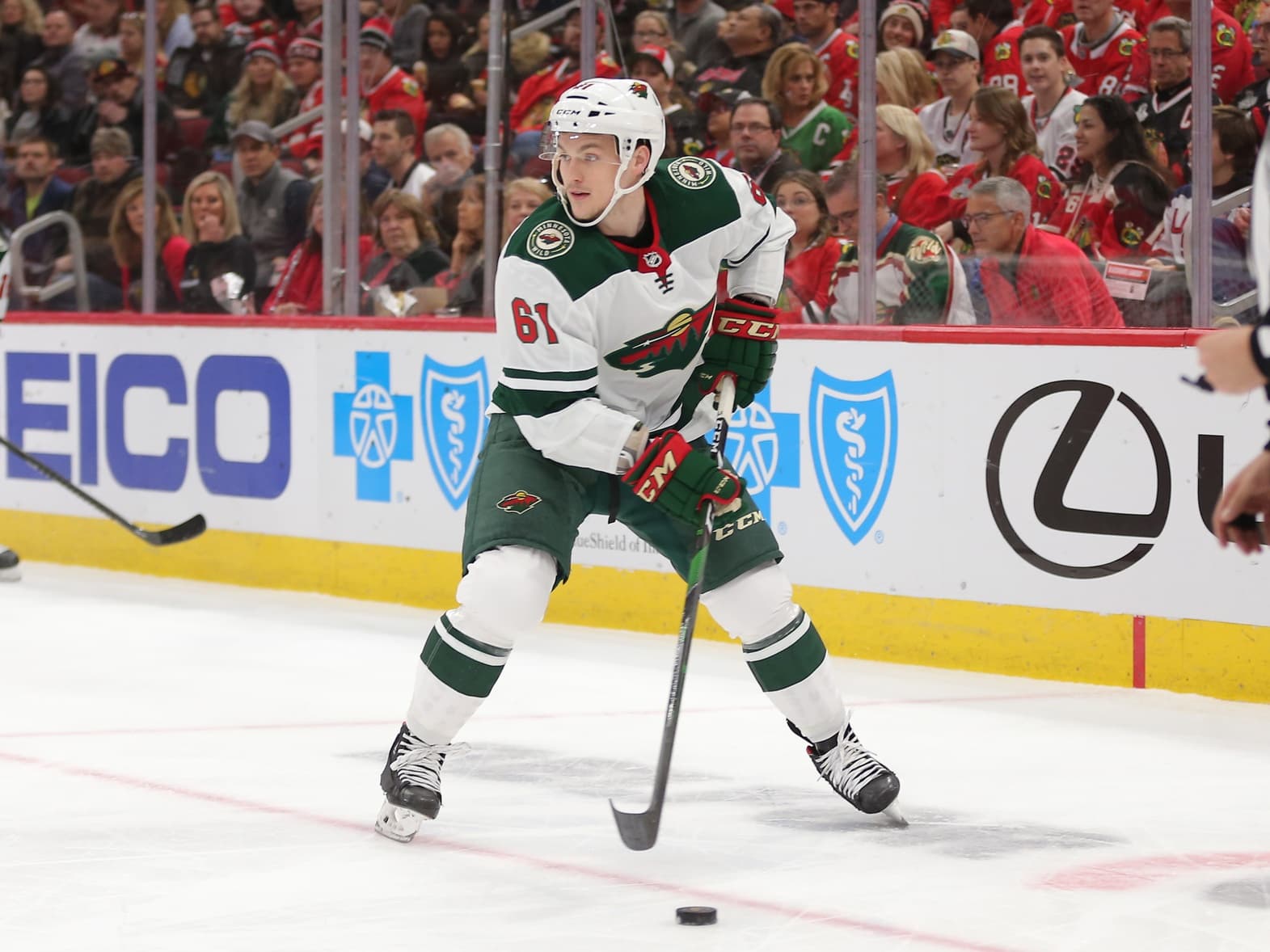 Photo credit:© Dennis Wierzbicki-USA TODAY Sports
Thirty minutes before the opening of free agency, the Maple Leafs announced a trade:
The 7th rounder is conditional on Menell playing 30 games for the Leafs this season. The 5'11" RD played last season in the KHL, and will compete with Timothy Liljegren for the bottom pair RD role.
Undrafted
Menell's first season in the WHL was also his NHL draft year, making him a bit of a late bloomer. In his age 18 and 19 OHL seasons, he then put up 53 and 71 points, respectively. It's extremely rare for undrafted D to put up over a point per game in the WHL, and Menell was quickly snapped up by hometown Minnesota on a 3 year ELC.
In his first two AHL seasons Menell recorded 69 points in 142 games, establishing himself as an up and coming offensive defenseman. Unfortunately for him, Minnesota was stacked on D at the time. When a spot finally opened up in 19-20, it was Carson Soucy who got the opportunity to step up to the NHL, and Menell needed to find another route.
He signed with Dinamo Minsk of the KHL for 2020-21, the team based in Belarus. At the time I had just finished writing a story on
Minsk
, and I knew he would have a chance to step right onto their top pairing. He exploded out of the gate with 16 points in 15 games, as Yegor Sharangovich was scoring at an incredible rate before returning to New Jersey.
Menell would finish the season with 38 points in 47 games, 2nd amongst all KHL defencemen. At various points during the 20-21 season, Wild GM Bill Guerin commented that it was Menell's decision to go to the KHL, and that he was impressed with the RD's improvement.
What does Menell offer?
First and foremost Menell is a really strong skater, and his play style reflects that. He loves to rush the puck up ice, and puts some pretty decent hands to use on the finish here:
His footwork is excellent, I see a little bit of Travis Dermott in him when he skates through the neutral zone:
While that is fun to watch, the Leafs have plenty of forwards that would be better off with the puck once Menell joins the rush. The bigger question marks are in how well he can manage play in the defensive zone, and from what I can remember watching the results were more mixed. Menell actually averaged the most minutes of any player in the KHL last season, but didn't play a ton on the PK.
Similar to Mikko Lehtonen last year though, Menell really knows how to run a powerplay. Lehtonen had a big slapshot to offer, Menell is an excellent passer who makes the most of the ice available to him. On an NHL blue line a lot of his value will come on the PP. At even strength, Menell drives the pace of play with his fast transitions, which suits Toronto well.
His most common D partner last year was 6'7″ Stepan Falkovsky, who was also in the Minnesota organization prior to that, in the ECHL. They were a bit of an awkward comnination, but had 58% CF playing big minutes on a middle of the road team. This excellent graphic from Daniel Weinberger shows his KHL impacts well:
It seems like two years in a row the Leafs have acquired the KHL's top young defenceman.
Fit on the Leafs
Menell is an RFA, so Toronto still needs to sign him to a contract. I would imagine it ends up being a 1-way deal under $1m, but a 1 year contract would almost certainly leave Menell as a Group 6 UFA. Instead, signing him to a 2 year contract would leave Menell RFA on expiry as a 26 year old.
Once he signs, there is a clear group of 8 NHL defencemen. Outside the top 4 with big contracts there is @Travis Dermott, @Rasmus Sandin, @Timothy Liljegren, and Menell competing for the last 2 spots. Sandin and Liljegren are both waiver exempt, if Menell wins a spot over one of them in training camp it's simple to return them to the Marlies. If not, it comes down to who the Leafs want to carry as their 7th D between Dermott and Menell.
It wouldn't be crazy to think Menell could sneak through waivers at the start of the season, but I would also have wanted the Leafs to claim him on waivers if Minnesota tried to pass him through. I think the battle between he and Dermott in training camp will be interesting to watch, two similar players who shoot opposite ways.
Whether he ends up on the Leafs or Marlies, his time in the KHL showed Menell is capable of playing big minutes, quarterbacking a powerplay, and outskating opposing forwards. He gives the Leafs another defenceman who can jump in the rush like Morgan Rielly, potentially for cheaper than Dermott, and being right handed is a plus. Brennan Menell is an NHL-ready offensive defenceman that is eager for his chance to play an exciting brand of hockey at the highest level.
Recent articles from Earl Schwartz