Meet the Toronto Maple Leafs' 2023 NHL Draft class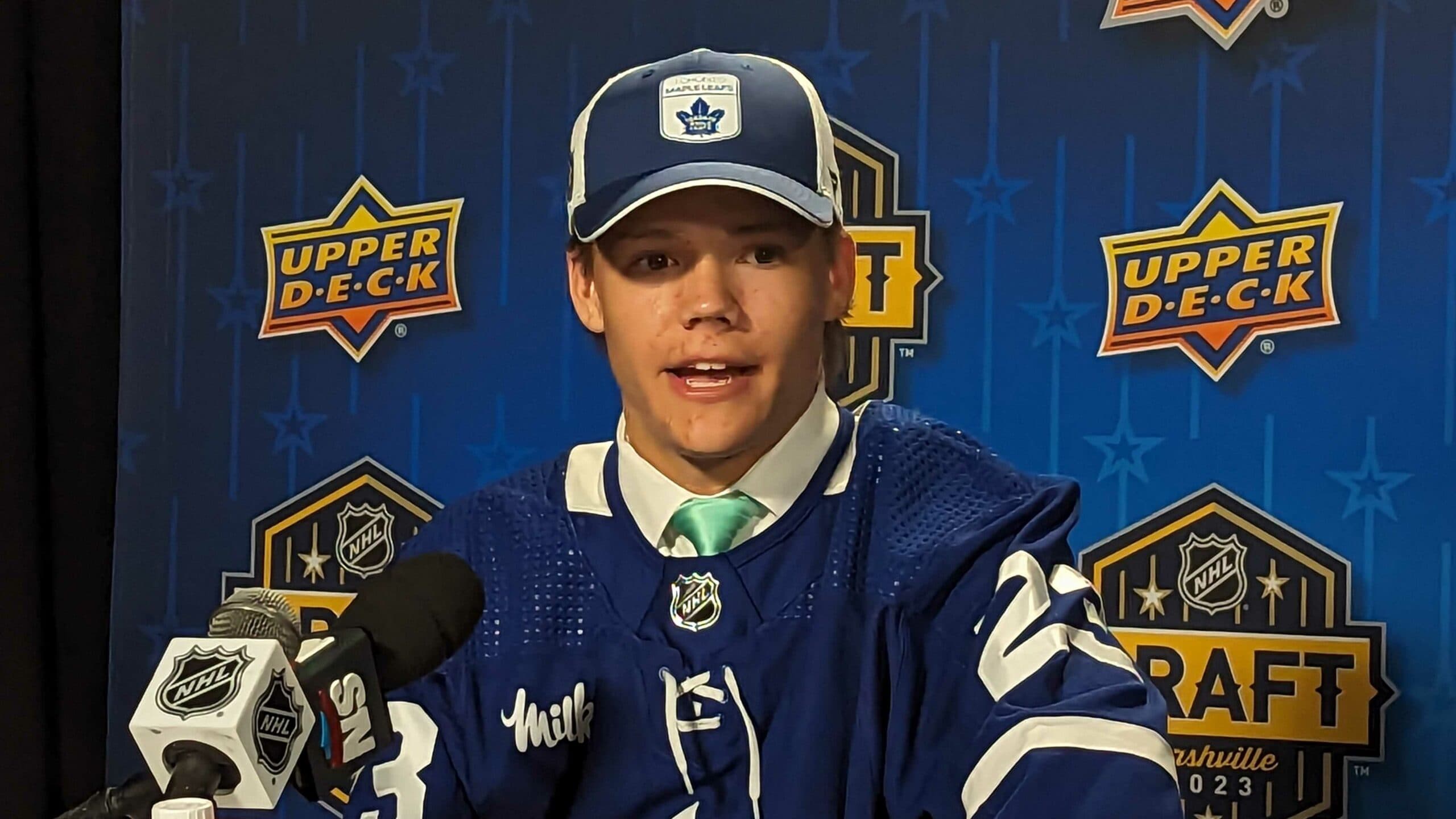 Photo credit:Steven Ellis
Toronto Maple Leafs fans saw their first bit of action from the organization on Wednesday afternoon, the first since the takeover of Brad Treliving as general manager from Kyle Dubas. And, the first day of transactions under Treliving left fans with…mixed emotions, to say the least. 
After extending David Kampf by four years at $2.4 million annually and following it up with the extension of Pontus Holmberg, the Maple Leafs went into the first round of the deepest draft since 2015 with the 28th overall pick, but some uncertainty around whether or not they would use it.
Well, they did end up using it, and on day two, things were just as quiet. They used their other two draft picks, a fifth rounder and a sixth rounder, and not another peep was heard from the draft table. Nevertheless, the draft wrapped up and left the Leafs with three new additions to the organization. So, let's meet them.
1st round, 28th overall – Easton Cowan (C, London Knights, OHL, 5-foot-11, 170 pounds)
The Maple Leafs' first pick in the draft was a reach; let's not sugarcoat anything. Although Cowan is still a fine prospect and one that likely has a clear path to the NHL, he wasn't supposed to go under the late second round or early third round, as per most rankings compiled by draft analysts. And, given that players such as Andrew Cristall, Gavin Brindley, and Riley Heidt were still on the board, it makes the selection that much more puzzling.
That said, Cowan said all the right things in his press conference to talk the fans off of the ledge a little bit. First of all, he compared his game to that of Nazem Kadri, which is a fastball down the middle to get Leafs fans on your side. He also stressed the fact that he's a strong 200 foot player and takes pride in his "hounding mentality". So, if you logged onto Facebook or Twitter today, saw that his height began with a "5", and immediately wrote him off as another soft, skilled player, I'd recommend you check out some of his highlights. 
With 53 points in 68 games, his regular season numbers don't jump off of the page at you, but he had a great first half with 33 points in 37 games after January 1, and he also came alive in the playoffs with nine goals and 21 points in 20 games. If he can not only maintain that momentum from his second half, but take it up a notch in 2023-24, the fact that a first round pick was used to draft him will be much easier to stomach. That said, he's going to have to work despite the unfortunate reality that he'll be compared to many of the players drafted after him regardless of what happens.
5th round, 153rd overall – Hudson Malinoski (C, Brooks Bandits, AJHL, 6-foot-1, 174 pounds) 
On Day 2 of the draft, after three long hours and 121 prospects hearing their names called by other teams, the Maple Leafs finally took to the stage once again and selected forward Hudson Malinoski. An over-ager hailing from Saskatoon, the centre is a little bit of a late bloomer in his career, only making the jump to junior hockey from AAA last season and opting to go the route of Junior A followed by the NCAA, unlike most Western Canadian born players, who typically go the route of the WHL.
There's a reason for his late-bloomingness, however. A scary accident almost six years ago  resulting in a torn vertebral artery forced him to miss almost an entire year of his development due to the recovery that came with it. Thus, he was playing U18 AAA hockey in his draft year, somewhere teams generally don't gloss over. In 44 AJHL games with the juggernaut Brooks Bandits, he recorded 69 points, and he's committed to Providence College in 2023-24.
6th round, 185th overall – Noah Chadwick (D, Lethbridge Hurricanes, WHL, 6-foot-4, 187 pounds)
To cap off the Maple Leafs' uneventful second day at the draft, they went back to not only Saskatchewan, but specifically Saskatoon, and drafted defenseman Noah Chadwick. The 6-foot-4 blueliner just wrapped up his rookie season with the Lethbridge Hurricanes of the WHL, recording 20 points in 67 games. 
What's intriguing about Chadwick is that although his size and limited offense would indicate that he's a strict, defense-first and defense-only defenseman, that's not the case at all. His stats wouldn't indicate it, but he plays a very smart game on the offensive side of things. He's calm with the puck and doesn't make plays just to make them, and even on the rare occasion he puts the puck on net, he's usually aiming for deflections rather than trying to hit the twine for himself. His size and junior team give me Andrew Nielsen flashbacks, so we can only hope Chadwick's development plays out differently.
Overall, this draft class was pretty underwhelming for the Maple Leafs. Not that it's a bad thing. Cowan is a fine prospect but was certainly drafted higher than he probably should have been, while Malinoski and Chadwick were both run of the mill picks for where they were selected. But there was certainly an element of sexiness, if you want to call it that, that wasn't here in this draft. 
One thing I will say, and I like to remind people of this every draft, is that every prospect is worth a chance. I understand that a good chunk of fans will feel disappointed over the results, but if you hate a player they drafted, direct that anger toward Treliving and the scouting staff, not the players themselves. They're all just kids trying to achieve every kid's ultimate goal, after all.