Mikhail Grabovski: A New Page in Belarusian Hockey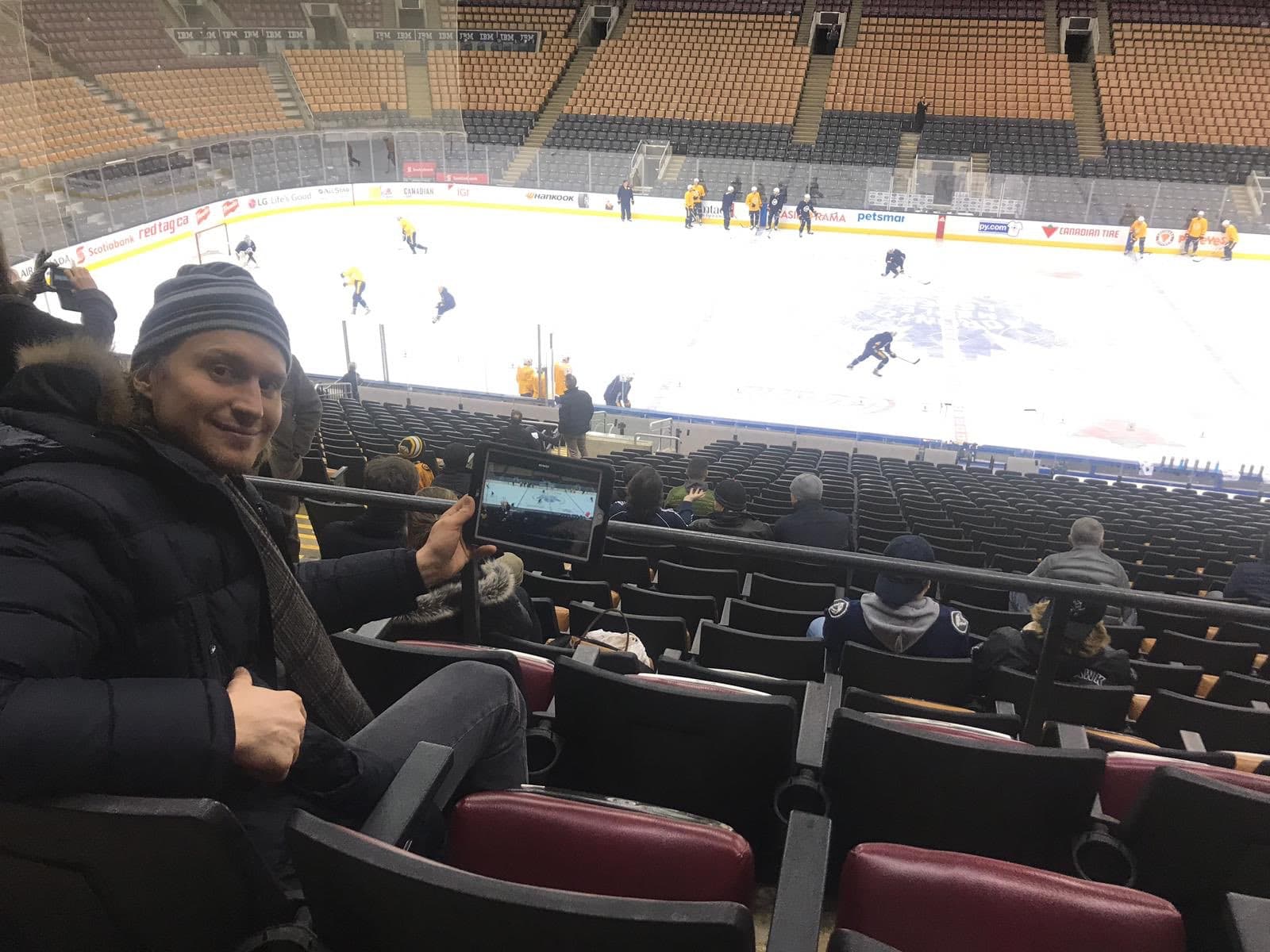 Photo credit:@OfficialGrabo/Twitter
When the Montreal Canadiens selected Mikhail Grabovski 150th overall in 2004, he was just the 16th Belarusian to be drafted into the NHL. In either draft surrounding the 2004 Entry draft, the Canadiens selected a Kostitsyn brother, also from Belarus. These three players had careers that intertwined on multiple occasions, writing the biggest hockey story for their country at the time.
Grabovski and Andrei Kostitsyn were teammates in both Montreal and Hamilton (AHL) for the first two years of their career, and Sergei Kostitsyn joined them in the 2nd. Following that, Grabovski was traded to Toronto for Greg Pateryn and a 2nd round pick. 'Grabo' flourished in his first season as a Leaf, with 20 goals and 48 points.
It was also in his first season as a Leaf that Grabo would become re-acquainted with the Kostitsyn brothers. On one occasion he was toppled by a linesman while attempting to get to Sergei, and on another Sergei took a 10 minute misconduct for charging Grabovski. The incident with the linesmen landed Grabovski a 3 game suspension, further stoking the flames between countrymen.
Eventually they would all have to play nice for the sake of their national team, but it was not the last time Grabovski and a Kostitsyn would be in conflict. Injuries forced Grabo out of the NHL in 2016, and 2016-17 was the first time since 1991-92 that no Belarusian played a single NHL game. Grabovski had outlasted both Kostitsyns in the NHL, even managing to record the most Goals, Assists, and Points by a Belarusian, all time. The trio had taken the torch from the great Ruslan Salei, but left without passing it on once again.
Off Ice
Grabovski remained in hockey, and I actually ran into him at a Toronto Marlies game in 2018-19. The Marlies were playing the Binghamton Devils, and prospect Yegor Sharangovich was out of the lineup for the game. I recognized Grabo and he graciously let me take a picture with him, little did I know I had handed my phone to a Devils 5th round pick to be the photographer! They were both very kind, and Grabovski mentioned that he was getting into the business side of hockey, so he was helping Sharangovich adjust to the North American life.
Fast forward a year, and Grabovski is the Assistant Coach of the Belarusian KHL team, Dinamo Minsk. Sergei Kostitsyn was injured this season, but his brother Andrei is still playing, the captain of Dinamo Minsk. When Grabovski was hired, they named defenceman Kirill Gotovets the captain and gave Kostitsyn the "A". For next season Andrei has signed in Neftekhimik, and Grabovski can look to move the team in a new direction.
Return to Minsk
Grabo's hometown team has not made the playoffs in the past 3 seasons, and have only made the playoffs 4 times since they joined the KHL in 2008, to the tune of 4 first round exits. It can be an uphill battle to compete due to the KHL rules on international players, but it seems like Minsk is finally starting to develop some talent from within.
The aforementioned Sharangovich is a product of Minsk, he had 25 points in 57 AHL games last year as a 21 year old, and as a 6'2″ Center he has the potential to be a depth player for New Jersey in short order. He is under NHL contract, but loaned to Minsk for the start of the 20-21 season.
Also under contract but on loan to Minsk is Maxim Sushko of the Philadelphia Flyers. Sushko is a year younger than Sharangovich and had 21 AHL points this year. He's not from Minsk but he is Belarusian, and any KHL team would like to add a player so young and talented.
Next, Minsk looked to the CHL for Forwards Alexei Protas, Ivan Lodnia, and Defenceman Vladislav Kolyachonok on loan, the latter originating from Minsk. They are signed by Washington, Minnesota, and Florida, respectively, meaning they are likely to return to North America when a development league opens up for them to play in.
For unsigned players, they got Center Ilya Usov, who was nearly a point per game in his draft plus one year in the WHL. They also landed OHL Defenceman Ilya Solovyov, a 6'2 left shot.
Finally, Dinamo added Minsk native Stepan Falkovsky, a 6'7″ Defenceman, on a try-out. Falkovsky was previously under contract with the Minnesota Wild, splitting time between the ECHL and AHL while on his ELC.
That's 8 young players, 7 Belarusian and 4 from Minsk, on Dinamo to start the season. I'm not suggesting that any of these players lack the talent to stick in North America, but should they choose to play in Europe, this is a good time to develop a relationship with players. It is also an opportunity for five players (Protas, Usov, Kolyachonok, Denisov, Alistrov) to practice together in advance of the 2021 World Juniors. This team will have an opportunity to play for promotion, after being relegated to Division 1A in 2018.
Putting the Roster Together
Dinamo made a good move to extend their leading scorer Ryan Spooner for 1 year, but in the wake of Andrei Kostitsyn they needed to add more scoring. They did that by signing former Canadian Olympian and Toronto Maple Leaf, Brandon Kozun. He was forced down the depth chart a bit in Magnitogorsk, but Kozun has repeatedly shown he can be a top KHL producer. Minsk added another former NHLer and Canadian Olympian in Rob Klinkhammer, who is entering his 6th KHL season.
Add in Shane Prince and Francis Pare from last season, and Minsk has 5 forwards who appear to be locks for the top 6. That leaves one open spot for Maxim Sushko and Ivan Lodnia to compete for, otherwise they have to make their mark in a dense bottom 6. At center the three of Alexei Protas, Yegor Sharangovich and Ilya Usov all have a chance to play in the bottom 6, but I would expect Sharangovich and Protas to take on a bigger role. Their toughest competition is #99, big Vyacheslav Gretsky.
On defence, there is many positions up for grabs. Captain Kirill Gotovets has left for Avengard Omsk, and veteran Marc-Andre Gragnani has yet to re-sign. Minsk has a steady pair in Swede Adam Almqvist and Nashville Predators draft pick Vladislav Yeryomenko. They also have plenty of depth options, but there's no reason Ilya Solovyov or Vladislav Kolyachonok cannot claim a top 4 role.
In net former Leaf Jhonas Enroth has just departed as starter, leaving a void that veterans Danny Taylor, Dominik Furch, and 23 year old Alexander Osipkov will attempt to fill.
All things considered, the strength of this lineup is in the forwards. Prince, Spooner, Kozun, Pare, Klinkhammer are all imports that are capable of playing in a high-powered offense. Protas, Sharangovich, and Sushko will be a great compliment to that offense, but ultimately their priorities are in North America. When the AHL and CHL leagues open up in December, it will tear away some of the depth Minsk has been able to build. In contrast though is the situation of Ilya Usov, who could find himself as the 3C of a KHL team in December, a real opportunity to develop against top competition.
Likewise on defence, Minsk may lose Kolyachonok in December but keep Solovyov and Falkovsky.
Trajectory
We could see Dinamo Minsk come off to an unusually hot start due to the impact of players like Protas, Sharangovich, Sushko, and Kolyachonok. I have a feeling that Grabovski (or someone else representing Minsk) made a good case to all the NHL teams these prospects belong to, that the players would have an opportunity to play every game. Part of that case could have also been how well Belarus has apparently contained Covid-19, for some players returning to their hometown might reduce their risk of exposure.
When those players return to North America, Dinamo will rely heavily on their imports once again. Fortunately they have moved out some of their older depth players, making room for younger Belarusians to continue developing. Ultimately it will be difficult for Minsk to make the playoffs when so many other teams have added import players as well.
Whether they make the playoffs or not, this season will be leap in the development of Belarus as a hockey nation. They have a real shot at promotion to the top division in the IIHF World Juniors, with potentially 5 of Belarus' top prospects playing together in the KHL to start the season. The last time Belarus was in the top division, players like Sushko, Sharangovich, and Yeryomenko were thrust into the spotlight.
It doesn't stop at the world juniors, either. Besides the players I've already mentioned, there is Vladislav Kodola (23) and Andrei Belevich (22) playing elsewhere in the KHL, each with at least 16 points last season. In North America there is Yevgeni Oksentyuk who had 78 points in 58 OHL games, drawing NHL draft interest as a 19 year old. In the QMJHL Valentin Demchenko had 34 points in 57 games in his draft year, he's ranked 133rd by NHL Central Scouting for North American players.
Last but not least there is Sergei Sapego, a 6'2″ LD in the Leafs organization. He played for the Newfoundland Growlers last year on an AHL contract, and was the youngest player in the ECHL. His path thus far seems oddly similar to
Kristians Rubins
, who recently signed a 2 year ELC with the Maple Leafs.
The Next Belarusian NHLer
When Grabovski left, there was little promise of another Belarusian making the NHL any time soon. Oleg Yevenko, Gotovets and Falkovsky were all on NHL contracts, but never elevated to that level.
Sharangovich went undrafted twice before New Jersey finally selected him in 2018, and he immediately signed an ELC. He and Sushko are at the forefront of this Belarusian push, and a strong season of development between the KHL and AHL could prepare both to make an NHL roster in 2021-22.
Following them is a wave of players from the CHL. Protas and Kolyachonok are already under contract, while Solovyov, Pinchuk, Oksentyuk, Usov, Palivko, and Demchenko are all drawing NHL Entry Draft interest.
There has been at least one player from Belarus selected in each of the past 4 drafts, and there is a very good chance another is drafted in 2020. This hasn't happened since the 90's, when Belarusian talent was likely the product of the USSR hockey powerhouse. It is a sign that their development system is working, and adding Mikhail Grabovski to the mix at the pro level should inspire many young players.
Having so many of their developing players in one place is something of a summit for hockey in Belarus, a final preparation before casting off their stars to represent them in leagues an ocean away. Having 7 young players familiarize right now may be they key to Belarus' progress in international hockey, starting with the World Junior Championship.
I have already mentioned it once, but Belarus has a legitimate chance at promotion this year to the top division of the WJC. The nation was also just promoted to the top IIHF division in the 2019 World Championships, surpassing France and moving into 13th on the IIHF World Rankings. They closely trail Denmark, Norway, Latvia, and Slovakia in those rankings, and Belarus' new core of young players will give them a chance to remain in the top IIHF division for years to come.
There is an abundance of people who deserve praise for the groundwork done on Belarusian hockey before Grabovski became a coach, but his playing career served as an inspiration for many. Now, he has a chance to help nurture his country into a competitor at the international level. It will take time, but if Belarus can stay in the top division they have an opportunity to inspire the next generation of players from Belarus.
Recent articles from Earl Schwartz