Minten's monster performance, Woll working his way back: Leafs Prospect Roundup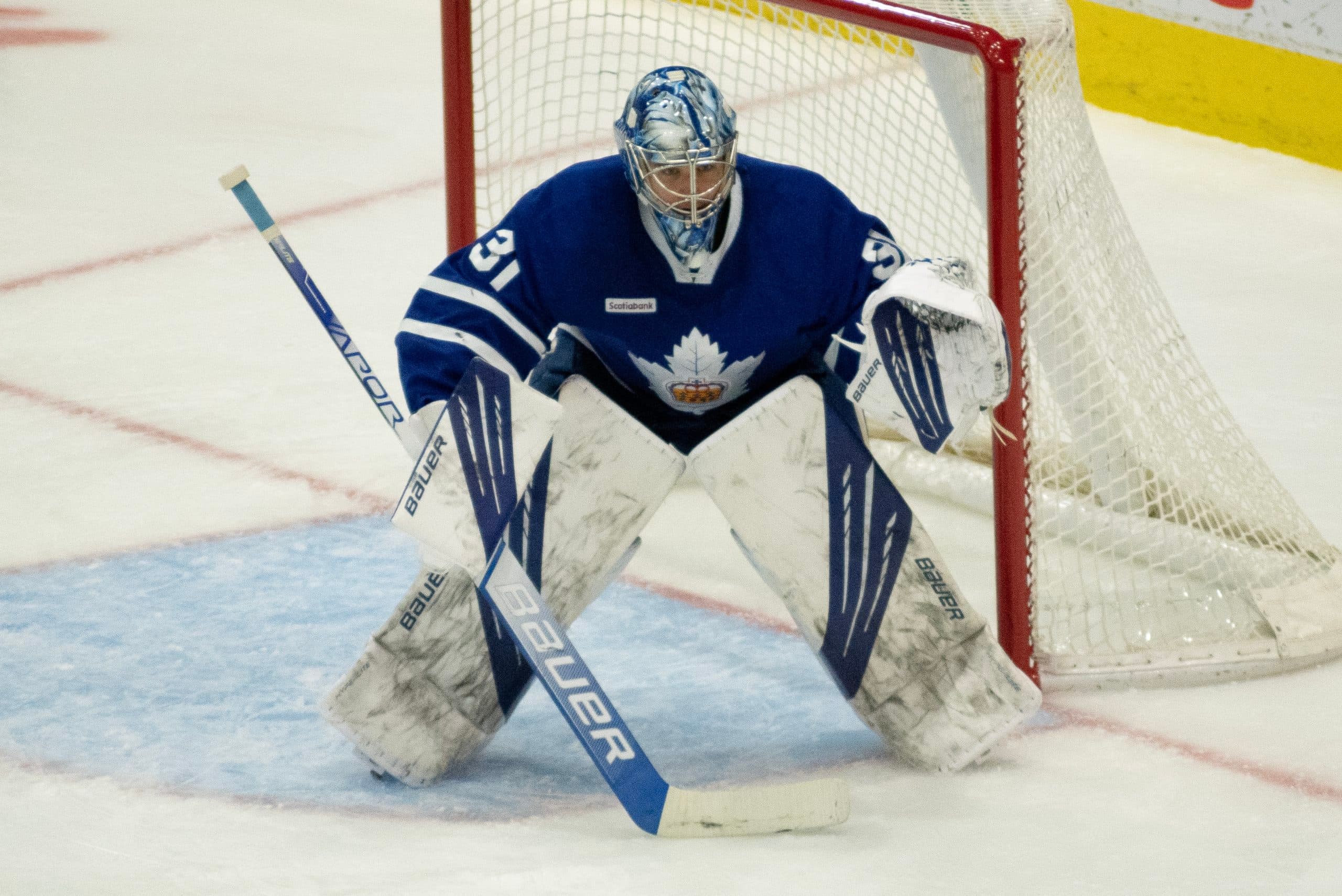 Photo credit:Steven Ellis/The Leafs Nation
Following a brief holiday hiatus, the Leafs Prospect Roundup is back to kick off 2023. From some of the top names in the system such as Matthew Knies, Fraser Minten, and Nick Moldenhauer, to some of the more under-the-radar prospects like Ryan Tverberg, Braeden Kressler, and Joe Miller, there is plenty to catch up on so let's get to it.
Fraser Minten | C | Kamloops (WHL)
With teammates Logan Stankoven and Caedan Bankier off representing Canada at the World Juniors, Minten has been charged with leading the Blazers' offensive attack, and he continued to do just that over the holidays.
Already riding a three-game goalscoring streak heading into last Tuesday's matchup against Kelowna, the Leafs' 2022 second-round pick registered his first hat trick of the campaign and added an assist in what would go down as a 6-4 win for Kamloops. Minten has been deadly on the man advantage all season, and that was the case once again on this night. He sniped a pair of powerplay goals, including a late go-ahead goal that would stand as the winner, before adding an empty netter to complete the hat trick.
It was a career night for Minten, but he wasn't done there. The next night, facing the same Kelowna team, Minten doubled down and recorded his second consecutive hat trick, again doing most of his damage on the powerplay. His first tally of the night, however, came at even strength following a nice dash into the offensive zone and lightning-quick release in stride.
His goalscoring streak came to an end against Prince George on Friday, but he did register an assist to extend his point streak before getting into a fight and having to leave the game. Over his current six-game tear, Minten has picked up a staggering nine goals and four assists.
For the season, Minten has put up an impressive stat line of 19 goals and 17 assists in 25 games. The concern is that most of that production has come on the powerplay and that he hasn't necessarily driven a lot of offense at even strength. Of his 19 goals this season, 13 of them have come while playing with the man advantage. To his credit, Minten hasn't scored many cheap goals, and he has shown an ability to effectively use the extra time and space to get open and utilize his heavy, accurate wrist shot.
As the old saying goes, they don't ask how; they ask how many, and Minten is now on pace for 45+ goals despite missing eight games to begin the WHL season. His usage and production will be worth monitoring once Stankoven and Bankier return to the club. Hopefully, the added support will help Minten become even more dangerous with improved even-strength production.
Joseph Woll | G | Toronto (AHL)
It has been a rough go for Woll since turning pro, missing significant time with various injuries over the last few years, making it difficult for him to gain a foothold in the organization. Drafted in the third round back in 2016, he finally made his NHL debut last season and performed admirably in his four appearances with the Leafs. Upon his return to the Marlies, Woll would end up on the injured list once again and the recovery process lasted into the beginning of this season.
Behind the eightball in a crowded Marlies crease, Woll has been spectacular in the early going since his return to the lineup. He stopped 20 of 21 shots in a 4-1 victory in his first appearance of the season back on November 25th and hasn't looked back since.
Woll has only gotten into six games since his return with so many mouths to feed in the Marlies' crease, but he has won all six of them and has registered a sub-.900 save percentage just once. His last two outings have been his most impressive, stopping 37 of 39 shots against Wilkes-Barre before stopping 36 of 38 against Belleville last Wednesday. For the season, he owns a 2.00 GAA and a sparkling .935 save percentage.
Now 24 years of age, Woll has shown improvement in each season of his professional career, but continued injury troubles have made it difficult for him to build his overall game and break through to the NHL. The Leafs' goaltending situation is stable for the moment with Matt Murray and Ilya Samsonov splitting duties, but if Woll can stay healthy and maintain his strong play, it might be him rather than Erik Källgren who is called upon the next time a need arises in the Leafs' net.
Notes from the rest of the prospect pool:
Matt Knies and the Minnesota Golden Gophers played a pair of exhibition contests over the holidays. Knies got into the goal column in each contest and probably could have had a couple more with the chances he generated. The Gophers will get back to work against Veeti Miettinen and the St. Cloud State Huskies next weekend.
Points have been much more difficult for Topi Niemelä to come by this season, but he has managed two assists in his last two games, bringing him to four goals and five assists in 32 games. He is now on pace for half of last season's point total in 10 more games than he played during the 2021-22 campaign, but those numbers aren't entirely indicative of his performance. He has been a steady defensive presence and is still helping to drive play for his club with intelligent reads and strong puck-moving ability from the back end. Last season's near-historic season was always going to be difficult for Niemelä to replicate, but he is probably owed more than the nine points he has this season.
Roni Hirvonen recently participated in the Spengler Cup, tallying an assist in two tournament games. Like Niemelä, his production has also taken a step back this season but there have been positive signs as of late. He notched a goal and an assist in his most recent Liiga appearance, and three of his eight goals on the campaign have come in his last five games.
It was another in a season of big games for Ty Voit against London on Friday, as he registered three assists in a losing effort. Voit's white-hot pace has cooled a bit, however, and his lead in the OHL scoring race has narrowed, with Logan Morrison of the Hamilton Bulldogs just three points back.
Nick Moldenhauer is riding an eight-game point streak, showing he didn't miss a beat while on the injured list in late November. He was a standout performer in Friday's 4-1 win over Green Bay, picking up three assists on the night. For the season, Moldenhauer sits at 14 goals and 18 assists in just 23 games with Chicago.
Ryan Tverberg registered an assist in each of UConn's victories last week. He has now gone five games without a goal but still has 10 goals and 10 assists in 20 games so far this season.
Last week, Dennis Hildeby made consecutive starts for Färjestad for the first time since late October. He earned the second start on the back of a 25-save shutout over Leksands last Wednesday, but allowed three goals on just 24 shots against Oskarshamn on Friday. Despite that less-than-stellar showing, Hildeby has maintained an impressive 1.90 GAA to go along with a .930 save percentage in 11 SHL games this season.
Nikita Grebyonkin continued his strong season over the holidays, notching a pair of assists in three games last week. The Leafs' 2022 fifth-rounder now leads all 2022 draftees in KHL scoring with four goals and eight assists in 25 games since joining Amur.
It has been something of a breakout year for Braeden Kressler, and he added to that this past week, tallying two goals and four assists in three games. He is up to 14 goals and 15 assists in 23 games for Flint in the OHL.
Joe Miller has been playing on Harvard's top line with Matt Coronato and Sean Farrell, and he has been making the most of the opportunity. He scored two goals and added an assist in a New Year's Day win over Northeastern, bringing him to six goals and four assists in the first 13 games of his collegiate career.
Wyatt Schingoethe, drafted by the Leafs in the seventh round of the 2020 draft, didn't register a point during his freshman season with Western Michigan, but he scored his first NCAA goal in a blowout win over Michigan Tech last Tuesday. He's got a goal and an assist in five games this season.
(Statistics from EliteProspects.com)