Mitch Marner on pace to break another long-standing Toronto Maple Leafs record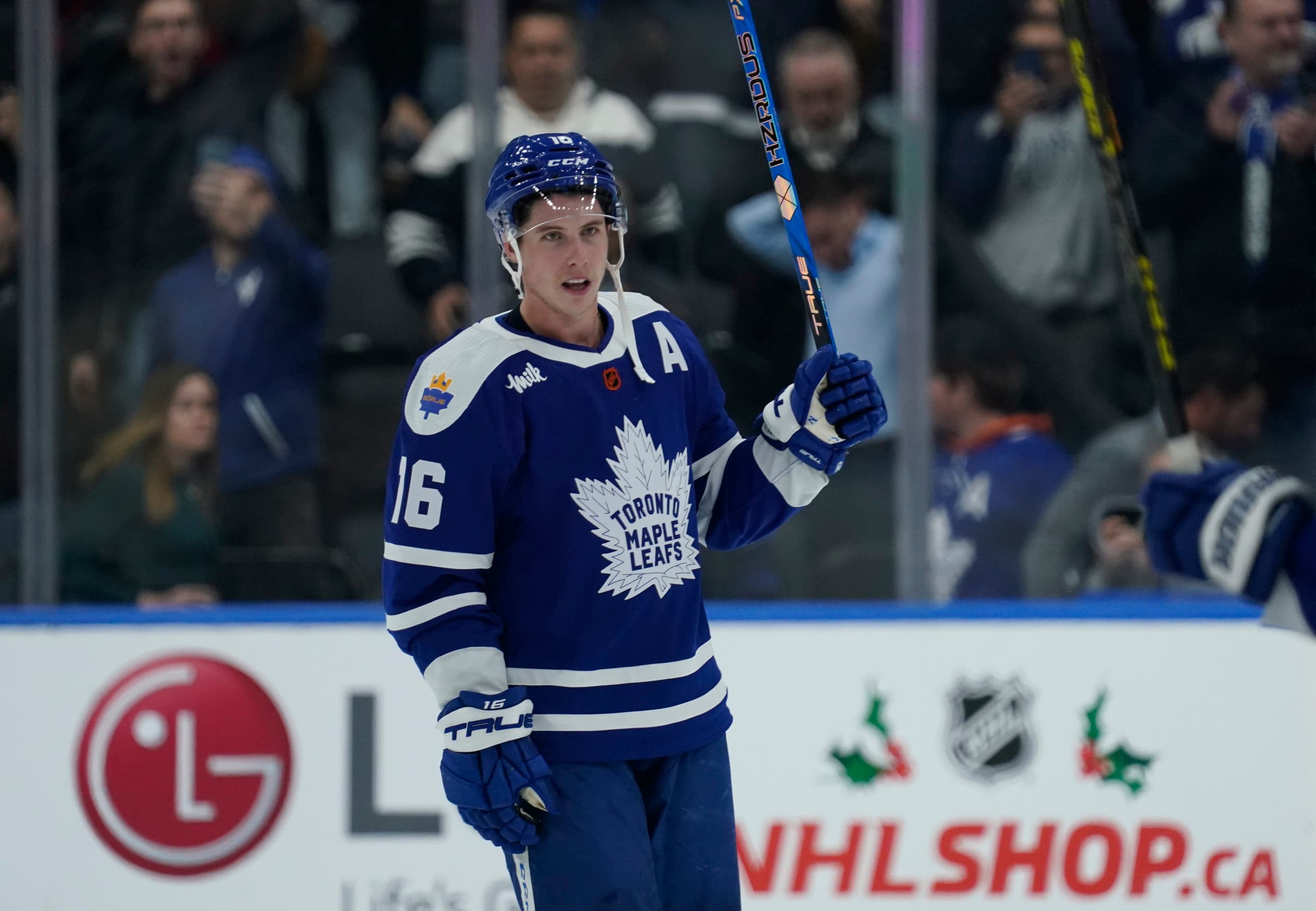 Photo credit:John E. Sokolowski-USA TODAY Sports
All eyes are on Mitch Marner as he has a chance to make Toronto Maple Leafs history when the team take on the Tampa Bay Lightning on Saturday night, with the winger currently sitting on an 18-game points streak that dates back to the end of October. But that is not the only record he could break for the team.
During Marner's sensational run, he has scored seven goals and contributed 24 total points, showing that he is truly an elite playmaker in the NHL and continues to live up to
the $10.903 million cap hit
he carries. Marner has continued his impressive form from the 2021-22 season, where he registered the second-highest single season assists total of his career with 62 and topped his best overall points total with 97 in just 72 games, playing at a 110-point pace over a full 82-game campaign.
That total would have seen Marner finish fourth overall in the league's points totals last year, alongside Leon Draisaitl of the Edmonton Oilers, while his pace of 71 assists would have sat sixth overall, putting Marner's general production in the upper echelons of the league. So while seeing Marner put up points with regularity may not be a surprising phenomenon to the everyday Leafs fan, what may be surprising is how is current career pace has him on a path to demolish a long-standing franchise record.
At the time of writing, ahead of Saturday's tilt with Tampa, Marner has registered 338 career assists in 452 regular season games. This sees him sitting
eighth all-time in franchise history
, sitting just 11 points behind legendary defenceman Tim Horton in seventh place. Marner will undoubtedly pass Horton this season, perhaps even before the end of the calendar year, but he still sits some way behind the current all-time leader in the category, the late great Börje Salming.
Salming recorded 620 assists through his 1099-game career with the Toronto Maple Leafs, picking up 17 more in his final season in North America with the Detroit Red Wings, and it has remained ever since Salming last suited up in white and blue in 1989. The closest any player has come to eclipsing the record was fellow countryman Mats Sundin, who finished his Leafs career 53 shy after playing 981 games in Toronto.
Had Sundin matched Salming's 1099 games, Sundin would have likely claimed another franchise record as his pace during his tenure with the Leafs puts him at 635 assists. However, where Mitch Marner is concerned, neither Leafs legend could ever dream of reaching what he could if he can maintain his current pace.
At present, if Marner were to play 1099 games for the team, he would grab the record with two hands and run a few miles away from any other player on the list, as he is on pace to reach 822 assists. Breaking a record by over 200 points is almost unheard of for a team that has existed for over 100 years, but Marner's penchant for picking out goal scorers or setting up offensive plays that regularly lead to goals just shows how effective he truly is on the ice.
If Marner were to play the same number of games as Sundin, he would still eclipse the record by quite some margin with a pace of 734, 114 more than Salming's mark, which just demonstrates that fans are experiencing a truly special player performing at a level that many could have only ever dreamed he could have reached after the team selected him fourth overall in the 2015 Draft.
When Marner isn't on, many climb on him and often it relates to his high salary and the long and bitter contract negotiation after his entry-level contract expired, with no other reason behind it. But when Marner's on, he is easily one of the best players in the entire league and is providing any doubters wrong with the thing that truly matters the most; how he performs on the ice for the Toronto Maple Leafs.
If Marner can play at least the majority of his career in Toronto, he should easily walk away as one of the franchise's greatest players with a record that has stood for over four decades. If he can register at least one point in Saturday's game, then it could be just one more record in what will be a truly illustrious career at this rate.