Mitch Marner's physicality is a good wake-up call for the Maple Leafs heading into the playoffs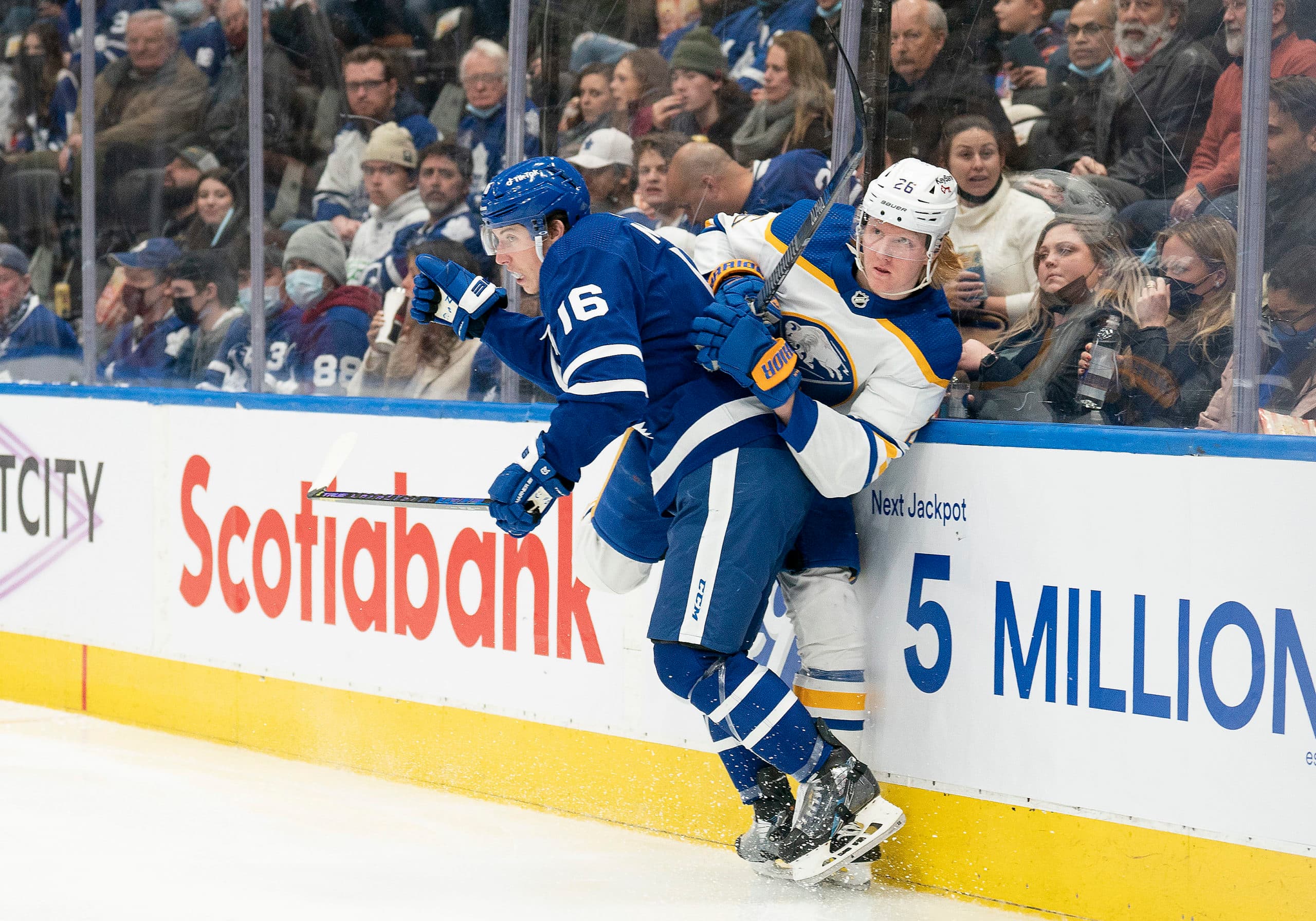 Photo credit:Nick Turchiaro-USA TODAY Sports
If Mitch Marner can throw hits, the entire Maple Leafs team should be throwing hits.
When the 2021-22 season began, Marner seemed like a different player. He started off the season by talking about taking the season one day at a time — not looking forward — not looking backward.
The 24-year-old has proven this season that he's one of the best offensive players in the NHL, assisting on 59 goals this season and scoring 31 of his own. Marner is having a season like no other, but I don't believe he's focused on just himself.
As the regular season winds down, playoff teams begin to ramp up play, whether that be more physicality or just focusing on perfecting their systems. After Monday's practice, Maple Leafs head coach Sheldon Keefe was asked about the physicality of the team heading into the playoffs.
"I think our players are recognizing the time of the year," said Keefe on after Monday's practice. "We've been trying to play the last 20 or so games here, to this point, as a team that's prepping for the playoffs and prepping to play in those environments and create those environments ourselves."
What's interesting, though, is that Keefe said the Maple Leafs have "been preaching that since training camp." He also thinks that Toronto can go to another level when it comes to being physical.
Going back to Marner in particular — he isn't just putting up points — he's throwing hits too. In three of his last five games, Marner has thrown more than four hits a game, and if you include all five games, he's thrown a check 20 times.
"In the last couple of games in particular, someone like Mitch has really taken the lead in that for us," said Keefe. "Certainly, if a guy like him, who's playing as much as he is and does so much for our team can commit like that, than every single one of our guys can follow suit."
When looking at the 24-year-old's entire NHL career, there's only been one game before this season where he's had more than four hits in a contest and that was in his rookie year. In the last five games, he's either tied or broken his career high three times.
Marner has clearly gotten the message, but has the rest of the team?
There was a reason why Keefe and the Maple Leafs have been preaching being physical all season, and that's because Toronto isn't a physical team to play against.
Since the beginning of the 2018-19 season, the Maple Leafs are ranked 31st in the NHL in Hits/60 with 18.02 per 60 minutes. The only team behind them — the Buffalo Sabres — who they've lost three of four to this season.
Toronto also has been outhit by Buffalo 92-77 in those four games this year.
I think one of the problems plaguing the Maple Leafs this late in the season is their play against lower-tier teams. We've seen the same story all season — Toronto plays a good team and they win — Toronto plays a bad team and they lose.
It's a good sign that the Maple Leafs are waking up against the teams alongside them in the standings, but at the same time, that should be said about the other teams they play too.
There's a reason why Toronto has gone up in series' and then lost in seven games. They need to stop playing down to their opponents and treat every game as the do-or-die game.
Marner starting to throw the body a lot more is something we've never seen from the 24-year-old and is a good sign if Toronto expects to win anything. But it can't be just him doing it at this point.
If the Maple Leafs want to be a team that makes a run in the playoffs, each player needs put in their effort night in and night out.
The more they do that, the more the success they can have at recreating history.
(Statistics from NHL.com and Hockey-Reference.com)
---
POINTSBET IS LIVE IN ONTARIO
PointsBet Canada has officially launched in Ontario! Get a $25 free bet just for 
signing up right here!