More for Minten in junior, Niemelä nets another, Cowan's big night: Leafs Prospect Roundup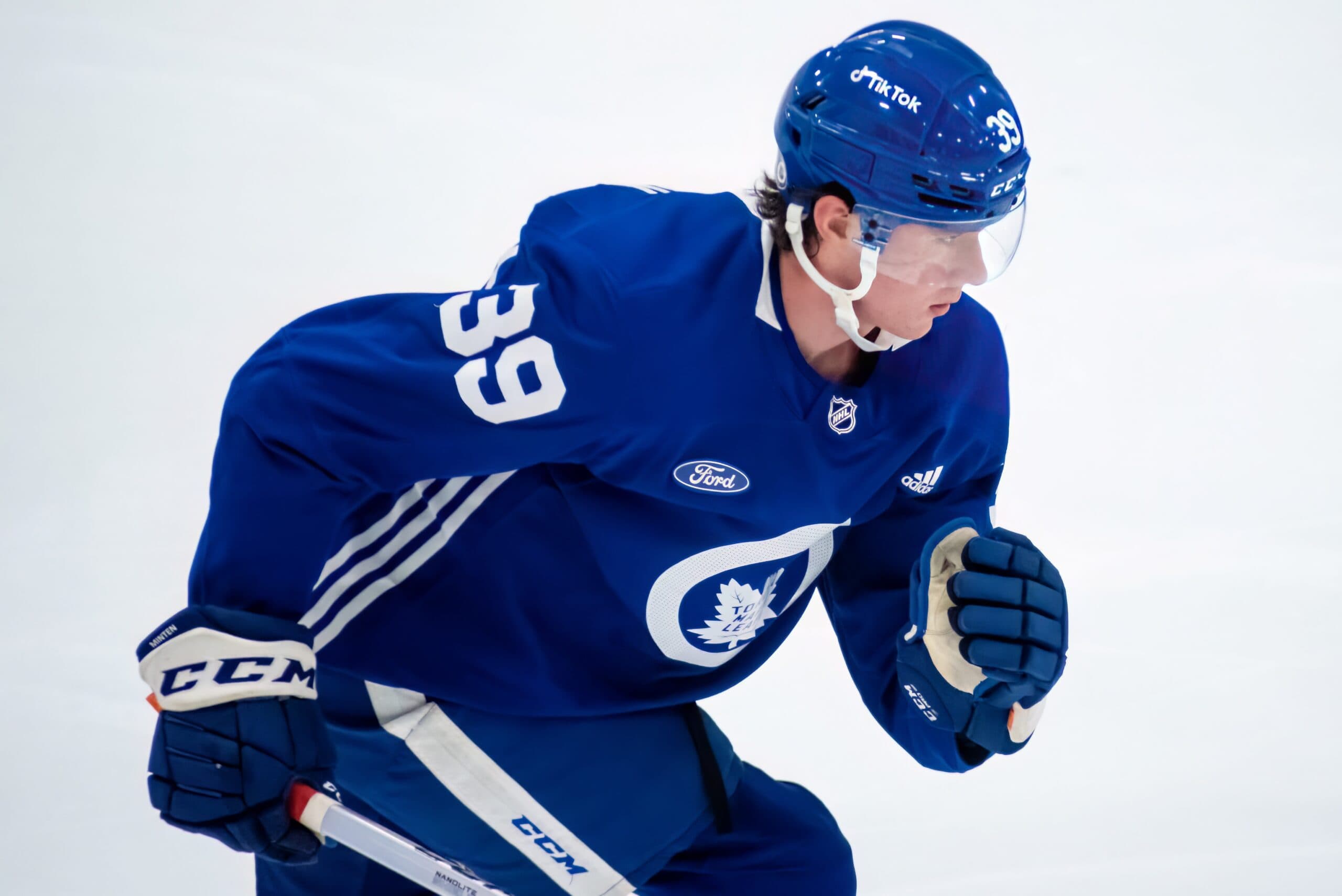 Photo credit:(Photo by Steven Ellis/Daily Faceoff)
Fraser Minten was the feel-good story of Leafs training camp, exceeding all expectations to force his way onto the opening night roster. After playing in the first four games of the season, however, he found himself relegated to the press box for the next three before the Leafs opted to return him to his junior club last Friday.
Minten didn't look entirely out of place in his first taste of NHL action, putting up a 56.9 xGF% despite going without a point, but a number of factors played into the Leafs' decision to send him back to Kamloops.
As much as Minten held his own through four appearances, it was clear that the game was still moving too fast for him to be consistently impactful. Elevating David Kämpf to the third line role previously held by Minten solidified the Leafs' centre depth, and it made little sense to have a 19-year-old junior-eligible player playing on a fourth line with the likes of Ryan Reaves, especially with a player like Pontus Holmberg in the fold.
If Minten were contributing discernably more than Holmberg, how to best proceed with the youngster would have been a more difficult decision for the Leafs. He likely would have gotten another opportunity to prove capable of doing so at some point, but the Leafs' hands were tied with injuries mounting and very little roster flexibility.
When Jake McCabe went down early in Thursday's matchup against Dallas, the Leafs really only had two choices: Send Holmberg back to the Marlies to make room for another defenceman and put Minten back in the lineup, or keep Holmberg with the big club and reassign Minten to junior in order to open up that roster spot. The option to send Holmberg up and down without having to pass through waivers left the door open, but the Leafs saw the writing on the wall and decided that it was time to send their 2022 second-rounder back to the WHL for the remainder of the season.
There is bound to be disappointment for a player any time they get demoted or can't stick with a team, but Minten should be heading back to Kamloops full of confidence and with his head held high. He wasn't even a consideration to push for a roster spot when camp began, but he continued to progress each day while putting together impressive performances in preseason games to win a roster spot outright to begin the season.
Now, Minten returns to the Blazers, where he will likely be named team captain and become the guy for the first time in his junior career. He put together a solid season last year but was pushed down the lineup as Kamloops loaded up for a run at the Memorial Cup. Stepping into a more prominent role, he should still be able to surpass the 67 points he registered last season despite missing the first few weeks of the 2023-24 schedule.
Kamloops lost a lot of talent from last season's roster, and while it opens up greater opportunities for Minten and others, it has also shown in the standings as the Blazers went into Sunday's matchup against Vancouver with the worst record in the WHL. Minten should help in the short term, and a brief look against NHL competition has helped show him where he can continue to grow as a player, but there is a good chance he will be dealt to a contender before the WHL trade deadline.
In the meantime, Minten will look to build off of an outstanding training camp and carry the confidence he has gained from competing against NHLers back to the WHL to grow into a dominant force at the junior level.
Notes from the rest of the prospect pool:
Topi Niemelä's first full AHL season is off to a strong start. He's played mostly top-four minutes and scored for the second straight game in Friday's 2-1 overtime loss to Belleville. He added an assist as the Marlies won Saturday's rematch in a shootout and is already up to five points in just six games. The Leafs will want to take it slow with Niemelä, and they have a few depth defencemen with NHL experience ahead of him on the depth chart, but his start to the AHL season certainly hasn't hurt his standing with the Leafs' staff.
The London Knights played just one game this past week, but it was another impressive one for Easton Cowan. After being held off the scoresheet in the previous two games, Cowan was all over the ice against Ottawa on Friday. He picked up assists on each of London's first two goals, and then at the end of a long shift in overtime, he finished the game with a heads-up pass and great hustle to complete the give-and-go for his third point of the night. The Leafs' 2023 first-rounder is playing big minutes in all situations and is well on his way to surpassing the 53 points he put up in 68 games a season ago, already with five goals and seven assists in seven games.
Nick Moldenhauer lined up on the right side of Michigan's second line this weekend and notched a pair of assists in Saturday's 10-1 blowout win. The Wolverines outscored Lindenwood 19-2 over two games, so make what you will of the production, but the encouraging thing is that Moldenhauer has been able to contribute in a top-six role as a freshman. Through eight games thus far, Moldenhauer has a goal and three assists while averaging just under 2.5 shots on goal per game.
Nikita Grebyonkin bumped a four-game pointless streak with a goal in Sunday's 4-3 loss to Lada Togliatti. His 13:34 of ice time was the least he's played in the last 10 games and a significant decrease from the 18:35 he played in the previous game. While his role and overall production have taken a bit of a step back after returning to a stronger team, a lot of it has come down to his linemates not finishing as many of the chances he has created. Grebyonkin notched nine goals and 17 assists in 45 games to win the KHL's Rookie of the Year award last season, and he is already up to eight goals in 25 games this season, but he has tallied just five assists thus far. The strength of his game is making plays off the wall and getting the puck to his teammates in the middle of the offensive zone, so those assist numbers should normalize a bit over time.
Dennis Hildeby made his second start of the season against Belleville on Friday, and it went much better than his season debut, in which he allowed three goals on just 18 shots. The Marlies ultimately came up short in overtime, but Hildeby made 31 saves on 33 shots and looked much more like the positionally sound, composed goaltender who excelled in the SHL for the last two seasons. The strong showing brought his save percentage to .902 through two games, but Hildeby is still searching for his first AHL victory.
Artur Akhtyamov's role with his KHL club has diminished since Timur Bilyalov returned from injury, and so too has his play. After allowing three goals on 21 shots in his last start prior to Bilyalov's return, Akhtyamov served as the backup for four games before getting his next start – a 2-1 loss on Sunday that saw him all two goals on just 14 shots. Overall, Akhtyamov's numbers in the KHL this season are still very impressive, but he will likely return to the VHL when Amir Miftakhov is healthy.
Ryan Tverberg was off to a strong start in his first full AHL season but an injury suffered in Tuesday's game will keep him on the shelf for the next month or so. The Leafs' seventh-round pick from the 2020 draft had a goal and three assists in five games before landing on the injured list.
It took Alex Steeves four games to find the back of the net for the first time this season, but he's been on fire since then. After notching a pair of goals on Saturday, Steeves has four goals and an assist in his last four games. Things are tight with the Leafs' roster, so it will take an injury or two, but Steeves has kept himself in the conversation as a potential call-up option if a hole opens up in the Leafs' bottom six.
Another player looking to insert himself into that conversation is Max Ellis. After having his four-game point streak snapped on Friday, he scored his first goal of the season in Saturday's shootout win over Belleville. Ellis has produced a respectable five points through seven games, but it is the energy and tenacity he plays with that has endeared him to the Marlies' coaching staff. If he can continue to produce while bringing those elements consistently, the 23-year-old undrafted free agent signing could climb the depth chart as the season progresses.
The idea behind sending Braeden Kressler back to junior for his overaged season was to have him play a bunch of games in a prominent role after missing so much time due to injury in the last few seasons. So far, it's working out, and after posting a goal and an assist in three consecutive games, Kressler is up to five goals and five assists through nine games. The key for him this season is staying healthy and preparing to begin his pro career next season.
Vyacheslav Peksa stopped 20 of the 21 shots he faced to pick up the win in his ECHL debut last week, but things haven't gone nearly as well since. He has given up a combined 14 goals on 69 shots in his last two starts and is now sporting an ugly 5.00 GAA to go along with a .833 SV% through three games. Certainly not an ideal start to his North American career, but if Peksa is able to adjust as the season wears on, a couple of bad games at the start will be a distant memory.
Semyon Der-Arguchintsev's days of playing in North America may or may not be finished, but he is technically still a Leafs prospect. He had a big week, and his usual stat line has completely flipped in his first season with Traktor Chelyabinsk. Known as an extremely pass-first player, SDA has been firing the puck in the net like he never has before. He tallied three goals over two games on Wednesday and Friday and is now up to nine goals and three assists in 18 games on the season.
Statistics from EliteProspects.com & Evolving-Hockey.com