Morgan Frost could be a solid buy-low trade option for the Leafs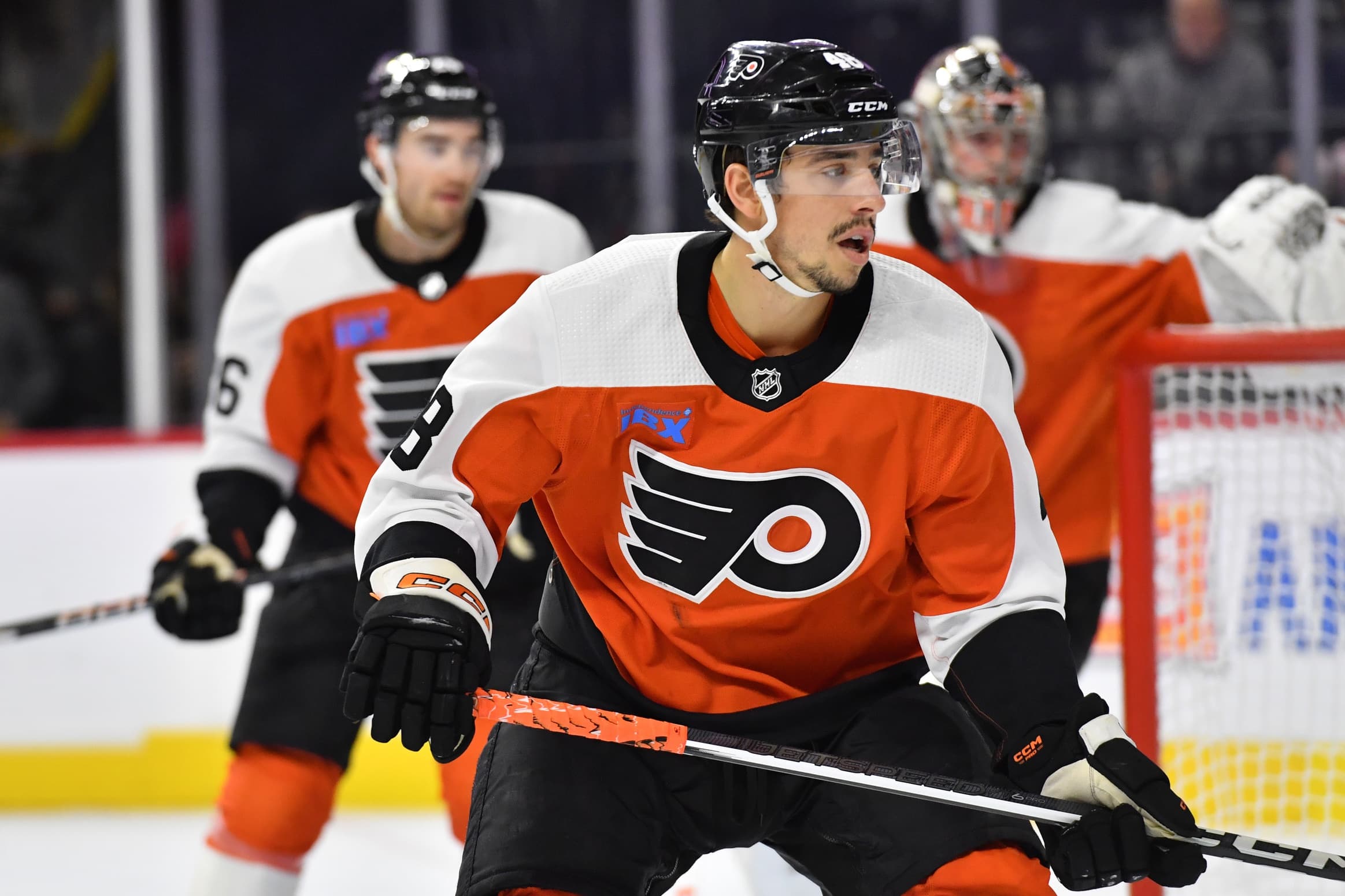 Photo credit:© Eric Hartline-USA TODAY Sports
Normally a player who is fresh off signing a multi-year extension would not be readily available for a trade because it wouldn't make much sense for a team to part ways with a player they already committed to. But if that player were up for grabs on the trade market, something drastic has to have transpired for it to reach the point where the option of a move has to be considered. And we are starting to see that exact scenario happen with a 2017 first-round pick fresh off a productive campaign last year.
Despite being mere months removed from a career-best 46-point season, Morgan Frost has been a healthy scratch for five consecutive games to begin the year. After playing in all but one game in the prior campaign, the Aurora native has only appeared in Philadelphia's first two games where he went pointless. It has reached the point where Flyers fans are growing increasingly frustrated with the team's reluctance to play the 24-year-old centre who has a $2.1 million cap hit.
6. Morgan Frost is a little different. Philadelphia just re-signed him, have invested a lot of time in him, and he was fourth in team scoring last season. But if he doesn't play — just two appearances so far — something will have to give.
What makes this situation unique is that Frost isn't necessarily in Tortorella's dog house. The veteran coach
told reporters
that he knows he needs to get Frost into the lineup, but hasn't figured out when or how it'll happen yet. This is all fine and dandy, but what does it say about a team when they can't find a place for the guy who dropped 46 points last year?
It is not clear how much longer this will have to drag out before the situation reaches a breaking point, but the longer Frost is stuck in the press box, the more his value drops. And if he is unwilling to report to the AHL, then the Flyers will have little choice but to explore the trade market with a diminished asset. This is a situation Brad Treliving and the Leafs should be keeping an eye on because Frost could be a solid buy-low trade option to help shore up their bottom-six.
As I mentioned earlier, Frost is coming off his best season in the league so far with 19 goals and 27 assists, which was good enough for fourth on the Flyers in scoring and helped secure him a two-year extension during the offseason. While he did struggle to begin last season where he only scored six points through the first 26 games (including an 11 pointless stretch),
he led the team in scoring through the last 55 games
and showed flashes of the positive impact he could provide if given the opportunity.
The advanced metrics at 5v5 don't exactly paint the prettiest picture, but bear in mind that there were
very few Flyers players
who finished in the positive end for all of these categories:
| | | | | | | | | |
| --- | --- | --- | --- | --- | --- | --- | --- | --- |
| CF% | FF% | SF% | GF% | XGF% | SCF% | HDCF% | HDGF% | PDO |
| 47.51 | 48.62 | 50.00 | 48.96 | 48.15 | 47.91 | 49.16 | 57.15 | 0.996 |
Frost's numbers reflect that of a player who was on a mediocre team that finished seventh worst in the league and was closer to drafting Connor Bedard than they were to a playoff spot. The fact that he was
hovering around average
in spite of the Flyers being that bad shows this is
a player who can make a positive impact
on a contending team's bottom six.
The Leafs are still figuring out how they want to set their set their third and fourth lines long-term which has resulted in so many different combinations that have yet to fully stick. Fraser Minten began the year on the third line but he looked out of place and his return to the WHL feels inevitable, David Kampf has moved between the bottom two lines, Pontus Holmberg has recently gotten a look on the fourth line, and even Max Domi has gotten some reps down the middle. Trying to establish a productive bottom six has long been an area of importance for Toronto due to the lack of secondary scoring being one of the reasons for their constant playoff shortcomings.
Frost could help out in this department as he has the skills to be a productive two-way forward with the potential to be a reliable bottom-six centre that is currently being squandered by the Flyers. He is the type of player who could use a fresh start, making him an ideal target for the Leafs to consider. As for what would have to go the other way, I would imagine that Nick Robertson could be one of the key pieces heading the other way because he is in a precarious spot in his career as he was once again sent down to the AHL to begin the year.
There have been
rumblings about his future
with the organization where questions have emerged if his best path to the NHL is with either the Leafs or another organization. While Toronto
certainly has faith he can make an impact
, Robertson is getting dangerously close to reaching the point of no longer being considered a prospect and a decision will need to be made soon on where things stand. Friedman reported during the offseason that Philadelphia was a team that previously had interest in Robertson, though it was unclear if those feelings remained true given his injury history.
If the enthusiasm to take a chance on him is still there, Robertson could make sense as a critical component of the deal. There would need to be some salary shipped out to make it work so perhaps they could ship out Conor Timmins so they can get back Frost plus a draft pick. To make things a little easier from a salary cap standpoint, it may need to be someone like Calle Jarnkrok heading back the other way, but anything is possible with Brandon Pridham riding shotgun with Treliving.
A player who has the skills to be a reliable two-way forward in the bottom six for years to come should not have his talents being wasted away in the press box and Frost is the type of guy that would make for a solid low-risk-high-reward bet while not having to give up a ton of assets to do so. It would have seemed ludicrous a few months ago for Philadephia to consider trading a guy who was coming off his best offensive season to date and only 24 years old, but the constant healthy scratches to begin the year means something will have to give at some point.
With the Leafs still figuring out the makeup of their third and fourth lines plus the Flyers having a young player stuck on the outside looking in, it makes sense for the two parties to potentially be trade partners that would allow Frost to wipe the slate clean and potentially gain a new jolt on his career playing for the team his Dad used to announce goals for.