Murray and Jarnkrok shine in overtime win versus Ottawa: Game Highlights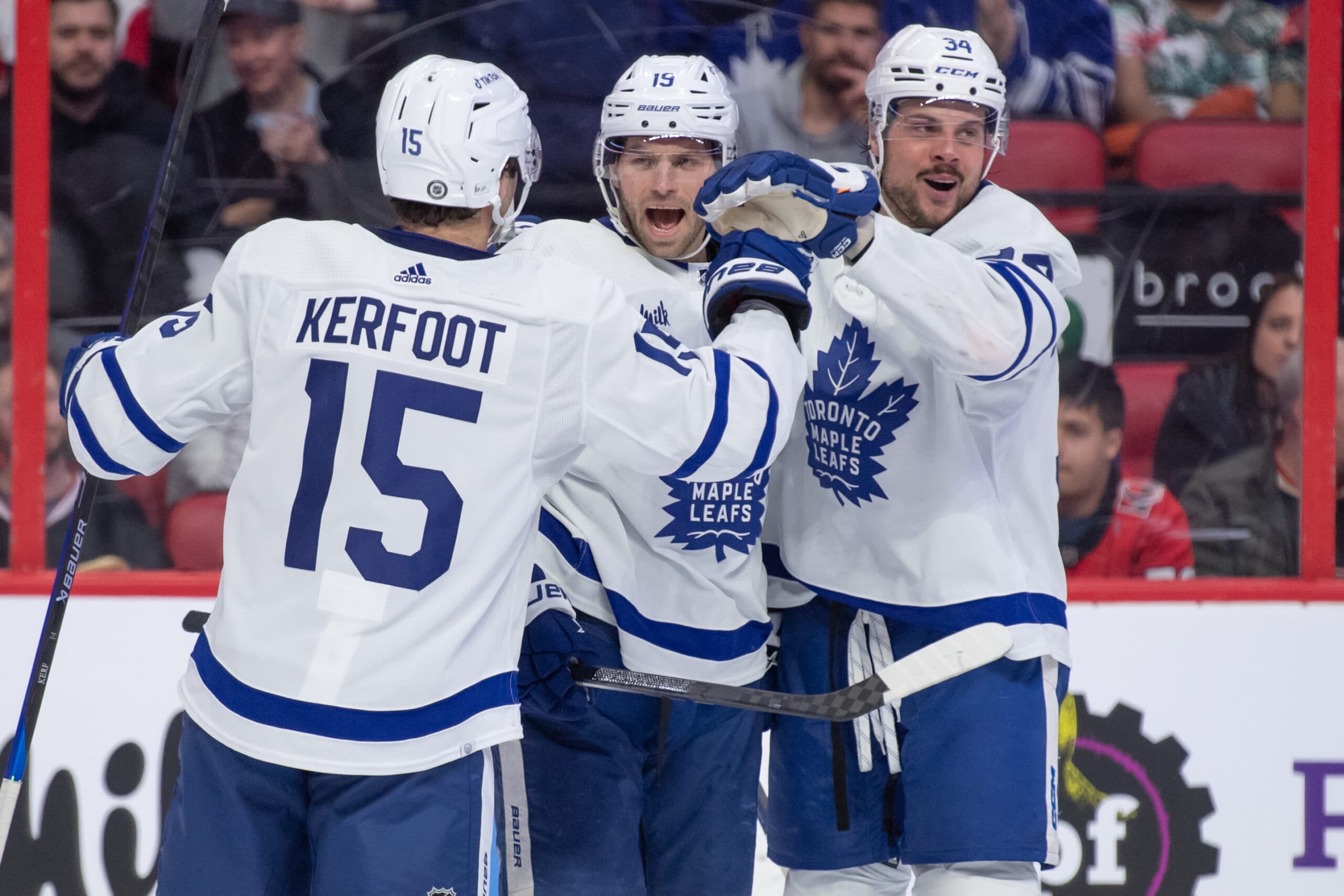 Photo credit:Marc DesRosiers-USA TODAY Sports
The Leafs didn't have their best on Saturday night yet they came out on top. Matt Murray made 48 saves, Calle Jarnkrok potted two and the most snake bitten player on the roster may have got off the schneid by scoring the game winner. Below are the highlights from the game.
Jake McCabe opened the scoring with his first goal as a Leaf. He made a nice stretch pass to John Tavares to start the play. Then he cleaned up a Mitch Marner rebound to make it 1-0….
The Senators tied it up with a lucky one late in the first period. Erik Brannstrom's point shot deflected twice and bounced over Murray. Julien Gauthier got credit for the goal…
Murray kept the game tied with an athletic pad save on Shane Pinto. Gauthier set him up with a beauty cross ice pass but Murray shut the door…
Tim Stutzle continued his breakout season with a shorthanded goal early in the second. The Sens' superstar sniped one through the legs Timothy Liljegren and put Ottawa on top…
The Leafs weren't behind for long. Marner tied it up before the penalty ended. He beat Mads Sogaard with a wrist shot short side to even it up 2-2…
Jarnkrok got on the board midway through the second. Auston Matthews teed one up for him and he blasted it past Sogaard. 3-2 Leafs…
The Matthews to Jarnkrok connection did it again in the third period. Matthews feathered a pass through Thomas Chabot on the 2-on-1 and Jarnkrok buried his second of the night to put the Leafs up two…
The Senators would not quit though. Just over a minute later Brady Tkachuk got them back in the game. Drake Batherson missed Stutzle's pass in front but Tkachuk was there to back him up. 4-3 Leafs…
David Kampf nearly scored a much needed insurance marker with a gorgeous individual effort. Instead it was Sogaard with the clutch pad save…
The Senators tied in up with 1:52 to play but the goal was waived off due to offside. That was a huge break for the Leafs because Ottawa tied it up with ten seconds left anyway. Tkachuk found himself in the right place at the right time yet again to knot it up 4-4…
Ottawa controlled most of the extra period. Murray was the best Leafs player in overtime. This breakaway stop on Stutzle sent the game to a shootout…
The shootout was back and forth. It seemed like it would never end but in the ninth round Alex Kerfoot played hero and slid it five hole for the win. 5-4 Leafs final.