Nate Danielson is a two-way centre the Leafs may select at 28th overall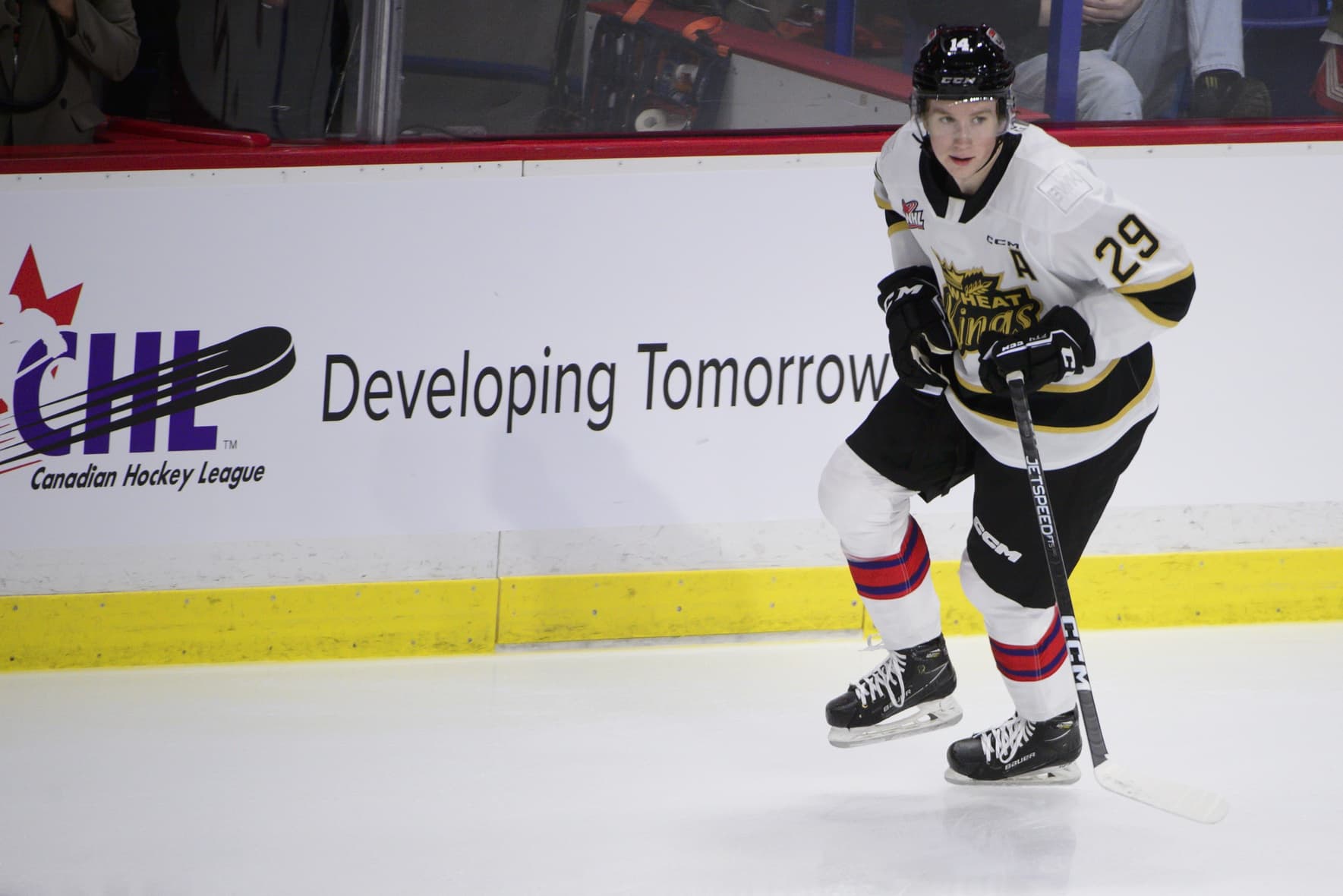 Photo credit:© Anne-Marie Sorvin-USA TODAY Sports
Finding the right strategy for what types of players to acquire is integral for the long-term success and sustainability of a run of dominance for a team already at the upper echelon. Deciding whether to go for a safer pick or take a risk has different reward levels depending on when it was made. Regardless of which direction a team goes in, the rewards of said pick have many varying factors, but going for close to a sure thing is what many will try and aim for.
There is a player who is projected to go in the latter half of the first round that falls into the safe pick category, and he's one that the Leafs may be included to take if he remains available. That is the subject of the latest post in a series of deep dives for prospects.
Scouting Profile
Nate Danielson is a Canadian centreman who is currently the captain of the WHL's Brandon Wheat Kings. He has good size already for a player at his position, standing at 6'1″ and weighing 185 pounds.
There is quite a lot to be intrigued about when it comes to Danielson's game. He was easily the best player on a mediocre Wheat Kings team that missed the playoffs, leading by example with consistently strong play at both ends of the ice. It is on the rush where he excels the most as he is good at getting the puck up the ice, creating space in the face of sustained pressure, and getting the shot off from a good spit. His larger frame allows him to get his stick in the lanes to slow down defenders, with a strong effort to never be out of plays and be a reliable option on his own end. Danielson is also someone who teams should have no trouble utilizing on both special teams as his skillset allows him to be effective both on the man advantage and on the penalty kill.
This sounds like a player who should be taken a lot higher up in the draft (and there certainly are some who believe he might), but there is some division from scouts on Danielson's potential. He definitely has a lot of pro-ready skills that should give him a good chance at cracking an NHL roster in the fall, but it remains to be seen if his ceiling is a top-six or bottom-six role. Some of it has to do with the fact that he was not much of a distributor at even strength when on the Wheat Kings, though he has some excuses given that didn't have much to work with. And while he is certainly a reliable option for teams to count on, he is not a player that will fully take over games with high-end individual talent.
It's not to say that Danielson is not going to make the jump to the pros, because he has all of the tools necessary to be a reliable two-way option. Perhaps in a different environment, those solo talent plays can emerge more; but he likely has a ceiling of a dependable middle-six forward while most likely being an elite third liner. Still, this is a player that a lot of teams would be happy to have even if his ceiling isn't very high because his role is critical.
What the scouts are saying
Summary
Even if he becomes nothing more than a solid third-line centre, Danielson is an effective player with all of the tools necessary to be a two-way centre at the NHL level. He is strong off the rush, has good size to disrupt plays, has the speed to lead the rush and fool defenders, can compete in all situations, and has leadership skills on account of being Brandon's captain.
There are questions about his potential and whether he can raise his ceiling beyond its current spot, but that's not to say there is not an NHL player to be found here. Any team would be happy to take him in the first round, as would the Leafs if he was on the board at 28th overall.
Players that can do a bit of everything are not easy to find, making Danielson a safe bet to reach the NHL and make an impact as a reliable centreman.