Nathan MacKinnon, Cale Makar & the defending Stanley Cup champs are in town: Leafs Tailgate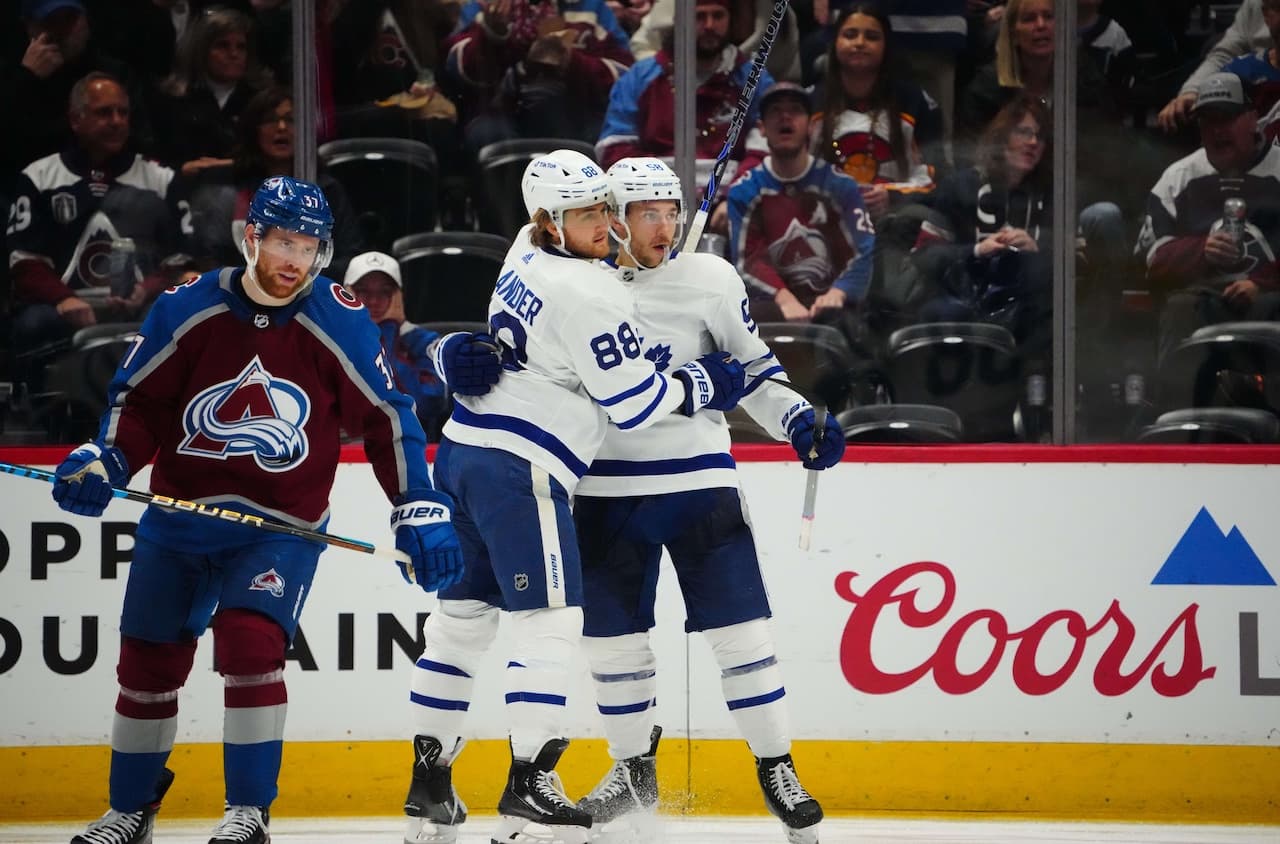 Photo credit:Ron Chenoy-USA TODAY Sports
Coming off an ugly 4-3 loss to Buffalo on Monday night, the Leafs (40-18-8) will welcome the defending Stanley Cup champion Colorado Avalanche (37-22-6) for game three of their four-game homestand tonight at Scotiabank Arena.
Back on New Year's Eve at Ball Arena in Denver, Toronto took the opener of the two-game season set in convincing fashion 6-2. Michael Bunting led the way with two goals.
Even though Colorado's still severely banged up, they've really started to cook lately. In fact, in 17 outings since All-Star Weekend in Sunrise, they're 10-4-3 and have scored a grand total of 63 goals. Furthermore, Jared Bednar's squad kicked off their four-game road trip with an 8-4 beatdown of the Montreal Canadiens on Monday night. Suffice it is to say, you may want to look at the OVER once again tonight.
Meantime, as mentioned, Toronto, who's 1-1-0 through two games of four in a row at home, are coming off an incomplete effort against the Sabres. If they pull that business against Colorado, it could be a long night at the office for Sheldon Keefe and company.
TIME: 7:00 PM ET (Sportsnet)
STARTING GOALIES:
COL Alexandar Georgiev – LIKELY (29-14-5, 2.63, 0.917, 4 SO)
@
TOR Ilya Samsonov – LIKELY (23-8-2, 2.41, 0.915, 3 SO)
PROJECTED LINEUPS:
THREE STORYLINES:
CAN THE LEAFS LOCK DOWN THE HIGH FLYING AVS?
For starters, the Leafs managed to limit Colorado to two goals on 28 shots in their previous meeting on December 31st, so we all know it's doable. Having said that, Colorado's offence has been humming right along lately and are coming off putting up an 8-spot against Montreal the other night. Not to compare Buffalo and the Avalanche, but both like play run and gun. As tempting as that is, I think it's important for Toronto to stay within themselves. And to their credit, they did that in the first half of the game against Buffalo. Unfortunately, the second half of that outing was a different story. Consistency is probably the word I'm looking for here. At the very least, they'll get a pretty good gauge of where they stack up right now with one of the NHL's elite teams. It's weird to say this, but I'd love to see a defensive clinic, similar to the ones we were so accustomed to seeing from this squad in late November/early December.
BIG TEST FOR ILYA SAMSONOV
With 16 games remaining in the regular season, the most polarizing question in Leaf land right now seems to be: Who will start Game 1 against Tampa? Tonight, Ilya Samsonov, who hasn't played since a 4-3 victory in New Jersey 8 days ago, will get another opportunity to prove his worth. Personally, as things lay right now, I think he has a slight edge on Matt Murray, but who knows what they're thinking. At the end of the day, this is a big test for him. Colorado is a wagon. For what it's worth, Samsonov is 17-2-1 at Scotiabank Arena this season. Just some food for thought.
DENIS MALGIN'S RETURN
If Denis Malgin gets a video tribute tonight, I'll snap. No, but seriously. At any rate, by now, we're all aware of the success former Leafs always seem to have upon their return to Toronto for the first time, or whatever. If Colorado scores a goal where both Malgin and Alex Galchenyuk, who's expected to play, factor in, I may just pack it in for the season and call it a broadcast career. That said, I'm totally preparing myself as we speak. Bottom line: I want to see a bounce-back performance after whatever that was on Monday night.
BETTING:
(As of Noon EDT)
PROP PLAY:
Over 6.5