NCAA playoff update, Tverberg turns pro, Hirvonen comes up clutch: Leafs Prospect Roundup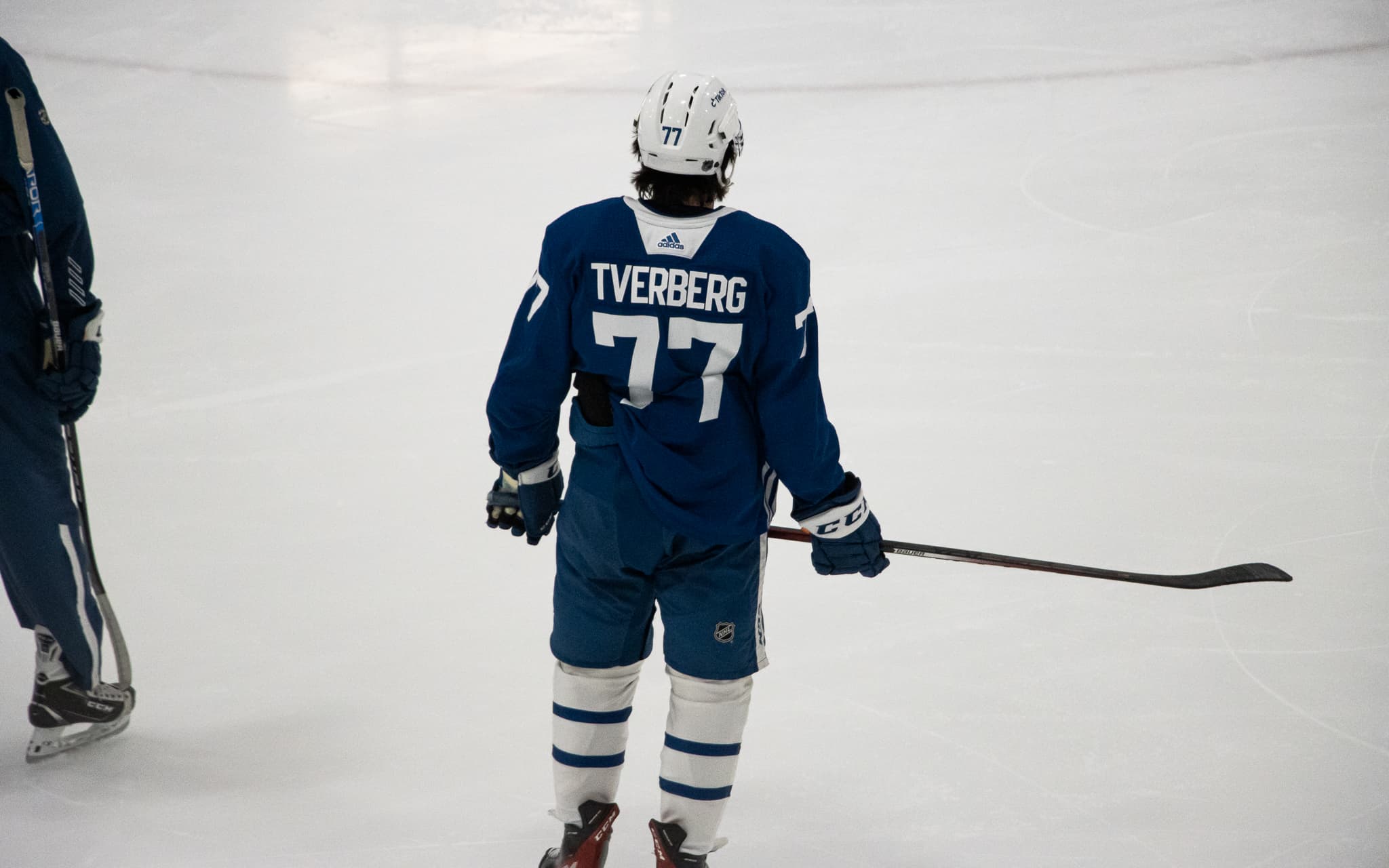 Photo credit:Nick Barden
The Leafs had a handful of prospects competing for conference titles in the NCAA this past weekend, including Matt Knies and Mike Koster of the Minnesota Golden Gophers. After losing last year's B1G10 Championship against Michigan, the Gophers were looking for a measure of revenge against the Wolverines this time around.
As he has done so often in big games throughout his collegiate career, Knies came to play with the title on the line against a familiar foe. He helped to pull the Gophers even in the second period with a great defensive play that sent Jimmy Snuggerud and Logan Cooley in all alone, and the pair of star prospects from the 2022 draft made no mistake.
His most impressive play of the night came just moments later, as he gloved down a puck in the neutral zone and fended off a couple of checks before bursting around a defender and taking the puck to the net for a great scoring chance that forced Michigan to take a penalty. Minnesota probably has a case that the goal should have counted, too.
Knies showed off his repertoire of skills throughout the contest, making skilled plays with the puck and using his body to protect pucks and sustain possessions, but it wasn't enough. After Knies found himself on the wrong side of a couple of fortuitous bounces in the third period, Michigan came away with their second consecutive B1G10 title.
It was a bitter defeat for the #1 ranked Gophers, but they'll have a shot at redemption when the NCAA Tournament gets underway later this week. Minnesota will kick off their quest for a national championship when they take on 16th-ranked Canisius on Thursday.
Elsewhere, 2020 sixth-round pick Veeti Miettinen and his St. Cloud State teammates came away with a 3-0 victory over Colorado College to claim the NCHC conference title, while fellow 2020 sixth-rounder Joe Miller extended his point streak to seven games as Harvard fell to Colgate in the ECAC final.
Miettinen was held off the scoresheet in the championship game, but he played a big part in getting the Huskies there in the first place. He had a goal and two assists in Friday's semifinal against North Dakota, helping lead the Huskies to a thrilling 3-2 win in overtime. The Finnish forward has put together a strong second half of the season, and he heads into the NCAA Tournament with 11 goals and 23 assists in 39 games so far this season.
Miller has had an impressive freshman season for Harvard. With an assist in Saturday's loss, he has now registered a goal and seven assists in his last eight games, bringing him to 13 goals and 15 assists in 32 games for the season. Miller's lack of size and strength will always be a concern, but he has found a way to be productive in his first season of college hockey, and he should step into an even larger role with a few of the Crimson's most prominent forwards expected to turn pro next season.
Miettinen and Miller will both take part in the NCAA Tournament as well, with St. Cloud State set to take on Minnesota State on Thursday and Harvard slated for a matchup with Ohio State on Friday.
Notes from the rest of the prospect pool:
Topi Niemelä watch is officially on after Kärpät was eliminated in the wildcard play-in round of the Liiga playoffs last Thursday. It was an underwhelming season on the scoresheet for the Leafs' 2020 third-rounder after scoring at a historic pace for a U20 player a season ago, but Niemelä still has plenty of untapped upside. There has been no official word as of this writing, but keep an eye out for news on Niemelä joining the Marlies in the near future, though the Leafs could opt to wait until next fall, given he has already played a lot of hockey this season.
Roni Hirvonen's club leapfrogged Niemelä's team on the final day of the Liiga regular season, knocking them into the wildcard spot while securing a berth into the first round. HIFK began their first-round series against Lukko on Saturday, and the Leafs' second-rounder from the 2020 draft was the star of the show, scoring two goals in a 4-1 victory. Hirvonen has come up clutch in big moments at the World Juniors in the past, and after going without a point in the final four games of the regular season, he got on the board in a big way to kick off the postseason.
If Niemelä does suit up for the Marlies this season, he'll join fellow 2020 draft pick Ryan Tverberg who signed a future three-year entry-level contract with the Leafs last week after his junior season at UConn came to an end. He has joined the Marlies on a professional tryout agreement for the remainder of this season before his ELC kicks in this summer and got into his first professional game over the weekend. He didn't register a point or even a shot on goal, but his line did a good job of tilting the ice in limited minutes. Tverberg is a player to watch for with the Marlies next season, and his energetic, physical style of play is sure to make him a fan favorite in short order.
Fraser Minten's torrid pace slowed ever so slightly this past week. He registered a lone assist in three games, but Kamloops continued to pile up convincing wins and have now lost just once in their last 21 games. Minten and the Blazers look primed for a deep run in the WHL playoffs as they prepare to host the Memorial Cup later this spring.
Nick Moldenhauer had a nice weekend for the Chicago Steel, with back-to-back two-assist games on Saturday and Sunday. He recorded the 100th point of his USHL career in the process and now has 28 goals to go along with 43 assists in 55 games this season – good for the scoring lead among 2022 draftees playing in the USHL.
Ty Voit extended his point streak to seven games over the weekend and now has 17 points in his last 10 games. With 20 goals and 78 assists on the campaign, Voit is now just two points shy of 100 with four games remaining. Sarnia currently sits third in their conference and should make some noise in the playoffs, but Voit could join the Marlies as a black ace to close the season.
It was another solid week for Brandon Lisowsky. He registered a pair of assists and four shots on goal against Swift Current on Wednesday and closed out the weekend with two goals in Sunday's loss to Connor Bedard and the Regina Pats. Lisowsky has provided strong early returns on the investment the Leafs made when they selected him in the seventh round of last summer's draft with 35 goals and 32 assists in 63 games for Saskatoon.
Dmitry Ovchinnikov has returned to North America to rejoin the Marlies, according to his agent. Ovchinnikov had been playing on loan with Sibir in the KHL before they were eliminated in the first round of the playoffs a couple of weeks ago. He tallied a pair of goals in seven games with the Marlies at the end of last season and should provide some scoring depth down the stretch.
(Statistics from EliteProspects.com)