New-look Leafs set for Sunday night clash with Hawks at United Center: Leafs Tailgate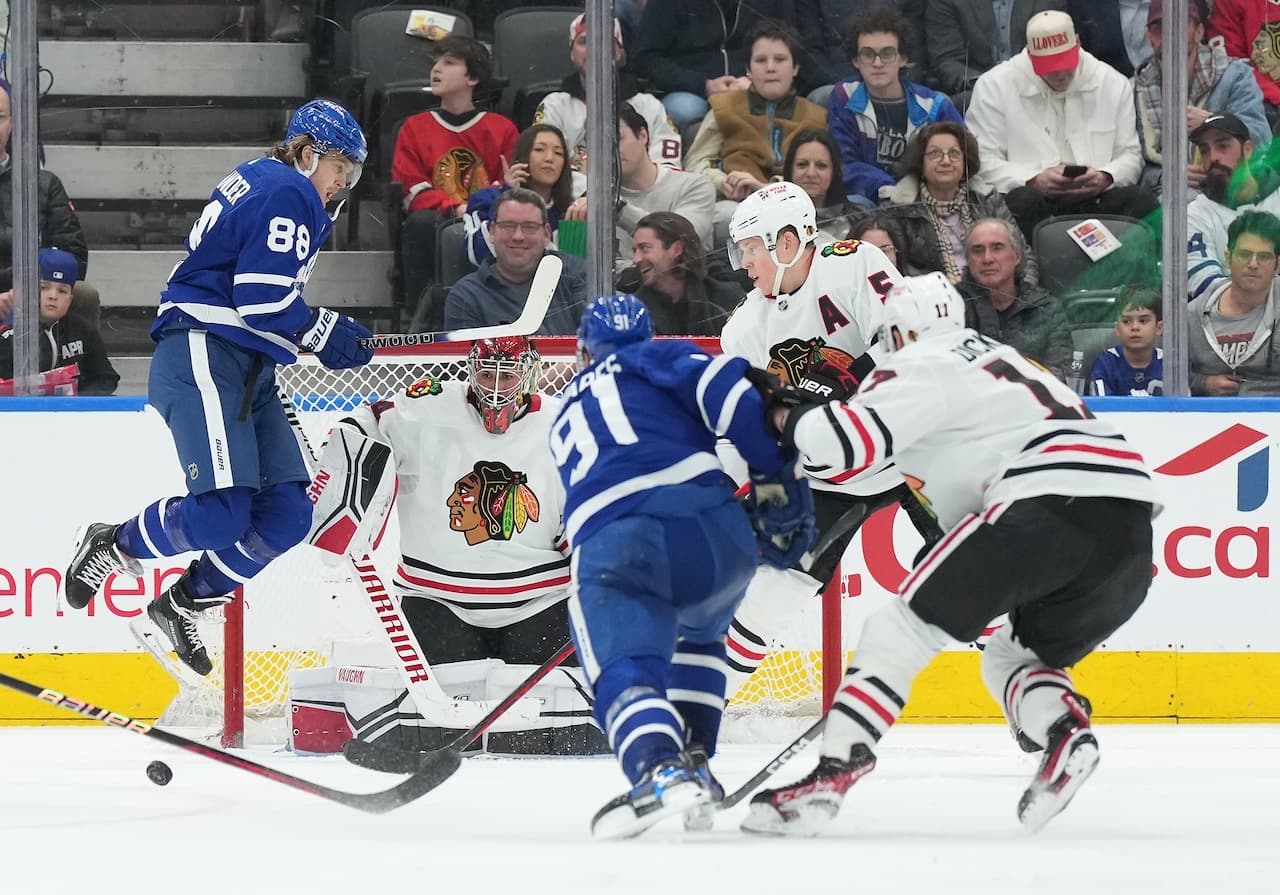 Photo credit:Nick Turchiaro-USA TODAY Sports
Remember that 5-2 beatdown against Chicago? Yeah, that was five days ago.
Considering what's happened in Leaf land over the past 72 hours, that game feels like an eternity ago.
Tonight, the Leafs will tangle with the Blackhawks again, this time at the United Center in Chicago in search of a third straight victory. Toronto's coming off a 5-1 dismantling of the rival Montreal Canadiens last night on Hockey Night in Canada. Michael Bunting scored twice while Ryan O'Reilly picked up an assist and won 12 of 14 faceoffs in his Maple Leafs debut.
Meantime, after being torched by Toronto, Chicago somehow went into Ottawa on Friday night and pulled out a 4-3 OT win on Chris Neil Night. Go figure. I won't lie, Wednesday night's game at Scotiabank Arena felt like a glorified scrimmage at times.
It's amazing what a few days can do. So much for those Patrick Kane to Toronto rumours.
TIME: 6 PM ET (Sportsnet Ontario)
STARTING GOALIES:
TOR Ilya Samsonov – LIKELY (19-6-2, 2.31, 0.918, 3 SO)
@
CHI Petr Mrazek – LIKELY (6-15-2, 3.95, 0.885)
PROJECTED LINEUPS:
THREE STORYLINES:
HOW WILL THE LEAFS HANDLE THE BACK-TO-BACK?
Another night, another inferior opponent. As mentioned, they pumped Chicago just five days ago, it's time to double down again tonight. Whether there's data to back it up or not, a lot of teams do sag in the second game of a back-to-back. Funny enough, Toronto's actually been pretty good in that scenario so far this season (5-2-1). So, what I'm getting at is that the start will be everything in this one. Either they'll let the Blackhawks hang around, or they'll run them out of the building again. Having said that, I do expect Chicago to show a bit of life after that ugly outing at Scotiabank Arena last Wednesday.
WHAT LINEUP CHANGES WILL BE MADE?
I realize I'm really picking at straws, but I still don't understand why Conor Timmins was a health bomb last night. On top of that, I hate the excuse Sheldon Keefe tried to give (lack of discipline vs. CHI). It's probably worse that the move came in favour of dressing Justin Holl, who I thought had another rough outing last night. Everyone has their favourites, I guess. Bottom line: Conor Timmins has earned more playing time.
HOW WILL ILYA SAMSONOV LOOK?
We won't find out until closer to puck drop, but if it is Ilya Samsonov who gets the call, I'm curious to see how he looks/fares after a bout with the flu. It's a very winnable game, there's no need to give Chicago any life. Additionally, I think it's good to give Samsonov as many looks as possible on the road down the stretch to set him up for the Stanley Cup Playoffs. Of course, Sammy's home/road splits are insane. Time to even them out!
BETTING:
(As of Noon EDT)
PROP PLAY:
Ryan O'Reilly Over 1.5 SOG