News and Notes: The Canucks trading Bo Horvat appears inevitable, the Lightning are interested in a Luke Schenn reunion, and more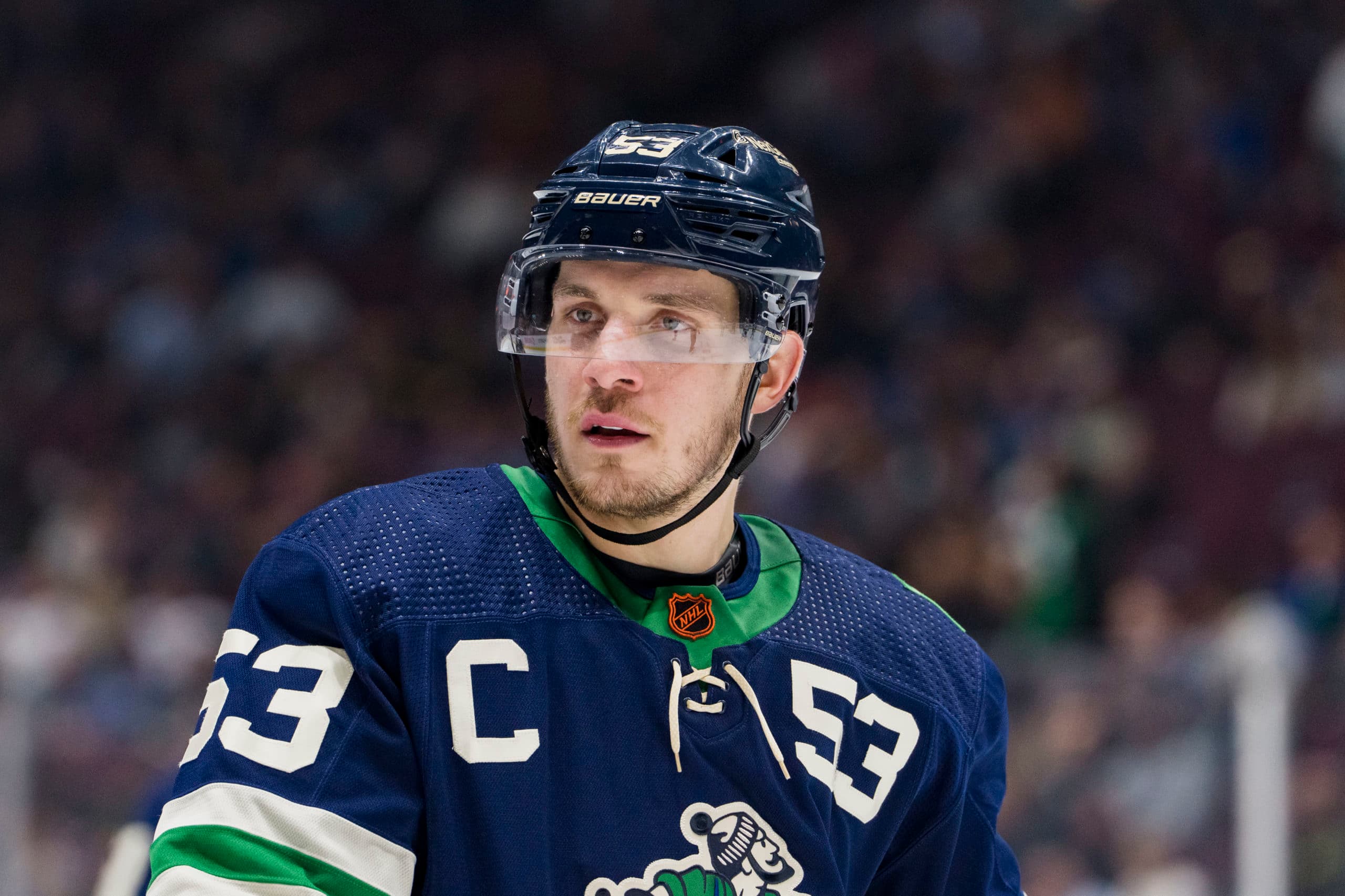 Photo credit:Bob Frid-USA TODAY Sports
In regards to Horvat, Rutherford said…
"I believe we've taken our best shot. The offer we have on the table right now is fair value for what he's done up to this year… We're in a pickle here. He's had a career run and he's looking for his money."
When the Canucks inked J.T. Miller to a seven-year, $56 million extension last summer following the best season of his career, the idea of them also keeping Horvat around long-term started to look difficult. Given the season Horvat has put together ahead of free agency, it's now looking nearly impossible.
Through 43 games this season, Horvat has 30 goals, which is just one shy of matching his career-high, and he has 48 points, putting him on pace to break the 90-point plateau for the first time. For context, Miller scored 32 goals and 99 points last season before inking that aforementioned contract worth $8 million annually, so Horvat will likely be looking for something similar.
With the Canucks unavailable to afford to keep Horvat around at the price he's going to command and given their place in the standings with a 18-22-3 record, a trade ahead of the March 3 deadline has become inevitable.
The Leafs have a strong duo down the middle on their top two forward lines with Auston Matthews and John Tavares but adding Horvat would give them a pivot to drive another dominant line while also giving them the ability to take some pressure off of Matthews, who's been dealing with a nagging injury. Horvat could also potentially slide into the top-six by taking Calle Jarnkrok's spot on the left side next to Tavares and Mitch Marner.
Rutherford noted that the Canucks don't consider themselves a rebuilding team and that they're interested in adding young players who can help them win sooner rather than later…
"My preference is when we make these deals it's not necessarily for draft picks that may come in and help the team four years from now, five years from now. I'd prefer to get younger NHL players that maybe didn't work out in their entry-level contract and, you know, bring them in and give them a second chance."
The Leafs sent Travis Dermott to Vancouver last year to give the young defender a change of scenery and they don't have many expendable players who fit the mould of what Rutherford is describing. Names who could make sense are Nick Robertson, who was recently shut down for the season because of a shoulder injury, and the recently-acquired Conor Timmins, but much more would obviously need to be added in order to acquire Horvat.
Bob Frid-USA TODAY Sports
Sticking with the Canucks, Elliotte Friedman mentioned in his most recent 32 Thoughts column that the Tampa Bay Lightning are interested in a Luke Schenn reunion…
"Halfway through the season, and Tampa Bay/Toronto is all but a lock as a first-round matchup. Six weeks to size up each other and think about anything you might need to beat this opponent. The Lightning are interested in a

Luke Schenn

reunion. And I think they are also looking at a forward with an edge in the Coleman-Goodrow-Gourde-Hagel-Paul tradition."
Schenn, of course, was the No. 5 overall pick by the Leafs in the 2008 NHL Draft who was expected to be the saviour of Toronto's blueline. He broke into the league as an 18-year-old and had an impressive rookie season but wasn't able to build on it. Schenn was traded to the Philadelphia Flyers in 2012 in exchange for James van Reimsdyk and wound up bouncing from team to team and spending time in the AHL a few years later.
In 2019, Schenn inked a one-year, $700k deal with the Lightning and played a depth role on their Stanley Cup run the following summer. He re-upped on a one-year, $800k deal and won another Stanley Cup with Tampa in 2021. After that, Schenn signed a two-year deal worth $850k annually with the Canucks and he's found his groove as a shutdown defender playing alongside Quinn Hughes.
It's been an incredible turnaround for Schenn, who looked like he was going to be out of the league before his 30th birthday. Through his last two seasons with the Canucks, Schenn has put up 31 points over 109 games while logging an average of 17:14 per game. He also has an on-ice goal differential of 76-to-62 at even-strength with the Canucks, impressive given how bad the team has been.
If the Leafs are calling Vancouver about Horvat, it would be worthwhile to inquire about Schenn as well. He would ideally fit on the right side of the team's third defensive pairing but he would also be an upgrade over Justin Holl on the second pair. Schenn might even make sense as the defensive partner to play beside the enigmatic Morgan Rielly.
Quick notes…
Detroit Red Wings goaltender Alex Nedeljkovic made it through waivers unclaimed on Monday. In 2021, Nedeljkovic had what appeared to be a breakout season with the Carolina Hurricanes, posting a .932 save percentage over 23 games and finishing third in Calder Trophy voting. The Wings traded for Nedeljkovic and inked him to a two-year, $6 million deal and he's posted an .898 save percentage over 68 games in Detroit since.
Apparently, the San Jose Sharks will retain 18 percent of Erik Karlsson's contract, which has four more seasons left on it at $11.5 million annually, but they're looking for three first-round picks in return. Karlsson is back to his Norris Trophy level this year, as he has a whopping 56 points over 44 games, but who would possibly be able to afford to pull the trigger on such a deal?
The Ottawa Senators might be in the market to add a defenceman ahead of the trade deadline, even as a rental despite the fact they're nowhere near a playoff spot. Friedman noted in 32 Thoughts that "finishing as strong as possible" is important for the organization, probably in order to keep young talent like Alex DeBrincat around.