News from the Rink: Auston Matthews not ruled out ahead of Maple Leafs vs. Oilers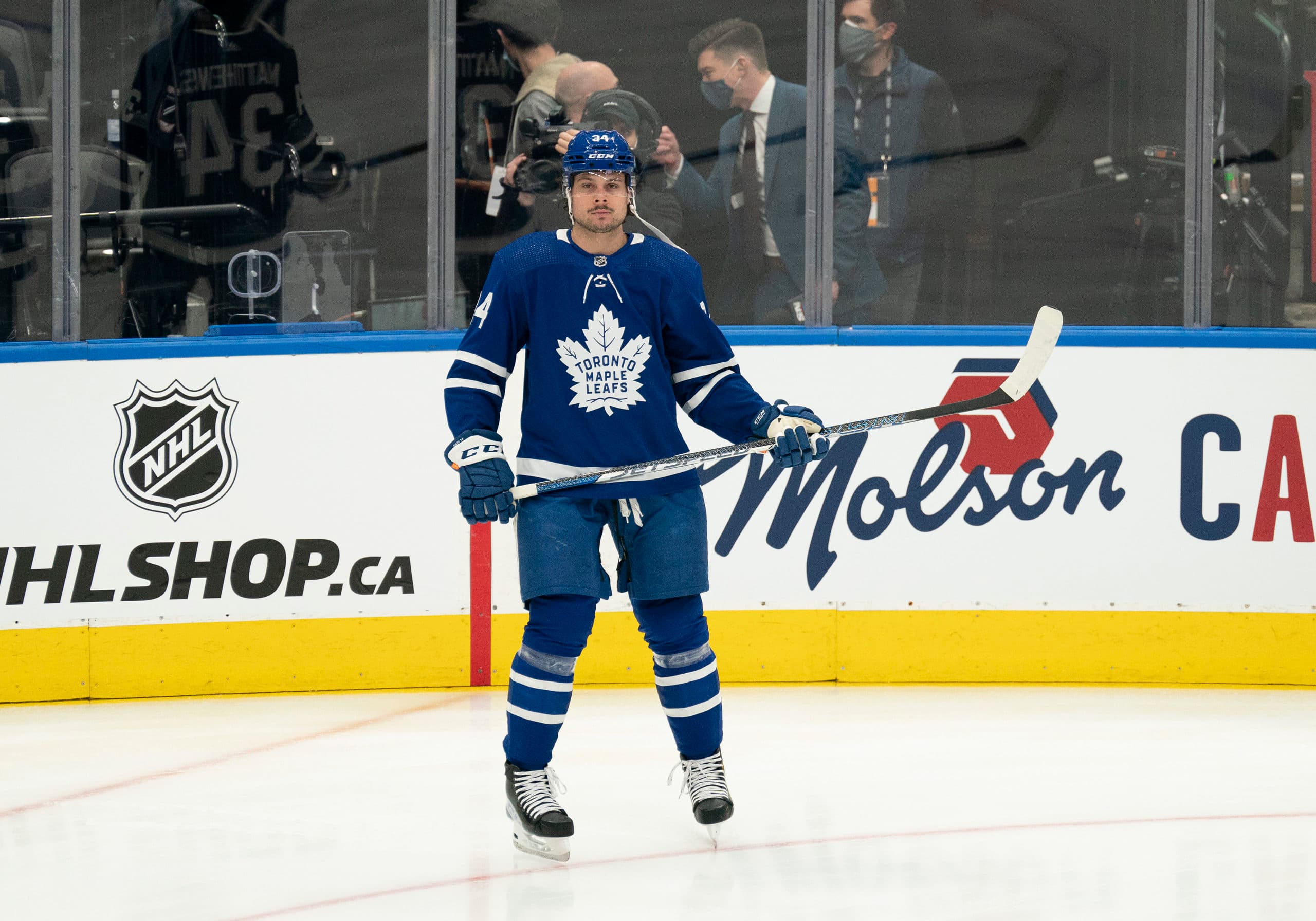 Photo credit:Nick Turchiaro-USA TODAY Sports
For the second straight day, @Auston Matthews has missed Maple Leafs practice. Yesterday, Sheldon Keefe said the 24-year-old tested positive on his rapid test, but they'd find out more from his PCR test today.
Shortly after the Maple Leafs finished practice, Keefe confirmed that Matthews' PCR test came back negative and isn't ruled out of tomorrow's game.
It's a sigh of relief for the Maple Leafs, who are getting ready for a four-game road trip after their matchup vs. the Oilers on Wednesday. One of their games on the road is in Arizona, where Matthews grew up. It looks like, after testing negative, he'll be able to play in that game.
There was, however, one positive test within the team today that came from Maple Leafs' assistant coach, Dean Chynoweth.
He missed Monday and Tuesday's practices, similar to Matthews, and will be away from the team for a minimum of five days. Before returning, Chynoweth will also need a negative test.
@Ondrej Kase was also absent from Maple Leafs practice today.
Expect an update on whether or not he'll play on Wednesday morning at the Maple Leafs' morning skate.
Maple Leafs' lines during practice
Here's how Toronto's lines shaped up ahead of their game against a struggling Edmonton Oilers team.
This lineup is almost identical to the one Keefe put together yesterday. Matthews being out has propelled @John Tavares to the first line with @Mitch Marner and @Michael Bunting.
One of the great things the Maple Leafs have is that players are familiar with each other.
"I didn't give it a great deal of thought, really just defaulted to some of the things we had done last season when we played without Auston [Matthews]," Keefe said of the lines after Monday's practice. "Kerfoot has shown the ability to play centre and do a good job for us throughout the season. It keeps him and Willy [Nylander] together. Those guys have done a good job."
With Kaše missing practice, @Alex Biega is filling in with the forwards — that's a bit different.
Biega has apparently suited up as a forward in the past. While playing with the Vancouver Canucks, the team was reportedly trying to give him
some time on the right-wing
.
Kaše's absence has also trickled down to the Maple Leafs' power play. The 26-year-old was a mainstay on the second power play unit, but with him out, @Nick Ritchie gets another opportunity to prove his value against the Oilers.
Speaking of the Oilers, last time the Maple Leafs played them, an old teammate, @Zach Hyman, was out. It's believed he will make his return to Toronto on Wednesday for the first time.
After Tuesday's practice, @Morgan Rielly had some kind words about his ex-teammate.
Hyman is returning to Toronto with 20 points (11G, 9A) in 30 games this season. The 29-year-old has spent more time on @Connor McDavid's wing and they'll likely want to do damage on Wednesday night against their hometown team.
Puck drop for tomorrow's game is at 7 PM ET.