News from the Rink: Leafs place Marner and Sandin on IR, Steeves and Rubīns to make NHL debuts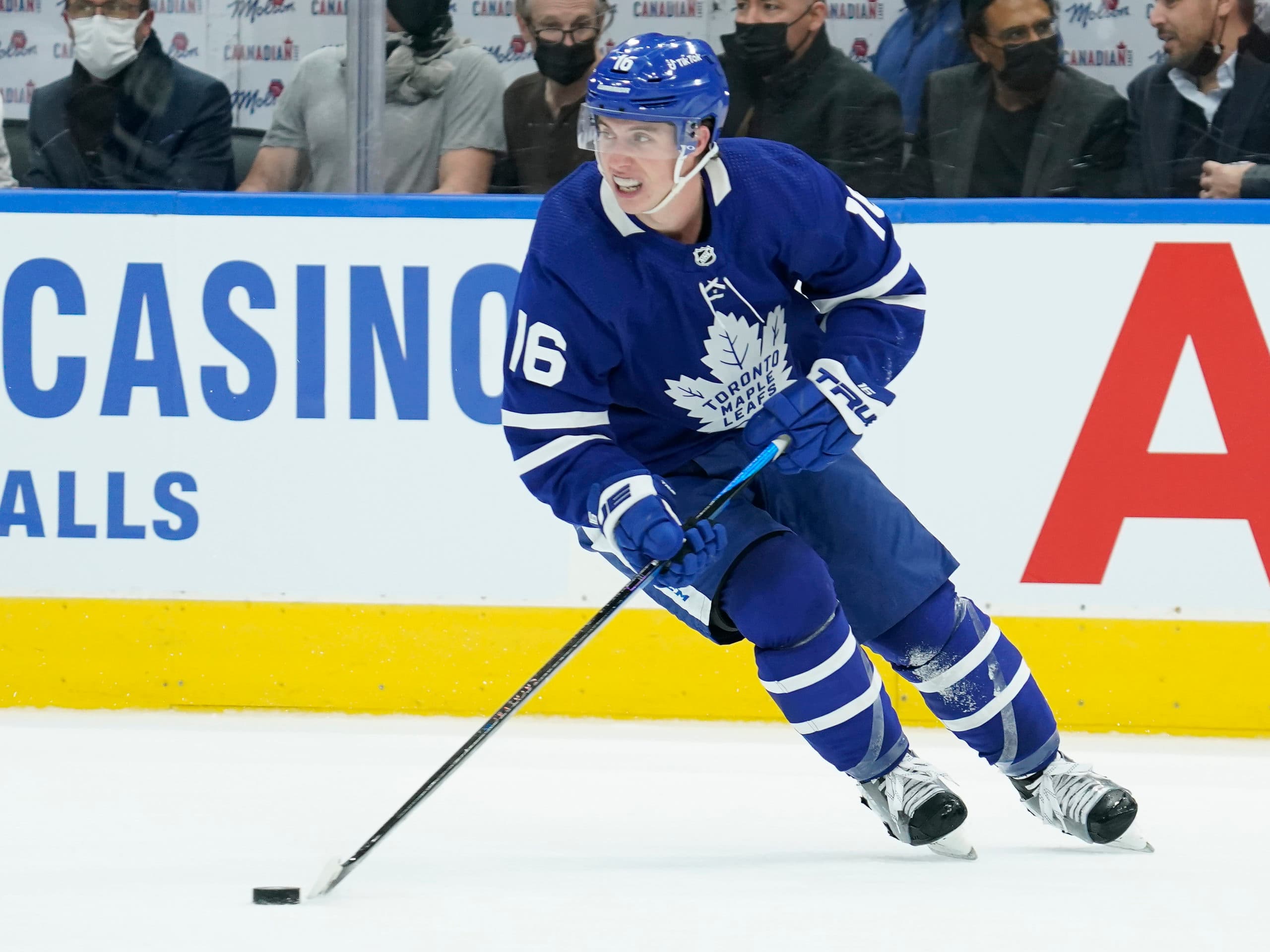 Photo credit:© John E. Sokolowski-USA TODAY Sports
As the fallout from Sunday's "gongshow" – as @Auston Matthews so eloquently put it – continues, the Leafs announced a slew of roster moves on Tuesday morning ahead of their matchup with the Columbus Blue Jackets. Following a pair of losses on the weekend, a shorthanded Leafs group will be looking to get back on track against a Blue Jackets team that has lost four of their last five.
Most notable among Tuesday's transactions was the news that both Mitch Marner and @Rasmus Sandin were headed to injured reserve. Marner missed both games on the weekend after a collision with @Jake Muzzin and despite being labeled a "game-time decision" on Saturday, it appears as though he will be sidelined for a bit longer as recovers from a shoulder injury.
The loss of Marner is a substantial one, given how prominently he figures into everything this Leafs team does. There have been some solid performances from Toronto's depth forwards early in the year and now head coach Sheldon Keefe is going to need one or more of them to step up and fill a larger role as they look to keep pace without one of their best players.
Sandin's designation was less of a surprise following an ugly knee-on-knee hit from Neal Pionk on Sunday night but his prognosis might be better than first feared. Keefe said after practice that Sandin avoided any structural damage to his knee and they expect him to be out of action for two to three weeks – welcome news given how much pain he appeared to be in leaving the ice on Sunday. The NHL Department of Player Safety announced on Monday that Pionk had been suspended two games for the hit on Sandin.
With the Leafs awaiting news on a potential @Jason Spezza suspension for his retaliatory hit on Pionk, the club also announced that they had sent down forward @Joey Anderson while recalling forward Alex Steeves along with defensemen @Kristians Rubins and @Alex Biega from the Marlies. Spezza has been offered an in-person hearing via Zoom, meaning the league has the option to suspend him for more than five games.
Anderson got into two games with the Leafs on his most recent recall but didn't see very much ice time, especially Saturday night in Minnesota. Steeves has gotten his pro career off to a hot start with the Marlies after signing with the Leafs as an undrafted NCAA free agent last spring, scoring seven goals and five assists through his first 12 games. He appears set to make his NHL debut against Columbus on Tuesday night, skating on a fourth line with @Pierre Engvall and @Kyle Clifford.
It looks as though Steeves won't be the only player making his NHL debut on Tuesday as Rubīns skated on the Leafs' third pair with @Timothy Liljegren at the morning skate. On top of the Sandin injury, @Travis Dermott was absent from the morning skate and will be unavailable against the Blue Jackets as he deals with a shoulder injury of his own. Keefe stated that the team's medical staff doesn't believe Dermott's injury is as serious as Marner's. Rubīns has worked his way up through the organization after signing an AHL contract as an undrafted player, and now at 23 years of age, has earned his first NHL look.
Be sure to check out Nick Barden's feature on Kristiāns Rubīns:
There was some good news for the Leafs on Tuesday, however, as @Petr Mrazek returned to the team after a one-game conditioning stint with the Marlies over the weekend. He allowed four goals on 26 shots in a loss to Laval but more important than his numbers was the fact that he came out of the game feeling good enough to return to Leafs practice. @Joseph Woll has performed admirably in his absence, but the Leafs will be eager to get an extended run with Mrázek serving as the other half of their goaltending tandem behind @Jack Campbell.
Projected Lineup vs. Columbus
Where to Watch:
TSN4, 7pm ET