Mitch Marner earns NHL's third star of the month, ties franchise record for longest point streak in the process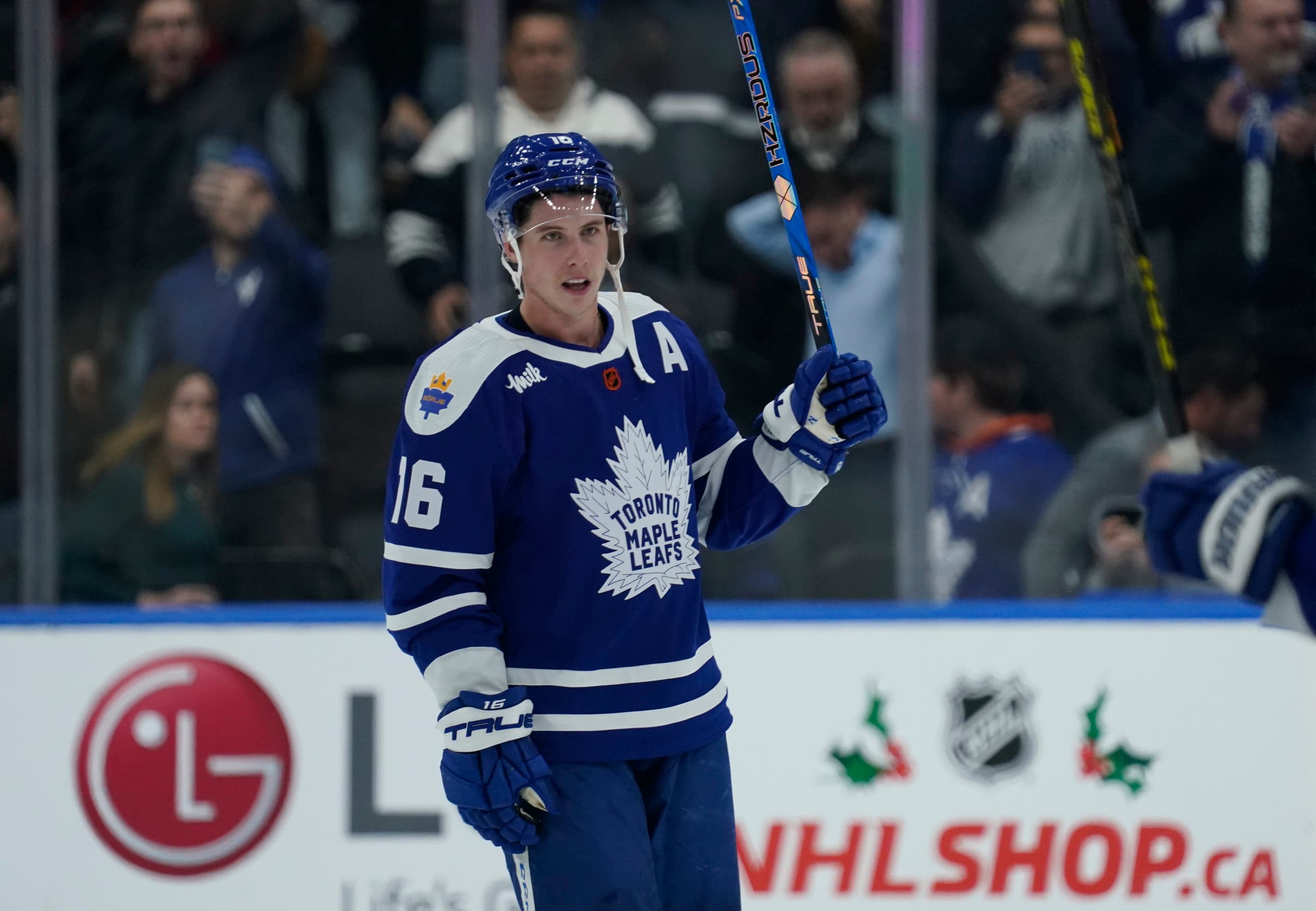 Photo credit:John E. Sokolowski-USA TODAY Sports
It wasn't just a successful month of November for the Toronto Maple Leafs going 11-1-3 after a slow start to October that saw them go 4-4-2, it was also a very successful month for Canadian winger, Mitch Marner as he earned the NHL's third star of the month and tied a Maple Leafs franchise record in the process.
Entering last night's game, Marner was on the verge of tying a Maple Leafs franchise record for consecutive games with a point, which is 18 games set by two former Maple Leafs, Darryl Sittler during the 1977-78 season and Ed Olczyk during the 1989-90 season.
With 17 straight games with a point behind Marner, it honestly felt like getting that single point in the 18th straight game was going to be difficult, especially given who the opponent was. The Maple Leafs hosted the Sharks last night, and can you guess what team Marner started this streak with? The San Jose Sharks. So wouldn't it have been ironic if his streak broke against the team he started it with?
Anyways, that didn't happen, because Mitch obviously buried the empty netter after missing it seconds prior with little time left in the third period to give his team a 3-1 lead and eventually the win in the process.
And just a little perspective of how hard it is to record a point streak of 18 or more games in the NHL, there have been only five other players since the 2009-10 season that have gone at least 18 straight games with a point, according to
records.nhl.com
.
Patrick Kane – 2015-16 – 26 game point streak
Sidney Crosby – 2010-11 – 25 game point streak
Patrick Kane – 2018-19 – 20 game point streak
Taylor Hall – 2017-18 – 19 game point streak
Corey Perry – 2009-10 – 19 game point streak
Steven Stamkos – 2009-10 – 18 game point streak
Mitch Marner is definitely in some elite company with the names listed above, and that's just since the 2009-10 season. He is currently the 65th player in NHL history to have a point streak this long. Obviously, we all should know who is number one on this list… it's Wayne Gretzky with his unbelievable 51-game point streak that he set during the 1983-84 season with the Edmonton Oilers and if I'm being honest, that might not ever be broken.
You can clearly see how much this 18-game point streak means in the locker room with everybody celebrating with Mitch as soon as he walked in, because not only did he tie a franchise record, he's among one of the longest point streaks in NHL history as I said above.
Some of Marner's teammates were also asked about him tying the record last night. According to Mark Masters, goalie Ilya Samsonov said he looked into the future and knew he was going to tie the record last night.
Auston Matthews was also very happy for Mitch, but he was getting a little nervous, per Mark Masters.
He will have a chance to make Maple Leafs history with another point in his 19th straight game this Saturday when the Maple Leafs travel to Tampa Bay to play the Lightning for the first time since game seven in the first round of the 2022 NHL Eastern Conference playoffs.
Now that we've talked about Mitch's insane current point streak that tied a franchise record, let's go over the entire month that he had. His month of November was so good that it earned him the third star of the month with Devils goalie Vitek Vanecek earning second star and Stars forward – and Nick Robertson's brother – Jason Robertson earning the first star.
In 15 games, he recorded six goals and 14 assists for a total of 20 points, while being able to continue his lengthy point streak. as well.
In those 15 games in the month of November, Marner recorded five multi-point games and is also currently on a four-game goal streak too. Not too shabby for the kid at all.
He has now improved his season totals to eight goals and 21 assists for 29 points in 25 games, putting the winger on pace to finish the season with 26 goals and 69 assists for 95 points, which would be two points shy of his career-high that he set last season with 97 points in 72 games.
Marner has also made his way into the top five in assists among NHL players and the top 10 in points as well.