Next Gen Game Preview + Guest Carlo Colaiacovo: Leafs Morning Take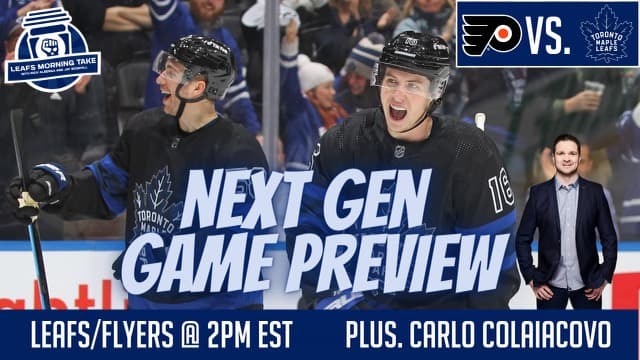 Photo credit:Tyler Yaremchuk
For some reason, the Next Gen games seem to go hand and hand with the holiday season. I love them.
Flying solo for the Thursday edition of
Leafs Morning Take
, a good portion of the focus was on the Next Gen game between the Leafs and Flyers. Honestly, it would be great to see Toronto appear in more afternoon games, but I get why they don't. It's all about money. The Grinch is in town, baby!
Oh yeah, not to bury the lede, former Leaf and current Co-Host of First Up on TSN 1050 Toronto, Carlo Colaiacovo, dropped by. We touched on everything from Italian Christmas to what the Leafs should target at the trade deadline. It was a lovely chat.
Additionally, Jay Rosehill made a cameo appearance with another fantastic instalment of 3 Hits With Rosie. Suffice it is to say, Rosie's been loading up on eggnog lately, and also the Christmas cheer. Just wait until the springtime, my friend. That's when this job gets fun, trust me.
Just a quick scheduling note: Rosie and I will be back on Friday for one last show before a mini three-day holiday break. Additionally, we'll be taking a couple extra days off next week as well. The plan is to still do a show on Tuesday and Thursday, both of which are Maple Leaf gamedays. In summary, we got you. No need to worry.
Don't forget to subscribe, like, and leave us a review wherever you're checking us out!