Nick Robertson needs to show the Leafs he can stay healthy and score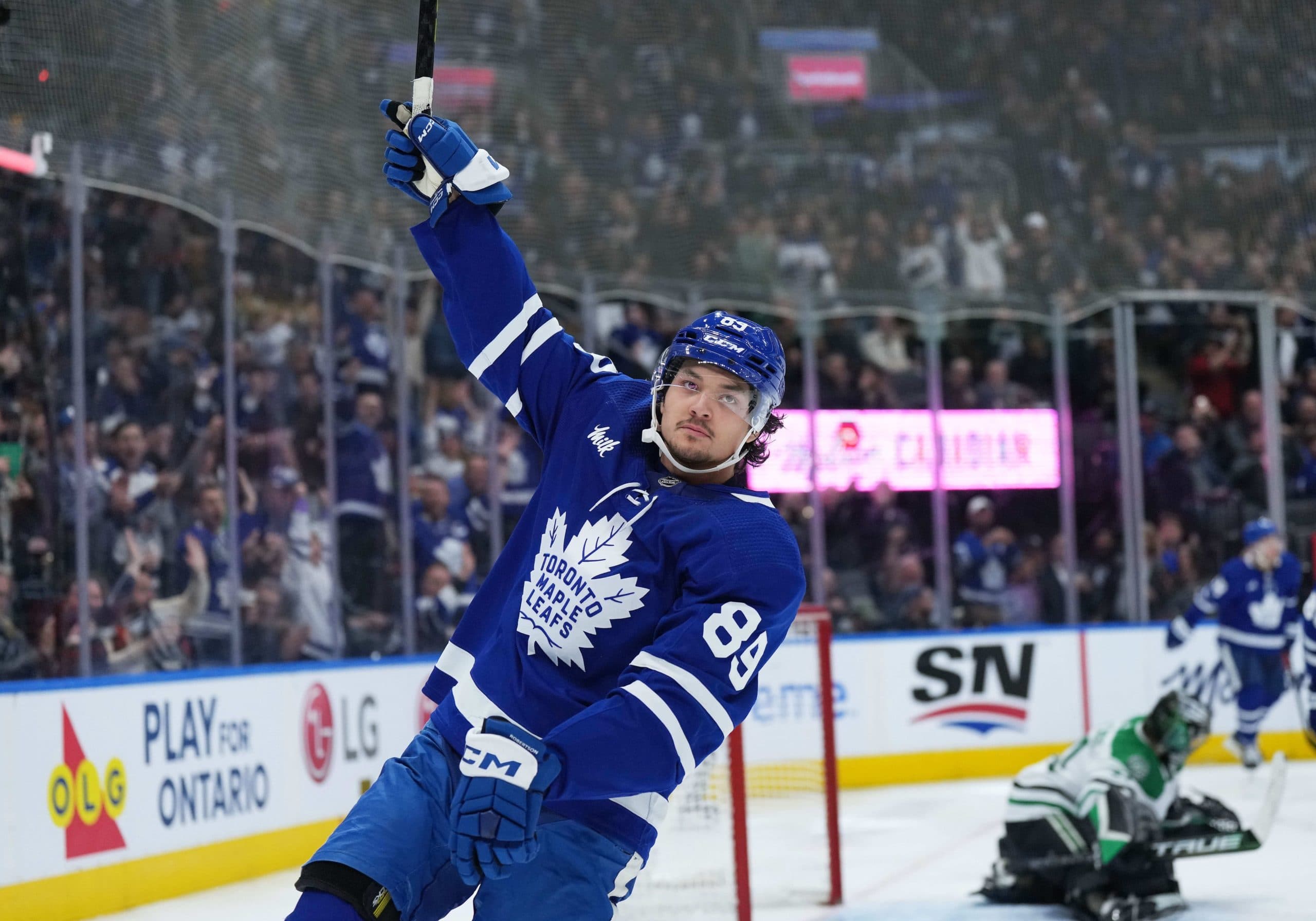 Photo credit:© Nick Turchiaro-USA TODAY Sports
Jordan Subban, Alex Nylander, Joel Lundqvist, and Jared Staal all know what Nick Robertson has gone through. It can't be easy being the brother of an elite hockey player and having the expectations put on you that you will achieve just as much if not more. That being said it is probably too early to lump Nick Robertson into that group as he is still just coming up on his 22nd birthday before next season and can still prove that he has a place in the NHL. The catch will be if he can stay healthy enough to prove that.
The 2022-23 season was supposed to be Nick Robertson's put up or shut up year. At 21 years old with an encouraging junior and AHL resume, Nick was going to be a Leaf and provide some affording scoring within the top nine forward group. Understandably in what was going to be his first full year there would be a learning curve and that showed in his 5 points in 15 games, which aren't great numbers but not numbers you wouldn't expect to see from a rookie.
The 15 games marked the most Robertson has played in the NHL over his career and his 2 goals and 5 points was an encouraging jump from his 1 point in 10 games in the previous year. That being said, there was still much to criticize in Robertson's game. While he has a willingness to battle for the puck, he was frequently muscled away from it. His shoot-first mentality led to a lot wrist shots into goaltender chest protectors, and there doesn't seem to be much in the way of a 200 foot game there. Robertson will be an offence or bust player and the offence is yet to fully materialize.
There is also the matter of last year not being the first time we're talking about Robertson and injuries. The 2021-22 season was the high watermark for combined games played between the AHL and NHL at 38, last season it was just 17. Three years of missing the majority of the season is a trend that might be hard to come back from, but you'd hope to hell that there has been a lot of conditioning work as part of Robertson's rehabilitation and offseason development plan.
There is also the matter of putting Nick Robertson in places he can be successful. Putting Robertson with Tavares and Nylander was burying him on a line with two other shooters. Putting Robertson with Engvall and Jarnkrok was limiting his chance to create offence, and while he looked okay with Mitch Marner, it seems like there needs to be a least some middle ground beyond requiring the Leafs best playmaker to get him going. The best fit for jump-starting Robertson might have to come through trade or free agency.
That brings us to whether or not trading Nick Robertson might actually be the best thing for both Robertson and the Leafs. It's safe to say that his value is nowhere near where it once was, but there is still enough of a combination of youth, upside, and sub $800k contract left to make him an interesting piece in for a team looking to shed some salary and look to the future. While the Leafs could certainly benefit from cheap, youthful scoring as well the safe bet might be to cut ties with Robertson in order to hedge their bets on a productive top nine forward group.
Assuming Robertson stays, the question becomes how the Leafs can get the most out of him, assuming that his scoring ability is limited or streaky.
Robertson is a strong north/south skater, which can be said of the majority of the league, but that combined with his usefulness when it comes to takeaways and his offensive upside could see him developed as a potential penalty kill option. His dog-on-a-bone approach could make him a skilled option to challenge point shots in that situation. His skill set also makes him a favourable choice for the second powerplay unit, something that struggled for the Leafs in 2022-23. Having Robertson posting up in the Matthews high slot areas of the ice on the second unit is a worthwhile use of his talents.
Perhaps primarily seeing Robertson as a special teams player and allowing him to break into the league on the fourth line is right course of action. While Robertson might lack the linemates to help him excel, he would also be going up against easier competition that would close some of that gap. If Toronto continues to utilize 11F/7D lineups next year that potentially means he'll see time with members of the core four as they rotate through that fourth line or he be given situation usage in the top nine when it is favourable to Robertson's abilities.
It is possible that Sheldon Keefe's rolling of four lines was a barrier to Robertson's success. There are also challenges that come from not being in the lineup every night and not having a consistent line. Robertson might require more nurturing than the Leafs were prepared to give him last year and in an 82-game season it seems like investing a roster spot on developing your top prospects is worthwhile, as long as you aren't committing to too many of them at once.
It seems like for the third year in a row the hope is that Robertson can either break out or at least give the Leafs more than they've seen so far. At this point most fans would probably settle for him being healthy enough to know what Toronto has.