Nick Robertson returns to Marlies practice for the first time since suffering injury in October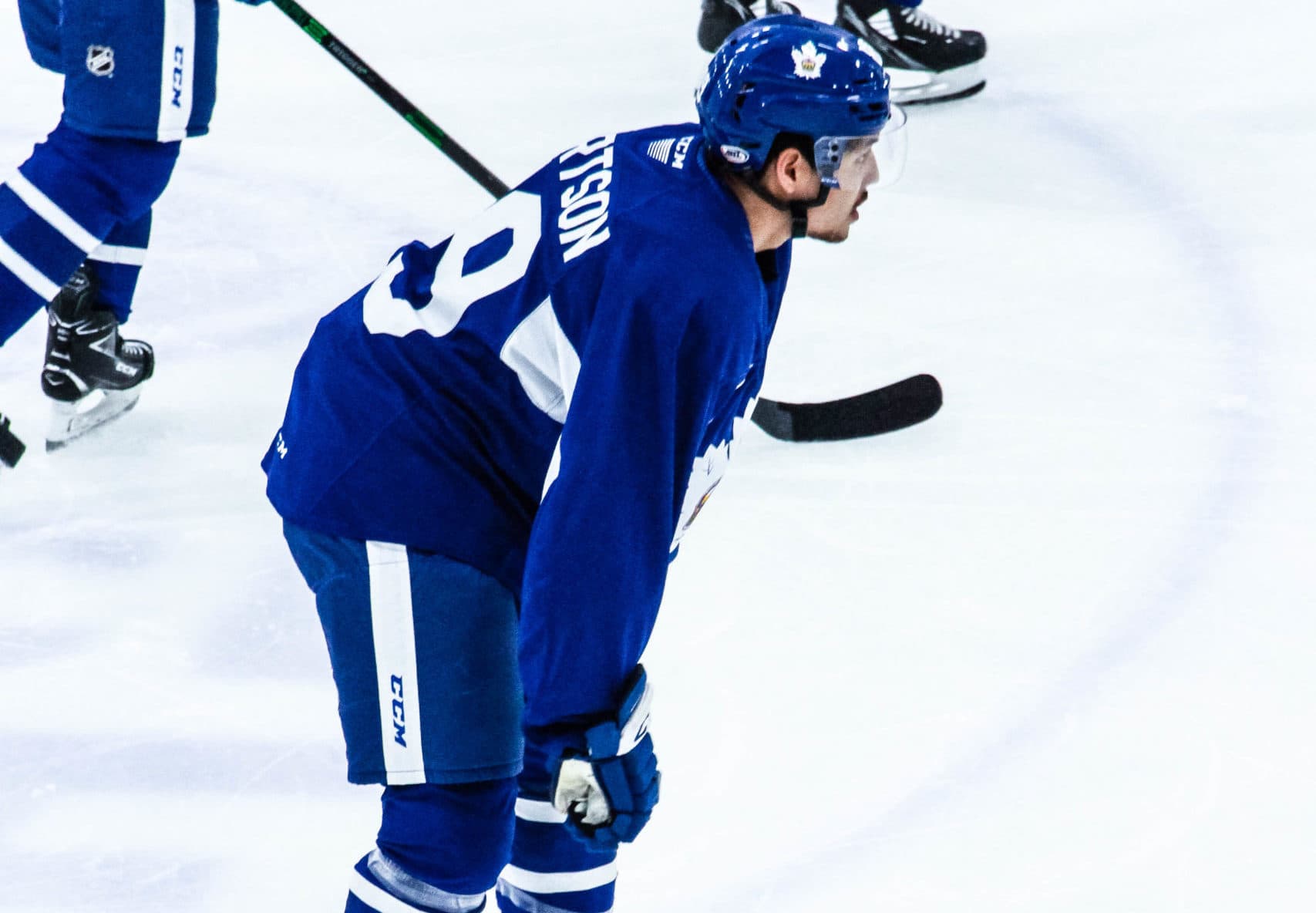 Photo credit:Nick Barden
The Toronto Marlies welcomed back one of their most important players to practice on Thursday.
Three months after suffering a non-displaced right fibula fracture, Nick Robertson stepped onto the Coca-Cola Coliseum ice. The 20-year-old suffered the injury back in October, just two games into his second AHL season.
On Thursday, he joined the Marlies practice in a red non-contact jersey.
Robertson participated in almost every drill that had limited contact. But more importantly, the 20-year-old was the final player off the ice during Thursday's practice.
That's no surprise.
The Marlies had some of the Maple Leafs development staff out with them once practice came to an end. Robertson spent most of his time after practice tipping pucks and then working on his conditioning.
There's no word as of yet regarding when he's scheduled to return to the Marlies lineup, but him returning to practice is a very good sign.
"It feels really good," said Marlies head coach Greg Moore after being asked how it feels to have Robertson back practicing. "He's such an awesome person… The little things he's done during this time to try and level himself up during his time off has been really impressive. So, it's good to see him out with the guys again, and be a part of the group. He's a special player and we're excited for when his return would be."
The little things are what's key to be able to return to the lineup and make a difference.
We saw that most recently with @Alex Steeves, who worked on a lot of little things ahead of his return to the Marlies lineup. He came out on fire, scoring six points in his first four AHL games.
But what were the little things that Robertson worked on?
"He's usually one of the first people at the rink, sometimes along with the staff," said Moore with a grin. "The hours he's spending in the weight room doing the extra, sitting with different coaches, development coaches doing video and studying things that he can add to his game even while he's not playing. Whether it's in the back here (at Coca-Cola Coliseum) shooting pucks, stickhandling pucks, he's taken full advantage of what you could say is the down time during his rehab.
"That's what makes players special is when they're taking full advantage and find the positives in every situation."
Robertson has had his fair share of injuries throughout the past two seasons. But this time around, the hope is that he can stay healthy for the rest of the season.
Brennan Menell discusses injury that kept him out since November
After Marlies practice today, we got to speak with @Brennan Menell, who returned to game action on Monday for the first time since suffering a separated shoulder in November.
The 24-year-old has participated in practice since returning, but this was the first time he spoke with the media.
"You can't really explain it," said Menell after being asked how it felt to return to game action. "It feels good after being out for eight weeks and not being able to play, and play with the guys on your team. It's tough, so I worked hard to get back and it just felt good."
Menell described his rehab as "tough," stating that he couldn't even move his arm for the first four weeks of rehab.
"A lot of bike rides, lower body stuff," said Menell of his rehab. "Come in, I wasn't able to skate for the first four weeks and then, you know, just some icing and stim, stuff like that with the trainers. And then the last four weeks was getting more mobility in my arm and getting it back to regular strength that it had before."
Being out for a long period of time can be incredibly tough mentally. You're not around the team as much and you start to feel further away from the team.
For Menell, one of the things he learnt is to be more grateful to be able to play hockey for a living.
"You think about hockey and how special it is to be able to play it," said Menell. "And then, you know, when it's taken away from you, you realize that you didn't really appreciate it when you were able to play, you were healthy. So, you know, just kind of thinking about how lucky I really am to be able to just play hockey with my friends for a living. So, it really makes you appreciate what you have."
The 24-year-old skated alongside @Filip Kral on Thursday and is likely to play in Friday's game vs. Belleville.
There were three players missing from Marlies practice, and those were @Kristians Rubins, @Teemu Kivihalme (who watched a portion of the practice from the stands), and @Semyon Der-Arguchintsev.
Kivihalme hasn't played since suffering an ankle sprain in October, but it's not known if that's currently why he's out. Rubins was injured on January 21st vs. Wilkes-Barre/Scranton. Moore said he was day-to-day with a lower-body injury after the game.
Der-Arguchintsev is currently away from the team due to personal reasons.
While Toronto practised at home on Thursday, they don't officially play another home game until February 5th vs. Rochester. Three more games on the road.