Nick Robertson scores first AHL goal, Marlies 2-0 to start season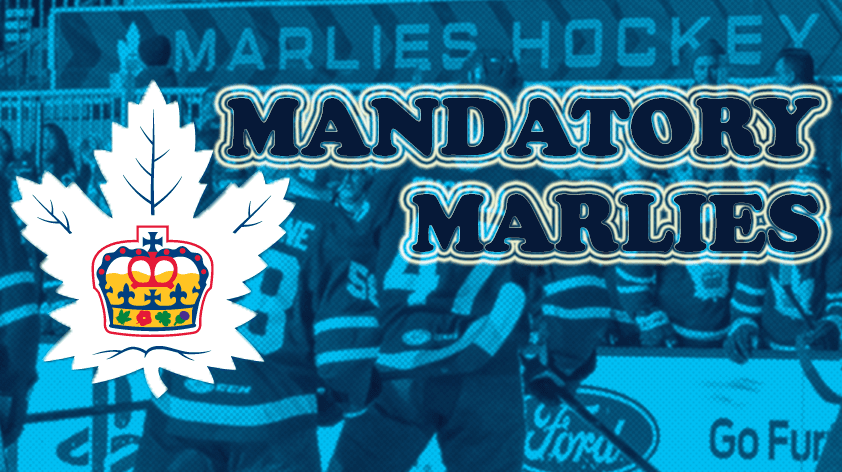 The Toronto Marlies have battled the Manitoba Moose in two-straight games and have got the win both nights. A lot has happened in what's felt like a week for myself covering the Marlies this season (it's only been two days).
First, it was @Rasmus Sandin getting injured after blocking a shot in the second period of game one against the Moose. However, there was some good news that came in the Marlies' second game of the season and it was Nick Robertson scoring his first-ever AHL goal.
It was actually the game-winning goal too.
Robertson came into this season with the hopes of becoming a regular on the Toronto Maple Leafs but with a crowded lineup and an injury, he never got much of a chance. That was, until he was sent down to the Toronto Marlies where he's now playing on their top line.
After two games in the AHL, Robertson has one goal and two assists and is tied for the team lead in points. I can say that's a pretty good start to the season, but I don't believe that's what he's focused on.
"As far as the team, I think it can just bring what the Leafs try to portray which is pace and youthfulness. I think it's more of me trying to get experience from them because there's a lot of guys on the team who have more NHL experience than me," said Robertson before yesterday's game.
This is the perfect spot for the 19-year-old. With the OHL season up in the air, Robertson comes to the AHL and will get the experience he needs. Although it's not as skilled of a league as the NHL is, the players' physicality and size are similar. He will learn how to take bigger hits and play against bigger opponents, which will then translate to when he gets back to the NHL.
"Being with the Marlies is a great time for me to get in my groove, and with this whole covid situation and the junior league's not starting I think it's just better for me to be in the American League," said Robertson, "it's definitely a blessing. Obviously, I wouldn't want covid to happen but given the circumstances it's definitely good that the American League is eligible to have guys in my situation."
The 19-year-old's career has definitely been unique so far, but he's not the only one who's gotten into an NHL game and is now with the Toronto Marlies.
Timothy Liljegren is in his fourth season with the club and already he has three points this year (two assists last night). In the same situation as Robertson, Liljegren can't crack the Leafs roster because of the crowded blue line. However his game has evolved since he's come to the Marlies and this season is no different.
"I think you gotta pick and choose your opportunities when you get them but it for sure is something that I've been trying to work on." Said Liljegren when asked about his offensive touch so far this season. "I'm pretty happy about my game. It's a long time since you played, it's almost a year ago. But I think after these two games you get your rust off and it feels better every game."
Those are only two of the four Marlies with three points in the first two games of the season (Rourke Chartier and Tyler Gaudet are the others.) Toronto has outshot the Manitoba Moose 69-55 in the two games they've played and have also outscored them 9-4. The key there is the team limiting the amount of goals against.
Andrew D'Agostini has been a massive part in that. After winning his first AHL game two nights ago, he finished last night with another win and has a .927 save percentage. After bouncing around the SPHL and the ECHL, D'Agostini looks like he may have found his home for this year. With @Michael Hutchinson and @Joseph Woll up with the Maple Leafs, the 27-year-old has a unique opportunity.
Another huge part of limiting the goals against has been the defence who have shutdown the Moose when the Marlies take the lead.
"Their puck play. Their defending." Said Marlies Head Coach, Greg Moore, when asked about what he likes about his defence. "We've talked a lot about their consistency and their willingness and want to defend which is creating more offense for them. They're getting the puck back faster, then it puts them in better spots to transition the game and join up in the rush."
Like I said before, Sandin is out with an injury (day-to-day with a bone contusion) so Toronto is leaning on Liljegren and @Calle Rosen for key minutes, which has worked out for the both of them. There's no timeline on when Sandin will return but with how the two have played so far this season, the Marlies should be fine.
Toronto plays the Manitoba Moose two more times before heading to Calgary to play a four-game series against the Stockton Heat. It's only been two games, yet the Marlies seem to play like a team who has 20 games under their belt already. And although it's too early to judge how good they really are — it's been impressive through two games this season.