Nino Niederreiter is still available and the Maple Leafs should be trying to sign him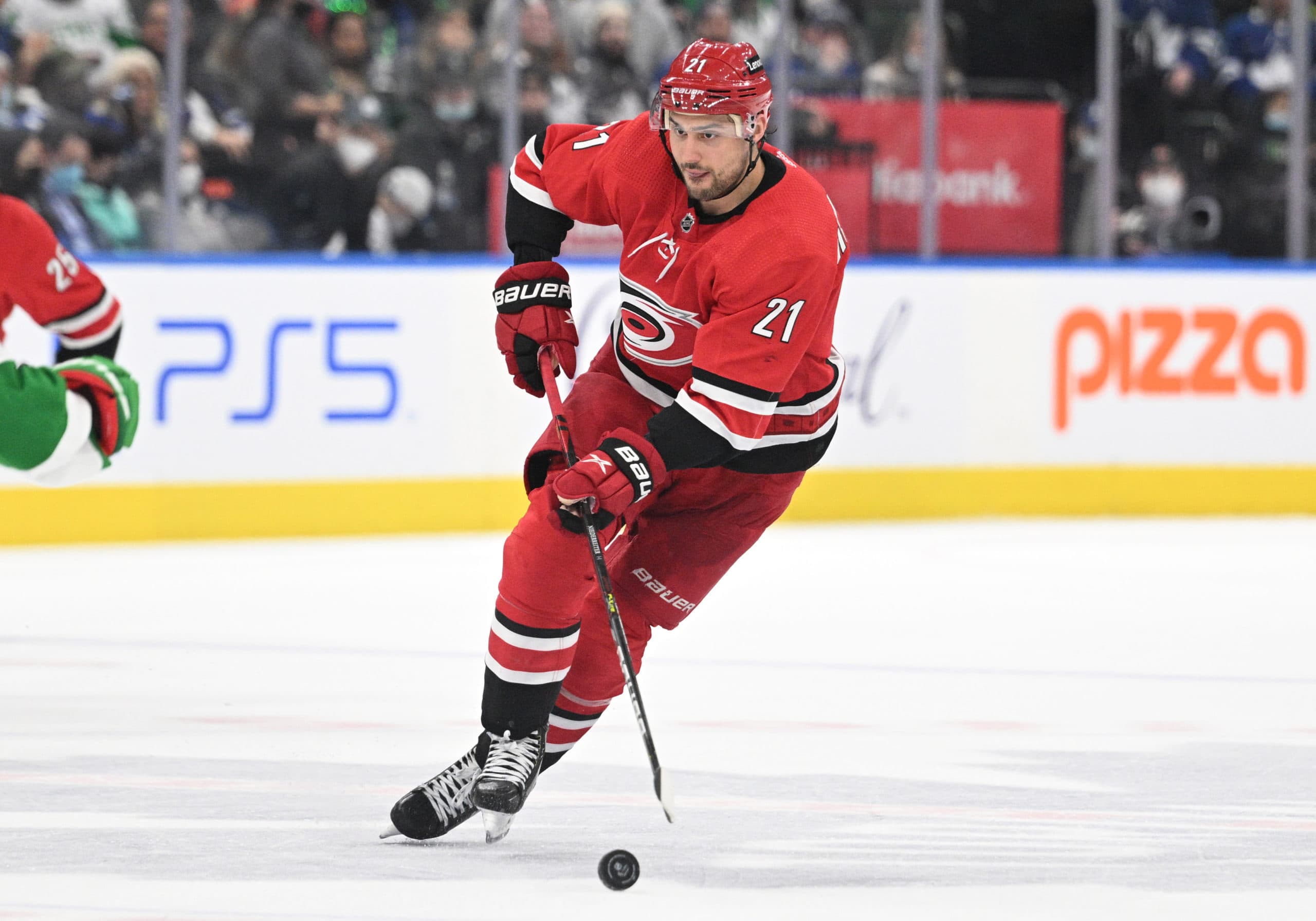 Photo credit:Dan Hamilton-USA TODAY Sports
We're exactly one week into the NHL's 2022 free agency period, and some relatively big names are still on the market.
After what was a very active first day in free agency with a ton of players either re-signing with their teams or finding new homes, a total of 149 signings and over $912 million dollars were handed out last Wednesday. Since then, it's been pretty quiet and there are some giant dominos that could be the blame for the market not really moving. Guys like Nazem Kadri and John Klingberg are not yet signed to a team, and those two players are considered the two biggest names in their respected positions left on the market.
However, outside of those two players, there are some other pretty valuable names left on the market and a team like the Toronto Maple Leafs should be all over one.
Nino Niederreiter, a 29-year-old winger is still on the market without a contract and I believe the Maple Leafs should be trying to sign this man to their team. Yes, if Toronto does sign him to a contract, trades are going to be even more inevitable, but that's fine because Toronto has some contracts that are easy to move to teams who might be willing to trade for those types of players. But before we get into some of the players Toronto could part with in order to sign a player like Niederreiter, let's talk about the type of player he is first.
As we know, Nino is a 29-year-old winger and has put together some pretty solid seasons over his career on teams like the Minneosta Wild and the Carolina Hurricanes. He is coming off a five-year contract that carried an AAV of $5.25M and I think it's safe to say that there is a chance his next contract will come somewhere in the $5 million range again, or maybe he's even willing to sign a little cheaper given the flat cap era we're all currently in and the fact that he's still on the market and teams don't have a lot of money to spend right now either. If this is any other season, I believe Niederreiter would already be signed to a team.
He signed that five-year contract before the 2017-18 season after he came off of a 57-point campaign and scored 25 goals in 82 games. The previous three seasons were all pretty solid too as he racked up a 36-point, 37-point, and 43-point season in his early 20s with the Wild.
After signing that five-year contract with Minnesota, Nino got dealt to Carolina during the 2018-19 season and not only did he continue his consistent production, he did it while not playing a full 82-game schedule in the last three seasons (COVID took into account for two seasons, of course).
However, with that being said, Niederreiter has shown over the course of his career that he is a very solid top-six/top-nine two-way winger that can score your team a decent amount of goals and is someone who isn't afraid to throw the body around either. He is someone you can easily slot in beside anyone in Toronto and he'll still produce for you while continuing to play his style of hockey, but if Toronto does value Niederreiter highly and they go out to try and sign him, I honestly believe he's instantly slotting in the second line left wing/right wing spot beside John Tavares and William Nylander.
Nino Niederreiter's stats last five seasons:
Just looking at those stats, some might say there's nothing too impressive about these seasons because he scored 30 points twice and had a down year with 29 points in the 2019-20 season, however, if you take into account he didn't play a full 82-game season and you calculate what his numbers would've/could've been if he did play a full 82-game season, it'd be a lot more different.
Over an 82-game season, he would've finished the 2017-18 campaign with 42 points, in 2019-20, he would've been on pace to finish the year with 35 points, and in the shortened 2020-21 season, over 82 games, Niederreiter would've been on pace to finish with 50 points. So yes the last five seasons look like it's been all over the place with point totals, but he is a consistent player and can easily score you 20 goals and 45 plus points if he plays close to a full NHL season.
Now given he's 29 years old and some might be hesitant to sign him to a contract with that dollar amount for four or so years and I get that, but I think he is the type of player that can really, really help out this Toronto team and give Tavares and Nylander a little more help because that second line struggled at points last season and it was clear as day they were.
As for what players could be moved out of Toronto to make this signing a possibility, well, you have Alex Kerfoot ($3.5M AAV) and Justin Holl ($2M AAV) who are the two easiest options to move in my opinion. However, Jake Muzzin ($5.625M) could be someone who gets dealt from the blue line not only to make room for another forward signing but make way for Rasmus Sandin to take that giant next step and play in the top four more consistently. The only problem is Muzzin owns an NTC this season and it turns into an M-NTC next season, so he'd have to be willing to accept the trade out of Toronto to wherever he goes.
There were rumours out there a while back that a Muzzin/Los Angeles reunion could make sense because he started his career out there before being traded to Toronto in early 2019 and Los Angeles is also pretty thin on the left side too, so adding a veteran defenseman with two years left on his deal could make sense for the Kings unless they're comfortable being thin on the left side of their blue line.
POINTSBET IS LIVE IN ONTARIO!