Notes and quotes from Day 1 of Leafs development camp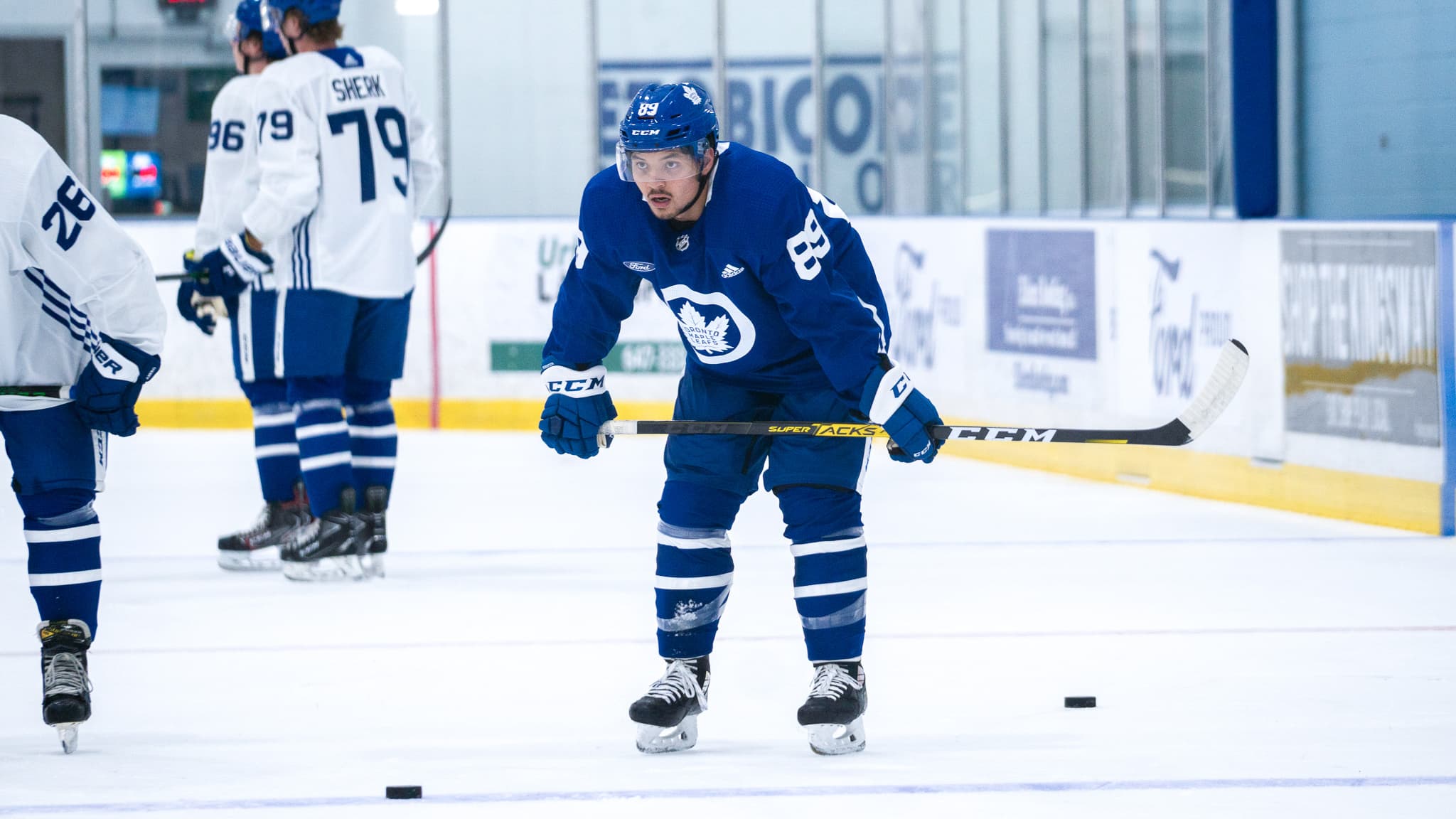 Photo credit:@MapleLeafs
One day down, three more to go. With medicals finished up Thursday, the Toronto Maple Leafs development camp group hit the ice for the first time on Friday for an "on-ice development" session.
Firstly, four players were not in attendance for various reasons.
From David Alter
, @Joseph Duszak (foot) and Riley McCourt (shoulder) were unavailable due to injury, while Colby Saganiuk was feeling unwell. No update was given on Lukas Gustafsson.
The available prospects and invites were split into Team Blue and Team White, giving us an idea of the two rosters that will compete during Saturday's first scrimmage.
Team Blue
Forwards
Defencemen
Goaltenders
Mikhail Abramov
Lleyton Moore
Taylor Gauthier
Ryan Del Monte
Matteo Pietroniro
Keith Petruzzelli
Curtis Douglas
Sam Sedley
Ian Scott
James Hardie
Vincent Sévigny
Braeden Kressler
William Villeneuve
Jeremy McKenna
Cédric Paré
Nick Robertson
Théo Rochette
Lawson Sherk
Team White
Forwards
Defencemen
Goaltenders
Brett Budgell
Landon Cato
Braden Holt
Ryan Chyzowski
Jacob Guévin
Erik Källgren
Semyon Der-Arguchintsev
Noel Hoefenmayer
Christian Fitzgerald
Filip Král
Jordan Frasca
Ethan Peters
Pavel Gogolev
Joe Miller
Alex Steeves
Ty Voit
Notable combinations include:
Potential Marlies line of @Nicholas Robertson, @Mikhail Abramov, and Jeremy McKenna on Team Blue
Lots of goaltending competition with @Ian Scott, Keith Petruzzelli, and invite Taylor Gauthier on Team Blue
Potential Marlies line of @Pavel Gogolev, @Semyon Der-Arguchintsev, and Alex Steeves on Team White
Draft picks Joe Miller and Ty Voit on Team White
Potential Marlies pairing @Filip Kral and Noel Hoefenmayer on Team White
While we didn't get to see much of the on-ice product (that will come during Saturday's scrimmage), we did get to hear from Leafs prospects Nick Robertson and Alex Steeves in media availabilities.
Nick Robertson
On how camp has gone so far
"I'm excited. I'm healthy, last year I dealt with an injury prior to camp and multiple injuries during the year ruined my momentum and my overall confidence. I'm healthy and I'm ready to go."
"I've always had that motor going 100% all the time, that's just how I was born and how I'm supposed to be…I've heard it my entire life that I need to dial it back, I always told them I'll dial it back when I know where I stand in my career."
On why he's attending development camp and what's he's looking to get out of it
"The message we got last night was that this is less of a development camp and more of a compete camp. I'm trying to use it as much as possible as an advantage…it's kind of a conditioning camp for myself, getting back into game shape, getting back into the rhythm…

Given what happened last year it's valuable to come to something like this. Last year I dealt with injuries, my momentum was up and down. I wouldn't want to go into camp cold and not get a lot of reps. Going to development camp and Traverse City will give me a lot of reps and maybe give me an advantage over last year."
It is also Robertson's 20th birthday. During his availability, he mentioned his involvement in a CBS special on those born on September 11, 2001, which will air sometime today.
Alex Steeves
On why he chose to sign with Toronto as a collegiate free agent
"Once I met with Kyle [Dubas] and a few other staff members, I was really impressed with the attention to detail the entire organization has taken towards development and their holistic approach whether it be with the Leafs, the Marlies, or wherever a player is. They're so invested in their players and I've been able to see that first hand since signing in the spring. For me, as someone who loves to learn and grow, I think it was a dream fit. I'm a big believer in utilizing resources. It was one of the reasons that drew me to Notre Dame, they've got so many resources and Toronto reminds me a lot of Notre Dame in the sense that there are so many resources to use and it's up to the players to use them. It was a really attractive option for me and I jumped all over it."
On leaving Notre Dame a year early to sign with the Leafs
"It was a tough decision. It definitely wasn't something I was thinking about until the season ended. I wanted to finish the year strong at Notre Dame and be 100% with my team as we were trying to track down a national championship. When the time came to listen to what was out there, I reflected on it and felt that I had a really good three-year career at Notre Dame. I felt like I reached a point where I was handling a lot of responsibility and performing at a high level and I was just ready for a new challenge. I'm someone who loves to learn and compete, when a team like Toronto comes knocking and affords me an opportunity like this to do what I love and play with so many talented players…it was something I had to think about. When I talked with my family and reflected on how much I've invested in hockey, it was a no-brainer for me."
On examples of the Leafs approach that he's liked
"When [Kyle Dubas (General Manager), Will Sibley (Director of Development Operations and Analysis), and Jim Paliafito (Senior Director of Player Evaluation)] showed me clips that they had watched of me and then showed me what their vision was, I was just so thoroughly impressed with their vision for me as a player, their vision as an organization, and how much it aligned with the style I want to play and the person I want to be."
On where he's improved this summer
"I think the fluidity of my skating has taken a really big step. Working with Barb Underhill (Skating Development Consultant), Randi Milani (Assistant Skating Development Consultant), Hayley [Wickenheiser] (Senior Director of Player Development), the list goes on and on, we were really attacking a lot of my skating mechanics. Not necessarily changing the way I skate, but seeing how I can optimize my tendencies. Also in my edgework, getting off the wall, using defenders to my advantage. I think that's something we've hammered home."
The Leafs group are back on the ice Saturday for a morning skate from 9:30-10:30 am EST before their first scrimmage of camp at 4:00 pm EST.