Off-season departures: Jack Campbell loses starters job in December, Colin Blackwell's offensive struggles continue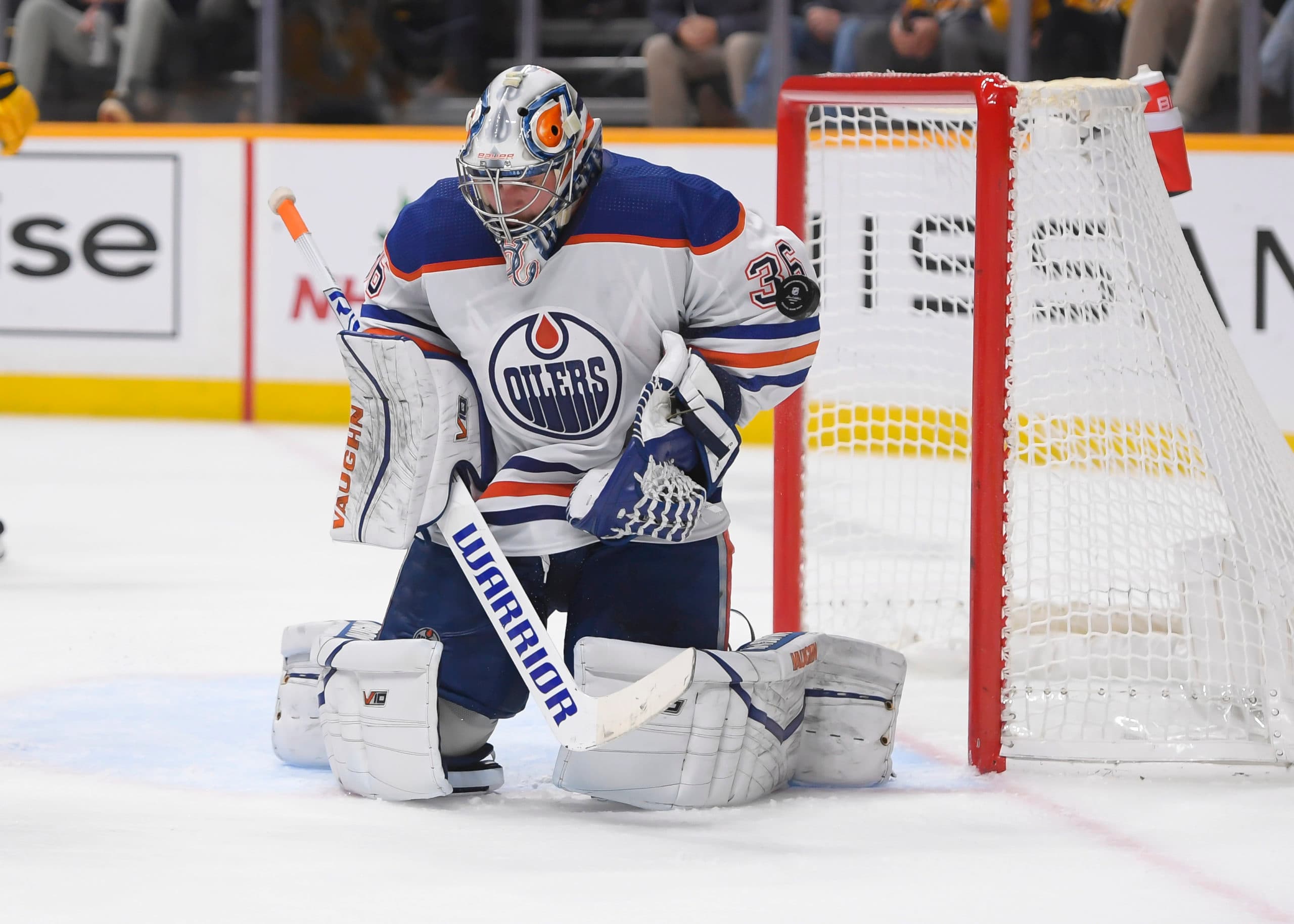 Photo credit:Steve Roberts-USA TODAY Sports
It's been quite the first couple of months in the NHL season so far. We've seen some highlight reel goals and saves, some players off to career years, and some players not having the greatest of years and are looking to find the right path to get back on track, and that includes some former Maple Leafs who moved on from the team this past off-season.
For the last couple of months, I've been going over six former Maple Leafs who left the organization this past off-season, via free agency or trade, and seeing how they've been doing with their new teams. From the biggest fish that was Jack Campbell to depth players like Ilya Lyubsushkin and Colin Blackwell, I go over their month of December and their season as a whole so far.
1. Jack Campbell – EDM – 30 years old – G
December 2022 stats: 4 GP – 1-2-1 – .877 SV% – 3.50 GAA – 0 SO
2022-23 stats: 16 GP – 8-7-1 – .876 SV% – 3.90 GAA – 0 SO
Contract: 5 years x $5M
I feel like a broken record now every time I talk about Jack Campbell because of how poor of a season the 30-year-old is having in his first year as an Oiler. After leaving Toronto in the off-season to sign a big five-year, $25M deal with the 2022 Western Conference finalists, Edmonton Oilers, it's safe to say his season hasn't gone quite to plan and that contract looks like one of the worst in the entire league right now.
After starting the season in the month of October with an ugly .888 SV%, he followed the month of November up with even worse numbers and that's when the narrative out in Edmonton was: "Is Campbell going to lose his job to Skinner?" and I mean, at the start when people were talking about that I didn't want to agree with it and I thought we should give Campbell a little more time, but towards the end of November and into the month of December, his play had stayed around the same and he has basically lost his starting role to Stuart Skinner, who is having a pretty good season himself.
In December, Campbell only played four games (1-2-1) compared to Skinner's 11 games where he posted a respectable record of 6-4-1. In those four games for Campbell, he didn't really give his coach a reason to continue going to him in the crease. He posted an .877 SV% and a 3.50 GAA which is not going to cut it, especially given that Edmonton as a team already isn't the greatest defensively, so they're going to need good goaltending.
Campbell has slowly improved his season numbers from a 7-5-0 record with an .875 SV% and a 3.75 to a record of 8-7-1 with an .876 SV% and a 3.90 GAA. I would say it'll be interesting to see what the Oilers do with Campbell for the rest of the season, but game after game between both goalies, the answer in net should be Stuart Skinner for the foreseeable future until he stops performing at this current level.
2. Ilya Mikheyev – VAN – 28 years old – LW/RW
December 2022 stats: 13 GP – 6 G – 3 A – 9 PTS – 17:17 TOI
2022-23 stats: 33 GP – 12 G – 10 A – 22 PTS – 17:08 TOI
Contract: 4 years x $4.75M
It continues to be a very solid start to the season for Russian winger, Ilya Mikheyev. After a hot start in October and cooling off a little bit in November, Mikheyev has continued to find ways to get on the scoresheet and has improved his season totals to 12 goals and 10 assists for a total of 22 points in 33 games this season.
Mikheyev suited up for 13 games last month registering nine points – six goals and three assists – in those contests while continuing to average a good amount of ice time and seeing work on both special teams.
Despite missing three games due to injury a little while ago, Mikheyev is still on pace to crush his career highs and set a career year in just his first year as a member of the Vancouver Canucks. As I said above, he has registered 22 points in 33 games so far, putting him on pace for 53 points in 79 games (29 goals and 24 assists) which would cruise past his current career highs in goals, assists and points that he set with the Maple Leafs.
3. Petr Mrazek – CHI – 30 years old – G
December 2022 stats: 5 GP – 1-4-0 – .887 SV% – 3.60 GAA – 0 SO
2022-23 stats: 13 GP – 2-9-1 – .881 SV% – 4.13 GAA – 0 SO
Contract: 2 years x $3.8M
It's kind of really been the same story all season for former Maple Leafs goalie, Petr Mrazek. As I said last month, some reasons why Toronto traded him to Chicago were due to his performance last season and his lack of ability to remain in the lineup and so far this season, both of those reasons have come up again for this Blackhawks team.
Through two and a half months of the 2022-23 NHL season, Mrazek has only been able to play in 13 games, and in those 13 games post a poor record of 2-9-1 with pretty ugly numbers too. An .881 SV% and a 4.13 GAA will not win you many games, let alone any, but you obviously knew that already.
In the month of December, he suited up for five games and posted better numbers than his season totals, but still a lot of work to do for the Czech native. In those five games, Mrazek went 1-4-0 with a .887 SV% and a 3.60 GAA, and I know he is on the worst team in the league, but those numbers are bad, definitely compared to the other goalies on the Blackhawks.
4. Ilya Lyubushkin – BUF – 28 years old – RD
December 2022 stats: 3 GP – 0 G – 1 A – 1 PTS – 14:57 TOI
2022-23 stats: 20 GP – 0 G – 2 A – 2 PTS – 15:20 TOI
Contract: 2 years x $2.75M
It hasn't been quite the season that Ilya Lyubushkin and the Buffalo Sabres have probably wanted thus far. Lyubushkin has been sidelined with a couple of injuries through the first couple of months of the season and has been only able to play in 20 games – including just three in the month of December.
Lyubushkin was out earlier in the season due to a lower-body injury that forced him to miss a handful of games in late October and early November. Toward the end of November, he sustained an undisclosed injury that made him miss more games than the first time he was sidelined and he didn't make his return to the Sabres lineup until December 19th.
Since his return to the lineup, he played in two other games tallying an assist on New Years Eve against the Boston Bruins in a 4-3 Sabres overtime win improving his season point totals to two points (two assists) in 20 games.
5. Colin Blackwell – CHI – 29 years old – C/RW
December 2022 stats: 9 GP – 0 G – 0 A – 0 PTS – 10:38 TOI
2022-23 stats: 29 GP – 0 G – 3 A – 3 PTS – 11:57 TOI
Contract: 2 years x $1.2M
I know I've constantly said that Colin Blackwell brings some good things to the lineup and his offensive ability is not necessarily one of them, but I didn't expect it to be this bad. Although he is on the 2022-23 Chicago Blackhawks and their main goal is to be bad obviously, three points in 29 games this season and zero points in your last 13 games are not ideal, especially if the goal at some point of the season was to flip Blackwell to a contender for a draft pick or two if he was playing well this season, but clearly, his offence has been pretty brutal.
However, offence side, as I said before, he can bring more to the lineup. His speed, tenacity and penalty-killing can be essential to a team's lineup so it's not like he brings absolutely nothing to the table when he suits up for games, but we'd definitely like to see a little bit more offence from the 29-year-old forward.
It'll be interesting to see what the Blackhawks do with him as the trade deadline is just a couple of months away. Will they ship him out to a contender, will they keep him for this season and trade him in the last year of his deal next season or will they simply just keep him through the remaining season and a half left on the deal?
6. Ondrej Kase – CAR – 27 years old – RW
December 2022 stats: 0 GP – 0 G – 0 A – 0 PTS – 0:00 TOI
2022-23 stats: 1 GP – 0 G – 0 A – 0 PTS – 11:02 TOI
Contract: 1 year x $1.5M
It's been the same story for Ondrej Kase in the month of December as it was in the month of November. Kase has yet to return to the ice to suit up for a game since sustaining a concussion in the first game of the season.
However, according to Walt Ruff, Ondrej Kase was seen skating at Hurricanes practice on December 29th in a non-contact jersey. His return to the Hurricanes lineup is yet to be determined I would assume.