Off-season departures: Jack Campbell's hot streak, Ilya Mikheyev out for the season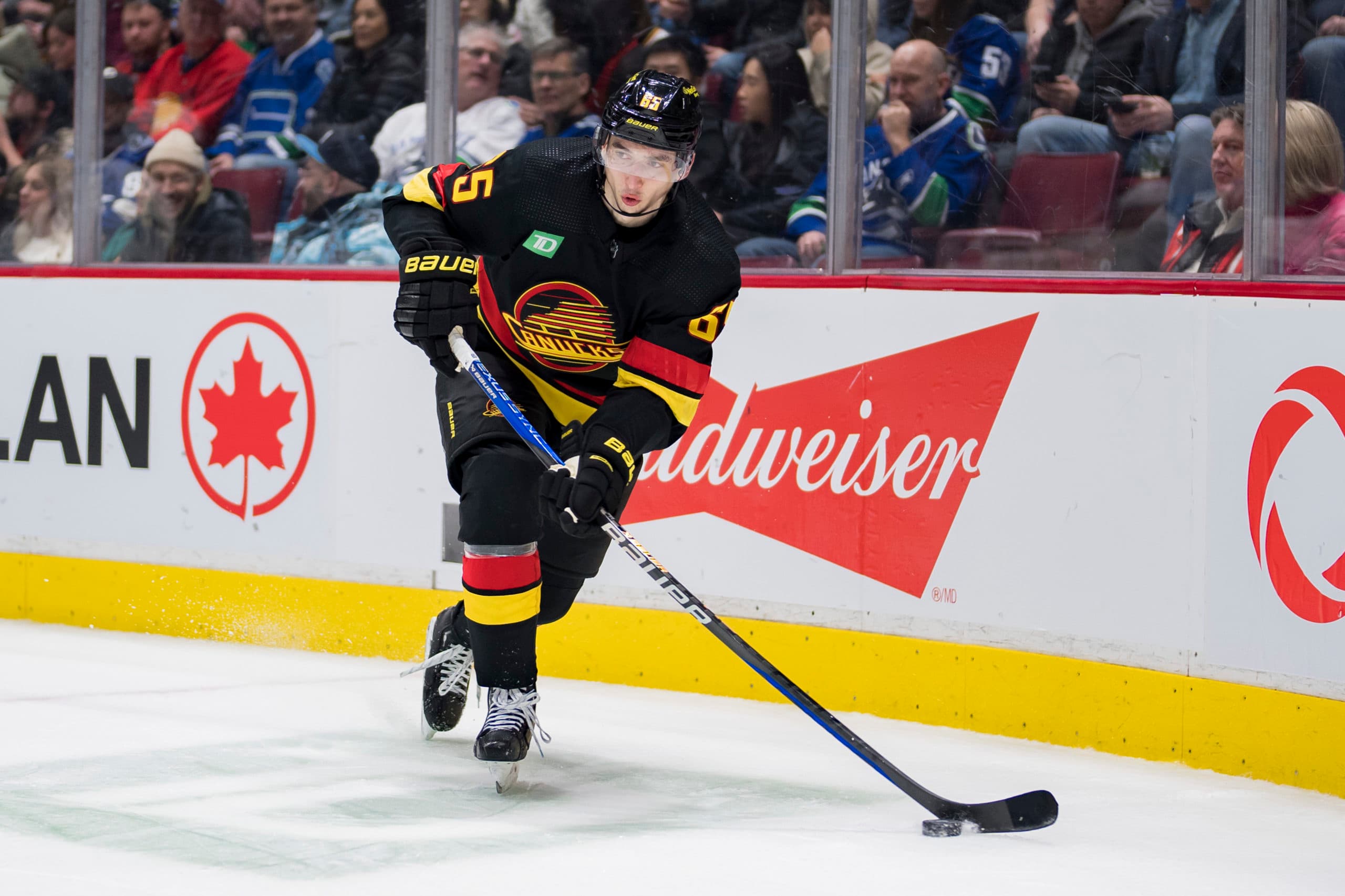 Photo credit:Bob Frid-USA TODAY Sports
Another month has come and gone in the 2022-23 NHL season, and it means it's time to check in on some former Maple Leafs that left last off-season and see how they are doing with their new teams.
From Jack Campbell to Ilya Lyubushkin to even Colin Blackwell, I talk about six former players that wore the blue and white last season.
1. Jack Campbell – EDM – 31 years old – G
January 2023 stats: 9 GP – 7-1-0 – 2.27 GAA – .913 SV% – O SO
2022-23 stats: 25 GP – 15-8-1 – 3.34 GAA – .887 SV% – 0 SO
Contract: 5 years x $5M
Finally, Jack Campbell has put together a very solid month of goaltending for the Edmonton Oilers after struggling a ton through the first three months of the season. Not only did Campbell struggle between the pipes, but he also lost his starting role for a short period of time to Stuart Skinner, and the only reason why Campbell got the crease for a small handful of games before his current hot streak, was Skinner was away from the team due to the birth of his child.
Campbell's currently on a six-game winning streak, including picking up seven wins in nine games (eight starts) during the month of January. Despite posting a 2.27 GAA and a .913 SV% last month, his numbers are still pretty ugly right now but have improved his record to a respectable 15-8-1.
His GAA now stands at 3.34 and his SV% is now an .887. Still, a lot of work to do to become anywhere close to a $5 million dollar goalie, but with how good he has been lately, and how good we've seen him at certain times in Toronto, I wouldn't be shocked if he gets closer and closer to a .900 SV%.
2. Ilya Mikheyev – VAN – 28 years old – LW/RW
January 2023 stats: 13 GP – 1 G – 5 A – 6 PTS – 16:21 TOI
2022-23 stats: 46 GP – 13 G – 15 A – 28 PTS – 15:55 TOI
Contract: 4 years x $4.75M
It was a pretty good debut season for Ilya Mikheyev with the Vancouver Canucks up until a couple of days ago when news broke that the Russian winger will miss the remainder of the regular season with ACL surgery.
It truly sucks to see Mikheyev sidelined for the rest of the season, especially given how poorly the Canucks season has gone thus far and all the drama surrounding the team as well. Mikheyev was actually having a pretty good year, despite basically being injured since training camp.
The month of January was still a pretty productive month for him as he found the back of the net once while adding five assists for six points in 13 games improving his totals to 13 goals and 15 assists for 28 points in 46 games, which would've put him on pace to finish the season with 48 points – 22 of them being goals.
The Canucks will defiantly miss Mikheyev out there on the ice for many reasons. He was a very serviceable top-six winger for them through the first half of the season while getting ice time on both special team units as well. As we all know his greatest strengths are his speed and defensive game/penalty killing, and given how poor the Canucks have been in that department this season, it'll be very interesting to see what the rest of the season will look like for them.
3. Petr Mrazek – CHI – 30 years old – G
January 2023 stats: 8 GP – 3-4-0 – 3.91 GAA – .890 SV% – 0 SO
2022-23 stats: 21 GP – 5-13-1 – 4.05 GAA – .885 SV% – 0 SO
Contract: 2 years x $3.8M
It continues to be a brutal season for former Maple Leafs goalie Petr Mrazek.
Ever since being dealt to the Blackhawks on draft day and playing in his first game with the Blackhawks organization, Mrazek has struggled to string good games together, and I'm not quite surprised given how he played with Toronto last season and the fact that the Blackhawks are in tank mode for Connor Bedard.
However, the month of January was somewhat a little better for him, I guess? Mrazek went 3-4-0 last month in eight games played. For a little bit of context, he has five wins all season, so I guess it's a good sign he's getting some wins under his belt, but his numbers continue to be abysmal.
In the eight games he played in, Mrazek posted a 3.91 GAA and a dreadful .890 SV% with zero shutouts to his name. His overall season totals now stand at a record of 5-13-1 with a 4.05 GAA and a .885 SV% with zero shutouts.
4. Ilya Lyubushkin – BUF – 28 years old – RD
January 2023 stats: 15 GP – 0 G – 6 A – 6 PTS – 13:03 TOI
2022-23 stats: 35 GP – 0 G – 8 A – 8 PTS – 14:21 TOI
Contract: 2 years x $2.75M
It's been somewhat of an injury-riddled season for the big bruising defenseman, Ilya Lyubushkin. Only being able to suit up for 35 of the Buffalo Sabres' first 49 games this season, Lyubushkin was able to play in all 15 games for the Sabres in January after missing some time in the previous months, and he actually showed off some offence in his game that not a lot of people expected.
In those 15 games, he tallied six assists – which would tie the total of points he collected as a member of the Maple Leafs last season in 31 games. Although that isn't quite the game Lyubushkin is known for, it's a good thing to see he's doing more than just blocking shots and laying big hits for this young Sabres team.
5. Colin Blackwell – CHI – 29 years old – C/RW
January 2023 stats: 12 GP – 1 G – 4 A – 5 PTS – 11:31 TOI
2022-23 stats: 42 GP – 1 G – 7 A – 8 PTS – 11:49 TOI
Contract: 2 years x $1.2M
It was a very successful month for Colin Blackwell – even if you don't consider five points in 12 games successful. Blackwell was struggling mightily this season and went goalless through December until he finally potted his first of the season last month in a game against the Calgary Flames on January 8th.
That goal was the first point of the month for him and the start to a pretty good rebound month as he dished out four more assists to improve his season totals to eight points in 42 games.
Now the question that might be asked, given the trade deadline is fast approaching is will the Blackhawks keep Blackwell or trade him at the deadline. Chicago probably won't get much for Blackwell if we're being honest right now. He's probably the type of player you include in a bigger deal. Kind of like when Kyle Dubas acquired Mark Giordano from Seattle, and Blackwell was a part of the package.
It'll be interesting to see what happens as the deadline keeps approaching because we know the Blackhawks will be selling, but will Blackwell be one of the players dealt, or will they wait until the 2024 trade deadline to deal him to a contender, or hey, they could even keep him and re-sign him.
6. Ondrej Kase – CAR – 27 years old – RW
January 2023 stats: 0 GP – O G – O A – 0 PTS – 0:00 TOI
2022-23 stats: 1 GP – 0 G – 0 A – 0 PTS – 11:02 TOI
Contract: 1 year x $1.5M
Just like the previous month, Ondrej Kase has yet to get in a game with the Hurricanes since he sustained a concussion in the first game of the season back in October.
The latest update on Ondrej Kase came from Walt Ruff on January 20th.