Off-season departures: Jack Campbell's rough start, Ilya Mikheyev on pace for career year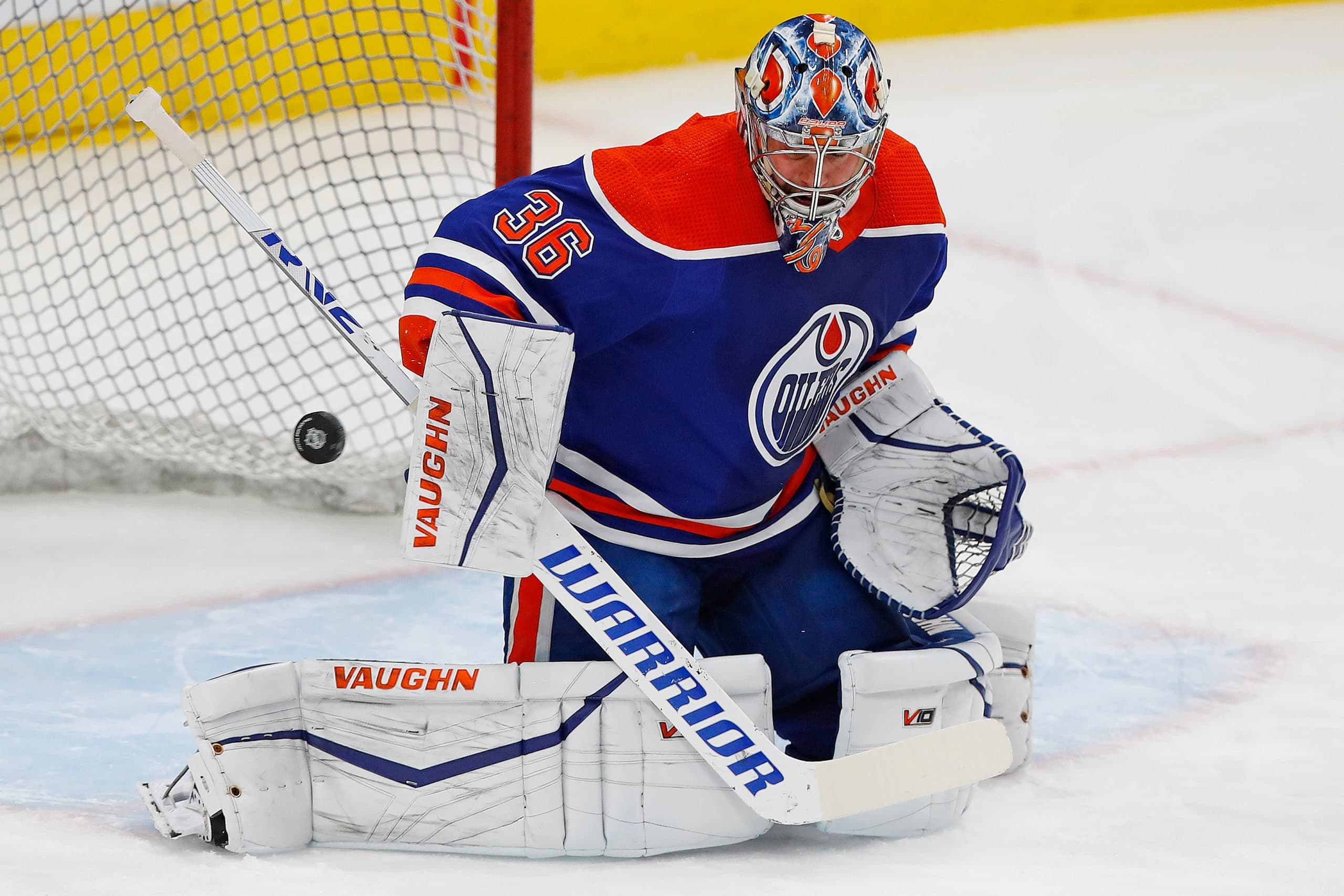 Photo credit:Perry Nelson-USA TODAY Sports
Last season I wrote a monthly piece about players from the Maple Leafs organization who left in the off-season and how they performed monthly with their new teams. I wrote about players like Zach Hyman, Frederik Andersen, Nick Foligno, Zach Bogosian, and some others.
This season, I'll be following former Maple Leafs, Jack Campbell, Ilya Mikheyev, Petr Mrazek, Ilya Lyubushkin, Colin Blackwell, and Ondrej Kase.
The month of October has come and gone, and we're now in November, so let's take a look at how these six former Maple Leafs have performed with their new teams.
1. Jack Campbell – EDM – 30 years old – G
October 2022 stats: 6 GP – 4-2-0 – .888 SV% – 3.89 GAA – 0 SO
Contract: 5 years x $5M 
It was kind of mixed emotions when the news broke that the Edmonton Oilers were signing goalie, Jack Campbell to a contract. However, after realizing it was a five-year contract with an AAV of $5M, I feel like the majority of Maple Leaf fans were okay with Campbell departing to the Oilers. Yes, he had his great moments here in Toronto, but I – along with many other fans – can probably agree that the contract given out to him wouldn't have been a good thing for Toronto to deal with cap-wise.
Anyways, let's actually talk about his season thus far with his new team and what we could potentially expect going forward.
Campbell has played in six of Edmonton's nine games in the month of October and despite him having a positive record in the crease, his overall goalie numbers haven't been the greatest and it has led to Stuart Skinner getting the call between the pipes in two of the last three games.
In the six contests Jack has suited up for, he has rocked a .888 SV% and a 3.89 GAA which are both pretty bad if we're being honest right now, especially given Edmonton just signed him to a pretty big five-year deal. Now we know Jack and goalies can easily snap out of poor play like this and I highly doubt he'll remain with a save percentage below .900 and a goals-against average at almost 4.00, but for the time being, Skinner has earned the crease or at least he has earned the crease a little more often than maybe just getting in games on the second half of back-to-backs.
Head coach Jay Woodcroft had this to say ahead of the Battle of Alberta Saturday night, and safe to say, Stuart Skinner definitely gave them a chance to win that game and he ultimately did as Edmonton picked up a big 3-2 win in Calgary.
2. Ilya Mikheyev – VAN – 28 years old – LW/RW
October 2022 stats: 6 GP – 2 G – 3 A – 5 PTS – 17:20 TOI
Contract: 4 years x $4.75M 
I think it's safe to say we were all expecting a pay raise for Ilya Mikheyev but did we expect it to be this type of pay raise? Either way, congratulations to him for signing that contract with the Vancouver Canucks and he'll definitely be missed in Toronto with his type of play.
Mikheyev signed a pretty big four-year deal with Vancouver that carries an AAV of $4.75M after he came off two contracts with Toronto. His first one was a one-year ELC contract ($925K) and then signed a two-year deal that carried an AAV of $1.645M, before eventually signing this current deal.
What the Canucks are getting in Mikheyev is someone who is a speedy winger who is reliable defensively and is an absolute beast on the penalty kill. He has played in just six of Vancouver's nine games in the month of October due to an early-season injury, but it looks like he hasn't missed a step.
In those six games, Mikheyev has registered two goals and three assists for five points while averaging a career-high of ice-time thus far in the early going with 17:20. According to Daily Faceoff, the Canucks have him slotted in the second-line RW spot alongside another recent Russian signing, Andrei Kuzmenko, and Elias Pettersson. He is also getting some time on their second power-play unit, as well as their second penalty-kill unit too. It's safe to say with all this ice time for Ilya, we could potentially see career-highs across the board in goals (21), assists (11), and points (32) for the 28-year-old winger.
3. Petr Mrazek – CHI – 30 years old – G
October 2022 stats: 3 GP – 1-1-0 – .873 SV% – 3.76 GAA – 0 SO
Contract: 2 years x $3.8M
Now unlike the other players in this article, Petr Mrazek didn't sign elsewhere, he was actually traded on draft night to the Chicago Blackhawks along with Toronto's 25th overall pick in the 2022 NHL draft in exchange for Chicago's 38th overall pick. Toronto would then select forward Fraser Minten (Kamloops Blazers of the WHL) with that draft pick.
Now it was great to offload Mrazek's contract given how poor of a season he had with Toronto, and his injury history as well. Yes, Toronto had to essentially give up their first-round pick to get rid of Mrazek, but in reality, they really only moved back 13 spots which isn't terrible, to be honest.
Chicago is clearly rebuilding and they were happy enough to take on the rest of his contract while receiving a pick in the first round even though it was a late first-round pick. Now, you remember when I said he had a poor season with Toronto and his injury history was also a concern? Well, he is currently sidelined for the Blackhawks with a groin injury and has only been able to suit up for three games.
In those three games, he has a 1-1-0 record while posting similar numbers to Jack Campbell and similar numbers to his season last year. An .873 SV% and a 3.76 GAA are just terrible, but I mean it is the Chicago Blackhawks and all they really care about right now is getting a high draft pick in this coming NHL draft.
4. Ilya Lyubushkin – BUF – 28 years old – RD
October 2022 stats: 6 GP – 0 G – 1 A – 1 PTS – 15:01 TOI
Contract: 2 years x $2.75M
Now at the time of the trade to acquire defenseman Ilya Lyubushkin, I loved it. He's a big stay-at-home defender who blocks a ton of shots and hits a ton as well. However, towards the end of the season and into the playoffs, he had a couple of poor games and it was pretty glaring. What I will say is, if he has a bad game defending, he'll definitely make it up with his big hits in open ice or along the boards as we saw in Toronto.
He left the Maple Leafs in the off-season to sign a two-year deal that carries an AAV of $2.75M with the Buffalo Sabres and congratulations to him for signing that deal, but good thing Toronto did not do that, even though I highly, highly doubt they were ever thinking of doing that.
I would've liked Lyubushkin to remain a Leaf, but definitely not at that price tag. As I said, he is a big stay-at-home defender who blocks shots and hits a ton as well as someone who doesn't put up a lot of points and that is what he has done with Buffalo thus far. He suited up for six games in October and has found the scorehseet once with an assist. However, the biggest highlight from his season so far that you and everybody else has probably seen is his massive open-ice hit on rookie Dylan Holloway in their game against the Oilers and that has made a lot of Leaf fans upset that Kyle Dubas didn't bring him back this past off-season.
Lyubushkin, however, has been dealing with a lower-body injury ever since this game against Edmonton and has missed three straight games.
5. Colin Blackwell – CHI – 29 years old – C/RW
October 2022 stats: 9 GP – 0 G – 2 A – 2 PTS – 12:03 TOI
Contract: 2 years x $1.2M
This was a player I really wanted Toronto to try and keep this past off-season for a cheap price because of the type of player he is and the fact that you can try him out on basically all four lines. Colin Blackwell was acquired by Toronto along with defenseman Mark Giordano from the Seattle Kraken ahead of the 2022 NHL trade deadline for a small handful of draft picks.
Blackwell isn't the flashiest of players as we all know, but he is someone who works hard every shift, isn't afraid to lay the body and can kind of produce offensively, but don't expect anything too crazy from him.
He signed a two-year deal with the Chicago Blackhawks that carries an AAV of $1.2M and if I'm Chicago, I love that. Not only did they sign Blackwell to a relatively cheap contract, but they also signed two other forwards, Max Domi and Andreas Athanasiou to pretty cheap deals that they can all flip at the deadline to contending teams and get a decent return for them.
Although this Chicago team is – or at least should be – rebuilding, they are actually 4-3-2 sitting in third place in the Central Division and are just two points back from taking sole possession of first place. And despite that, Blackwell has only been able to find his name on the scoresheet twice adding two assists in his nine games thus far.
6. Ondrej Kase – CAR – 26 years old – RW
October 2022 stats: 1 GP – 0 G – A – 0 PTS – 11:02 TOI
Contract: 1 year x $1.5M
It's been yet another season riddled with injuries for forward Ondrej Kase. After signing a one-year, $1.5M deal with the Carolina Hurricanes in the off-season, Kase was only able to suit up for one game this season before sustaining a concussion and has been in concussion protocol ever since.
In his only game this season, he went pointless while playing 11:02 of ice time in Carolina's 4-1 win over the Columbus Blue Jackets.