Oliver Bonk is a right shot defenceman the Maple Leafs may select at 28th overall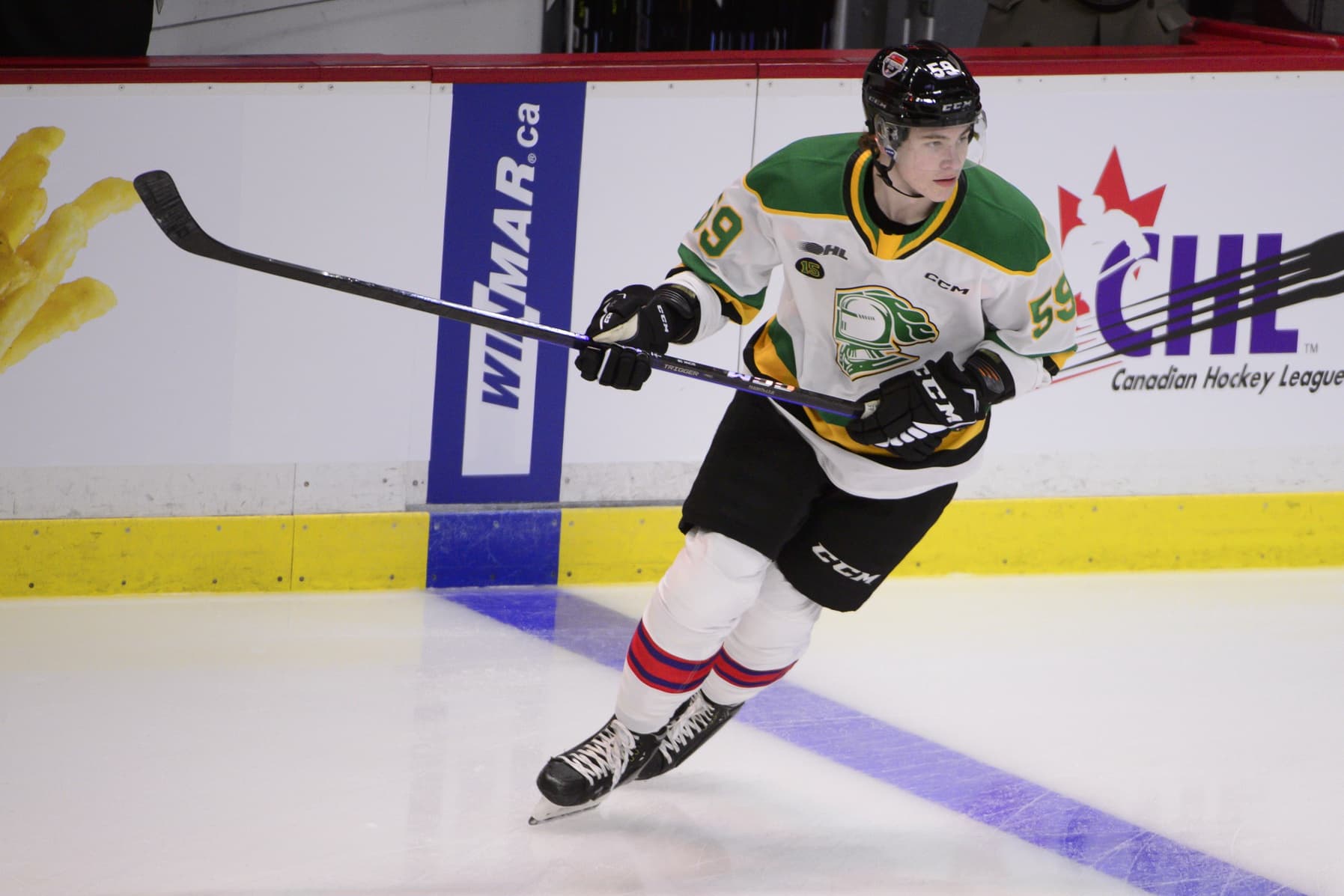 Photo credit:© Anne-Marie Sorvin-USA TODAY Sports
There are few things in hockey more exciting than the lead-up to the draft as your favourite team gets to select the next generation of players that could one day join the group. Whether it's a team hoping to get out of the basement or a contender hoping to find a hidden gem to help elevate the club, speculation on who will get selected where is always one that will get people talking.
The Leafs are no different, even if they only have three picks to work with when they head to Nashville later this month. While it remains to be seen whether they will stick with what they got, add more picks, or take some away, they are certainly plenty of intriguing options for them to consider when they are on the clock.
It is the first-round pick acquired in the Rasmus Sandin trade that is bound to get the most attention from Leafs fans in the coming weeks. After all, finding a player of equal or greater value than what they took away in the Sandin deal is integral to the transaction being a success. Luckily for them, there is no shortage of quality players for them to look at (heck, they even drafted Sandin one pick after where they are selecting).
So who will they go with? I have a few candidates in mind.
Today marks the start of a series that I will be doing where I will take a look at a few potential options for the Leafs to take with all three of their picks in the upcoming draft. We will start by focusing on their first-round pick, and our first candidate is the son of a former NHL forward.
Scouting Profile
Oliver Bonk is a Canadian right-shot defenceman who spent his draft year with the London Knights of the Ontario Hockey League. Standing at 6'1″ and weighing 176 pounds, he is an above-average-sized defender who should be able to handle the physical aspects of the game. He is also the son of Radek Bonk, a former NHL forward who played 969 games and played for the Senators, Canadiens, and Predators.
He is listed as a shutdown defender who excels in his own end by eliminating space for attacking players, forcing them to the outside, and staying active in the play. Bonk has a strong hockey IQ and plays a mature game for a guy in just his first full OHL season, which is why the Knights relied on him a lot down the stretch and into the postseason. The 18-year-old has even gotten a bit of a scoring touch as he recorded 40 points (10 goals and 30 assists) in 67 games while adding on 11 assists in 21 playoff games before the Knights lost to the Peterborough Petes in the OHL Finals. Bonk got to participate in the Hlinka Gretzky Cup as part of Team Canada but went scoreless in five games.
One aspect of his game that remains a work in progress is his speed in transition. While he has done well at making the simple defensive games and starting the transition, Bonk does not have a lot of finesse and fluidity to make plays on his own consistently. Playing a safe game will certainly help in improving his chances of landing a spot on an NHL roster if all goes well, but his current ceiling is as a bottom-paring defender due to his lack of overall creativity with the puck.
Still, he has a lot of tools in his arsenal and can do a little bit of everything. The Knights gave him a lot of ice time throughout this season, especially in the latter half, and he ended up finishing eighth on the team and second among Knights defenders in scoring. He has high intelligence of the game and possesses good awareness for when to jump into the play and get a shot off, so adding a bit of deceptiveness and upping his footspeed a bit could go a long way into developing Bonk into a reliable two-way defender.
What the scouts are saying
"For me, his biggest strengths are his mind and his hockey sense. He's very intelligent on the ice. He understands body positioning, how to protect the puck, how to win battles by cutting hands or putting his hip into an area to protect the puck. And he can read the play; he can make the simple outlets, he can make the tricky center outlets – his hockey sense just shows everywhere and shines. The more you watch him, the more you notice all the little things he's doing well."
Summary
Bonk's rankings may be all over the place as seen from the list above, but he has the raw tools to make him a worthy pick regardless of whether it's in the late first or early second round. This aligns perfectly with where the Leafs have their first-round pick and selecting him would be a smart bet to provide value on the back end, especially as a right-shot defender.
His high hockey IQ and defensive prowess are strong starting points for his development which should grant him a high floor. While he does have good awareness to join the rush and has good speed, his lack of creativity holds him back from reaching greater heights if his current trajectory remains unchanged.
If the Leafs can get Bonk to skate a bit faster and develop the confidence to create more plays individually while being deceptive, it can turn their late-round pick into high value.