On this day in 2000, the Toronto Maple Leafs acquire soon to be top defenceman Bryan McCabe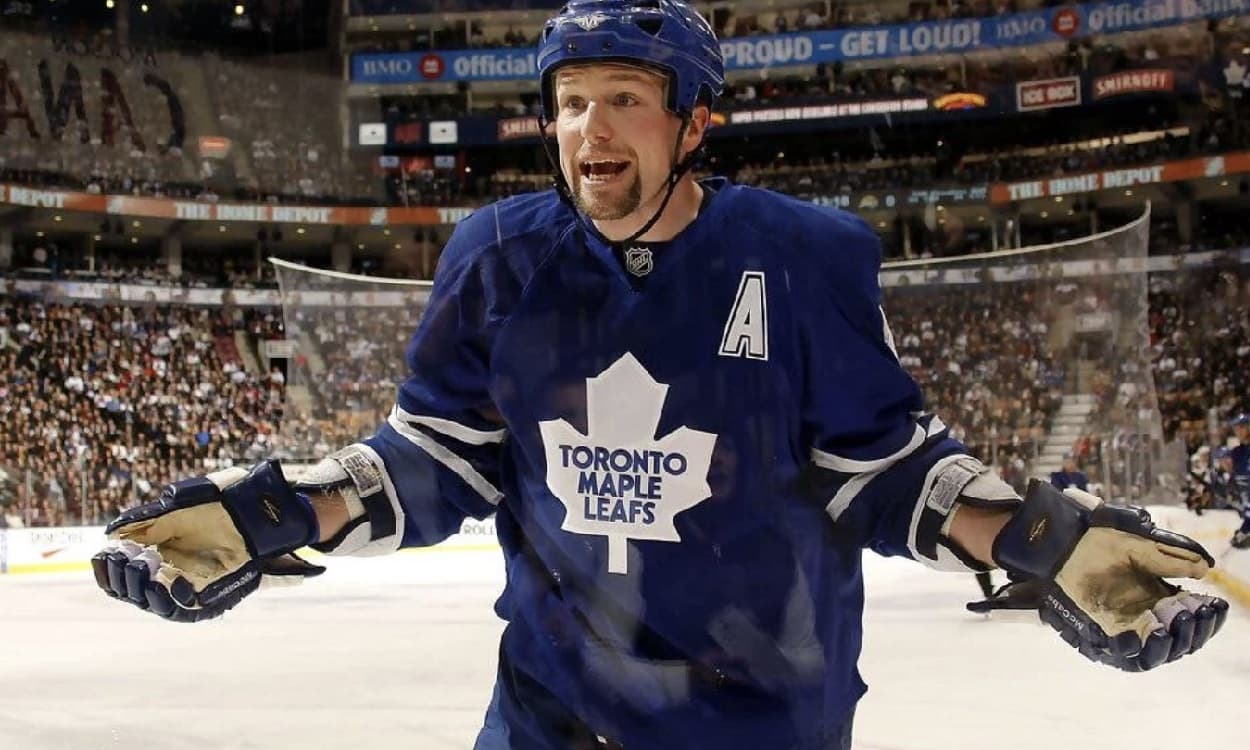 On this day in 2000, the Toronto Maple Leafs acquired Bryan McCabe from the Chicago Blackhawks in exchange for a fourth-round pick in 2001 and defenceman Alexander Karpovtsev.
When McCabe first entered the NHL landscape in 1995 after being drafted by the New York Islanders as their 40th overall selection in 1993, he was not expecting to move to a different city every one or two years and be guided by a new coach nearly every year. However, that became his reality until he landed in the hands of the Maple Leafs.
When the deal was being arranged the Blackhawks were reluctant to let go of McCabe, in fact, general manager Mike Smith confessed he wasn't keen on trading the 25-year-old at all.
"McCabe has every quality you're looking for in a player," Smith told Toronto Star reporter Ken Campbell. "I tried all training camp to get a top defenceman without giving up Bryan McCabe and I couldn't do it."
Even though the Blackhawks organization wasn't wanting a trade, Kapovtsev was the better defender and was what they needed to bolster their team defensively, resulting in the trade ultimately being finalized.
Although a defenceman McCabe showed effective offensive prowess notching consecutive 20+ points seasons. "There is nothing better out there and we didn't want any better," Leafs executive Bill Watters, told Campbell at the time of the trade. Despite this being his fourth NHL team in six years, McCabe was starting another new chapter as a Maple Leaf.
---
Bryan McCabe traded to Toronto Maple Leafs, 2000
---
His first season in Toronto was one of his highest point-producing campaigns at that point in his career, tallying five goals and 29 points while maintaining a 16 plus-minus rating, and that was just the beginning.
As the seasons progressed so did McCabe. He became an offensive force, paired up with teammate Thomas Kaberle the two created a dynamic that was truly incredible to watch. During the 2005-06 campaign the two became a formidable pair, not only did they dish out rugged hits, McCabe nearly produced a point per game for the Leafs scoring 19 goals and 68 points throughout 73 games. His career highs lead to a lucrative deal for McCabe–who was set to become a free agent on July 1st, 2006– earning him a five-year deal worth nearly $29 million.
"Bryan is one of the premier defenceman in the game," Leafs general manager John Ferguson told the Canadian Press. "As a key member of our team keeping him in Toronto was one of our top priorities this off-season."
The year following his big extension he played solidly, his near point per game production diminished a little, but not a lot. McCabe posted 15 goals and 57 points throughout his 82 games with the Leafs, but with the entire Leafs market now putting the pressure on the 31-year-old it started to show. In 2007-08 the blueliner only appeared in 53 games for the Leafs, scoring five goals and 23 points–his lowest since his 1998-99 campaign with the Vancouver Canucks. His physical effectiveness seemed to take a hit of it's own, he went from over 100 penalty minutes the two years previous to only 81 in 2007-08. Additionally, two injuries sidelined him for 28 games.
Regardless, the pressure grew on him and wore him down until eventually, the Leafs were looking to part ways by the end of the season, asking his camp to wave the blueliners' no-movement clause just two years into his shiny new contract.
Eventually, McCabe found himself in a new city once again after being traded to the Florida Panthers on September 2nd, 2008 along with a fourth-round pick in 2010, in exchange for defenceman Mike Van Ryn.
McCabe went on to play two and a half seasons in Florida scoring 28 goals and 104 points through 199 games. His journey in the NHL ended with the New York Rangers, his final trade destination in 2010, he played just 19 games for the club scoring two goals and six points.
McCabe wrote quite the story during his time with the Leafs, but his enthusiasm both on and off the ice is noteworthy. Even his blue mohawk he showcased during the 2003 Stanley Cup playoffs was replicated amongst fans. In total McCabe played several years in Toronto with 523 appearances, 83 goals and 297 points. His 785 penalty minutes in Toronto make up over 45 percent of his total career time spent in the sin bin.