One thing the Maple Leafs can and should learn from Vegas' Stanley Cup win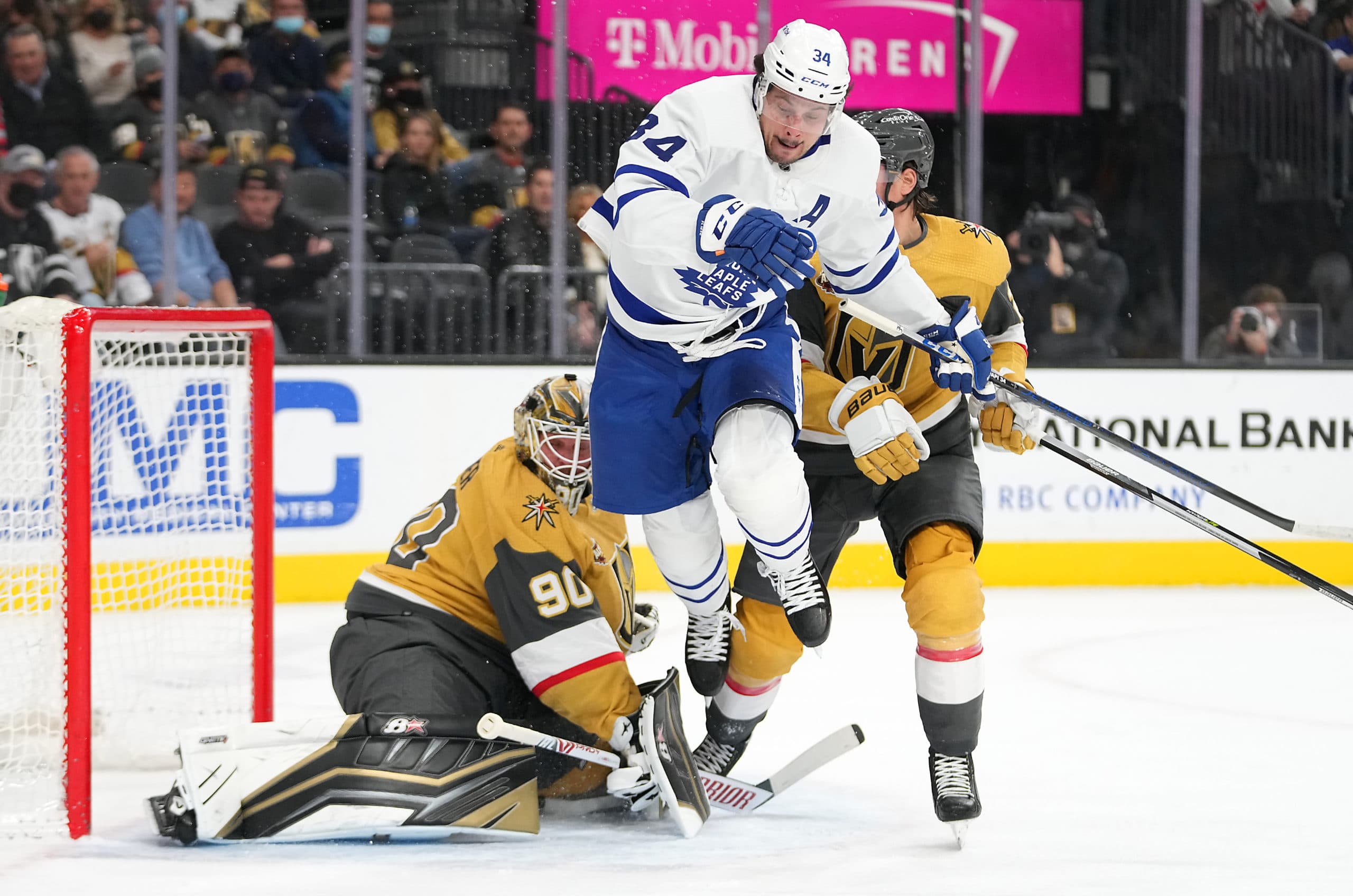 Photo credit:Stephen R. Sylvanie-USA TODAY Sports
The NHL is a copycat league. Successful teams are routinely emulated, and new trends are quick to catch on. While certain components of hockey will continue to dissipate, others have stood the test of time and should continue to persist. The Toronto Maple Leafs could learn a thing or two from the Vegas Golden Knights, and from a specific element they invested in that has been around the game for a long time.
Ultimately the Leafs bowed out to Florida in underwhelming fashion. Sergei Bobrovsky played extremely well, and the Panthers certainly had some clutch performances and moments. One reason why Bobrovsky was able to perform at such a high level against Toronto was due to a lack of traffic and commotion in front of his net. The Vegas Golden Knights were finally able to solve that, as they piled bodies in his crease while defending Adin Hill's blue paint admirably.
Brad Treliving mentioned in his opening press conference that a major part of the game is won and lost in front of the net. I have felt for years that Toronto hasn't been able to defend their 'home plate' even close to well enough, and this is an area I hope Treliving alters. While making a clean first pass and skating ability are imperatives, perhaps Toronto should look at some larger defencemen who can protect the slot and are still able to move the puck.
Alec Martinez – Alex Pietrangelo
Brayden McNabb – Shea Theodore
Nicolas Hague – Zach Whitecloud
These six players played at least 21 of Vegas's 22 playoff games. While Hague and Whitecloud averaged the least amount of ice time (18:34 and 18:42), all three pairs were rolled and played a very regular shift. Vegas relied on each of them down the stretch, and all of them had strong overall playoffs.
Morgan Rielly – Luke Schenn
TJ Brodie – Jake McCabe
Mark Giordano – Justin Holl
Timothy Liljegren
Rielly, Schenn, Brodie, Giordano, and McCabe played in every playoff game. Justin Holl featured in eight of 11, and Timothy Liljegren dressed in five. Rielly and Brodie led the way minute-wise (24:09 and 23:20), while Mark Giordano averaged 14:53 in ice time. The Leafs altered between playing six and seven defencemen at times, and apart from the Rielly – Schenn pairing, the other d-men each had multiple partners.
Returnees to Toronto (as of now)
Morgan Rielly – Conor Timmins
TJ Brodie – Jake McCabe
Mark Giordano – Timothy Liljegren
Justin Holl and Luke Schenn are unrestricted free agents, and all signs are pointing toward neither
Schenn
nor
Holl
being resigned. That leaves the above six defencemen. Conor Timmins seldom featured for Toronto down the stretch, and Timothy Liljegren played in less than half of Toronto's playoff games.
Discrepancies In Size and Physicality
Alec Martinez is 6'1, 210 pounds. Shea Theodore and Zach Whitecloud are 6'2, Alex Pietrangelo is 6'3 and Brayden McNabb is 6'4; both weigh 215 pounds. Nicolas Hague is 6'6.
In comparison, Toronto's largest defencemen going into next season are TJ Brodie and Conor Timmins at 6'2. Neither plays a very physically imposing game. None of Rielly, Giordano, or Liljegren are physical or large, and while Jake McCabe throws his weight around; he would be Vegas's shortest defenceman and their second lightest.
Why Is This Even Important?
The playoffs are far more physical than the regular season. Emotions and stakes are higher in the playoffs while hitting and skirmishes are more prominent than in the first 82 games. In addition to physicality being increased, the game is refereed completely differently. Players are able to get away with a lot more, and this ultimately puts a slight damper on high-end skill. The game gets muddied up, and this version of hockey resorts to battling, particularly battling in front of the net.
Having defencemen that are bigger and more physical provides an advantage in defending your crease. This cuts down on rebound opportunities, possible deflections and tips, and should enable your goaltender an increased ability to see the puck cleanly. These slight advantages can mean so much at a point in the year when the margins are razor-thin.
A major area that Brad Treliving should address is the size and physicality of the back end. This shouldn't be confused with signing or trading for defencemen that lack the required puck skills or skating mobility to gel with the offensive and quick-tempo style that Toronto plays with. Simply, target defencemen that can do both.
The Vegas Golden Knights' defence combined size and physicality with more than adequate skill and skating. Alex Pietrangelo is a three-time NHL All-Star, and a two-time Stanley Cup Champion at 6'3, 215 pounds. Shea Theodore is a former 1st round pick that averaged 0.75 ppg this season. Alec Martinez has now won three Stanley Cups. Nicolas Hague may be 6'6 and 230 pounds, but he also went 34th overall and provides strong skating abilities. Their entire d-core is very physical, but also extremely competent with the puck.
With the draft and free agency approaching, don't be surprised to see Treliving alter his defensive makeup. As we get closer, I'll detail which free agents Toronto should be targeting.