"Opposing fanbases" want to hear about Matthews' down year, so let's talk about it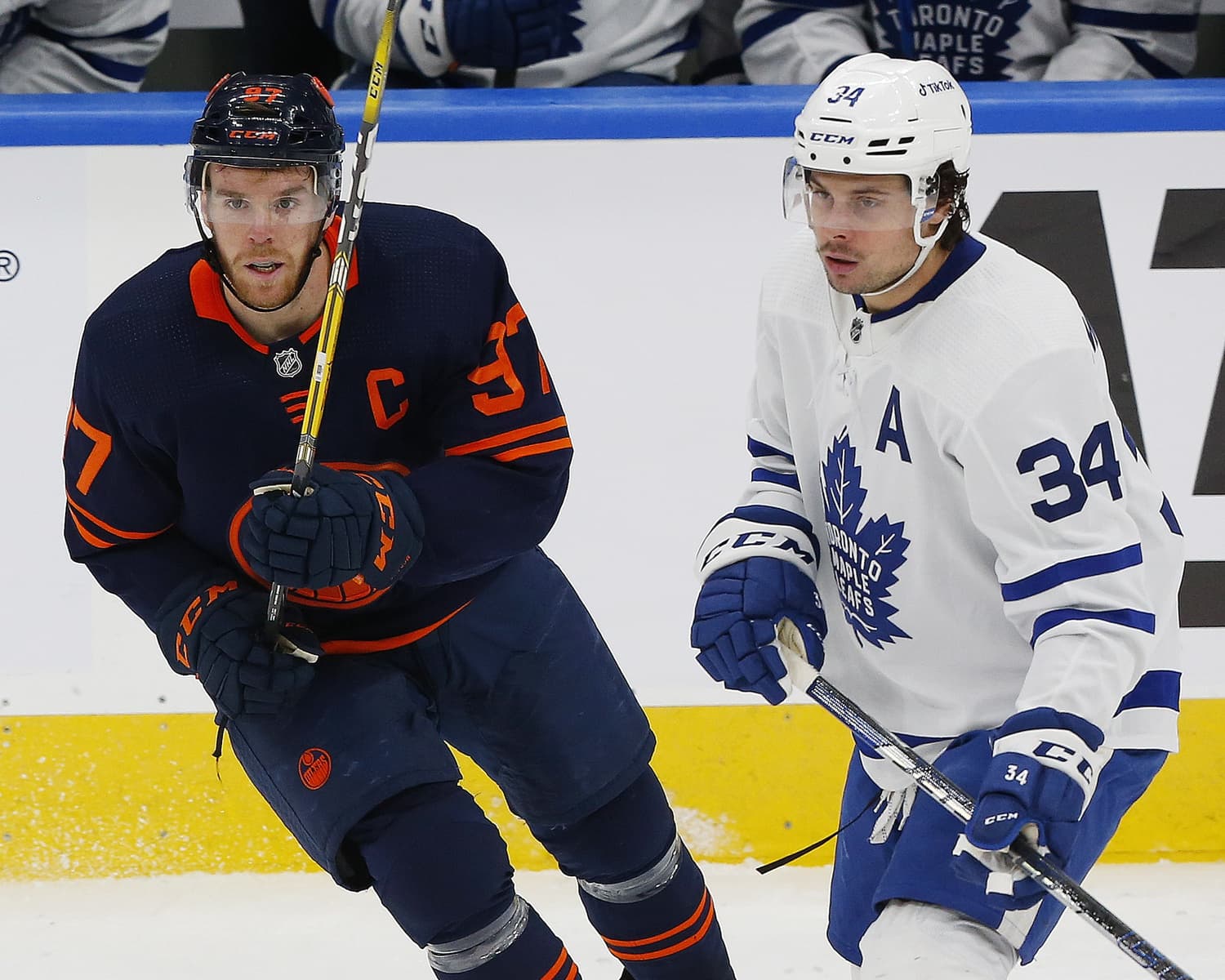 Photo credit:Perry Nelson-USA TODAY Sports
Heading into game 39 of the season, Auston Matthews sits at 19 goals and 44 points on the season. If he keeps that exact pace (he won't), he will finish the season at 41 goals (he won't) and 95 points (he might). After running away with the Rocket last year with 60 goals, we might consider this a down year. Is his goal-scoring starting to dry up? Have opposing coaches and players caught on to something in shutting him down?
There hasn't been a lot of talk about this in Toronto circles over the course of the season, which I suppose is strange given the usual hotbed-ness of its media scene. And apparently that is starting to leave some "opposing fanbases who have Toronto fed down their throat" very angry.
They want blood. From and for whom, we don't know. But let's refresh on Matthews' "poor" performance so far this year.
First off, it is full-on insane to expect players to hit 60 goals on the regular. The best goal-scorer in history (at least in waiting) is Alex Ovechkin; He's done it…once. That's what made watching Matthews last season so special, that sort of output was something that requires a lot of stars to align. The next season you might have a few more shots blocked, a nagging injury, the bounces may go another way. 60-goal seasons are an anomaly, and the fact Matthews even made it look so normal I guess is a testament to his absurd skill. He may do it again, and I think he can, but a few rolls this way or that can easily derail hitting that kind of round number.
But I guess the question remains: Why isn't Toronto on fire over Matthews' (potential) 19 goal dip this season? I mean, that is a lot of goals.
I think the answer is two-fold, and it's easy. Hence the Leafs' base not being as critical of Matthews as Oilers media (I guess?) wishes they would be.
First, we watch Matthews. Like, actually watch the games. His line is still beyond dominant, driven primarily by him in the middle, as it has been for the last three years in particular. Bergeron might win the Selke again because reasons, but Matthews is the best two-way center in the NHL if we're factoring in, you know, two ways: Offence AND defence equally. Matthews' line with Bunting and Nylander has been an utter nightmare for oppositions this year, to the tune of each of them approaching 60% in expected goals-for. Matthews still tilts the ice at even-strength in a way most players cannot, including Connor McDavid.
Second, and perhaps more easily reconciled, is the fact that Matthews' shooting percentage just hasn't caught up to its usual levels yet. He started off quite slow in terms of finding the back of the net, the shots just weren't dropping. In the past couple months he has had some hot streaks but as of today sits at 11.6% shooting. For perspective, his career mark is 16.0% and he's shot 18.5% and 17.2% in the last two seasons.
And the shots are still there. Matthews is on pace for 353 shots on goal this season, which eclipses his mark of 348 last year. It's just the puck hasn't found its way as much as it has in the previous 24 months. But it will, at least to a point. Matthews will start cashing more in the second half of the season, and that 41-goal pace will grow.
And I think that's why writers and fans in Toronto aren't panicking or tossing this guy under the bus. Matthews still pushes play downhill, has generated a load of offence even if the boxcar numbers haven't caught up, and his line has been as dominant as its ever been — a massive reason for the Leafs currently having the third-best record in the entire league by points-percentage.
If opposing markets are upset that Matthews hasn't been slandered to their liking, the answers are right there, and simple. They don't even need that information "fed" to them by someone like me.