Optimizing the Maple Leafs' defence pairings ahead of training camp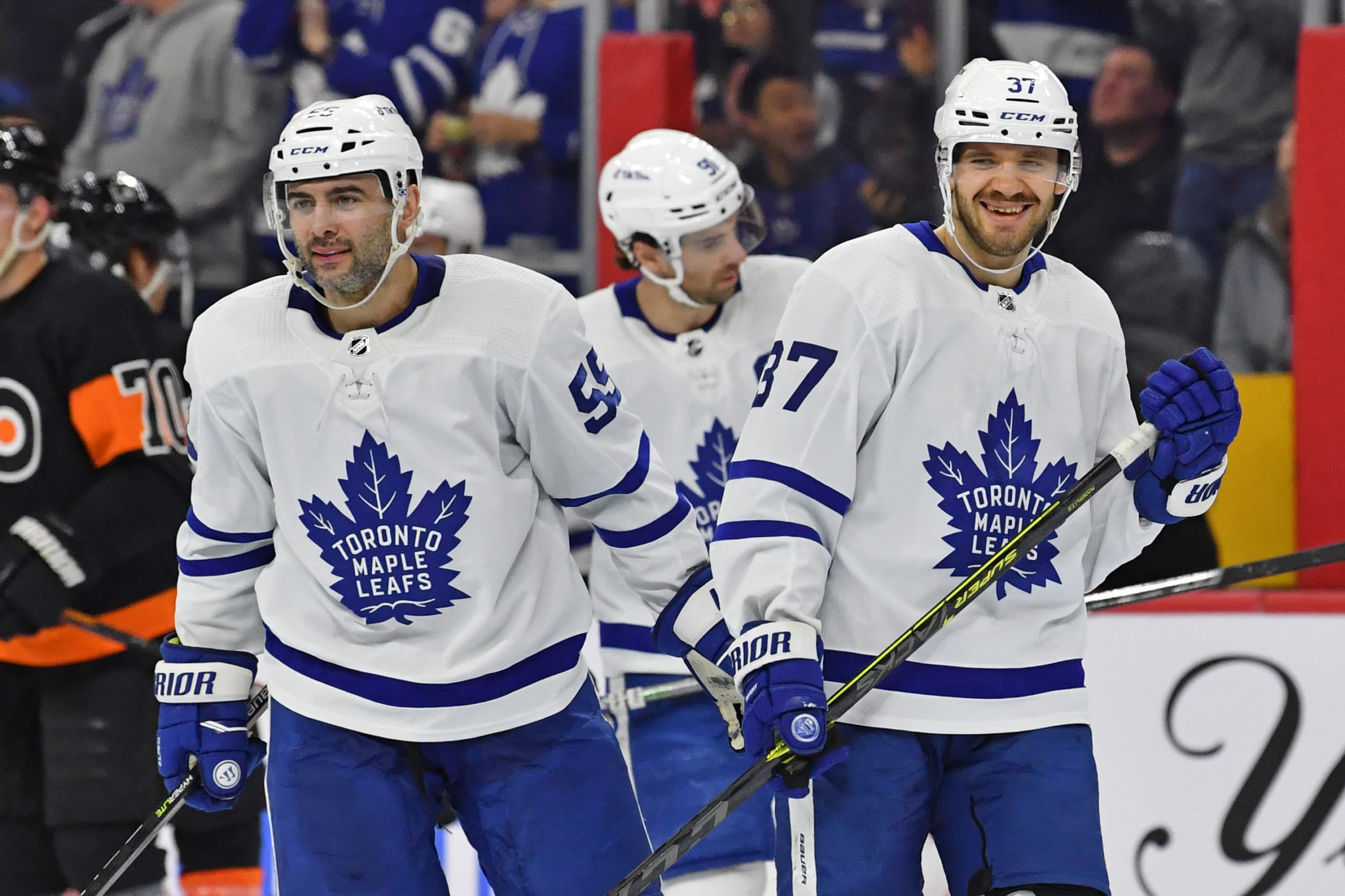 Photo credit:Eric Hartline-USA TODAY Sports
The Maple Leafs will have a partially different bottom-six, as well as two brand new goaltenders, yet their defence will consist of the same players.
Morgan Rielly, TJ Brodie, Mark Giordano, Jake Muzzin, Timothy Liljegren, Justin Holl, and Rasmus Sandin if or when he signs a deal. Aside from Giordano, this Maple Leafs defence core hasn't added a player outside of the organization since October of 2020.
Now, with the 38-year-old signed for two more seasons, it's going to make things on Toronto's backend a lot more interesting. It'll be a more fascinating scenario if Sandin was to re-sign with the Maple Leafs before training camp begins.
Whether the 22-year-old is in Toronto or not, Maple Leafs head coach Sheldon Keefe still has three defence pairings that need to be decided ahead of opening night. It may be a difficult decision, but I suspect it might be quite easy given the familiarity.
At this point, everyone including Keefe knows what works for the top pairing — Rielly and Brodie. With Ilya Lyubushkin departing the Maple Leafs, it's likely that pairing returns as the best.
The two played the most of any pairing throughout the regular season, spending over 800 minutes together on the ice at five-on-five. As a duo, Rielly and Brodie had positive underlying numbers in almost every category aside from HDCF% (48.87) and HDGF% (45.45) at five-on-five.
The pair also had an on-ice save percentage of 91.73 — the best of any pairing who played 220+ minutes on the Maple Leafs last season. If there's any combo that I'm willing to put money on being a lock, it's these two.
That is unless Keefe decides to throw a curve ball and test Liljegren with Rielly, which many wouldn't be opposed to throughout training camp. If that was to happen, Brodie should slide down alongside Muzzin for the second pairing.
You might be saying "Why are you putting Jake Muzzin on the second pairing?" And all I have to say is, would you like him to play alongside Holl again? Many fans saw that they weren't working together last year, and I don't believe they'd want to try that pairing again.
The two played almost 500 minutes together at even strength during 2021-22 and only finished with a positive xGF% (54.93) and HDCF% (53.68). Among Toronto's pairings who played 200+ minutes of even strength together during the regular season, Muzzin and Holl had the lowest CF% (49.46) and GF% (45.65).
Muzzin and Holl are better off separated, which is why I'd have Muzzin with Brodie as the second pairing, and Giordano with Holl as the third.
Placing Giordano and Holl together reunites the duo that was together throughout the playoffs last season. Although some were upset that Liljegren was bounced from the lineup, it was clear at the time that Holl was the better fit within the Maple Leafs roster. And as we remember, the combo didn't look bad either.
First choice of defence pairings:
| | |
| --- | --- |
| Rielly | Liljegren |
| Muzzin | Brodie |
| Giordano | Holl |
Second choice of defence pairings:
| | |
| --- | --- |
| Rielly | Brodie |
| Giordano | Holl |
| Muzzin | Liljegren |
For Liljegren's sake, I believe it's worth throwing him into the water as fast as possible to see if he can float that high in the lineup. Putting him against the toughest competition early on will give the Maple Leafs the look they need in regards to where he might belong.
Though I wouldn't be opposed to letting him improve throughout the year lower in the lineup and then seeing how he might fair atop the defence later. That could work too.
Again though, having Muzzin alongside Brodie is the safest bet, then Giordano and Holl would be your third pairing. If the first choice pairings don't work out, you can always revert Brodie back to the top and have Liljegren back with Muzzin.
The goal is to have Muzzin and Holl play together as little as possible — unless they return to the form we witnessed from two seasons ago.
There is, though, a caveat to this situation because what if Sandin re-signs before training camp? Where will he slot in? That's one of the most difficult questions to answer at the moment.
The 22-year-old has proven he belongs in the Maple Leafs' lineup, but who do you take out of their left side? I believe there's a discussion to be had about Muzzin and load management, however it's clear that he wants to play on a consistent basis.
It's very difficult to look at Toronto's defence pairings prior to training camp, because in reality, there'll likely be plenty of tinkering throughout the year. I wouldn't be shocked if these pairings were entirely different by the end of the season.
If Sandin does re-sign prior to training camp, though, there will be a lot of different combinations throughout Maple Leafs' camp. Although at this point, it doesn't seem like the 22-year-old signing is in the realm of being possible.
Either way, Toronto is going to have a busy season just with the defence pairings alone. It's going to be fascinating to see who's with who once training camp begins in a few weeks. And then, to look back at the pairings in April when Toronto is gearing up for the playoffs.
(Statistics via NaturalStatTrick.com)