Ovechkin hits 800, Horvat to be traded and Thompson keeps scoring: NHL Notebook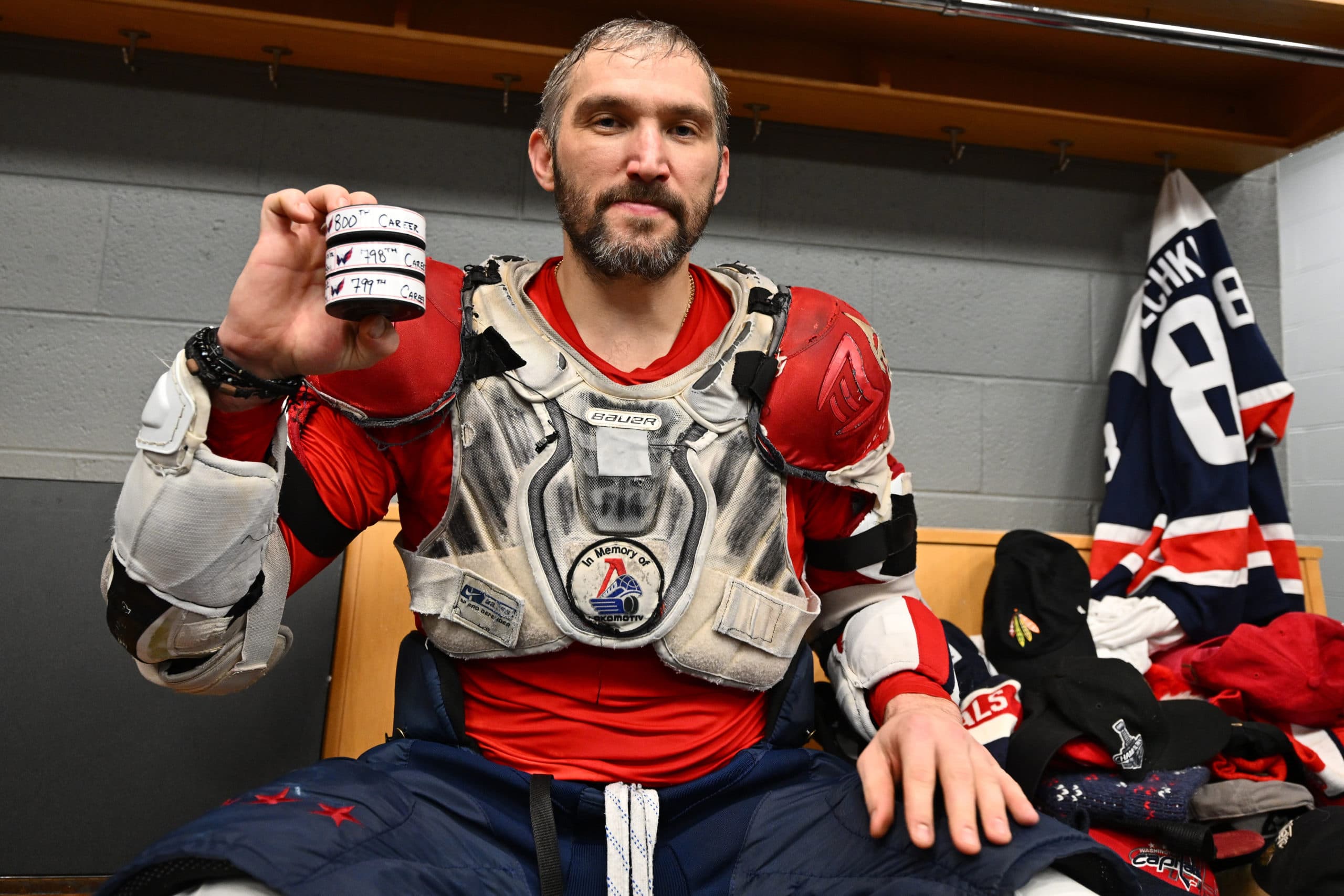 Photo credit:Jamie Sabau-USA TODAY Sports
It seems like there have been more milestones hit this season than others in recent memory. We got another massive one yesterday and yet again it was by Alex Ovechkin. Other big stories from the last week include the Canucks mishandling a star player for the umpteenth time and Tage Thompson continuing to do Tage Thompson things.
Ovechkin 800
With a hat trick against the Chicago Blackhawks last night Alex Ovechkin became just the third player in NHL history to reach 800 goals. The next time he finds the back of the net he will tie Mr. Hockey Gordie Howe for second on the all-time list.
There is no question Ovechkin is the greatest goal scorer of his generation and most should agree he is the greatest ever. For him to score at this rate for as long as he has in this era is more impressive than any sniper who's come before him. Even if he doesn't pass Wayne Gretzky, there is no doubt that he is the best goal scorer who's ever lived.
We're only 31 games into Washington's season and he already has 20 goals. At 37 years old he is showing no signs of slowing down and will likely score 50 for the tenth time in his career. Ovechkin also became the third player in the league's history to score at least 20 goals in 18 consecutive seasons.
Horvat trade
All reports are pointing towards Bo Horvat's time with the Vancouver Canucks coming to an end. He released a statement earlier this week saying he is committed to the team and will not comment on his future, but it's been leaked that he declined the team's final offer and they will be trading him.
The Canucks' captain is in the midst of the best season of his career. His 20 goals and 29 points in 28 games have him on pace to shatter his career highs. He set his personal best in goals last season with 31. He will be one of the most sought-after players heading into the trade deadline.
This another miss by the Canucks organization. They chose to re-sign J.T Miller last summer and in turn they are losing a key member of their locker room who leads their team in goals and is also younger than Miller. It's decisions like this that are the reason the Canucks have been in a perpetual rebuild and are one of the worst managed teams in sports.
Thompson continuing to get it done
Last Wednesday Tage Thompson scored five goals and added an assist against the Blue Jackets for his second six point game of the season. He's also the first player since Timo Meier last season to score five in a game.
Many questioned the Sabres organization when they signed him to seven-year extension worth nearly 50 million dollars last summer. Prior to his breakout campaign of 38 goals in 2021-22 he had scored only 18 career goals in parts of four seasons. Well, he's completely silenced any doubters now.
His 23 goals are tied for second in the league and his 44 points are third. The Sabres are the NHL's highest scoring team and he's a major reason why. It hasn't quite translated into wins just yet as Buffalo is 13-14-2 on the season but they are young team with plenty of high-end prospects still developing.
At this rate, when Thompson's extension kicks in next season it will already be one of the best value deals in the entire league. Look for Buffalo to be legitimate Stanley Cup contender by as early as next season.