What could be the perfect third-line for the Toronto Maple Leafs?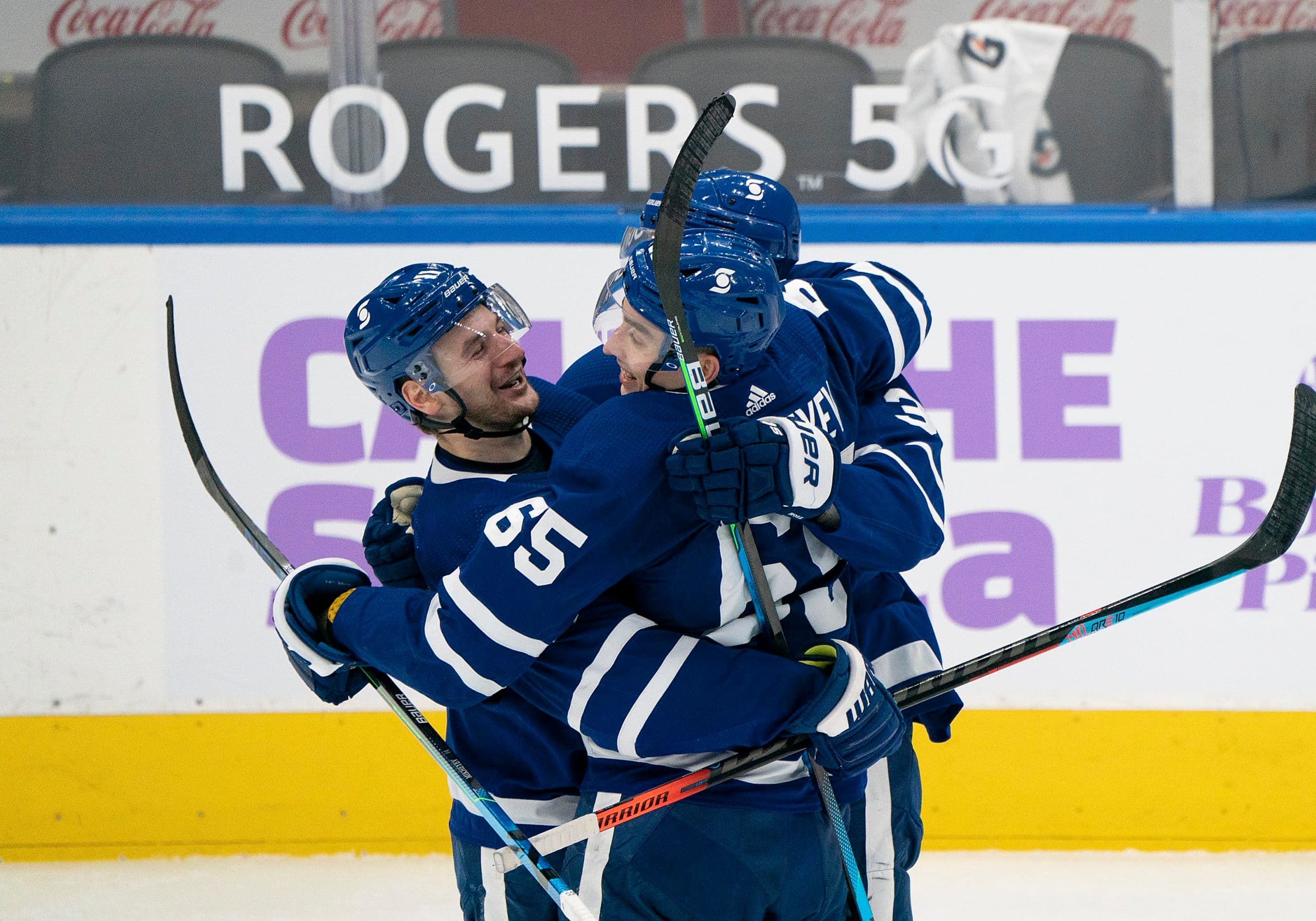 Photo credit:Nick Turchiaro-USA TODAY Sports
It's almost the end of the regular season for the Toronto Maple Leafs and we have seen quite the amount of different line combinations from Sheldon Keefe, to say the least. From shuffling around with the top-six to finding the perfect bottom-six that can complement the big boys up front, Sheldon Keefe has tried out almost every single different line combo you could possibly think of.
However, today there is one specific line I want to discuss and go over as it is going to be a very important line for this Maple Leafs team coming down the stretch of the regular season and of course, into the playoffs. The third-line. The third-line for this team is going to be a third-line checking line for Sheldon Keefe and his coaching staff as that's what they have wanted all year long and that's what they have gotten this season too, just not all the time due to injuries of course.
Having a third-line checking line will do wonders for a team like Toronto who can heavily out-score their opponents and now does a way better job at defending their opponents in a five-man unit too. With a third-line of guys that all play the similar style of hockey, it'll help you win games down the stretch as we've seen it already first hand this season, and even in the playoffs where you have to earn every inch of ice out there during your series against your opponent.
The types of third lines we've seen more often this season have been a combination between the following players; Zach Hyman, Ilya Mikheyev, Alex Kerfoot, and Pierre Engvall. Although with the recent trade deadline acquisitions of both Nick Foligno and Riley Nash from the Columbus Blue Jackets, it adds two more potential candidates to play on that third-line as they also have similar attributes to the other four players.
First Potential Third-Line
The first potential third-line that there could be down the stretch is a line consisting of Ilya Mikheyev – Alex Kerfoot – Zach Hyman. A third-line we've seen a decent amount of times during this regular season so far and a line that has done a solid job whenever they're called upon.
Mikheyev, Kerfoot, and Hyman all have similar attributes as players. They are speedy players that can be heavy of the forecheck, have some offensive skill and can put the puck in the back of the net too, but most importantly, their ability to wear you down wherever you're matched up against them in a game and the difficulty you have trying to score on them. This is a line that can easily wear down the opponents in their zone for minutes in a game and multiple times in a game as well.
This season, this line has played 19 games together and has played a total of 55 minutes at 5v5 while doing a solid job on the ice nonetheless. Compared to the other potential third-line combinations I'll be going over for this Maple Leafs team, I would say this is one of the combos we might not see a whole lot unless Sheldon Keefe thinks otherwise.
Second Potential Third-Line
Another potential third-line we could see is a combination we have seen more often than not during this year, and it is a line of Ilya Mikheyev – Pierre Engvall – Zach Hyman. Just like the first combination I discussed, this line is very similar to the line with Kerfoot on it. The only thing that is different with it is the offensive ability of Engvall compared to Kerfoot. Other than that they both can play on a line with these two wingers and they all compliment each other well.
Although, I think it's very safe to say that all of these lines work well because of one player in particular and it's Zach Hyman. Without Hyman on these lines, I don't know how well they could keep up against their opponents consistently. This season this line has played 21 games together and has played a total of 92 minutes at 5v5 and has done a better job at everything compared to the Mikheyev – Kerfoot – Hyman line.
It's weird because Kerfoot is a better offensive player than Engvall, but I guess Engvall just works better with both Mikheyev and Hyman on that third line. According to
Evolving-Hockey
, this line has a 3.20 xGF/60 (expected goals forward per 60 minutes) and a 1.67 xGA/60 (expected goals against per 60 minutes) you don't have to be a genius to realize those numbers are pretty darn good and for that to be a third-line for a team like Toronto, it can really help out during playoff time.
Third Potential Third-Line
The third potential third-line we could see down the stretch for the Maple Leafs is a line of Ilya Mikheyev – Alex Kerfoot/Pierre Engvall – Nick Foligno. This line is essentially what the other two lines are but just minus Zach Hyman and add Nick Foligno into the mix. With this line, Hyman would obviously be in the top-six again and more than likely be playing alongside Auston Matthews and Mitch Marner.
Just like the other two lines, this line is so similar to the other two in the sense that they all play the same style of hockey, or at least play a very similar style. They're all heavy forecheckers, can produce some offence, and plays a respectable defensive game too. Here is a RAPM chart from Evolving-Hockey that shows Nick Foligno for the past three seasons.
As you can see Foligno is a guy that really won't produce a lot of offence anymore, however, he was on a Columbus team that prioritized defence over everything so maybe with the move to Toronto he will be able to produce more offence. Then you take a look at his defence and it's not a shocker how good it is. He has been known for his defensive abilities being a forward and I believe with the move to Toronto, it will definitely benefit the team a lot that's for sure.
Fourth Potential Third-Line
The last potential third-line I could see be formed on the Maple Leafs is a line that will more than likely not be able to play together until the playoffs, and it is a line of Ilya Mikheyev – Riley Nash – Zach Hyman/Nick Foligno. The reason why this line won't be able to play until the playoffs is because of the injury to Riley Nash. After being acquired by the Maple Leafs ahead of the trade deadline it was reported that he will still miss approximately 4-6 weeks with an upper-body injury that he sustained with Columbus.
Nash is a massive upgrade over Alex Kerfoot and Pierre Engvall if you want to talk strictly about defensive abilities as a centreman. He can easily play either third-line centre or fourth-line centre but given their desire to have a third-line shut-down line, I just don't see how he doesn't play on the shut-down line.
Riley Nash is someone who the Toronto Maple Leafs know very well due to their meetings in the Stanley Cup playoffs. Nash was a part of the 2018 Boston Bruins who eliminated Toronto in 7 games, and then he was a part of the 2020 Columbus Blue Jackets who also eliminated Toronto in 5 games. He is a defensive-minded centreman that can chip in some offence but you really shouldn't expect him to chip in offence every night.
He will play against top competition and make it very hard on the opponents to score on them while playing responsible defence too. Here is another RAPM chart from Evolving-Hockey showing how well defensively Nash has been this season in Columbus.