Petr Mrazek's upside makes signing him an undeniable win for the Maple Leafs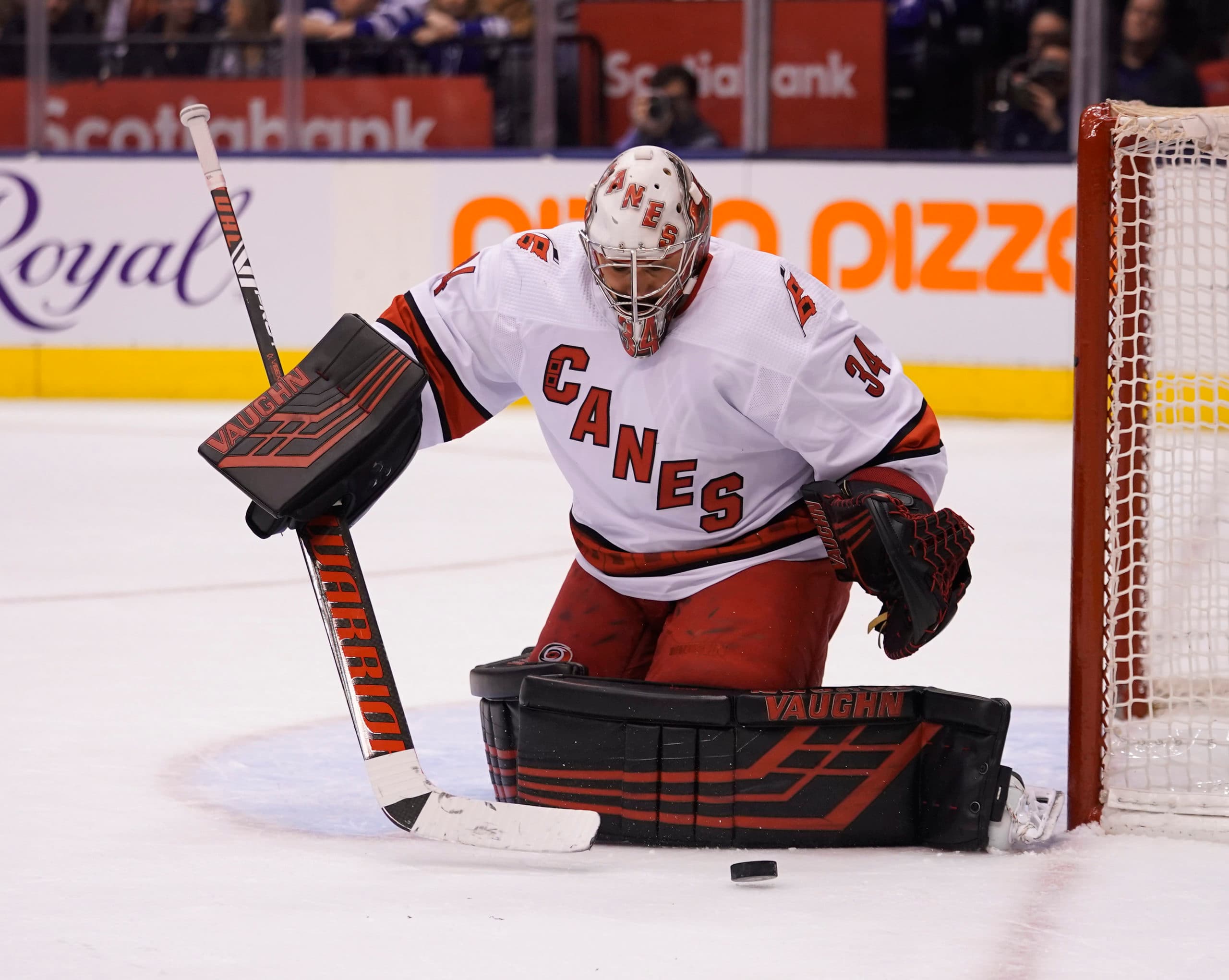 Photo credit:John E. Sokolowski-USA TODAY Sports
With the dust of a frenetic free agent frenzy having largely settled, the Maple Leafs came away with a number of intriguing names in their back pocket. Up front, the Maple Leafs added some size and skill to the mix with
Michael Bunting
,
Ondrej Kase
, and
Nick Ritchie
. On the back-end, the club opted to keep their excellent defensive core together and add around the edges, making one small move for
Brennan Menell
from the Minnesota Wild. 
The biggest move of the Maple Leafs free-agent shopping spree, however, ultimately came in the form of the 29-year-old Czech Republic native Petr Mrazek. The Maple Leafs added the former Carolina Hurricane to a deal worth
$11.4m over the next three seasons for an AAV of $3.8m per season
. Reactions were somewhat mixed, though
largely positive
regarding the transaction
, as Mrazek comes with plenty of promise based on his last season. Whether he can maintain that over a larger sample will largely determine how this contract is viewed into the future. 
As
@JfreshHockey
's tweet indicates, Mrazek, while very strong last season, did not play all that much for Carolina during the 2021 campaign. Mrazek spent two extended stretches on the shelf dealing with separate upper and lower body injuries while also splitting time with the recently traded Alex Nedeljkovic when healthy. As a result, Mrazek ultimately only tended the twine for 12 regular-season games.
Despite the small sample size, however, Mrazek experienced a lot of success this season behind the Carolina Hurricanes defence. According to Evolving Hockey's expected goals model, Mrazek ranked 5th in goals saved above expected league-wide despite playing a fraction of the games that other league leaders had dressed for. At 5v5,
where up to 80% of all ice time occurs
, Mrazek ranked even better, sitting 3rd in the entire NHL at full strength. His puck-stopping abilities last year were amongst the league's elite, as he sparkled with a 2.03 GAA and a .923 save percentage, well above his career averages in both.
Clearly, the Maple Leafs are hoping that his small sample can be extrapolated over a larger number of games while splitting the net with
the world's most wholesome goaltender
in Jack Campbell. The sustainability of that is ultimately pretty slim, but Mrazek nevertheless is still a good bet to at least provide positive value out of the 1B goaltending position. That alone would be a big time upgrade over what Frederik Andersen ultimately brought last season, which was pretty much the exact opposite.
Also worth noting regarding Mrazek is that, for all the talk of his supposed issues of inconsistency, he has remained fairly steady by the numbers during his two previous seasons in Carolina in 2018-19 and 2019-20. During both seasons, Mrazek consistently hovered right around the 4 goals saved above expected mark, a number that slots him slightly above average compared to his goaltending peers and surrounded by comparables like Robin Lehner (19-20) and Carey Price (18-19). 
Of course, it's worth acknowledging that goalies are, to put it bluntly,
complete voodoo
. Mrazek very well could turn into a pumpkin as soon as he pulls that Blue and White sweater over his head, and we could be shaking our fists at Dubas missing out on a better partner for Jack Campbell. Trying to account for that is silly at this point with history on his side to be a solid option for Sheldon Keefe, but we would be remiss to not at least note that it's a possibility. 
Finally, regarding the contract Mrazek received, as seems to so often be the case with most Kyle Dubas signed contracts, Mrazek's $3.8m cap hit appears to be a slight overpay by some models estimates, notably including goalie aficionado Cole Anderson (@ice_cole_data on Twitter)
Ultimately, that difference of 300k in expected cap hit vs. actual cap hit is unlikely to make life too difficult, with a little bit less space to accrue deadline money being the only real downside at the moment. What could be more interesting, in comparison, is the term that they've given him. 
Three years for a goalie that hasn't cracked 50 games in over 5 seasons is a considerable bet to make if things go south. Combined with Jack Campbell's impending free agency and the high likelihood that Mrazek's contract will be used as a comparable, you can start to see some interesting threads to follow for this upcoming season. If Campbell outperforms Mrazek, are we looking at a goalie tandem that could cost over $9m in AAV? Can the Maple Leafs afford that? We don't have the answers right now, but that issue will likely become a pressing matter a lot sooner than we may think.
Finally, at Mrazek's introductory press conference, the goaltender had this to say regarding the opportunity to play in front of the Toronto Maple Leafs faithful as one of their own:
To be honest Petr, I'm not sure if "love" is the exact word that I would use. It's more of a "Stockholm Syndrome" type of situation if you ask me. Here's hoping that Mrazek can be part of a core that can return the love that this current fanbase has given to this club with little in reciprocation.