Pierre Engvall's dominant season with the Leafs, and how he's doing it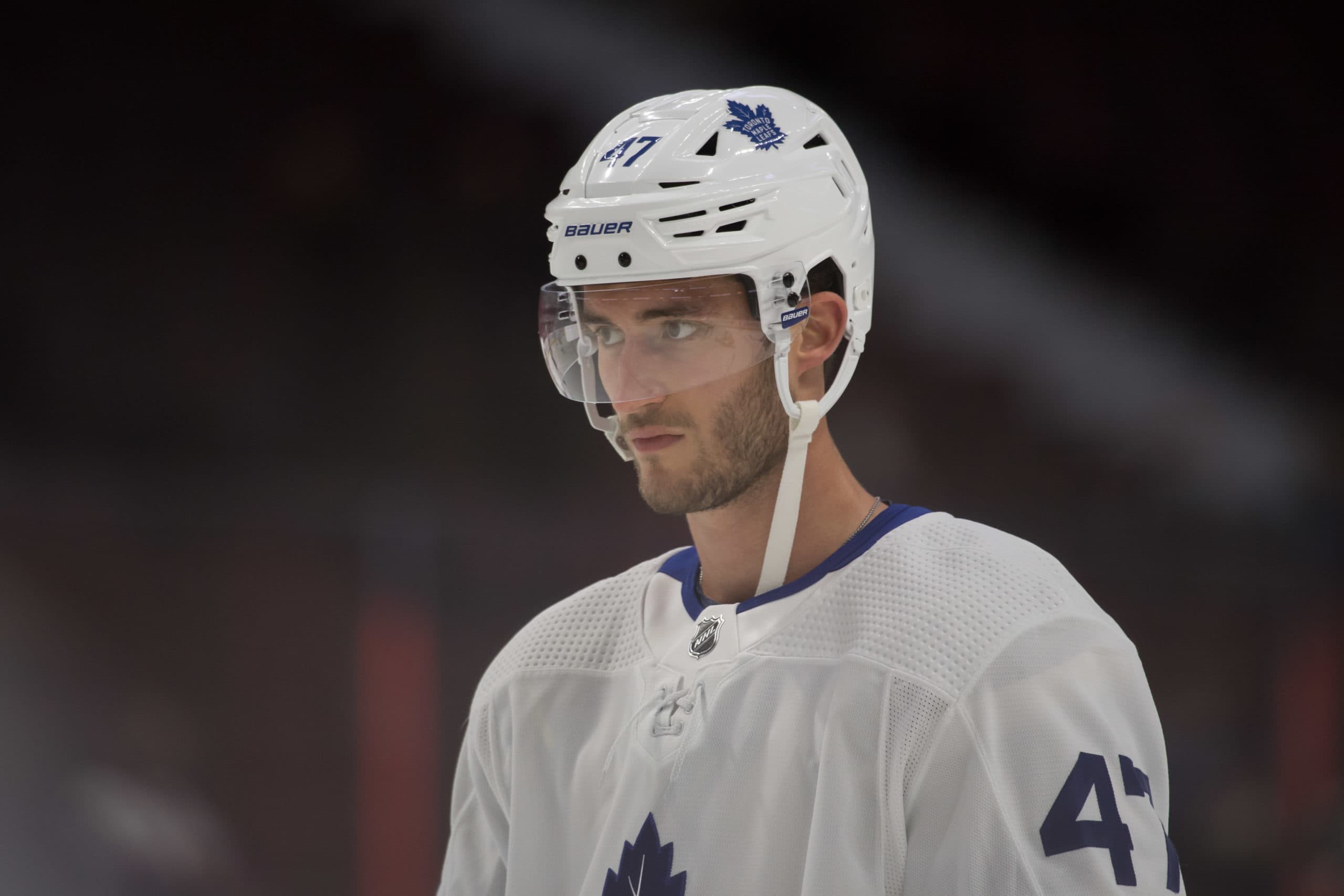 Photo credit:Marc DesRosiers-USA TODAY Sports
@Pierre Engvall is having a season like he's never had before in the NHL.
Splitting time between the Maple Leafs third and fourth line, the 25-year-old is finding his way to being a regular NHLer under Sheldon Keefe.
In 35 games this season, Engvall has 14 points — one shy of his career high — yet he's (almost) done it in 13 less games. What's most interesting is that he's shooting at 6.8%, down from his past two seasons at just over 11%.
There could be more goals coming for the 25-year-old, especially if he continues to play with @Wayne Simmonds.
Simmonds is currently among the league leaders at five-on-five for expected goals per 60 minutes with 1.23. He also has a low shooting percentage of 7.4% at five-on-five.
                   Five-on-five xG/60 leaders
With @Ondrej Kase likely returning to the Maple Leafs' lineup next game, Engvall will return to the fourth line with Simmonds and @Jason Spezza. The low shooting percentage might help the line, who only has three goals for, score more.
Engvall, though, notices he's having success, and attributes it to being more comfortable.
"I think I'm forechecking harder this year," Engvall said before the Maple Leafs' game vs. St. Louis. "I feel more comfortable in that area. And I mean, I've been switching up and down in the lineup, but I've been feeling comfortable with that."
Engvall being comfortable is a good sign for Toronto. It seems as though he's finding his role, which didn't look like it was happening prior to this season.
Keefe has always been tough on the 25-year-old, and it seemed as though it was a good kind of tough. Tough love I'll call it.
And since giving him that tough love, it's allowed Engvall to have success in each role he's been given.
"Really liked his game lately," said Keefe after the Maple Leafs' 3-1 win over the New York Islanders. "Just the way he's using his speed, hanging onto the puck, getting us out of our zone and through the neutral zone. He and [Ilya] Mikheyev both have that great ability, and [David} Kampf for that matter. When they get the puck, or there's a race for a puck in our zone, they have that speed and length to be able to get onto it quickly and get us out of trouble, get us on offense. So, he's an important player for us in that way, and I think he's playing with confidence here right now."
Engvall has been incredible at limiting the number of scoring chances against while on the ice for the Maple Leafs. The 25-year-old sits only behind @Rasmus Sandin for the least amount of scoring chances against at all strengths per 60 minutes at 23.45.
Similar to what Keefe said in his quote, Engvall is also talented at carrying the puck up the ice from the defensive zone. He only trails Kase and Kampf, who lead the Maple Leafs in defensive zone starts in all strengths.
Even at five-on-five, Engvall is incredibly dominant as he sits among Toronto's best at limiting goals. The 25-year-old has the Maple Leafs' second-best goals-against per 60 minutes with 1.43, behind only Kase.
In terms of expected goals against per 60 minutes at five-on-five, he's behind @Auston Matthews for the team lead. Matthews has a 2.03 xGA/60, while Engvall has a 2.07.
The 25-year-old is clearly having a career season, and is among the Maple Leafs' best defensive players. Time will tell as to whether or not Engvall will continue his production, but if he does, his contract seems to be worth it after all.
He's clearly an important player for the Maple Leafs, which is a very good sign.
(Stats via moneypuck.com and naturalstattrick.com)