Playoff Preview: After a season of turmoil, it's Jack's net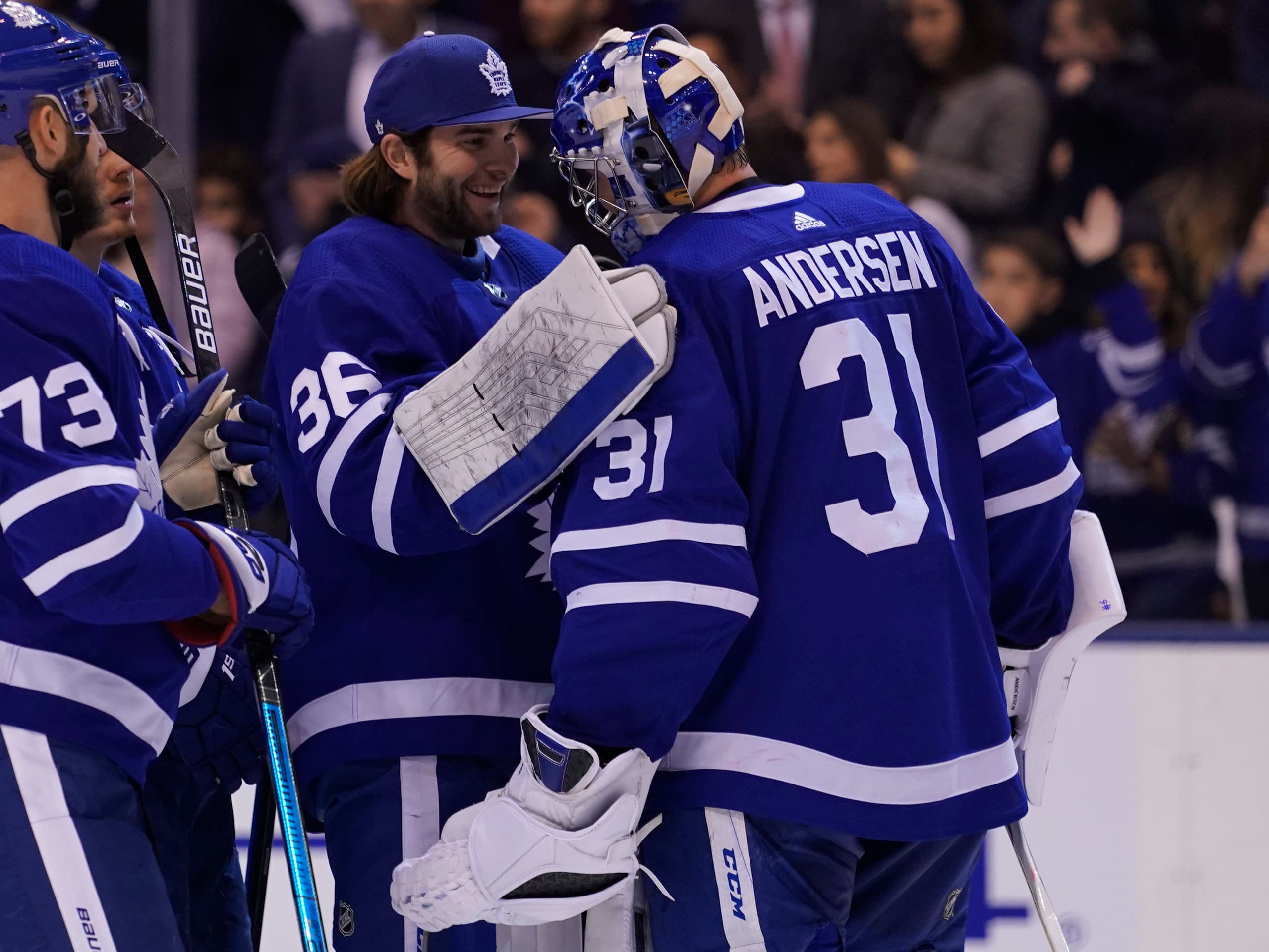 Photo credit:John E. Sokolowski-USA TODAY Sports
Goaltending heading into the playoffs hasn't been much of a cause for conversation in Toronto over the last few seasons. For the entirety of the Matthews Era, the Toronto Maple Leafs have had their game one starter etched in stone since day one of training camp, with Frederik Andersen having been pegged as The Guy essentially from the moment then general manager Lou Lamoriello traded a first and second round pick to Anaheim for the Danish net-minder. And despite a shaky October in his first season with the Leafs (a trend that would plague Andersen for the entirety of his tenure in Toronto,) Andersen settled in and became a stabilizing force for a young Leafs team who were still finding their legs defensively. For as much star power as the Leafs had acquired over the previous few years, it's hard to argue that they would not have reached the heights that they did as quickly as they did were it not for the stellar play of Frederik Andersen.
But things can change in quickly in the NHL, and over the last couple of seasons, while Toronto's defense has been bolstered and rounded into for as one fitting of a Stanley Cup contender, Andersen's play has not improved. It hasn't even matched his previously established dominance. Just when everything else seemed to be starting to click in Toronto, the play of their once reliable goaltender has taken a nosedive, and it has lead to a bit of a debate as to who will be the starter for game one of the Maple Leafs first round matchup with the Montreal Canadiens.
Frederik Andersen
We'll start with a quick analysis of the aforementioned Frederik Andersen because while I am admittedly one of his harsher critics, the idea that this may be the end of the road for him as a Leaf is a bittersweet feeling. His acquisition has always been the moment I point to as the true end of the rebuild for the Leafs, and as mentioned above, he truly was a reliable goaltender for the first three seasons of his deal, posting three consecutive seasons of .918, .918, and .917 goaltending respectively. However, the last two years, things have not been great for Andersen, with his cumulative save% over that time being a .906, punctuated by an absolutely abysmal .895 in 2021. Most of this can be attributed to two factors: An injury riddled season and an absolute nightmare of a year when the Leafs were shorthanded. While his .920 save% at 5v5 was middle of the pack (ranking 24th of 48 goaltenders with a minimum 900 minutes played at 5v5,) his .793 penalty kill save% ranking 40th of 41 among goalies (minimum 100 minutes player on the penalty kill,) with only Philadelphia's Carter Hart having a worse season with a .781. This is a significant drop-off from his 2019/2020 performance where he manage to hold an .857 save on the penalty kill.
Andersen missed a good chunk of the season dealing with a nagging knee injury, an ailment that kept him from making an NHL start for over a month. After a much scrutinized AHL conditioning stint that saw him post an .885 save% across two games, his return to the Leafs lineup on Wednesday night wasn't all that reassuring as he would go on to allow four goals on 28 shots in an overtime loss to the exciting but still pretty bad Ottawa Senators.
Finally, while hockey is certainly a team game where no one person can or should be singled out as the cause for a loss, it would be remiss to ignore Andersen's record in potential series clinching games, which currently sits at 0-4 with the Leafs, with the goaltender having lost his previous eight potential series clinching games. And while, yes, as I said, the blame cannot fall squarely on Andersen's shoulders, it is a troubling trend that, couple with his tendencies to let in unfortunate goals at inopportune times (again, and again, and again…) has left many wondering if Andersen has what it takes mentally to get the team over the hump and into the second round for the first time in 17 seasons.
While it may be a difficult pill to swallow for many, Frederik Andersen is not the goalie he once was. Whether the cause of that is injuries, intense work load catching up with him, or just plain old natural regression, the once dependable starter is a shell of his former self. As disappointing as it may be, the vision once held by many (myself included) of Frederik Andersen backstopping the Leafs to their first Stanley Cup in over half a century are looking more and more unlikely. While he should no doubt be on the roster for game one, his time as the number one in Toronto should be done.
Jack Campbell
Jack Campbell was, in my opinion, the perfect NHL backup goaltender. While many fans were fond of Curtis McElhinney for the way he would quietly go about his business, knowing his role, and seemingly never demanding more, I have always preferred my backups have the mentality that even if they accept their role, they still want to push the starter in hopes that they could maybe steal a couple starts here and there. And then maybe a few more. And then, hey wait a minute, do we have a goaltending controversy?
That's Jack Campbell. The Toronto Maple Leafs game one starter.
While at the time of his acquisition he was seen as merely a reliable backup, signed to a manageable deal who the Leafs could trust to simply not be an automatic loss when he took the ice, Campbell has quickly taken Toronto by surprise, forcing his way into the starter's conversation, not only for this season, but potentially beyond. Since arriving it Toronto, the 29-year-old has posted a .921 save% across 27 games in Toronto, with a 20-4-3 record and 2 shutouts.
Like Andersen, Campbell has struggled with injuries this season, sidelining him at different points in what was supposedly going to be a season in which he saw an expanded role as more of a 1B to Andersen's 1A as opposed to backup to his starter. Regardless, Campbell showed very few signs of regression when healthy, going into his final start of the season tonight with a .923 save% and a chance to end the year with an astounding 18-2-2 record.
A large part of Campbell's success this season has been his ability to stop the most dangerous attempts generated by the opposition. While we can credit the Leafs defense (weird sentence) for their clean play in front of him (Campbell has face the 7th lowest 5v5 high danger shots per 60 among goalies who have played 900 5v5 minutes,) Campbell has held up his end of the bargain with his .841 HDSV% good for 9th among similar goaltenders, above names like Tuukka Rask, Connor Hellebuyck, and Thatcher Demko, while being tied with Carey Price. And unlike Andersen, Campbell has been a reliable goaltender on the penalty kill, with his .909 PK save% ranked third among NHL goalies who have played at least the same amount of shorthanded time as Campbell.
For a large stretch of this season, it seemed like the 2021 Toronto Maple Leafs, a team that on paper looked to be the best on assembled in nearly two decades playing in a division where they were the head and shoulders favorites, were going to get undone by shaky goaltending. It was Jack Campbell who righted the ship, and it is Jack Campbell who should be the game one starter.
Michael Hutchinson and David Rittich
While seeing either of these two would mean something has gone horribly, horribly wrong, they are still technically goalies who are hypothetically in the mix for the playoff roster, so we will briefly touch on them.
Michael Hutchinson has actually been a fairly solid goalie for the Toronto Maple Leafs this season, posting a .919 save% in his eight games, including a shutout of the Edmonton Oilers during what was the Leafs most dominant stretch of games this season. David Rittich was decidedly not a fairly solid goalie for the Toronto Maple Leafs this season, and despite coming in seemingly as "Insurance against Michael Hutchinson" he was actually much worse, with an .888 save% in four games on top of letting in the most embarrassing goal in recent Leafs memory (seriously, even the 200 foot Toskala goal was at least always heading towards the net.)
There is no such thing as "too much" depth at any position, and while either one of Hutchinson or Rittich would definitely be preferable to Joseph Woll or
Veini Vehviläinen
(remember him? He exists!) as your third and fourth string goalies seeing either suit up for a game would mean that the Leafs are one wrong movement or one Corey Perry "accidentally forgetting how to stop" away from them playing meaningful minutes, which, while being a completely Leafs thing to happen, I think Leafs fans have had enough of having Leafs things happen. No disrespect to either man, but if I don't see either in a Leafs again until next preseason at the earliest, I would be happier for it.
Be it Jaroslav Halak shutting down the 1st overall Washington Capitals in 2010 or the Columbus Blue Jackets rolling out two relatively unknowns to stymy the Leafs in last season's play-in round, history has show time and time again that all it could take to win a series is the right team's goaltending getting hot at the right time. And while nothing in the NHL is certain, the Leafs have had one goalie this season constantly rise to the occasion amid a season of turmoil between the pipes. That man is Jack Campbell, and despite all attempts otherwise, there should be no controversy if/when he starts on Wednesday night.
All stats courtesy of Natural Stat Trick.