Playoff Preview: What to expect from the Leafs forward group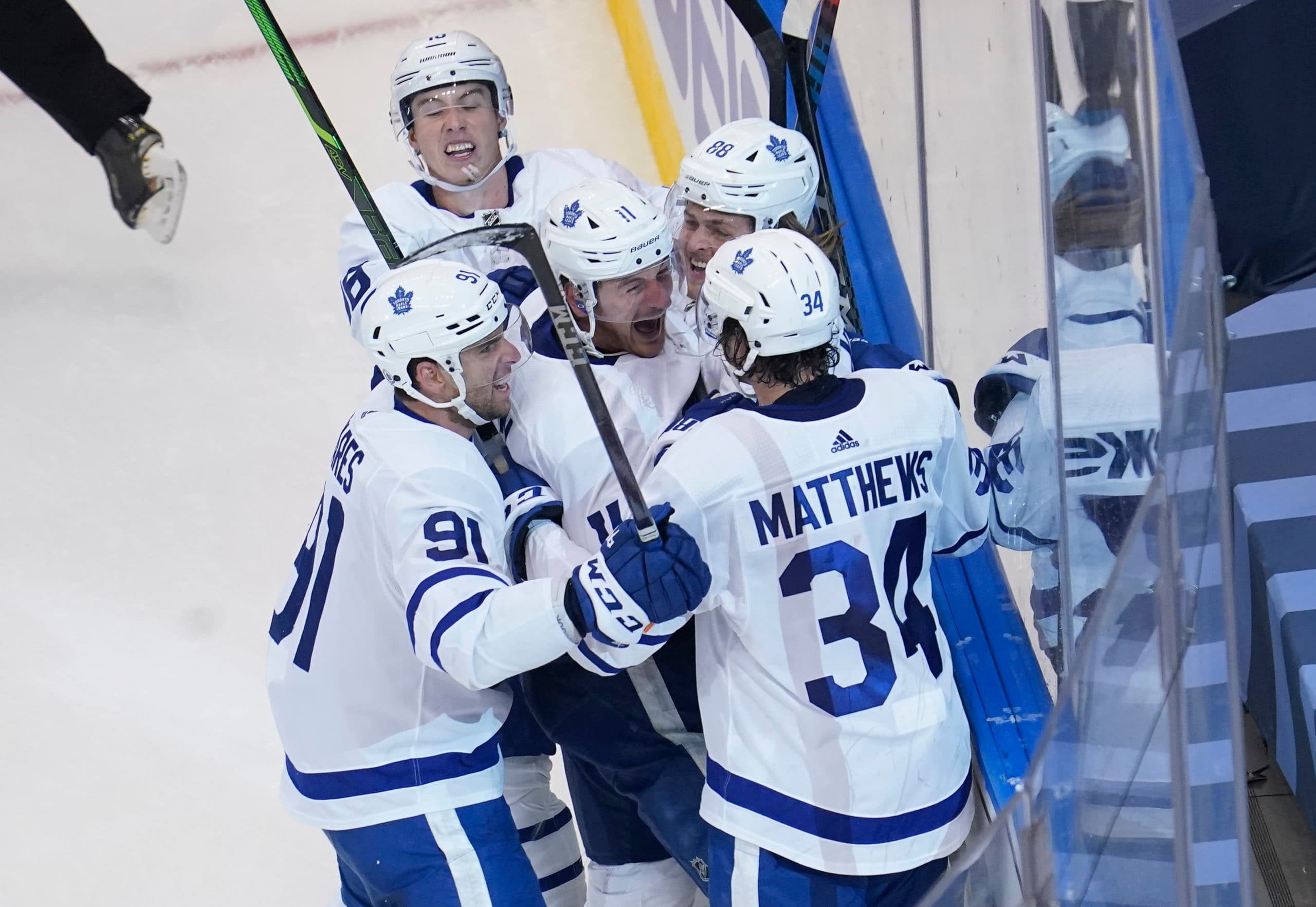 Photo credit:John E. Sokolowski-USA TODAY Sports
For the last five years of the Leafs making the postseason, the forwards have always been their strong suit. Between that first wave of young talent in 2016 with Matthews, Marner, Nylander, and Hyman, the big fish free agent signing of Tavares in 2018, and the veteran depth of Spezza, Thornton, Simmonds, and Foligno acquired over the last couple seasons, the Leafs have always boasted a strong, deep forward group, highlighted by that high end top six.
This forward group is going to be the key to them winning a playoff series, or even a Stanley Cup. Montreal has a deep lineup of four middle six lines, but it's their lack of top end talent that the Leafs have that will be key. Edmonton has McDavid and Draisaitl to match that top end talent, but they lack the depth that Toronto has in the bottom six which allows teams to hyperfocus on shutting down that two headed monster on the Oilers.
Having four lines that can generate offense and shut it down defensively (or at least do one of the two very well) is a huge factor to going deep in the playoffs, and that's been part of the Leafs tremendous success this season. But, it's hard to really talk about this group line by line because they've barely kept the same four lines all season. Keefe maybe gave us a preview of it the other day in practice, but who even knows if that's the Game 1 lineup. Instead, I'll break them down in tiers, although some players aren't exclusive to one tier
The Big Four
This is, of course, the biggest difference maker for any playoff series for the Leafs. Not too many teams boast four high end forwards like the Leafs do, and they consistently make it a tough matchup. When the game is on the line, having four players like Matthews, Marner, Tavares, and Nylander is the difference maker that can get you back in any game. Case in point, Game 4 against Columbus last year, where that group was on the ice for the final three plus minutes to come back from down 3-0. These are the guys that win you games, series', and Cups.
Matthews and Marner will have the biggest expectations. Both finished in the top 10 in scoring, Matthews has all but won the Rocket, and Marner's passing is what helped him get there. Not just that, but they have the defensive game to back it up and not get hemmed in their own zone. If any duo is going to single handedly win them games, it's this one, and they'll probably be expected to do that once or twice a series, especially Matthews.
Of course, what helps them as well is having Tavares and Nylander on the second/1B line. They exist so that teams don't solely focus on Matthews and Marner, because if you give these guys easy minutes, they will make you pay. Both of them have great passing ability and excellent shots, so it's not as predictable as Marner to Matthews either. And if that top line goes cold, they can pick it up and win the team games as well.
Hyman has slowly emerged into the same conversation as these four, but these are going to be the Leafs gamebreakers in the playoffs, and will be relied on heavily. Being able to have elite talent on the ice for 30-40 minutes a night is a luxury most teams don't have, and the Leafs can use that to their advantage in most matchups.
The Rest of the Top Six
Throughout the season, the Leafs have had a bit of a revolving door to fill out the top six. Between Thornton, Mikheyev, Hyman, Galchenyuk, Foligno, and even Simmonds on occassion, the big four have had their fair share of linemates, some to success, and others not so much.
Their role is pretty simple, however. They mostly exist to get in the dirty areas and come out with the puck to give it to Matthews and Marner or Tavares and Nylander, while also not disrupting the offensive flow when the puck is on their stick when the Leafs are pressuring.
Simmonds and Mikheyev probably struggled the most in those roles for different reasons, so it's not likely they'll be there in the playoffs, and Thornton was good, but can't handle those minutes for a long playoff run at his age, so it'll probably be some combination of Hyman, Foligno, and Galchenyuk.
They won't be expected to be gamebreakers, but they should probably provide some secondary offense if the Leafs want to go deep, but as long as none of them drag down the big four, it will be a successful postseason for them.
The "Shutdown" Line
All year, Keefe has been trying to turn the third line into a shutdown line of sorts, and much like the two top six spots, it's been a pretty steady rotation all season. It started with Mikheyev, Kerfoot, and Hyman, has seen players like Simmonds and Engvall play there as well, and by the looks of it, we might see Nash there as well. It doesn't get linematched against top competition, but it basically exists to play against any top nine line and shut them down.
For the most part, that rotating cast has done it's job. Not a ton of offense is generated from those roles, but they don't allow much either. It's like 15ish minutes of nothing happening on the ice, and when you're leading in a game, that's going to be pretty valuable.
The expectations will depend on if Hyman is on the line or not. If Hyman's there, there's probably some expectation for him to drive the line a bit better and generate some offense, but as long as this shutdown line does it's job and doesn't allow a ton of chances and goals while they're on the ice. They won't be the same gamebreakers like the top four, but they might be relied on to shut down big names in the final minutes, and hold onto important leads in big games.
The Best of the Rest
The fourth line might have the most consistent mainstay in the lineup from anyone outside of the big four, and that's Spezza. He's found his role these last couple years, and he's done it well, existing as the offensive spark in the bottom six against super easy competition.
Around him has also been a pretty hectic rotation though. Among the mainstays in the lineup, there's been a few versions of that fourth line, usually with Thornton as well, and Kerfoot and Simmonds have rotated in that third spot. But when there's been an injury, usually the extra player will also slot into the lineup on the fourth line as well.
The expectations will probably fluctuate as well depending on who's there. For the most part, they'll be expected to at least hold their own against easy competition and chip in on the offense, maybe even win them the odd game when the big four are all shut down. But, the old man line of Thornton-Spezza-Simmonds has also provided some extra energy and physicality in games, especially in "playoff" environments, so I think that might be expected of them in playoff games as well to help add to the intimidation factor of this team.
---
Overall, the Leafs forward lines have all been relatively consistent at possessing the puck and playing solid hockey at both ends of the ice, and never playing bad enough to cost the team a ton of games. The Leafs big four will be the key to winning most games, and be the difference makers against most teams, but the rest of the lineup has also been important all year, as they've been good enough that teams can't hard match the top six without it giving the bottom six more opportunities to score.
The Leafs may have seen a ton of improvement on the blue line, which has been a big help for their success this season, but their forwards have always been the difference for them these last few years, and they will be if they want to finally end their lengthy Cup drought.