Possible goaltending options for Maple Leafs via trade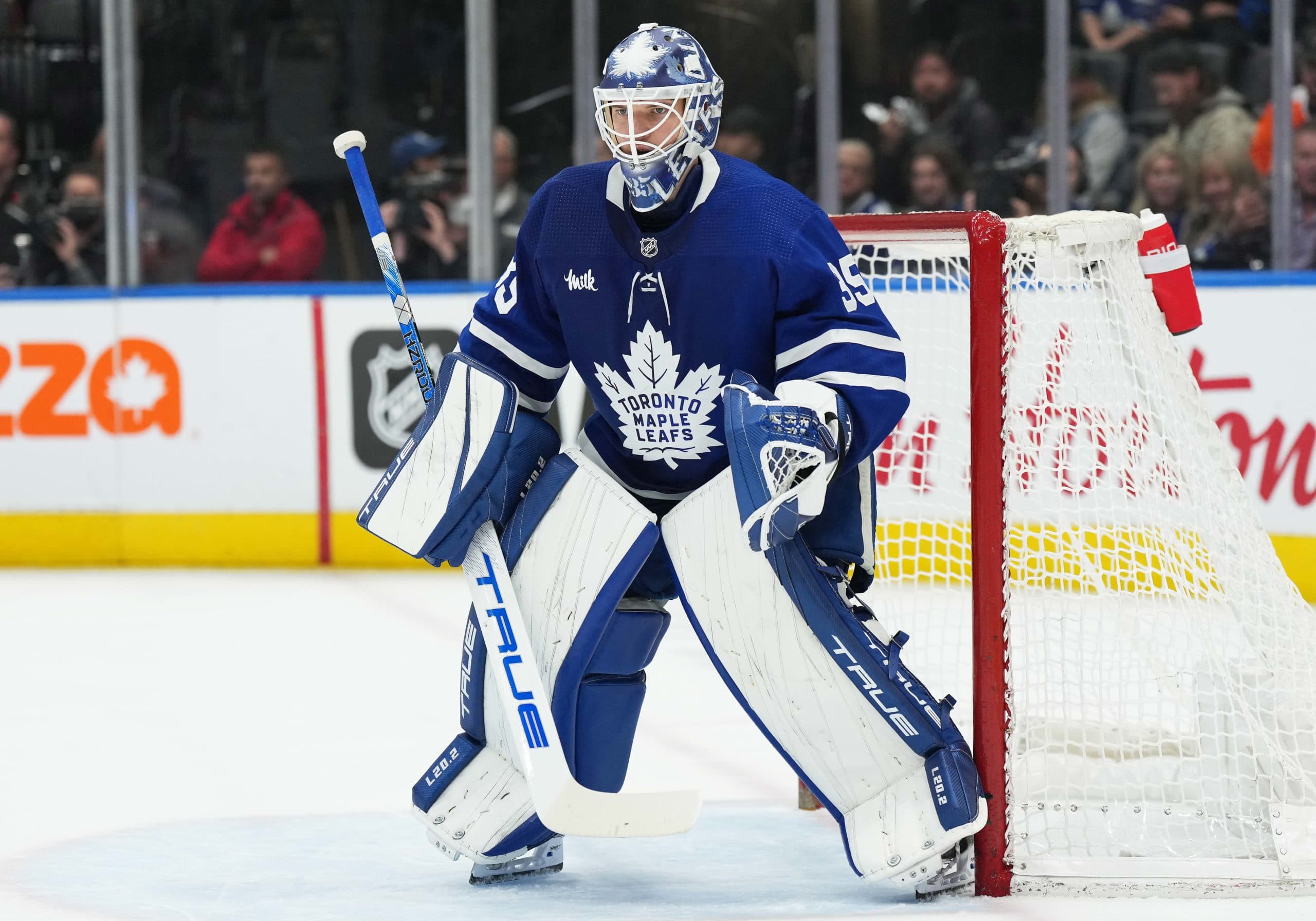 Photo credit:Nick Turchiaro-USA TODAY Sports
After defeating the NHL-leading Boston Bruins 2-1 on Saturday night, the Maple Leafs now face an interesting dilemma in net. Ilya Samsonov injured himself in the second period and was removed from the game in the intermission, and with Matt Murray not close to returning anytime soon, the organization now looks extremely thin between the pipes.
Prospect Keith Petruzzelli, who is 6-0 with the Marlies and has a .922 save percentage, has signed an NHL deal and can be the backup in Carolina. However, if Samsonov and Murray are both out for a few weeks, Kyle Dubas might be tempted to go and find some help in net.
There are few names floating around right now, but a few cheap options could exist that the Maple Leafs might look into if Kallgren and Petruzzelli can't provide stability in the crease.
Anthony Stolarz
The Anaheim Ducks look to be on the rise but are still very early in the building stages. The first few weeks of this season have shown us just that, currently 4-7-1 (of course, beating the Maple Leafs in that process). With John Gibson locked up long-term, why wouldn't the organization consider moving a backup goaltender if they are getting good value in return?
Anthony Stolarz hasn't had a great start to the season, but honestly, not many on the Ducks have. Last year though, he had a .917 save percentage in 28 games and a 2.67 goals-against average. If he could bring his game back to a level not even that high, say a .908, that would be more than enough to make the Maple Leafs happy and give them a chance to win hockey games.
His current cap hit is $950,000 and expires at the end of the season. There would be very little commitment on the Maple Leafs end, and with all their injuries plus Nicholas Aube-Kubel getting claimed off waivers by Washington, there is a possibility he could remain with the team even after Murray and Samsonov get healthy.
Joonas Korpisalo
Joonas Korpisalo is expected to return from a Hip injury soon, and yet, he could be a goaltender that the Maple Leafs target if they need someone to come in and help give them a chance to win some hockey games.
He still seems like a young, up-and-coming goaltender, but in reality, he's 28 years old. He has a save percentage of .902 in 182 games played and might be a fringe starter at best. For the Maple Leafs, you can't really expect to find much more than that a month into the season.
The Blue Jackets are off to a terrible 3-9-0 start and currently sit last in the Eastern Conference (last in the NHL based on point percentage). Despite the addition of Johnny Gaudreau in the offseason, things haven't gone well in Columbus, and a few more losses could see the writing on the wall for any hope this season.
The organization also has three goaltenders signed to over $1 million. Elvis Merzlikins makes $5.4 million and is clearly the starting netminder, and youngster Daniil Tarasov, who at 23, is someone the Blue Jackets are very excited about moving forward. That could leave Korpisalo in a position where he could be expendable for the right price, and it's certainly at least worth a phone call by Dubas.
James Reimer
This option will make many Leafs fans smile (Looking at you, Steve Dangle), as the Sharks are off to a horrendous start despite his .917 save percentage. After starting the season 0-5, not even a Norris-calibre start by Erik Karlsson can likely right this ship.
Reimer is also on an expiring contract (noticing a theme here) that carries a $2.25 million cap hit. That could be tough to handle, but with the possibility of salary retention and the uncertainty of multiple injuries with the Maple Leafs, the potential at least exists for his cap hit to work.
He's a fan favourite to so many in Toronto, and after playing behind some awful teams during his time here in Toronto, it would be nice to see him return to a roster that seems poised to be highly competitive all season.
Overall, all these teams will likely make the Maple Leafs overpay on these goaltenders' trade values due to the position they could find themselves in if Samsonov is hurt for an extended period. That's just the reality of the situation; it's not ideal this early in the season.
However, if the Maple Leafs struggle to get saves, they might have to overpay a bit to acquire a goaltender and avoid falling behind the pack so much that a division title seems out of reach.
Recent articles from Justin Walters