Potential under the radar Leafs goaltending targets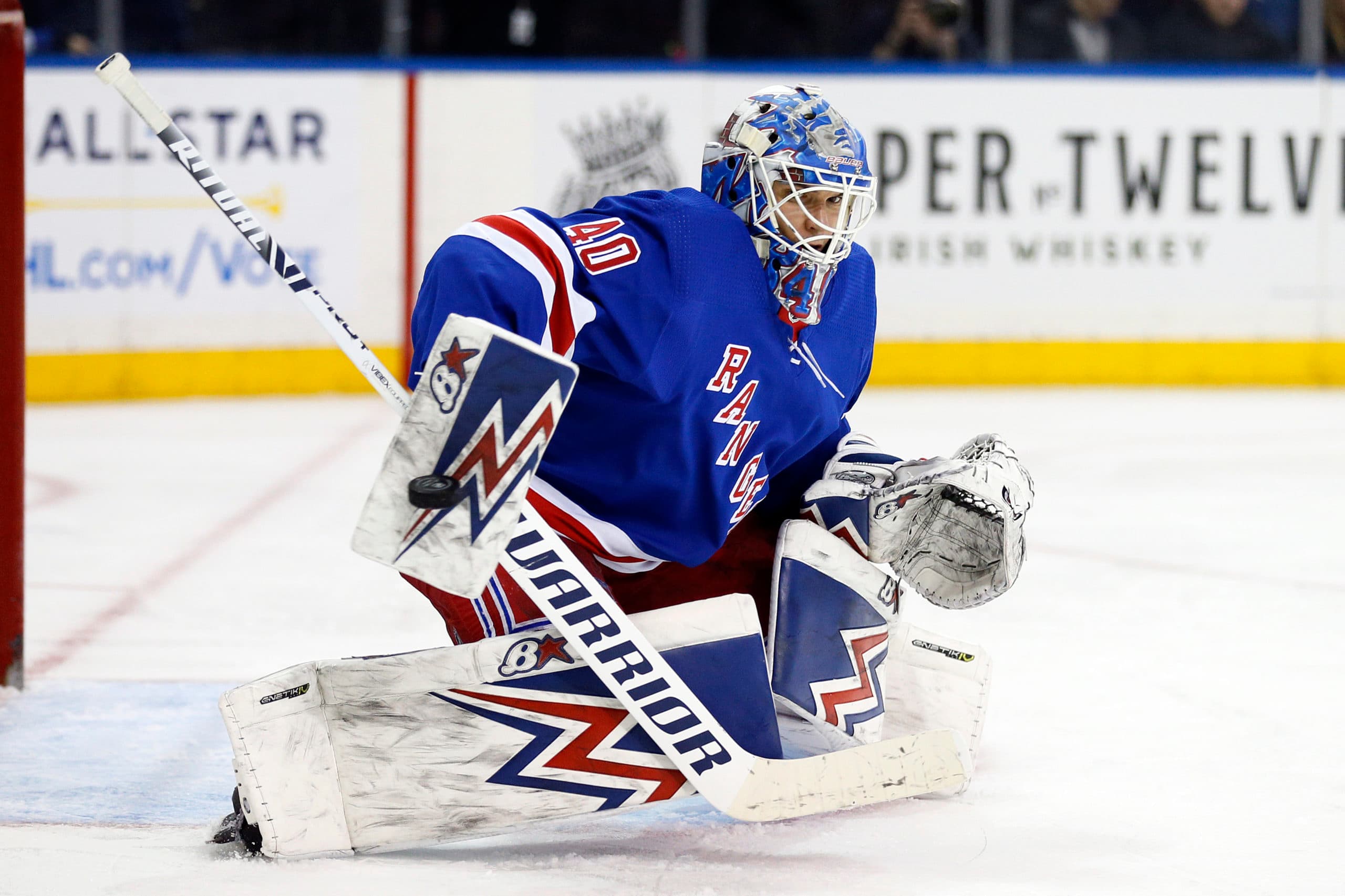 Photo credit:© Adam Hunger-USA TODAY Sports
Hockey has changed. Gone are the days where a single goaltender can play 60 or more regular season games and then go on a long playoff run. The game is faster now and there is enough evidence in recent cup winners over the past decade to show that teams benefit much more from having a solid goaltending tandem as opposed to a single elite starter and a backup who only plays the second half of back-to-backs.
This tandem split can be most recently seen with the 2019 St. Louis Blues, 2018 Washington Capitals, and 2017 Pittsburgh Penguins. Of those three teams, the most games played by a single goaltender was Braden Holtby's 54 games with the Capitals.
It's easy to believe that a more or less even split was the plan going into last season for the Leafs, but between injury troubles and Petr Mrazek having the worst season of his career, that plan was derailed and abandoned fast.
Whether Jack Campbell is re-signed or not
, the Leafs' goaltenders need to be better overall, and with the team's current cap situation (and the
risk of bringing in a new face
at a high cap number,) going after a brand-name goaltender might not be in the cards for next season.
There are, however, a number of goalies around the league who have put up excellent numbers in a backup or tandem role and have sort of flown under the radar for a while now. Any one of them could be an excellent addition to the Leafs and could be acquired for a very reasonable price:
Eric Comrie
Comrie is, head and shoulders above everyone else, number one on my personal wish list for Toronto this offseason. The 26 year old has bounced around the league a lot, due to constantly being claimed on waivers, but once he was finally able to settle in and play in one city for more than a week, his level of play improved dramatically.
In 19 games as the Winnipeg Jets last season, Comrie finished with a .920 save percentage and a career-low 2.58 goals against average. Anyone who watched the Winnipeg Jets this past season could plainly see that defence was entirely optional for them as a team, and more often than not, Comrie and his partner Connor Hellebuyck were left to fend for themselves with little-to-no-help from the defenders in front of them. Comrie has a calmness about him and untapped potential that just screams potential free-agent steal.
Anthony Stolarz
If Comrie is the top of my wish list for a new Leafs 1B/backup goaltender, Stolarz is firmly second place on that list. Currently signed for one more season with Anaheim at just under $1 million and coming off a pair of strong seasons with a very poor Ducks team. He only played eight games in the 2021 season, but posted an extremely impressive .926 save percentage, and in an expanded role last year as the full-time backup to John Gibson, Stolarz played a career high 28 games and came away from it with a .917 save percentage, which is incredible given how bad at defending in general the rebuilding Ducks are. If they are open to a trade, he's one option who could really pan out in a supporting role.
Casey DeSmith
A career backup in Pittsburgh, DeSmith is a late addition to this group of options whose name kept showing up during the research process. He likely will not cost much on the open market (should Pittsburgh not re-sign him before free agent season begins) and has never dipped lower than a .912 save percentage in his 4 seasons at the NHL level. The only real issue is that he does tend to allow some soft goals, will turn 31 before the season begins, (making him the oldest of this group of players,) and his career-high of games played in a single season is 36 in 2018-19, the other 4 years were all well below 30. Another potential risk/reward option.
Alexandar Georgiev
This is perhaps the biggest long-shot option of them all, and the one that carries the most risk. Georgiev has had some spectacular games in his young career, including a pair of 50+ save performances against the Leafs at a time when the Rangers were a far cry from the juggernaut they have become. His role so far throughout his NHL career has been that of a high-end backup or a split tandem role, averaging just over 30 games per season. His career save percentage is around the league average (.909) but that number has been impacted by an off-year last season in which his save percentage over 33 games was below .900. Georgiev has shown enough flashes of brilliance that you can reasonably see him grow into a successful starter in an expanded role.
However, the risk in targeting Georgiev is that he won't be cheap. He is currently a restricted free agent with arbitration rights, so not only would the Leafs have to acquire him through a trade, but Dubas and co. would then have to try and get him signed in short order before the arbitration process kicks in and makes him a bigger part of the salary cap figure than you would expect.
Logan Thompson
Thompson is another long-shot who carries the risk of a small sample size. At 25 years old, he has only played in 20 career NHL games, and performed well above expected, but how sustainable is that? Should the Maple Leafs look to acquire him they would probably need to trade assets of equivalent value as Thompson is currently on an entry-level contract just a hair above league minimum. The worst thing that could come from adding Thompson to Toronto's goaltending carousel, (assuming Vegas would even consider moving him, which is unlikely,) is they'd have added an extremely solid AHL goalie whose contract is fully buried in the minors.
No matter what the Maple Leafs staff ultimately decide on in terms of which direction they'll steer the team's goaltending in, the one guarantee is that chaos will reign. As I've well established during this little series of stories analyzing goaltending options, goalies are voodoo and it will be impossible to properly evaluate any trade or free agent acquisitions in that position until they hit the ice.
(stats from capfriendly.com, elite-prospects, and hockeyDB)
PointsBet is live in Ontario. 
Get started here
.