Prospects to watch for the 2023 NHL Draft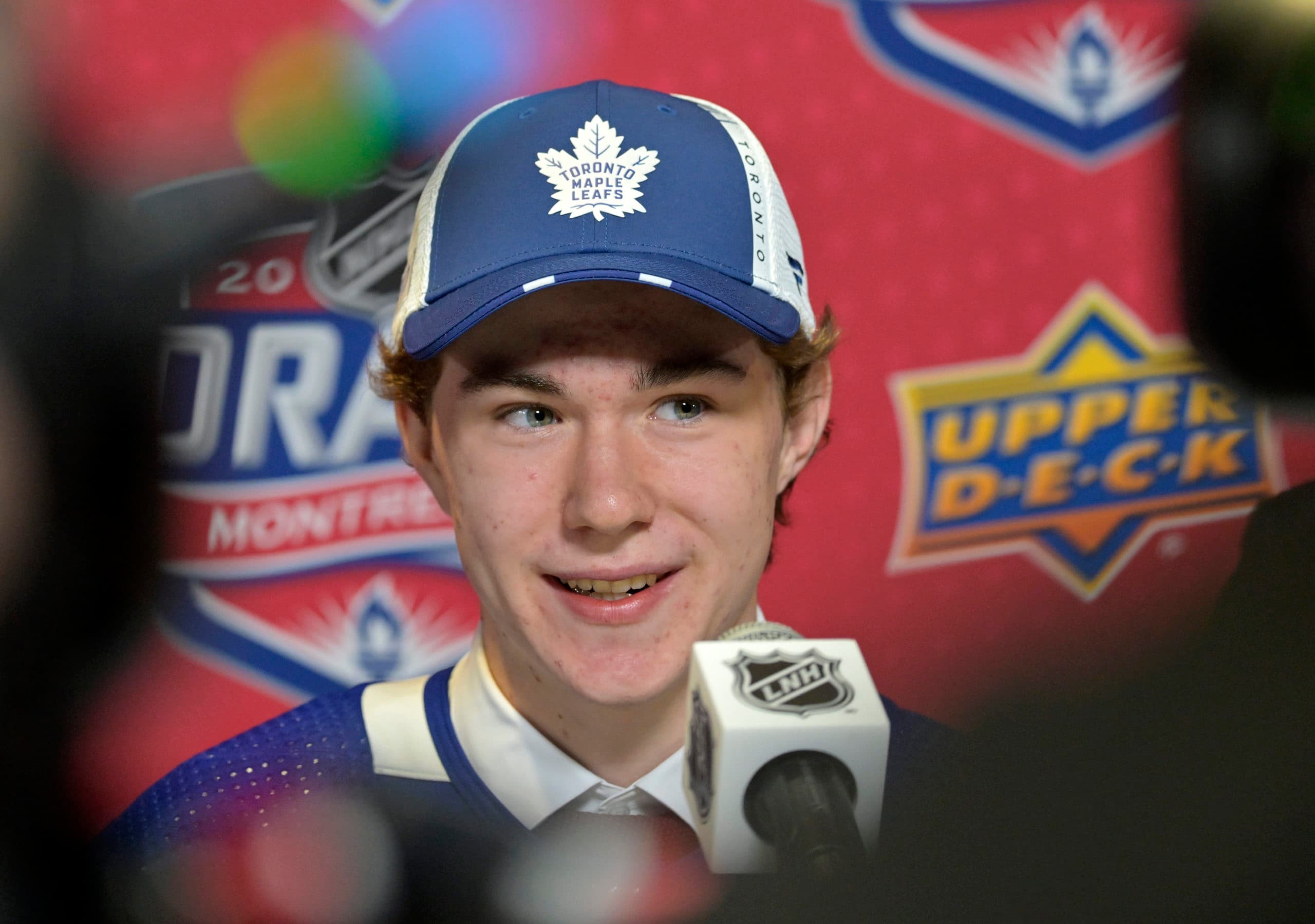 Photo credit:Eric Bolte-USA TODAY Sports
Another year of hockey has begun. Games are well underway, and as we watch our favorite NHL stars battle it out nightly, this year's group of draft eligible skaters and goalies have begun their most important season yet.
The NHL Draft is a spectacle that captures the attention of plenty around the hockey world. It represents the ending of one season and the beginning of another; hope that this year's crop of draftees will be organization-changing. The 2023 NHL Draft in particular has caught the eyes of many due to the level of talent available. Names like Connor Bedard and Matvei Michkov have been known for years now as potential superstars, while players like Adam Fantilli and Leo Carlsson have emerged in part due to strong starts to their seasons.
For the Leafs, the draft presents an opportunity to infuse future iterations of the team with cheap talent. We're now seeing the benefits of this, with Nick Robertson seemingly locking down a second line position, and players like Matthew Knies and Pontus Holmberg knocking on the door for NHL jobs. In the modern day NHL, and particularly with the Leafs' salary structure, the success in drafting and developing these types of players is critical to sustainable on-ice success.
Currently, the Leafs sit with five picks for the 2023 draft. This includes their own first, their own third, Ottawa's third, their own fifth, and their own sixth. As NHL Central Scouting released their "Preliminary Players to Watch List" on Wednesday, here are four players to watch as a Leafs fan for the 2023 NHL Draft.
Michael Hrabal – G, Omaha Lancers (USHL)
The Leafs' goaltending pipeline has failed to produce NHL caliber options for a significant period of time. While this may partially be due to scouting and development, the Leafs have selected a goaltender in the third round or earlier just once (Joseph Woll) since 2006. There are a few intriguing players in the current pipeline, including Artur Akhtyamov, Vyacheslav Peksa, and Dennis Hildeby, but I don't think that even the biggest Leafs fan would claim that they are high-end prospects.
Hrabal enters the year as the number one goalie prospect in the class. He has begun his year on fire, posting a .941 save percentage through six games in the USHL to go along with an "A" rating from NHL Central Scouting (indicating a first round candidate). Considering the depth of this year's class, it seems likely that Hrabal could be available in the late first round this year – where the Leafs' first round pick will likely end up (if they keep it).
I've been lucky enough to watch a few games of Hrabal's this season. Here are some of my takeaways: He's listed at 6'6 and looks it in the net. Despite his size, he moves efficiently in the net and is very patient on his feet, allowing him to establish and maintain strong positioning. He also anticipates play well, often beating passes into position and makes strong reads on shooters.
Anything can happen before the draft, but it appears that adding Hrabal to the Leafs' pipeline would immediately strengthen a position of relative weakness.
Theo Lindstein – Brynäs IF (SHL)
Now that Rasmus Sandin and Timothy Liljegren have seemingly graduated from prospects, the Leafs could use another high-end defensive prospect to go along with Topi Niemelä. One option for this year who may be available where the Leafs pick is left-shot Swedish defenceman Theo Lindstein.
Lindstein is a bit of an interesting case. He played 12 games in the SHL last year, in his D-1 season, which is very rare for a defenceman. He finished his year by helping to lead team Sweden to a silver medal at the Hlinka Gretzky Cup with six points in five games. This year, he has spent most of the year with the U-20 team, posting five points in nine games before being called up to the SHL. The upside of Lindstein appears to be in his technical abilities. His skating and first pass abilities stand out, which in combination with his willingness to shoot makes him intriguing as a transition defender with offensive upside.
Lindstein was given a "B" rating from NHL Central Scouting, indicating a second/third round candidate. This, along with his play intrigued me, as depending on if he can unlock the offensive potential he seems to have, he could play himself up to a position for the Leafs to take him with their first, or down to a position to be taken with their third. His apparent upside would be valuable to an organization with little high-upside defensive prospects.
Luca Pinelli – C, Ottawa 67s (OHL)
When the Leafs picked center Fraser Minten with the 38th pick this past summer, the value that the organization puts on processing ability became evident. The quotes about his interview with the Leafs at the combine were neat pieces of insight, revealing some of the organization's internal processes.
While Luca Pinelli doesn't bring the size that Minten does, he does bring similar processing ability. He has quickly become one of my favorite draft eligible players to watch due to his combination of awareness, positioning, and a surprising amount of grit. His reads are quick and effective on both the offensive and defensive side of the puck, however he will have to work on his skating as he transitions to the professional level. Thus far, he has collected a team leading 15 points in 11 games.
Pinelli was also given a "B" rating. Given his size, it's a decent bet that he'd be available at some point in the early stage of day two of the draft. He'd be an interesting get for the Leafs.
Alex Ciernik – LW, Södertälje SK J20 (J20 Nationell)
In true Leafs fashion, I had to include a potential bet on an undersized scoring winger. Slovak Alex Ciernik is a very fun player, and one that will be interesting to monitor as the season progresses.
Playing in the Swedish U-20 league last year, Ciernik had his way, scoring 47 points in 43 games. Ciernik is a great skater, and uses this to play fast, rush-style hockey. Further, despite his size (5-10), he isn't scared of physicality. The main question for Ciernik is whether his tools can translate to the professional level. Last year, he was held pointless in 11 games in the Allsvenskan, and so far this year it appears that he'll be spending the year at the U-20 level again.
Ciernik was given a "C" rating by NHL Central Scouting, indicating a fourth/fifth/sixth round candidate. If he can manage to translate his offensive abilities into success at higher levels, he could end up being a great late round swing for a team like the Leafs.