Questions Ahead of 2023-24 Season: Will the Leafs defensive unit be good enough?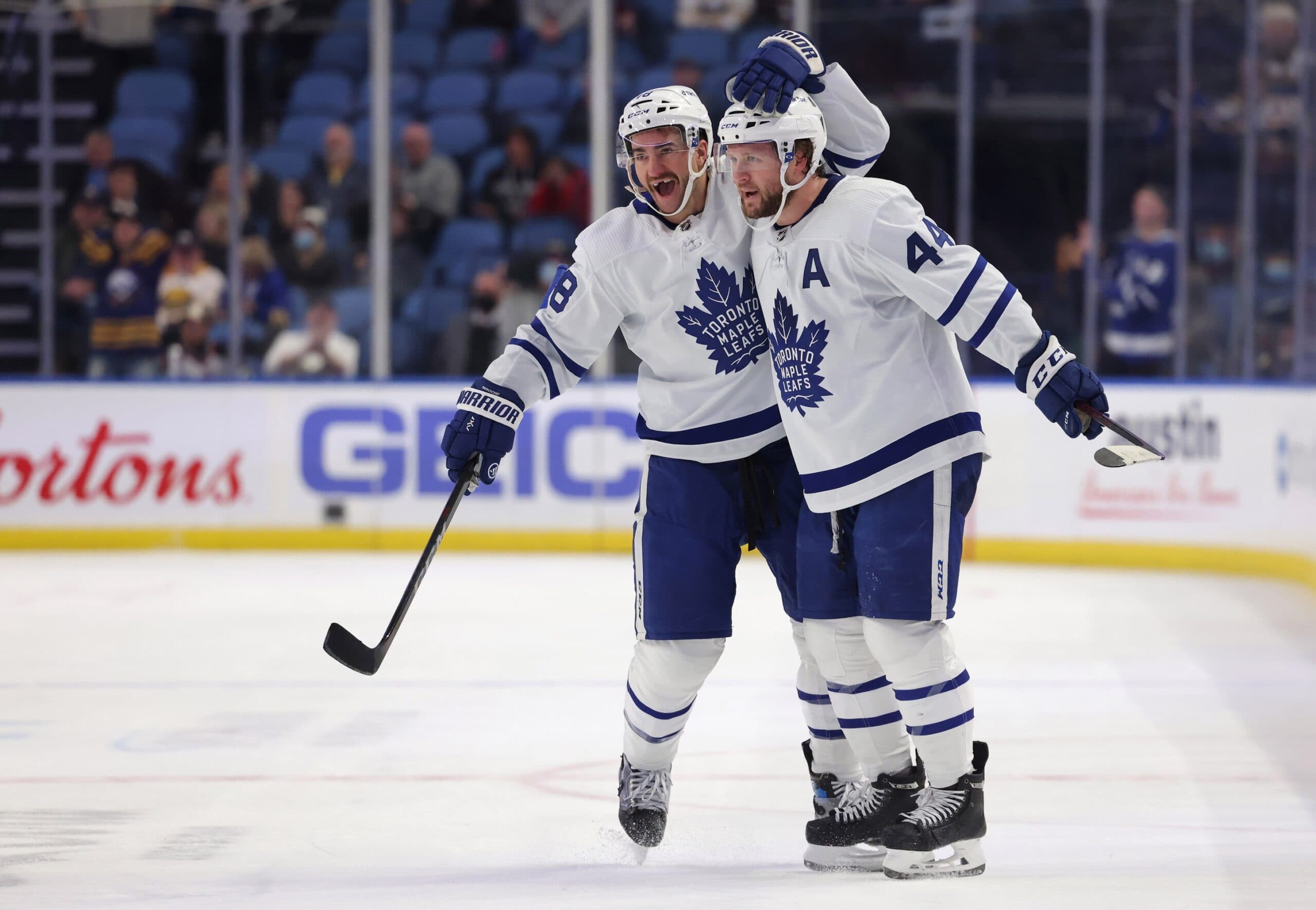 Photo credit:© Timothy T. Ludwig-USA TODAY Sports
It's a tale as old as time.
Before the start of a new season, Leafs fans will look at the currently constructed blueline the team has assembled and debate whether it will be good enough to help go on a deep run. Opinions on the matter will usually be mixed, with some confident that there is the right combination while others will immediately write them off because they believe something is missing.
Whichever side the majority lean towards changes from year to year, which will rage on even as the season progresses and the data shows how the defensive unit is faring.
This forthcoming campaign is no different, with the Leafs seeing a bit of turnover after seeing Justin Holl, Luke Schenn, and Erik Gustafsson sign elsewhere. While there are a few familiar faces still holding key roles on the back end, there are also some new arrivals that provide some intrigue and questions about how they will do. At the same time, Morgan Rielly is the only member of the group currently signed beyond the 2024-25 season which will certainly raise the urgency to get a read on if this blueline can remain mostly unaltered for the foreseeable future.
Speaking of Rielly, he remains the number-one blueliner and his 2023 Playoff showing was a reminder of why that is the case. He was able to finish last season leading all Leafs defencemen in scoring with 41 points despite missing time due to various injuries. It was in the postseason that he really stepped up, as only Mitch Marner recorded more points than Rielly did. He was skating well, making confident plays, and delivering in clutch moments
(who could forget his Game 3 overtime winner)
. Rielly was not the reason why the Leafs fell short, which is why won't be losing his spot as the top dog anytime soon.
His most frequent defensive partner this past season was TJ Brodie, who has been a steady presence on the backend since joining the Leafs in 2020. Although he seemed to have lost a step and wasn't at his best in the playoffs, his positioning and awareness remain strong even as he approaches his mid-30s. You can expect Brodie to once again get the bulk of the minutes on the penalty kill and make up one-half of Toronto's shutdown pairing.
On the other side of that pairing is Jake McCabe, who will be entering his first full season in Toronto after arriving from a trade with Chicago. He hit the ground running with some smooth skating, good positioning, and a bit of snarl that was missing on the upper echelon after losing Jake Muzzin to injuries. You can expect him to also get a lot of minutes shorthanded, so don't be surprised if he is near the top of the Leafs leaderboard in hits and blocks by season's end.
This upcoming season will be a critical one for Timothy Liljegren as there is a prime opportunity for him to cement his place in the top four and earn more meaningful minutes in all situations. It is true that he appeared in less than half of the Leafs' playoff games, but he made the most of his chances despite not producing any offence. How he does this year will determine which direction the team will go long-term and whether they will need to bring in some more reinforcements, so no pressure.
Mark Giordano has been aging like fine wine and last season showed that he still has plenty left in the tank. He really stepped up his play during a few-week stretch where a good chunk of the Leafs' regular defenders were injured and helped keep them winning in spite of the setbacks. This resulted in him finishing second for blueliners in scoring and thriving in his bottom-pairing role. His usage will be seeing a reduction as he will be 40 when the new season starts and the Leafs want to ensure he stays fresh, but Giordano should remain a factor this coming year.
The last returning member of the backend is Conor Timmins, who will be beginning a two-year contract that pays him $1.1 million a season. He provided a bit of offence to a backend that was in need of it last season, finishing with 14 points in only 25 games played. He should do just fine as the seventh defenceman and continue to make critical strides in his development, which has not been smooth sailing the past few years due to various injuries.
Brad Treliving brought in four new defencemen this summer, all with varying degrees of skillsets and attributes. Of all the guys he signed, none got the fanbase more divided than John Klingberg.
He is coming off a roller-coaster season where he put up a decent amount of points while also being
statistically one of the worst in the league
at defending. Playing on a bad Ducks team did have an impact on his play, but the defensive concerns have been present dating back to his days in Dallas. Klingberg's strong puck-moving abilities and one-timer will be a welcomed addition since one of the issues last season was Toronto's struggles in moving the puck, but it could come at the cost of some goals. There is
definitely a chance at a rebound
, but
we shall see
how he does.
Klingberg was one of two notable defencemen signed on July 1st, with the other being William Lagesson. He spent all of last season in the AHL but also has 60 games of NHL experience under his belt. This will make him a good candidate to get a callup in the event of injuries to help ensure the younger prospects get their chance to properly develop with the Marlies.
Rounding out the list is Simon Benoit, who was signed late in the summer and comes with plenty of intrigue. He had a rough go on the Ducks last season because he was forced into rough minutes far too early and his numbers reflect that. At the same time,  he also threw a ton of hits and blocks while possessing good size and is just 24 years old. There is potential for him to be a sneaky good signing because not only will he be put in a better position to succeed, but he has the tools to fill the void left behind by Schenn.
Going back to the question posed at the start of this piece: will this year's defence be good enough?
The unit as a whole remains mostly unchanged from a year ago, and that group finished in the top 10 for shots against and goals against. Sure there may be some regression due to the loss of Holl and Schenn while new arrivals like Klingberg will need some time to adjust, but the growing pains won't be as severe since the majority of the defence will be returning for another go.
What can't be argued is that there are still some question marks surrounding the defence. As mentioned earlier, Liljegren is entering a critical season where he has a chance to cement himself but does he have what it takes to raise his ceiling? Giordano is almost certainly going to get fewer minutes, so who among the depth pieces can help fill in and not look out of place? The McCabe-Brodie pairing did well down the stretch, but can they maintain that form for the entire season? How will the Leafs be able to get the most out of Klingberg that doesn't severely impact their defensive play? Who will be Rielly's partner? How will the pairings stack up? What will be the ideal line combination?
Sure, some of these will be easier to answer than others, but that means there will remain some mystery about this Leafs team going into another critical season for this era. That is bound to get a good portion of the fanbase concerned that the defence is not good enough and that there will need to be some more changes before they feel content. On the flip side, there is also some optimism that the same defensive acumen could carry over even with some of the new arrivals and these fans are not overly worried.
For the time being, this iteration of the Leafs defence should be at least maintain the status quo. But like all things in life, only time will tell if that remains the case.