Recent draft picks set to restock Marlies roster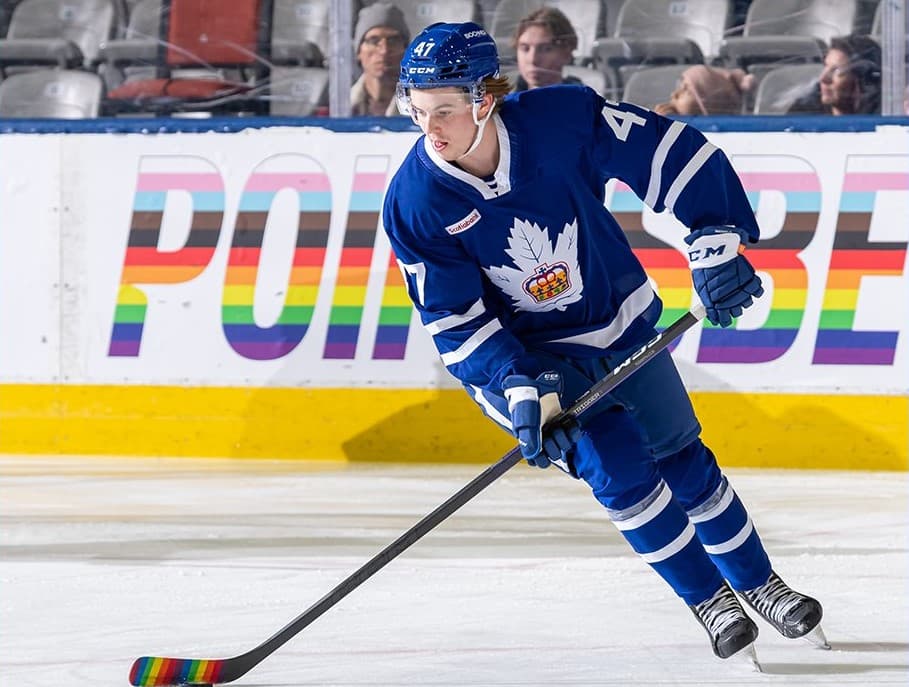 Photo credit:twitter.com/torontomarlies
It's no secret that the Leafs have struggled to supplement their star-studded core with young, up-and-coming talent over the last few years. That tide may finally be turning, however, with 2021 second-rounder Matthew Knies stepping in and looking the part of an NHLer in limited action last spring and a slew of recent draft picks who are set to embark on their first full AHL seasons with the Marlies in 2023-24.
Unless you're talking about high-end picks like Auston Matthews, Mitch Marner, or William Nylander, it typically takes some time for draft classes to bear fruit – especially for teams like the Leafs, who have regularly shipped out valuable draft capital in pursuit of a Stanley Cup run. But following a few bleak years at the draft table, it appears that reinforcements are coming, thanks to some solid drafting under former general manager Kyle Dubas.
Knies is the crown jewel of the Leafs' prospect pool, and while he may see some action with the Marlies over the course of his first full pro season, he has the inside track on a full-time job with the Leafs as he looks to shed that "prospect" label. Coming off a stellar sophomore season at the University of Minnesota that saw him earn a Hobey Baker nomination, Knies signed his entry-level deal with the Leafs and made an immediate impact. He notched an assist in three regular season games before piling up a goal and three assists in seven playoff contests, including a primary assist on John Tavares' overtime winner against Tampa that sent Toronto to the second round for the first time in the salary cap era.
Along with Nick Robertson, who will just be looking to stay healthy long enough to lock down an NHL job, Knies is the only player in the system who looks ready to graduate to the NHL in the immediate future. The Leafs are hoping they are just the first wave in a youth movement that should provide the club with young, cost-controlled contributors in the coming years.
2020 third-round pick Topi Niemelä is the betting favourite to lead that charge after joining the Marlies and getting his feet wet at the AHL level late last season. He broke out with a historic season for a U20 player in Liiga back in 2021-22, posting 10 goals and 22 assists in 48 games for Kärpät, and while his production came back down to earth a bit last season in Finland, he continued to improve upon on already refined two-way game that made him one of his club's most trusted defenders.
That extra season of development with Kärpät seemed to serve Niemelä well, and he adjusted to the North American game in short order. He was thrust into a prominent role with the Marlies almost immediately, tallying a goal and an assist in six regular season outings before racking up two goals and three assists in seven postseason contests. Niemelä should earn a long look in training camp, but he is destined to begin the campaign with the Marlies, where he is expected to play top-pairing minutes for new head coach John Gruden. He still has some developing to do before he is ready for NHL duty, but he could force the Leafs' hand if he is able to build off of his performance last spring.
Selected just before Niemelä in the second round of the 2020 draft, Roni Hirvonen has also made the jump to North America to begin his AHL career this coming season. He has fully recovered from a concussion he suffered after a massive open ice hit from Nolan Dillingham at development camp in July and will be participating in the Traverse City Prospects Tournament this weekend as he prepares for his first NHL training camp.
Despite his small stature, Hirvonen is a player who brings grit and intensity in addition to a solid offensive toolkit. His style of play should translate well to the smaller ice, but improving his overall mobility will be an area of focus. He is a hard worker with good vision and goal-scoring instincts around the net, and he is a diligent defender who knows how to play without the puck, but his skating prevents him from being a dynamic play driver. Hirvonen may never grow into a big-time offensive threat, but his overall game could help him earn the trust of the Marlies' coaching staff early on.
Perhaps the most intriguing newcomer to the Marlies this season, Ty Voit is set to begin his pro career after a prolific 2022-23 season that saw him put up 24 goals and a whopping 81 assists for 105 points in just 67 games with Sarnia in the OHL. Selected by the Leafs in the fifth round of the 2021 draft, the Pittsburgh native has continued to climb the organizational depth chart while torching the Ontario league for the last two years.
There is no debating Voit's vision and playmaking ability, but there will always be questions about his lack of size. He has a reputation as a hard worker off the ice, so there is reason to believe he will continue to add muscle to his 5'10" frame, and that will be paramount in his pursuit of the NHL. If he can handle the rigours of pro hockey as a rookie, there is reason to believe that Voit will find a way to break down defences in the AHL like he has at every other level and put together a productive first season with the Marlies.
While a player like Voit will have to prove he can be a dynamic offensive force at the AHL level before he earns a look in the NHL, 2020 seventh-rounder Ryan Tverberg may have a clearer path to a role with the Leafs, albeit with a lower ceiling. A native of Richmond Hill, Tverberg signed his entry-level contract with the Leafs last spring after registering 33 goals and 36 assists in 85 games over two and a half seasons at the University of Connecticut.
Tverberg doesn't represent the same kind of offensive upside that Voit does, but he can still wreak havoc in the offensive zone and put the puck in the net. He has good speed and brings energy to each shift, hounding pucks and finishing his checks with intent. Tverberg failed to find the scoresheet in seven games with the Marlies to close last season, but he was looking more comfortable and disruptive with each passing game. He still has to figure out how to be consistently effective at the pro level, and that could take some time, but the tools are there for Tverberg to grow into an energetic bottom-six forward who can chip in with a bit of offence in the NHL.
Another pick from the 2020 draft, Dmitri Ovchinnikov will be with the Marlies from day one this season after playing in 11 games for the club over the last two seasons. The Russian winger offers an enticing offensive skillset, but his development has been hampered by a lack of playing time in the KHL.
Ovchinnikov is one of the smoothest skaters in Toronto's prospect pipeline, and he uses that mobility to drive offence for his line. He is a dual threat offensively, able to set up teammates with creative feeds or get into scoring areas on his own. He still has some bulking up to do, and he will have to earn his ice time in a crowded Marlies forward group, but his experience playing at the highest level in Russia should help him hit the ground running in his first full AHL season.
The Marlies' crease will also have a new look this season as both Dennis Hildeby and Vyacheslav Peksa appear set to begin their North American careers. Hildeby, selected in the fourth round in 2022, got into two games for the Marlies at the end of last season and struggled, but the larger sample size that was his SHL career is encouraging. He put up a .931 SV% in seven games during the 2021-22 season and followed that up by registering a .918 SV% in 21 games for Färjestad last season. Hildeby is a monster between the pipes, standing 6'6″ and weighing over 230 pounds, and his SHL resume should give him a leg up in the battle for playing time.
Peksa could make that an interesting storyline to follow, however, following an impressive season in Russia's second-tier pro league, the VHL. He finished the season with a .921 SV% in 40 games for a weak Bars Kazan squad and will be looking to parlay that into a steady role with the Marlies in 2022-23. With Martin Jones, Keith Petruzzelli, and perhaps Hildeby ahead of him on the depth chart, Peksa could be relegated to ECHL duty with Newfoundland to begin the season, or the Leafs could work out an agreement to loan him back to Russia as they did with Artur Akhtyamov. For now, however, Peksa will be suiting up for the Leafs' contingent at the Traverse City Prospects Tournament, perhaps signalling his intent to remain in North America and push for playing time with the Marlies.
All told, that's seven picks from the 2020-2022 drafts who are set to begin their first full AHL seasons, and that doesn't include Knies or other recent additions like Pontus Holmberg and Nick Abruzzese, who are also likely to see time with the Leafs this season.
Internal options – never mind upgrades – have been scarce for the Leafs for most of the "Core Four" era, but restocking the Marlies' roster with recent draft picks is a positive step in the right direction.
The likes of Niemelä, Hirvonen, Voit, Tverberg, Ovchinnikov, Hildeby, and Peksa will bring fresh blood to the Marlies in 2023-23, and if all goes according to plan, they'll do the same for the Leafs down the road.
(Statistics from EliteProspects.com)