Report: John Gibson not in the Leafs plans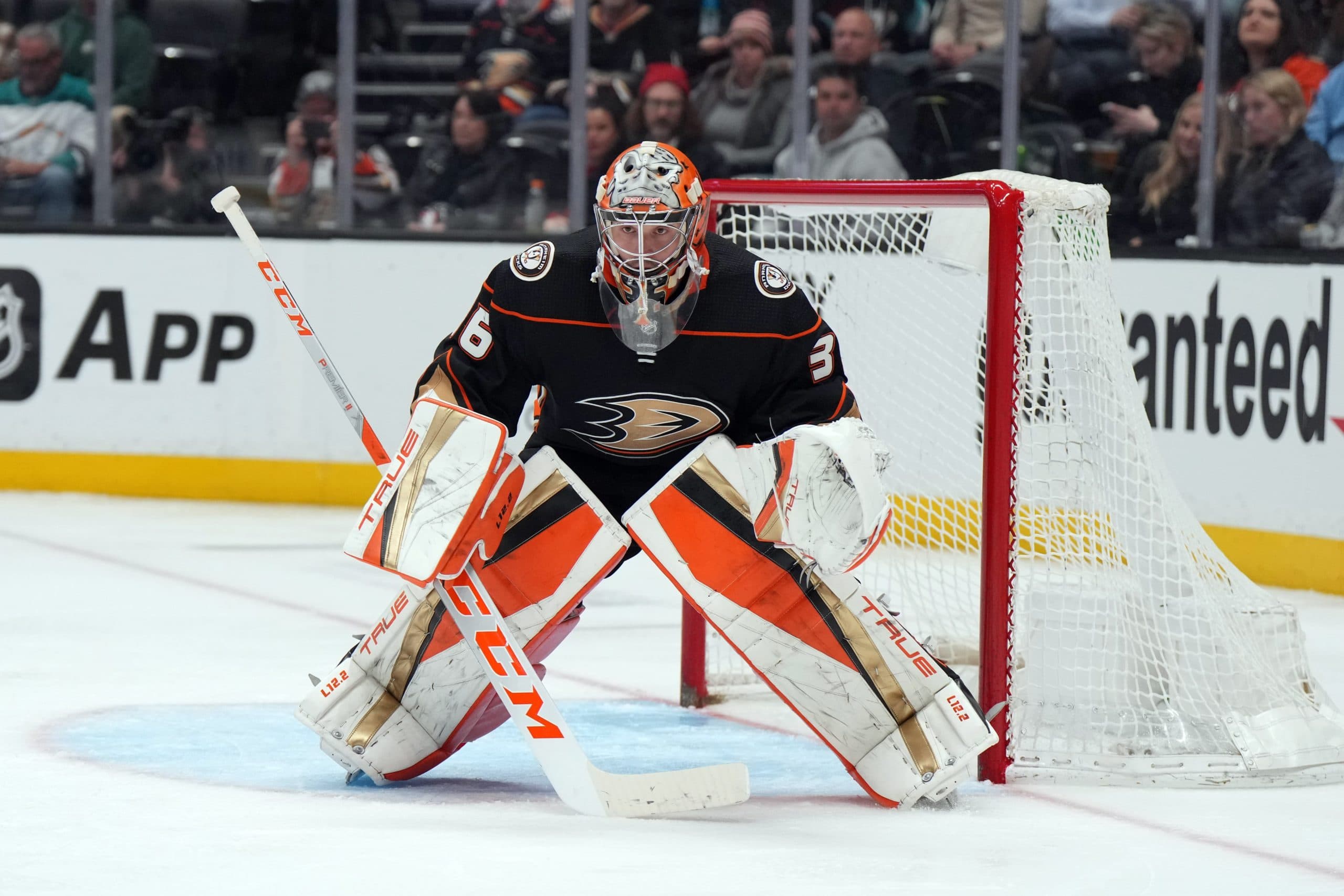 Photo credit:© Kirby Lee-USA TODAY Sports
The Leafs have quite the decision to make in regards to their goalies for the 2022-23 season.
Contract talks have stalled with impending free-agent @Jack Campbell and @Petr Mrazek will likely be on the move either via a trade or a buyout. With so few options available in the system with ample amounts of NHL experience, the Leafs may need to address the position either through a free agent signing or a trade.
One such goalie who was been circulating in rumours as a potential option is @John Gibson, who is coming off another off-year in terms of his numbers. Despite the recent downward trend over the past three seasons, his talent and capabilities are undeniable and it's no wonder the rumours have connected the 28-year-old to the Leafs.
But it appears that it is not entirely the case, as
Chris Johnston went on First Up
to report that the team does not really have interest in trading for Gibson.
Well as far as I can tell, the Leafs don't have interest in Gibson. I suppose that could change, but for one reason or another, I don't actually think this is one of the guys they are looking at.
Johnston would go on to say that with goaltending likely being the biggest focus, there is no clear sense of what direction the Leafs are heading. He did mention that talks with Campbell remain unchanged and listed @Darcy Kuemper, @Marc-Andre Fleury, and @Ville Husso as some free agents they may look at on July 13th.
While it has not been officially ruled out, these two developments significantly lower the chances that the team will be acquiring Gibson. Although the player himself has publically stated he doesn't want to move, the Ducks have every right to do their due diligence and scour the market with the free-agent pool not looking too strong for goalies. It would also be counterintuitive for Gibson to publically say that he wants out, especially since he has a modified NTC.
The reasons why the Leafs might not be looking at Gibson could come down to the asking price, his contract, or a combination of the two. He is entering the fourth year of an eight-year deal he signed with the Ducks in 2018, where he makes $6.4 million a season and includes the aforementioned modified NTC that kicked in this past season. Apart from the first year of his deal, Gibson has seen a drop-off in production in the last three campaigns where his SV% has hovered around .903 and his GAA has averaged out to roughly 3.06 in that span. He has also been dealing with a number of injuries in that same three-year window that
has limited his on-ice appearances
.
While the asking price has not been revealed, Eric Stephens of The Atheltic reported that it will likely take a large haul for the Ducks to consider a Gibson deal. Put it all together, and it makes sense why the Leafs may be included to look at other options.
While there are legitimate reasons for the Leafs not to pursue Gibson, his overall track record makes him someone that the team should not be so quick to pass up on. Among goalies who played at 1500 minutes at 5v5 in 2021-22, Gibson:
was 18th in HDSV% at .834
ranked 26th in HDGAA at 1.48
had 64 rush attempts against and 161 rebound attempts against
had an average goal distance of 20.95
His numbers of the past three seasons have certainly not been to his standards, but it is clear that the talent level is there and could see improvements on a contending team. He has also been fairly consistent despite the downward trend, in part due to being on a rebuilding team that remains a few years away from returning to contention.
As far as potentially available goalies are concerned, Gibson is one of the best and has proven to be one of the top netminders when he is on his game. And while the reports are suggesting the Ducks will want a lot for a hypothetical Gibson deal, recent history suggests it is not as high as one might expect.
When the Leafs acquired @Frederik Andersen back in 2016, the package they sent to the Ducks was a first-round pick in 2016 and a second-round pick in 2017. The reason for this is because it was to ensure the Leafs would sign him to a five-year deal. Just last summer, the Avalanche gave up a prospect, a first-round pick, and a conditional third to acquire @Darcy Kuemper. Meanwhile, the Hurricanes moved @Alex Nedeljkovic to Detroit for @Jonathan Bernier and a third. Then there is the deal the Golden Knights made to acquire @Robin Lehner in 2020, where they gave up a second and two prospects.
The comparison is not perfect since all four were either on expiring contracts or had a year remaining, but the point is that the cost to acquire a quality netminder typically doesn't cost as much as one might expect. It remains to be seen what it would take to acquire Gibson, but the Leafs should at least inquire with Anaheim.
While there are legitimate reasons why the Leafs may reportedly not want to trade for Gibson, his track record and the recent trend for goalie trades makes him the option that the team should not close the door on so quickly. Things have not been officially ruled out, so we'll have to see how Toronto addresses their goaltending for 2022-23.