Report: Toronto Maple Leafs "not close" to a contract with UFA defender Luke Schenn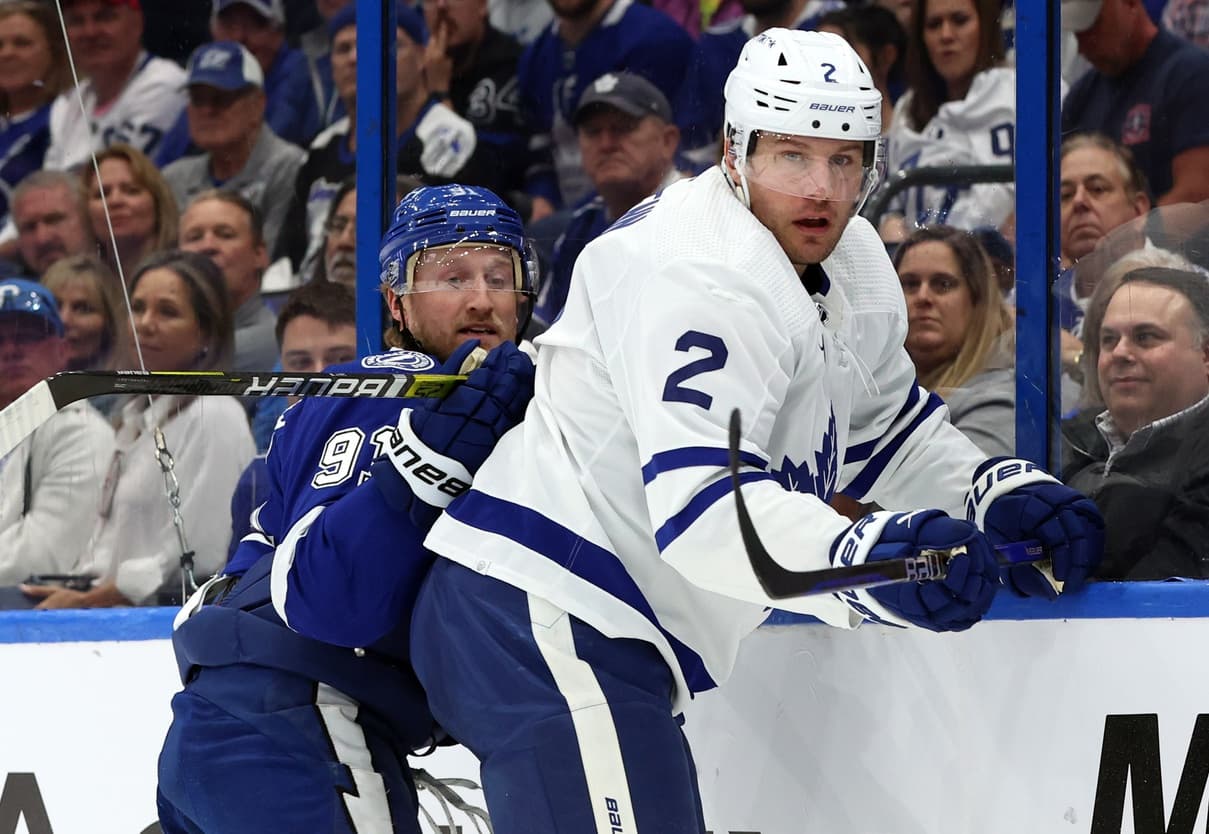 Photo credit:Kim Klement-USA TODAY Sports
The Toronto Maple Leafs are "not close" to agreeing to terms on a new contract with pending unrestricted free agent defenceman Luke Schenn, Vancouver hockey insider Rick Dhaliwal reported Friday.
Dhaliwal provided a status update on the former Canucks defender in conversation with co-host Don Taylor on Friday's episode of the Donnie & Dhali show on CHEK TV in Vancouver.
"Luke Schenn and the Maple Leafs are not close, as I was told, to a contract," Dhaliwal said. "Keep an eye on him if he hits free agency. Let's see if it happens."
Schenn, 33, has enjoyed a minor career renaissance over the past few seasons since winning back-to-back Stanley Cups with the Tampa Bay Lightning in 2020 and 2021.
He subsequently joined the Canucks for a second stint in 2021 (he had previously appeared in 18 games with the team in 2018–19) and re-established himself as being capable of handling significant minutes as an everyday NHL defender.
Schenn averaged more than 17 minutes per night in 55 games with the Canucks in the 2022–23 regular season before being dealt to the Maple Leafs ahead of the trade deadline. The Maple Leafs originally selected Schenn with the No. 5 overall pick in the 2008 NHL Draft.
After working in a depth role with the club down the stretch, Schenn saw his minutes increase substantially in his first taste of playoff action with the Maple Leafs. He appeared in all 11 postseason contests as Toronto advanced past the quarterfinals for the first time since 2004.
Schenn has not commanded a seven-figure NHL salary since 2018. That might change this summer as he prepares for what might be his last major payday in the NHL. And if his next AAV does start with a one — or even a two — it may very well be too rich for the Maple Leafs to afford.
Through 933 career NHL games over parts of 15 seasons with the Maple Leafs, Canucks, Lightning, Anaheim Ducks, Arizona Coyotes, Los Angeles Kings, and Philadelphia Flyers, Schenn has collected 42 goals and 191 points while averaging 17:35 per night. He's collected three goals and seven points in 42 additional Stanley Cup Playoff contests.