Reviewing Kyle Dubas' trade history as Leafs GM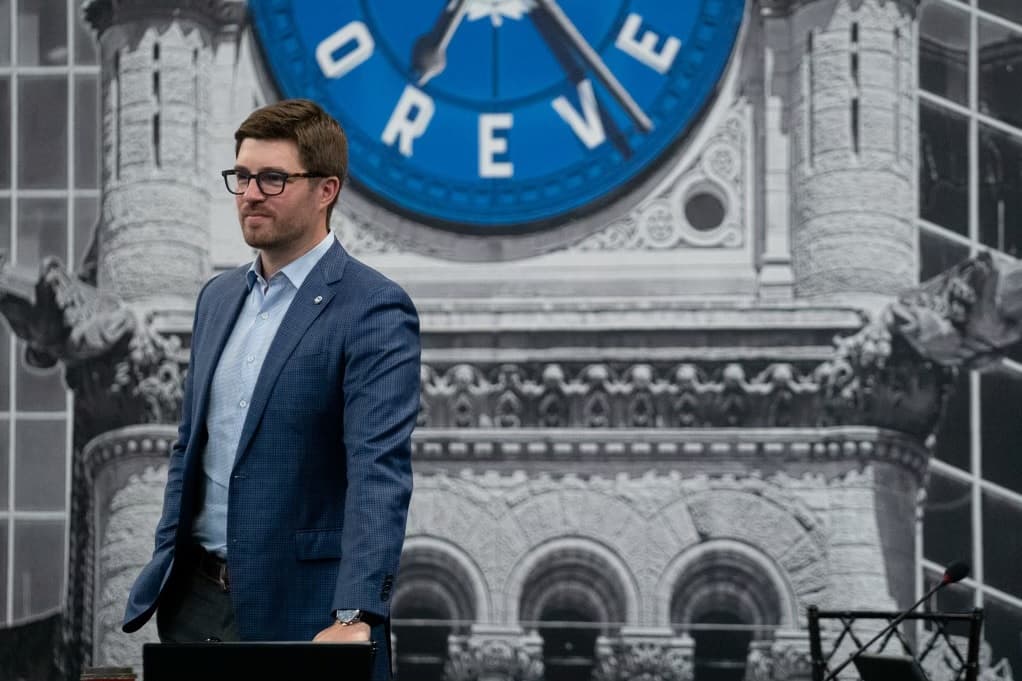 Photo credit:twitter.com/mapleleafs
The trade deadline is rapidly approaching and the Leafs got some business done early, shipping Nick Ritchie to Arizona and creating a bit more roster flexibility in the process. It sounds like this won't be the last move the Leafs make ahead of the deadline and with that in mind, I decided to dive into Kyle Dubas' trade history since taking over the Leafs' GM job.
For the purposes of this exercise, we'll be focusing solely on the trades that the Leafs have made since Dubas was appointed as GM. So while he has been credited with spearheading deals like acquiring Zach Hyman from Florida or faulted for trading down from the 24th pick and passing on Sebastian Aho in the 2015 draft during his time as assistant GM, those moves aren't included in his body of work as the man calling the shots.
Let's get to the trades.
June 8, 2018
| | |
| --- | --- |
| To Leafs | To Oilers |
| 2020 7th round pick (EDM conditional) | Nolan Vesey |
Analysis: Not a whole lot to analyze in Dubas' first trade. The Leafs selected Vesey in the sixth round of the 2014 draft and he wasn't going to factor into the new regime's plans.
Dubas shipped him to Edmonton in exchange for a conditional seventh-round pick that would change hands if Vesey met an undisclosed games played threshold before his entry level contract expired. Vesey never established himself as a reliable AHL player, let alone an NHL option, and the conditions of the traded pick were never met.
In the end, this was nothing more than clearing space on Toronto's reserve list while trying to provide a young player with another opportunity.
Trade Grade: C
June 22, 2018
To Leafs
To Blues

2018 1st round pick (WPG #29 – Rasmus Sandin)

2018 3rd round pick (STL #76 – Semyon Der-Arguchintsev)

2018 1st round pick (TOR #25 – Dominik Bokk)
Analysis: When Dubas was hired as general manager of the Leafs, he brought with him a reputation as someone with an analytical mind who would be looking to capitalize on market inefficiencies like accumulating picks by trading down in the draft. He wasted little time leaning into that philosophy and traded down from the Leafs' original first-round slot in his first draft at the helm of the organization.
Sandin was the player the Leafs had targeted for their first-round selection and whether it was his intel, his gut, or some combination of both, Dubas made the decision to trade down four picks in order to acquire an additional third rounder. The Leafs could have stood pat to select Sandin with the 25th pick and no one would have batted an eye but in the end, Dubas got the player he wanted while acquiring an additional asset in the process.
The move looked like a home run almost immediately as Sandin stepped right into the AHL and made an impact for the Marlies. Now 21 years of age, he is a regular on the blue line for one of the NHL's top teams and appears to have all the makings of a future top-four defenceman.
While Der-Arguchintsev is still very much a project, he has also outperformed Bokk at the AHL level. Bokk did help the Blues fetch Justin Faulk in a trade with Carolina so it wasn't a total loss on their part but this one is a clear win for Dubas and the Leafs.
Trade Grade: A+
June 23, 2018
| | |
| --- | --- |
| To Leafs | To Sabres |
| 2018 6th round pick (BUF #156 – Pontus Holmberg) | 2019 6th round pick (TOR #177 – Gustav Berglund) |
Analysis: Without a sixth-round selection in the 2018 draft, Dubas found a team that was willing to punt on their pick for a year. The Leafs had targeted Swedish forward Pontus Holmberg in that range and swapped their 2019 sixth-rounder for Buffalo's 2018 sixth-rounder in order to select him.
Holmberg has developed nicely for a late-round pick in the years since, improving upon his production in the SHL each season. He broke out in the 2020-21 SHL playoffs, earning playoff MVP honors as he helped lead his club to an SHL title. The Leafs signed him to an entry level contract last spring and he appears set to join the Marlies whenever Växjö's season wraps up.
Buffalo would later trade the selection and the pick was eventually used by Detroit to select defenceman Gustav Berglund who is currently playing below Sweden's top league.
This grade has more to do with identifying Holmberg as a prospect worth trading up for than it does with the actual exchange of assets, but the Leafs came out ahead in this deal.
Trade Grade: B
July 3rd, 2018
| | |
| --- | --- |
| To Leafs | To Islanders |
| Eamon McAdam | Matt Martin |
Analysis: Shedding Matt Martin and the two years remaining on his deal with a $2.5 million cap hit was the first in a number of deals that Dubas had to make in an attempt to clean up some of the salary cap problems left for him by his predecessor.
Martin was a good soldier for the Leafs but had fallen out of favor with head coach Mike Babcock and had been mostly relegated to the press box down the stretch of the 2017-18 season. It had become clear that he no longer figured into the Leafs' plans and Dubas struck a deal with the man who originally signed Martin to that contract in Toronto, his old boss Lou Lamoriello.
In exchange, the Leafs acquired minor league goaltender Eamon McAdam who bounced between the AHL and ECHL for a year before the team opted not to issue him a qualifying offer.
The Leafs didn't really end up getting anything in return, but Dubas got out from under a prohibitive contract completely unscathed.
Trade Grade: B+
October 1st, 2018
| | |
| --- | --- |
| To Leafs | To Stars |
| 2019 7th round pick (DAL conditional #204 – Kalle Loponen) | Connor Carrick |
Analysis: Acquired along with Brooks Laich in a trade with the Capitals ahead of the 2015-16 trade deadline, Carrick played parts of three seasons for the Leafs. Utilized mostly as a depth piece on the back end, he put up solid underlying numbers but sort of got lost in the shuffle with the emergence of Justin Holl, as well as the acquisition of European free agent Igor Ozhiganov, ahead of the 2018-19 season.
The Leafs had made it known that they were planning to waive Carrick on October 1st but before waivers could be processed that day, the Dallas Stars stepped up and offered a conditional seventh-round pick in exchange for the 24-year-old defender.
The conditions of the trade stipulated that the pick would be upgraded to a sixth-rounder if Carrick played 50 games for Dallas that season but the conditions were not met and the Leafs selected Finnish defenceman Kalle Loponen in the seventh round of the 2019 draft.
Carrick has since bounced around between the NHL and AHL, while Loponen is a longshot to ever make the NHL. Nothing lost, nothing gained.
Trade Grade: C
November 27th, 2018
| | |
| --- | --- |
| To Leafs | To Flames |
| Morgan Klimchuk | Andrew Nielsen |
Analysis: Nielsen showed some promise after being selected by the Leafs in the third round of the 2015 draft, putting up a massive season in the WHL before posting great numbers as a rookie defenceman in the AHL. His development stagnated from there, however, and the Leafs made the decision to cut bait in the fall of 2018.
Klimchuk had been a first-round pick of the Flames in the 2013 draft but had been unable to earn a look in the NHL despite solid AHL numbers. He would play 13 games for the Marlies before being traded again in another minor league deal.
Nielsen's stock continued to plummet and he is now playing in the ECHL.
Trade Grade: C
December 3rd, 2018
| | |
| --- | --- |
| To Leafs | To Canucks |
| Michael Carcone | Josh Leivo |
Analysis: Drafted in the third round back in 2011, Leivo made his NHL debut in the 2013-14 season when he got into seven games for the Leafs. He played nine games in 2014-15, scored five goals in 12 games during the 2015-16 season, and registered 10 points in 13 games with the Leafs in 2016-17.
Following that strong stint in the 2016-17 season, Leivo signed a one-year extension with the Leafs in November of 2017 but still managed to get into just 16 games for the Leafs that season. He started the 2018-19 season as a regular in the Leafs lineup but found himself as the odd man out when William Nylander's contract standoff with the team came to an end on December 1st.
It was reported that when the Leafs signed Leivo to his one-year extension, Dubas had assured him that the team would do their best to find him another opportunity if it became clear that he wasn't going to have a place in the Leafs' lineup and he made good on that assurance two days after Nylander was back in the fold.
Leivo was sent to the Canucks in exchange for minor league forward Michael Carcone. Carcone would have a productive 42 game stint with the Marlies in the AHL before being traded away as part of another deal while Leivo became a depth contributor for the Canucks for two seasons.
In terms of assets, the Leafs came out on the short end of this deal but doing right by Leivo was Dubas' main priority in this instance.
Trade Grade: C-
December 10th, 2018
| | |
| --- | --- |
| To Leafs | To Ducks |
| Steve Oleksy | Adam Cracknell |
Analysis: Nothing to see here. Just an exchange of a couple of veteran minor leaguers.
Trade Grade: C
December 29, 2018
| | |
| --- | --- |
| To Leafs | To Panthers |
| Michael Hutchinson | 2020 5th round pick (TOR #137 – Dmitry Ovchinnikov) |
Analysis: Ahead of the 2018-19 regular season, the Leafs were presented with a difficult decision on their goaltending depth chart. Veteran Curtis McElhinney had solidified the backup position for the Leafs in the two seasons prior, but they also had Garret Sparks who was coming off a season in which he earned AHL Goaltender of the Year honors while backstopping the Marlies to a Calder Cup championship.
With Frederik Andersen entrenched as the starter, the Leafs had to decide which of McElhinney or Sparks would be a part of their active roster and which one would be placed on waivers. As most teams would, Dubas and the Leafs opted for the 25-year-old coming off a huge AHL season and the 35-year-old McElhinney was claimed by the Hurricanes.
While the decision making process was sound, the decision itself didn't work out as Sparks struggled in his first full NHL season. With Sparks fighting the puck and Andersen on the shelf with a groin injury, Dubas shipped out a future fifth-round pick to acquire some added experience in the form of Michael Hutchinson.
Hutchinson provided solid a solid return on that initial investment, putting up a .914 SV% in five games with the Leafs and brought depth to a shaky position on the depth chart. His performance fell off in a big way the following season, however, and he was shipped out of town after the Leafs were forced to make another move to shore up their goaltending.
Trade Grade: C+
January 11, 2019
| | |
| --- | --- |
| To Leafs | To Senators |
| Gabriel Gagné | Morgan Klimchuk |
Analysis: Another minor league swap that had next to no impact for either organization.
Trade Grade: C
January 28th, 2019
To Leafs
To Kings

Jake Muzzin

Carl Grundström

Sean Durzi

2019 1st round pick (TOR #22 – Tobias Björnfot)
Analysis: Following another bitter playoff defeat at the hands of the Boston Bruins the previous spring, the Leafs were once again in the playoff hunt with a rematch against the Bruins looming. It was no secret that Dubas would be looking to bolster his blue line ahead of the trade deadline and he struck early, acquiring Jake Muzzin from the rebuilding LA Kings in exchange for 2016 second-rounder Carl Grundström, 2018 second-rounder Sean Durzi, and Toronto's first-round pick in the upcoming draft.
Rather than expending similar assets on a rental, Dubas shelled out for a player who still had an additional season remaining on his contract when acquiring Muzzin. Considering the prices that rentals often command around the deadline, the acquisition cost for a season and a half of Muzzin was considered more than reasonable.
He wasn't the ideal fit, however, at least not for head coach Mike Babcock who publicly lamented the fact that Muzzin didn't address the team's immediate need of a right handed defenceman. Despite the coach's lack of enthusiasm at the time, Muzzin solidified the Leafs' top-four almost immediately with his combination of physicality, composed defensive play, and Stanley Cup winning experience – all things that were in short supply on Toronto's roster. The Leafs would eventually sign Muzzin to a contract extension, keeping him in the fold long term.
On the Kings' side of the deal, Grundström has settled in as a depth forward on their NHL roster, Björnfot is playing regular third pair minutes as a 20-year-old, and Durzi has burst onto the scene as a potential top-four option who can run an NHL powerplay. Would the Leafs still like to have Durzi, or even Björnfot, in their organization today? Sure, but you don't often get something for nothing in the NHL and Muzzin was the known quantity at the time.
Acquiring Muzzin in exchange for future assets was a move geared towards improving the Leafs' chances of competing for a Stanley Cup and while playoff success has eluded the group to this point, there is little debate that Muzzin has made them a better team in his time as a Leaf. The veteran defender has had his share of struggles so far this season but is still considered a key member of the team and will be relied upon to turn things around heading towards another crucial postseason.
Ultimately, this is a deal that addressed the needs of each organization given where they were in their competitive cycles at the time and I think it's a trade that both GM's would still be happy with today.
Trade Grade: A
February 24th, 2019
| | |
| --- | --- |
| To Leafs | To Predators |
| Nicholas Baptiste | Future Considerations |
Analysis: With the Marlies' forward group depleted due to a combination of injuries and the departure of Grundström in the Muzzin trade, Dubas brought in Nicholas Baptiste in exchange for future considerations.
Baptiste chipped in with a bit of offense down the stretch for the Marlies but that is about as much impact as this trade made for either organization.
Trade Grade: C
February 25th, 2019
| | |
| --- | --- |
| To Leafs | To Jets |
| Nic Petan | Pär Lindholm |
Analysis: The Leafs had signed Lindholm as an undrafted European free agent in the offseason and he played 61 games for them before the team ultimately decided to go with Frederik Gauthier in the fourth line center spot. He was slated to become an unrestricted free agent at season's end and the organization clearly had no future plans for him.
In a last-minute deadline day trade, the Leafs shipped the 27-year-old center to Winnipeg in exchange for 23-year-old forward Nic Petan who was set to become a restricted free agent in the offseason. Petan was also coming off a point per game season in the AHL and had the pedigree of being a former second-round pick.
Petan would play a total of 28 games for the Leafs over three seasons but was an extremely valuable player for the Marlies, which shouldn't be completely ignored.
This was simply a case of moving out an expendable asset on an expiring contract for a younger player under team control with some untapped potential. A worthwhile swing that just never really connected.
Trade Grade: B-
May 30, 2019
| | |
| --- | --- |
| To Leafs | To Wild |
| 2020 7th round pick (WPG conditional #195 – Wyatt Schingoethe) | Fedor Gordeev |
Analysis: Gordeev was one of several hulking defencemen the Leafs selected in the years that Mark Hunter was running the draft but the new regime had no plans to sign him before his rights expired. Instead, the Leafs traded Gordeev to Minnesota for a conditional seventh-round pick in the following year's draft that was contingent on the Wild signing him to an entry level deal.
The Wild did, in fact, sign Gordeev and the Leafs used the pick to select Wyatt Schingoethe in the 2020 draft. Gordeev is currently playing in the ECHL while Schingoethe looks like a long shot at best to earn a pro contract. Call it a wash.
Trade Grade: C
June 22nd, 2019
To Leafs
To Hurricanes

2020 6th round pick (CAR #177 – Axel Rindell)

Patrick Marleau

2020 1st round pick (TOR conditional #13 – Seth Jarvis)

2020 7th round pick (TOR #199 – Alexander Pashin)
Analysis: Much like the Matt Martin situation, Dubas was left to unload Patrick Marleau's burdensome contract that was signed by his predecessor Lou Lamoriello. Unlike the Martin situation, shedding the final year of Marleau's $6.25 million cap hit would prove costly for the Leafs.
Though the initial signing of Marleau was met with mostly positive reviews, even then there were concerns about the third and final year of the contract when the Leafs would be up against the cap with young stars like Mitch Marner and Auston Matthews needing new contracts.
Nevertheless, Marleau was a productive player in his first season as a Leaf and provided leadership to a team made up of mostly young players. His second season with the club didn't go quite as well and it appeared that the veteran forward had lost a step, further handcuffing the Leafs ahead of a pivotal offseason.
Though Matthews signed a five-year extension during the season, Dubas had little recourse but to move Marleau's contract off the books with Marner, Kasperi Kapanen, and Andreas Johnsson all ticketed for restricted free agency. Further compounding matters was the fact that Marleau had a no-movement clause in his contract and had no desire to play for anyone but his former team in San Jose, who didn't have the space to accommodate his exorbitant cap hit.
With the pool of suitors limited to the few teams that could afford to buy out the final year of Marleau's deal, Dubas was forced to attach a conditional first-round pick, as well as a seventh-round pick, to Marleau in a deal with the Carolina Hurricanes. Though the price felt steep at the time, the Leafs were expected to be picking somewhere in the 20s and Dubas wisely added top-10 protection to the pick in case things went off the rails for the Leafs in the regular season.
Just about everything went off the rails in the following season and with the world brought to its knees by the COVID-19 pandemic, the Leafs were eliminated by the Blue Jackets in the play-in round during the summer of 2020, handing the Hurricanes the 13th overall pick in the upcoming draft. Having to part with such a valuable asset only added insult to injury after another bitter end to a season.
The Hurricanes were on the hook for Marleau's buy out but they were well compensated for their troubles, adding Seth Jarvis and Alexander Pashin to their organization. Jarvis just turned 20 years old and is enjoying a productive rookie season on one of the league's best teams while Pashin is producing at an impressive rate for a teenager in the VHL.
The Leafs did come away with a sixth-rounder that they used to select offensive blueliner Axel Rindell, but he is a long-term project at best. Dubas was painted into a corner with the Marleau contract and while it's difficult to lay all the blame at his feet, there is no doubt that this deal hurt the Leafs in terms of assets lost. It is important to remember, though, that shedding Marleau's salary provided the Leafs with much-needed cap space and allowed them to retain Marner, Kapanen, and Johnsson that summer.
Trade Grade: D
June 22nd, 2019
| | |
| --- | --- |
| To Leafs | To Blues |
| 2020 7th round pick (STL #212 – Devon Levi) | 2019 7th round pick (TOR #208 – Vadim Zherenko) |
Analysis: Having already selected defenceman Kalle Loponen with the 204th overall pick, the Leafs traded out of the 208th spot and grabbed an additional pick for the following year's draft. As you can probably guess from the player selected with that pick, the Leafs would eventually flip St. Louis' 2020 seventh-rounder in a separate trade.
Trade Grade: C
July 1st, 2019
To Leafs
To Senators

Cody Ceci

Ben Harpur

Aaron Luchuk

2020 3rd round pick (CBJ #83 – Alex Laferriere)

Connor Brown

Nikita Zaitsev

Michael Carcone
Analysis: Dubas wasn't finished cleaning up the Leafs' salary cap mess with the Marleau deal and had to get creative in order to shed Nikita Zaitsev's albatross contract.
Zaitsev signed a one-year entry level contract with the Leafs as an undrafted free agent out of the KHL in the summer of 2016 and after a productive first NHL season, former general manager Lou Lamoriello locked him up to a seven-year contract that carried a $4.5 million cap hit. Both his production and overall performance declined significantly over the next two seasons and it became clear that he was not worth what the Leafs were paying him.
To facilitate the move, Dubas was forced to include 25-year-old Connor Brown, who had been relegated to mostly fourth line duty in the second year of his $2.1 million per year contract, while taking back embattled restricted free agent defenceman Cody Ceci. The Leafs also received a couple of minor league depth pieces and a third-round pick while sending minor leaguer Michael Carcone the other way.
Brown has taken advantage of greater opportunity in Ottawa, growing into a reliable top-six winger and earning a contract extension worth $3.6 million annually. Overall, it was a fine price to pay in order to unload the final five years of Zaitsev's contract but perhaps the more curious part of the trade was that the Leafs opted to sign Ceci to a one-year deal rather than walking away from him as a restricted free agent.
Ceci was miscast in Toronto and struggled in his only season as a Leaf but in the end, this deal came down to exchanging a bit of short-term pain for long-term gain.
Trade Grade: B
July 1st, 2019
To Leafs
To Avalanche

Tyson Barrie (50% retained)

Alexander Kerfoot

2020 6th round pick (COL #180 – Joe Miller)

Nazem Kadri

Calle Rosén

2020 3rd round pick (TOR #75 – Jean-Luc Foudy)
Analysis: Alright, deep breaths.
There probably isn't much that can make Leafs fans feel better about this deal but it's important to remember the context surrounding the trade. The Leafs were just coming off another playoff defeat at the hands of the Boston Bruins in which Nazem Kadri had gotten himself suspended, this time for the remainder of the first round for a crosscheck to the head of Jake DeBrusk in game two. He had put the team in a tough spot yet again, and it appeared that the Leafs had lost faith in Kadri to keep his cool the next time around.
Beyond those factors, the Leafs also had Auston Matthews and John Tavares occupying their top two center spots, making the $4.5 million Kadri a luxury they couldn't really afford on their third line with the way their roster was constructed. They also had a clear need on the back end and it seemed like exchanging Kadri for a defenceman that summer was something of a foregone conclusion.
The trade was actually a tidy piece of business when you consider that the Leafs got Colorado to retain half of Tyson Barrie's salary while also acquiring a cheaper, theoretical replacement for Kadri. The problem was that Barrie was entirely the wrong defenceman for what the Leafs needed and he struggled mightily under Mike Babcock to begin his Leafs tenure. His play improved when Sheldon Keefe took over the coaching reigns but he still wasn't the answer to the Leafs' defensive woes.
On top of the Barrie debacle, Kerfoot never came close to replacing Kadri's value in his first two seasons as a Leaf and while he has been productive in their top-six this season, Kadri has been one of the NHL's top scorers during the final year of the contract he signed with the Leafs back in 2016.
It felt like Dubas probably had to make a move in this situation but it's difficult to argue that the move he made was a good one.
Trade Grade: F
July 12th, 2019
| | |
| --- | --- |
| To Leafs | To Blues |
| Future Considerations | Dakota Joshua |
Analysis: Another player who was drafted before Dubas was in charge that the organization had no plans for. Joshua, now 25, has tallied five points through 22 NHL games with the Blues so far this season so he may have been someone worth holding onto as organizational depth but overall, no big loss here.
Trade Grade: C-
July 23rd, 2019
To Leafs
To Golden Knights

David Clarkson

2020 4th round pick (VGK #122 – William Villeneuve)

Garret Sparks
Analysis: There is no need to revisit the Leafs' signing of David Clarkson back in 2013. It was bad, pretty much from day one.
Getting out from under that deal in the first place was something of a stroke of genius, however, reportedly spearheaded by current Leafs' assistant GM Brandon Pridham. Clarkson and his $5.25 million cap hit had quickly become an anchor for the Leafs and in February of 2015, they shipped him off to Columbus in exchange for injured forward Nathan Horton. Horton had a $5.3 million cap hit of his own but it was understood that he would never play again and the Blue Jackets simply couldn't afford to be spending that money on someone who wasn't going to play for them. Money is no issue for MLSE and they were happy to pay out a little more cash to Horton on LTIR in order to free up $5.25 million of cap space.
As fate would have it, Clarkson would eventually end up on LTIR as well and in the summer of 2019, the Leafs' new regime, which still included Pridham, made an equally savvy move in reacquiring the final year of the contract the organization had signed him to all those years ago.
You may remember that the summer of 2019 brought with it a drawn-out, public contract standoff between Mitch Marner and the Leafs. With the Leafs tight against the cap, acquiring Clarkson's contract brought them closer to the salary cap limit, expanding their LTIR salary relief pool to protect against an offer sheet from a rival club that exceeded their salary cap space, or a prolonged contract standoff that would result in an inflated cap hit during the first year of the deal, like William Nylander's.
The Leafs also acquired a fourth-round pick in the deal which they used to select defenceman William Villeneuve, who is now signed to an entry level contract with the club. In the end, Marner didn't sign an offer sheet and was in the Leafs' lineup for the season opener but this deal was still an intelligent, proactive move that protected their interests for a minimal cost.
Even putting all that aside, Villeneuve is a more valuable asset than Sparks is at this point so while it was a subtle, perhaps confusing move, this was a win for the Leafs.
Trade Grade: A
July 25th, 2019
| | |
| --- | --- |
| To Leafs | To Blues |
| Jordan Schmaltz | Andreas Borgman |
Analysis: Borgman was signed as an undrafted free agent out of Sweden ahead of the 2017-18 season and had a solid first season in North America, tallying 11 points in 48 games with the Leafs and nine points in 25 games for the Marlies.
Despite another strong season in the AHL, Borgman failed to earn the trust of the Leafs coaching staff and didn't get into a single NHL game in 2018-19. With a more apparent need on the right side, the Leafs took a flyer on 26-year-old Jordan Schmaltz, sending Borgman to St. Louis.
Schmaltz would spend half a season with the Marlies before being shipped out in another trade, while Borgman spent the season in the AHL once again. Borgman, now 26, is currently playing in the AHL for the Texas Stars and Schmaltz is playing professionally in Europe so this trade had next to no impact for either team involved.
Trade Grade: C
February 5th, 2020
To Leafs
To Kings

Jack Campbell

Kyle Clifford (50% retained)

Trevor Moore

2020 3rd round pick (CBJ #83 – Alex Laferriere)

2021 3rd round pick (TOR conditional #89 – Cameron Whynot)
Analysis: After being acquired the season prior and filling in admirably when needed, to say that Michael Hutchinson was struggling in his first season as the Leafs' primary backup goaltender would be an understatement.
With frustration mounting at the points lost as the result of Hutchinson's poor play, Dubas struck a deal with the LA Kings shortly after an ugly loss to the Rangers in which Hutchinson was particularly shaky, landing former first-round pick Jack Campbell in addition to veteran grinder Kyle Clifford.
Surrendering a depth forward in Trevor Moore and a couple of third-round picks seemed like a worthwhile price to pay for adding some physicality and leadership up front while taking a shot at shoring up the backup goaltending position. That the Kings retained half of Clifford's salary and Campbell was signed to a reasonable salary for two additional seasons was an added bonus.
It turns out that the trade has done a lot more than just shore up the backup goaltending position. Campbell's pro hockey journey has been a long one but he has taken advantage of every opportunity while finally reaching his potential in Toronto. He took over the starting job from Freddie Andersen in 2020-21, starting each of the Leafs' seven playoff games, and has been one of the best goaltenders in the league for almost a calendar year now.
Moore is a contributing member of an up-and-coming Kings team but his impact pales in comparison to the impact Campbell has made for the Leafs. Originally acquired as a backup goaltender, Campbell has grown into an NHL All-Star who the Leafs will now be looking to sign to a contract extension.
Trade Grade: A+
February 19th, 2020
| | |
| --- | --- |
| To Leafs | To Panthers |
| Denis Malgin | Mason Marchment |
Analysis: One of Dubas' best trades as the Leafs' GM was followed almost immediately by one of his worst.
Marchment was an undrafted signing who had worked his way up through the ECHL and AHL to earn an NHL contract with the Leafs. His production in the AHL was solid but it was his physicality and work ethic that made him an intriguing prospect. He finally got the call to the NHL in 2019-20 at the age of 24 but almost immediately, it appeared that his lack of foot speed and overall mobility would keep him from becoming an NHL regular.
After just four games with the Leafs, Dubas sent him to the Florida Panthers in exchange for 23-year-old forward Denis Malgin. It seemed like a wise move to acquire a younger player who already had 184 NHL games under his belt, including a season in which he recorded 22 points over 51 games, but Malgin made little impact through eight games with the Leafs.
With the NHL on hold due to the pandemic, Malgin was loaned back to his native Switzerland for the 2020-21 season where he finished in the top-20 of Swiss National League scoring. He opted not to sign the Leafs' qualifying offer last summer and he is once again having a strong season in the NL. The Leafs still own his NHL rights and at 25-years-old, a return to Toronto in the future hasn't been entirely ruled out.
Meanwhile, Marchment has put up 11 goals and 16 assists through 25 games while playing a bottom-six role on one of the NHL's best teams so far this season. Safe to say that Dubas would like a mulligan on this one.
Trade Grade: F
February 19th, 2020
To Leafs
To Senators

Max Veronneau

Aaron Luchuk

2021 6th round pick (TOR conditional #185 – Vyacheslav Peksa)
Analysis: Another minor league swap, this time including a conditional pick based on Veronneau playing 10 NHL games for the Leafs in either of the next two seasons. He ended up playing just three games for the Marlies and none for the Leafs, and Toronto retained the pick.
Trade Grade: C
February 22nd, 2020
| | |
| --- | --- |
| To Leafs | To Predators |
| Miikka Salomäki | Ben Harpur |
Analysis: Harpur was acquired as a throw-in piece in the deal that sent Nikita Zaitsev's contract to Ottawa and the Leafs never had any real plans for him. Just prior to the deadline, they sent him to Nashville in exchange for forward Miikka Salomäki.
Salomäki would play just eight games for the Marlies while Harpur is still in the Predators' organization, having actually played NHL games for them in the last two seasons.
Trade Grade: C-
February 24th, 2020
| | |
| --- | --- |
| To Leafs | To Avalanche |
| Calle Rosén | Michael Hutchinson |
Analysis: Hutchinson fell out of favor due to his poor performance and was rendered expendable by the acquisition of Jack Campbell a few weeks prior. The Leafs opted to send him to Colorado, reacquiring a familiar face in Rosén.
Rosén would serve as defensive depth, suiting up in four games with the Leafs the rest of the way, while Hutchinson rebounded nicely when he was forced into playoff action due to injures in the Avs' crease.
Trade Grade: C
February 24th, 2020
| | |
| --- | --- |
| To Leafs | To Islanders |
| Matt Lorito | Jordan Schmaltz |
Analysis: Just another minor league swap for positional balance. Moving along.
Trade Grade: C
February 24th, 2020
To Leafs
To Blackhawks
To Golden Knights

From Blackhawks:

Robin Lehner (50% retained)

From Golden Knights:

2020 5th round pick (VGK #153 – Kasper Puutio)

From Golden Knights:

Malcolm Subban

Stanislav Demin

2020 2nd round pick (PIT #46 – Drew Commesso)

From Leafs:

Robin Lehner (44% retained)

Martins Dzierkals
Analysis: With business mostly wrapped up ahead of the trade deadline, Dubas made a sneaky smart move to get involved as the team retaining salary to facilitate a trade between two other teams.
Using what little cap space they had remaining, the Leafs acquired half of Robin Lehner's contract from Chicago and flipped him to Vegas while retaining an additional 44% of the remaining salary in exchange for a fifth-round pick in the upcoming draft. The Leafs also cleared a spot on their reserve list by including long-forgotten prospect Martins Dzierkals in the trade.
Any time you can add an asset to your organization for nothing but unused cap space, it's good business.
Trade Grade: B+
August 25th, 2020
To Leafs
To Penguins

David Warsofsky

Evan Rodrigues

Filip Hållander

2020 1st round pick (PIT #15 – Rodion Amirov)

Pontus Åberg

Kasperi Kapanen

Jesper Lindgren
Analysis: Kapanen was originally acquired by the Leafs from the Penguins as the main piece in the trade that sent Phil Kessel to Pittsburgh and in the summer of 2020, following a tumultuous season for Kapanen, the Leafs sent him back to the Penguins in a six-player trade.
Not only had Kapanen's production slipped in the previous season, but he had drawn the ire of the organization for matters of "internal accountability" and was scratched for a game after showing up late to practice. His $3.2 million cap hit was also occupying valuable salary space that could be used to upgrade a much-maligned defensive unit.
The key component in the Leafs' return for Kapanen was the 15th overall pick in the upcoming draft – a nice consolation prize after sending their own 13th overall pick to Carolina in the Marleau trade. They also received prospect Filip Hållander who the Penguins had selected in the second round of the 2018 draft, along with veteran depth defender David Warsofky and the rights to restricted free agent Evan Rodrigues while sending minor leaguer Pontus Åberg and long-shot prospect Jesper Lindgren the other way.
After plenty of speculation that the Leafs would flip the pick for immediate help, they stood pat and selected Russian winger Rodion Amirov. Despite a difficult, injury-riddled season so far this year, Amirov arguably has more upside than any other prospect in the Leafs' system. Hållander spent the 2020-21 season playing in Sweden on loan from the Leafs and eventually experienced a similar fate to Kapanen, getting shipped back to the Penguins in a separate deal.
Kapanen had a solid first season back in Pittsburgh, tallying 30 points in 40 games, but his production has slowed a bit so far this season and the Leafs haven't had much trouble replacing him in their lineup. The Leafs were unable to come to terms with Rodrigues and he signed back with the Penguins where he is enjoying a breakout season in 2021-22. None of the other pieces that changed hands in the trade made any impact for their new teams.
Considering the Leafs' cap constraints and roster needs at the time, as well as their thinning prospect pool, clearing cap space by turning an expendable forward like Kapanen into a high-end prospect in Amirov and a mid-level prospect in Hållander was a nice piece of business.
Trade Grade: A-
October 7th, 2020
To Leafs
To Senators

2020 2nd round pick (NYI #59 – Roni Hirvonen)

2020 3rd round pick (OTT #64 – Topi Niemelä)

2020 2nd round pick (TOR #44 – Tyler Kleven)
Analysis: The Leafs owned the 44th overall pick heading into day two of the 2020 draft but were without a third-round pick as a result of the Kadri/Barrie trade.
With the Leafs on the clock in the second round, Dubas trusted that his amateur scouting staff could unearth comparable talent 15 picks later and provided them with an additional pick in the same range to improve their chances of hitting on a player.
It didn't take long for this trade to look like a clear win for Dubas and the Leafs. Niemelä broke out in a big way at last season's World Juniors, earning top defenceman honors for the tournament, and has since grown into one of the more promising defensive prospects in hockey with his play for Kärpät in Liiga.
Hirvonen has also become one of the Leafs' top prospects and was named captain of the Finnish team for the World Juniors that eventually ended up getting postponed until later this summer. He has had a solid season in Liiga as well and should reprise his role for Finland's junior team when the tournament restarts in August.
It is still early but Kleven looks like he will top out as a bottom pairing NHL defender and it would be difficult to argue that any of the players drafted between the 44th and 64th picks is a more valuable prospect than Niemelä is right now. You could make a case for a couple of players drafted in that range over Hirvonen but coming away with two valuable prospects makes this deal a massive win.
Trade Grade: A+
October 7th, 2020
To Leafs
To Panthers

2020 5th round pick (TOR #137 – Dmitry Ovchinnikov)

2020 5th round pick (VGK #153 – Kasper Puutio)

2020 7th round pick (STL #212 – Devon Levi)
Analysis: Known more for trading down to accumulate additional assets as he did in acquiring Niemelä and Hirvonen, Dubas went the other way in the fifth round as Dmitry Ovchinnikov continued to slip down the board. Ovchinnikov was a bit of a polarizing prospect in public draft circles, with some considering him a possible top-60 pick and others doubting his NHL chances altogether.
Having already selected five players through the first four rounds of the draft and still sitting on an abundance of late-round picks, Dubas cashed in a seventh-rounder in order to reacquire his own fifth-rounder that he had previously traded away for Michael Hutchinson, selecting Dmitry Ovchinnikov 137th overall.
It is a bit easier to forgive missing on players like Puutio or Levi later in the draft as every team has already passed on them multiple times as well but if Dubas gets credit for nabbing Niemelä and Hirvonen by trading down – albeit much earlier in the draft – then this deal gets dinged a little bit for the players selected with the picks traded away.
That said, Ovchinnikov looks to be a quality prospect in his own right and recently
signed an entry level contract with the Leafs
after tearing up the Russian junior league for a year and a half. This trade grade is based mostly upon the fact that the player who Dubas targeted looks like a legitimate prospect, and you can't ask for much more than that in this range of the draft.
Trade Grade: B
October 7th, 2020
| | |
| --- | --- |
| To Leafs | To Bruins |
| 2020 7th round pick (BOS #213 – Ryan Tverberg) | 2021 7th round pick (TOR #217 – Ty Gallagher) |
Analysis: Dubas may have had plans for that seventh-rounder he used to move up for Ovchinnikov after all. After Florida chose Devon Levi with the 212th pick they acquired from the Leafs, Dubas made a somewhat surprising move to trade back into the 213th pick and select forward Ryan Tverberg out of the OJHL.
The trade boiled down to a swap of seventh-round picks but this was another case of Dubas and his staff identifying a player they liked and going out and getting him. It is still early in his development but Tverberg has significantly outperformed his draft slot in the season and a half since he was drafted, even earning an invitation to Canada's World Junior selection camp earlier this season.
Gallagher looks like a solid prospect as well but Tverberg is a year ahead of him in terms of development and appears to have legitimate NHL upside – pretty good value for a seventh-rounder no matter how you slice it.
Trade Grade: A
October 10th, 2020
| | |
| --- | --- |
| To Leafs | To Devils |
| Joey Anderson | Andreas Johnsson |
Analysis: Having signed TJ Brodie to a four-year, $20 million contract the day before, the Leafs were once again in a position where they had to ship out a player on their roster to make the dollars fit and Andreas Johnsson's $3.4 million cap hit was the obvious choice.
Johnsson was coming off a difficult season in which his production had taken a hit and on top of that, he was coming off knee surgery that forced him to miss the end of the campaign. With a limited pool of suitors and those teams knowing that the Leafs had little choice but to move Johnsson, Dubas was never going to get commensurate value in return.
Anderson was a restricted free agent at the time of the trade and had shown flashes of being an NHL contributor, giving the Leafs a cheap depth piece when he agreed to a three-year contract worth $750k per season. He hasn't been able to secure a regular NHL role as of yet but he has been a key piece for the Marlies and is an easy plug-and-play option on the Leafs' fourth line if they run into injuries.
Johnsson had a disappointing first season in New Jersey, registering just 11 points in 50 games but has seen something of a return to form so far this year. In the end, the Leafs have had little trouble replacing him in their lineup for less money and they got a younger, cheaper depth piece in return.
Trade Grade: C
February 15th, 2021
To Leafs
To Hurricanes

Alex Galchenyuk

David Warsofsky

Yegor Korshkov
Analysis: Prior to the season, the Leafs took swings on depth scoring options such as Joe Thornton, Jimmy Vesey, Travis Boyd, and KHL free agent Alexander Barabanov.
With various injuries up front and none of those players grabbing hold of a job in the top-six, Dubas brought in Alex Galchenyuk as a reclamation project. A former 30 goal scorer, Galchenyuk had fallen on tough times in recent years and was in danger of vanishing from the league altogether when the Senators gave up on him just eight games into the one-year contract they signed him to in the offseason.
The Leafs took a slow and methodical approach with Galchenyuk, building him back up through practices and a minor league stint, before inserting him into their lineup. He would go on to provide the team with some decent secondary scoring down the stretch and into the playoffs.
Most fans will probably remember Galchenyuk's Leafs tenure for that ill-fated pass in overtime during the first round of the playoffs but he provided value to the team in his role and the cost was next to nothing as Warsofsky was never going to factor into their roster plans and it doesn't look like Korshkov ever plans on playing in North America again.
Trade Grade: A
March 12th, 2021
| | |
| --- | --- |
| To Leafs | To Blue Jackets |
| Veini Vehviläinen | Mikko Lehtonen |
Analysis: Lehtonen was signed as a free agent out of the KHL the previous offseason and entered the Leafs' organization with significant hype. He was never really able to put it all together and earn a regular spot in the Leafs' lineup so they did right by the player and provided him with another opportunity by shipping him to Columbus.
Both Lehtonen and Vehviläinen are once again playing in Europe so this trade ended up being mostly insignificant.
Trade Grade: C
April 9th, 2021
| | |
| --- | --- |
| To Leafs | To Blue Jackets |
| Riley Nash | 2022 7th round pick (TOR conditional) |
Analysis: A couple of days ahead of the trade deadline, Dubas made another savvy move to acquire some veteran forward help for the playoffs. Nash's $2.75 million cap hit was more than the Leafs could fit under the salary cap but since the forward was injured and not expected back before the playoffs, the Leafs were able to stash him on LTIR with no impact on their salary structure.
The conditions of the traded pick were that it would upgrade to Toronto's 2022 sixth-rounder if Nash played 25% of their playoff games. He played just two games but the Leafs were eliminated in seven, meaning the conditions were met and Columbus now owns Toronto's 2022 sixth-round pick.
Nash didn't end up making an impact for the Leafs but it was still a worthwhile move to make given the circumstances.
Trade Grade: B-
April 11th, 2021
To Leafs
To Blue Jackets
To Sharks

From Sharks:

Stefan Noesen

Nick Foligno (50% retained)

From Leafs:

2021 1st round pick (TOR #25 – Corson Ceulemans)

2022 4th round pick (TOR)

From Blue Jackets:

Nick Foligno (50% retained)

From Leafs:

2021 4th round pick (TOR #121 – Ethan Cardwell)
Analysis: There was plenty of speculation leading up to the deadline in terms of what the Leafs would be looking to add to their forward group. Rather than going after the more offensively gifted Taylor Hall, they zeroed in on gritty forward Nick Foligno.
Foligno wasn't exactly a black hole offensively, at least not earlier in his career, but there was a clear disparity between what he would be bringing to the team and what a player like Hall would be able to provide. Given the offensive firepower already present on the Leafs' roster, Foligno did fill a more glaring need in terms of strong defensive play, physicality, and leadership.
The Leafs had to get creative to make the money work and having San Jose take on a portion of Foligno's remaining salary cost them an additional fourth-round pick on top of the first and fourth they were already sending to Columbus.
It was pretty much a disaster from there as Foligno was injured almost immediately and never returned to full health. He would play just seven regular season games for Toronto and battled through injury to get into four playoff games but he was a shell of the player the Leafs thought they were acquiring at the time of the trade.
Meanwhile, Hall was traded to Boston for a cheaper return and had a much more successful run with them down the stretch and into the playoffs. Adding insult to injury, both Hall and Foligno have since signed with the Bruins, though the Leafs may have dodged a bullet with that Foligno contract.
In a vacuum, this wasn't a bad deal. The process was sound, the player fit a theoretical need, and the price was in line with what high-end rentals typically fetch at the deadline, but context matters. The Leafs could have reportedly acquired a better player for a better price, and even though it was due to circumstances beyond their control, they never got much of a return on their investment in the player they did acquire.
Foligno was mostly a non-factor in Toronto and they were once again eliminated in the first round of the playoffs, rendering this deal a major dud.
Trade Grade: D
April 11th, 2021
| | |
| --- | --- |
| To Leafs | To Flames |
| David Rittich (50% retained) | 2022 3rd round pick (TOR) |
Analysis: Leafs fans surely remember the uncertainty that clouded the team's goal crease last season. Both Jack Campbell and Freddie Andersen had dealt with injury troubles while Andersen was in the midst of losing the starting job to Campbell.
Amazon's "All or Nothing" series documenting the Leafs' season gave us a bit of an inside look into how the team was navigating Andersen's injury situation and it was clear that even the team had no real timeline for when he would be able to play again. The Leafs simply couldn't afford to head into the playoffs with one healthy goaltender, especially one who had injury troubles of his own, and Dubas shelled out a third-round pick to acquire David Rittich with Calgary retaining half of his salary.
The entire situation only grew more frustrating when Rittich played just four games for the Leafs and Andersen was deemed healthy ahead of the playoffs. It was a steep price to pay for the return they got on their investment but Dubas' hands were tied and it would have looked a lot worse if Andersen or Campbell were unable to go during the playoffs and the Leafs had no option to turn to.
Trade Grade: C-
April 12th, 2021
| | |
| --- | --- |
| To Leafs | To Ducks |
| Ben Hutton | 2022 5th round pick (TOR) |
Analysis: Another move just ahead of the deadline to add some veteran depth heading into the playoffs. Hutton played just four regular season games for the Leafs but the team was thin on the blueline after their top-six options so a fifth-rounder was a decent price to pay for a bit of insurance.
Trade Grade: C
April 12th, 2021
| | |
| --- | --- |
| To Leafs | To Sharks |
| Antti Suomela | Alexander Barabanov |
Analysis: Much like the Lehtonen situation, Barabanov never really found his place in the Leafs' lineup after signing on as a KHL free agent the previous summer. The Leafs shipped him off to San Jose for Antti Suomela who is now playing for the Marlies on an AHL contract.
Barabanov has since carved out a regular role with the Sharks and has actually been a fairly productive player for them. He wasn't getting that opportunity in Toronto but perhaps he should have when you consider the other players they tried to shoehorn into top-six roles last season.
Trade Grade: D
July 17th, 2021
To Leafs
To Penguins

Jared McCann

Filip Hållander

2023 7th round pick (TOR)
Analysis: Hindsight is 20/20 and with half of the season in the rearview mirror, it looks like the Leafs probably should have protected McCann rather than Justin Holl in the Seattle expansion draft. It was the foresight in making this trade in the first place, however, that made it a win for the Leafs.
The Leafs had already made the decision to protect four defencemen in the expansion draft, meaning that forward Alex Kerfoot would be ripe for the taking. In an effort to protect themselves against losing Kerfoot, Dubas got to work contacting other teams about their unprotected forwards.
Pittsburgh had decided that McCann would be left unprotected and Dubas acquired him just days before the expansion draft, sending former Pens prospect Filip Hållander and a future seventh-round pick back the other way. Essentially, the acquisition of McCann ensured that the Leafs would retain one of him or Kerfoot rather than being left with a hole to fill up front and it was done at a minimal cost.
From Seattle's perspective, instead of being able to select both Kerfoot and McCann, they would now be forced to choose between the two. The Leafs didn't end up losing anything from their main roster in the expansion draft and though Holl has struggled this season, it was a reasonable decision at the time considering the role he filled the season prior and what the market for free agent defencemen ended up being.
Trade Grade: A
July 26th, 2021
| | |
| --- | --- |
| To Leafs | To Bruins |
| Future Considerations | James Greenway |
Analysis: Another big defenceman drafted in the Mark Hunter years who the team had no plans for. Greenway, now 23, is currently playing in the ECHL.
Trade Grade: C
July 28th, 2021
| | |
| --- | --- |
| To Leafs | To Wild |
| Brennan Menell | 2022 7th round pick (TOR conditional) |
Analysis: Menell had been a productive AHL defenceman and as a 23-year-old, finished the 2020-21 season as the second-highest scoring defenceman in the KHL while on loan from Minnesota.
Whether he was unwilling to sign a new contract with them or he was no longer in their plans, they made the decision to move him to the Leafs in exchange for a conditional seventh-round pick. The conditions of the pick were that Minnesota would only receive the pick if Menell played 30 NHL games for the Leafs this season.
Menell had a solid showing in the preseason for the Leafs but was a victim of the numbers game and ended up being sent to the Marlies. He has been injured for much of the season and while he still looks like a potential depth option, his chances of getting into 30 games the rest of the way are almost non-existent.
In the end, it looks like the Leafs have added a high-upside offensive defenceman to their system for absolutely no cost.
Trade Grade: B+
November 16th, 2021
| | |
| --- | --- |
| To Leafs | To Blues |
| Kyle Clifford | Future Considerations |
Analysis: The Leafs reportedly tried to re-sign Clifford after his brief first stint with the team so when he cleared waivers for the Blues, it was an easy decision to welcome him back to the organization in a depth role.
Clifford has since split time between the Leafs and Marlies, and though he likely isn't one of their top-12 forward options, he is still valuable depth who has been there and won it before. "Future considerations" is a broad term but it looks like the Blues returned the favor from a couple of years prior when the Leafs handed them Dakota Joshua for the same return.
Trade Grade: C
December 9th, 2021
| | |
| --- | --- |
| To Leafs | To Blackhawks |
| Chad Krys | Kurtis Gabriel |
Analysis: Gabriel was signed as an unrestricted free agent in the summer but never really had much shot of cracking the Leafs' roster. After a couple of months in the minors, the Leafs sent him to Chicago for 23-year-old, former second-round pick Chad Krys.
Gabriel has played two games for the Blackhawks to this point but once again appears relegated to AHL duty. Shipping out an expendable veteran forward for a previously highly-touted prospect was a worthwhile swing, even if Krys never grows into an NHLer.
Trade Grade: C+
February 19th, 2022
To Leafs
To Coyotes

Ryan Dzingel

Ilya Lyubushkin

Nick Ritchie

2025 2nd round pick (TOR conditional)
Analysis: Dubas hit on free agent signings in Michael Bunting, David Kämpf, and Ondřej Kaše this past offseason but the two-year, $5 million contract he signed Nick Ritchie to was a swing and a miss.
Despite receiving ample opportunity playing alongside the team's best forwards, it quickly became evident that Ritchie was not going to be a fit on the Leafs' roster. It took 27 games before he scored his first goal as a Leaf and he routinely put the team in tough spots with bad penalties or lackadaisical efforts on the ice.
He was eventually put on waivers and after going unclaimed, was sent to the AHL for the first time since 2016. The relationship clearly hadn't worked out for either party and Ritchie's salary was handcuffing the Leafs, not only this season but heading into next season as well.
Even in the minors, $1.375 million of Ritchie's $2.5 million cap hit was still counting against Toronto's salary cap. Moving that money was going to be imperative in order for the Leafs to make any worthwhile additions ahead of the trade deadline and they couldn't afford to have dead money on next year's cap with players like Jack Campbell, Rasmus Sandin, and Ondřej Kaše in need of new contracts.
The Leafs found a willing taker in the Arizona Coyotes and actually addressed a roster need in the process. Rather than retaining any Ritchie's salary, the Leafs attached a conditional draft pick to him and received bruising defenceman Ilya Lyubushkin along with former 20 goal scorer Ryan Dzingel.
Lyubushkin is a pending unrestricted free agent and his $1.35 million cap hit replaces the money that was still being tied up with Ritchie in the minors. He is expected to play on the right side with one of Jake Muzzin or Rasmus Sandin once he joins the team and acquiring him well in advance of the deadline will give the Leafs time to address whether they need to make further additions to the blue line. Dzingel was placed on waivers the day after the trade and if he clears, his entire salary can be buried in the minors while he serves as an experienced depth option.
For the conditional pick Toronto sent the other way, Arizona has the choice between the Leafs' 2023 third-rounder or their 2025 second-rounder. While those are valuable assets, they don't really factor into what the Leafs are doing now and trading them away shouldn't severely diminish the pool of assets Dubas still has available for upgrades before the deadline.
The Ritchie signing didn't work out but Dubas deserves credit for identifying a mistake and rectifying it in an efficient manner. That the Leafs were able to ditch his entire contract and receive useful pieces in exchange for a pick that won't factor into an NHL roster for years to come is a clear win.
Trade Grade: A
Total Trades: 46
Average Trade Grade: C+
Overall, Dubas has done fairly well in the trade market during his time as the Leafs' GM. If you remove all those inconsequential minor league deals like swapping Andrew Nielsen for Morgan Klimchuk, his average trade grade improves to B-. He has had a few misses here and there but the same can be said for every general manager in sports.
His best trades have typically come around draft time or in the weeks before the trade deadline and he has acquired core members of his team like Jake Muzzin, Rasmus Sandin, and Jack Campbell, as well as some of their top prospects like Rodion Amirov, Roni Hirvonen, and Topi Niemelä through trade.
Dubas has also displayed creativity in a number of deals, whether it be acquiring a pick for jumping in to retain salary as the third team in the trade, protecting himself from a potential contract standoff with Mitch Marner by acquiring David Clarkson's contract, or ensuring their NHL roster would stay mostly intact through the Seattle expansion draft by acquiring Jared McCann for pennies on the dollar.
He still has his work cut out for him as we approach this year's trade deadline with the Leafs once again looking to bolster their lineup in pursuit of a breakthrough in the playoffs but his overall body of work to this point suggests that Dubas will exhaust every avenue to give his team the best chance for success.
(Statistics from EliteProspects.com)
(Contract information from PuckPedia.com)