Reviewing the Maple Leafs' 2022 NHL Draft class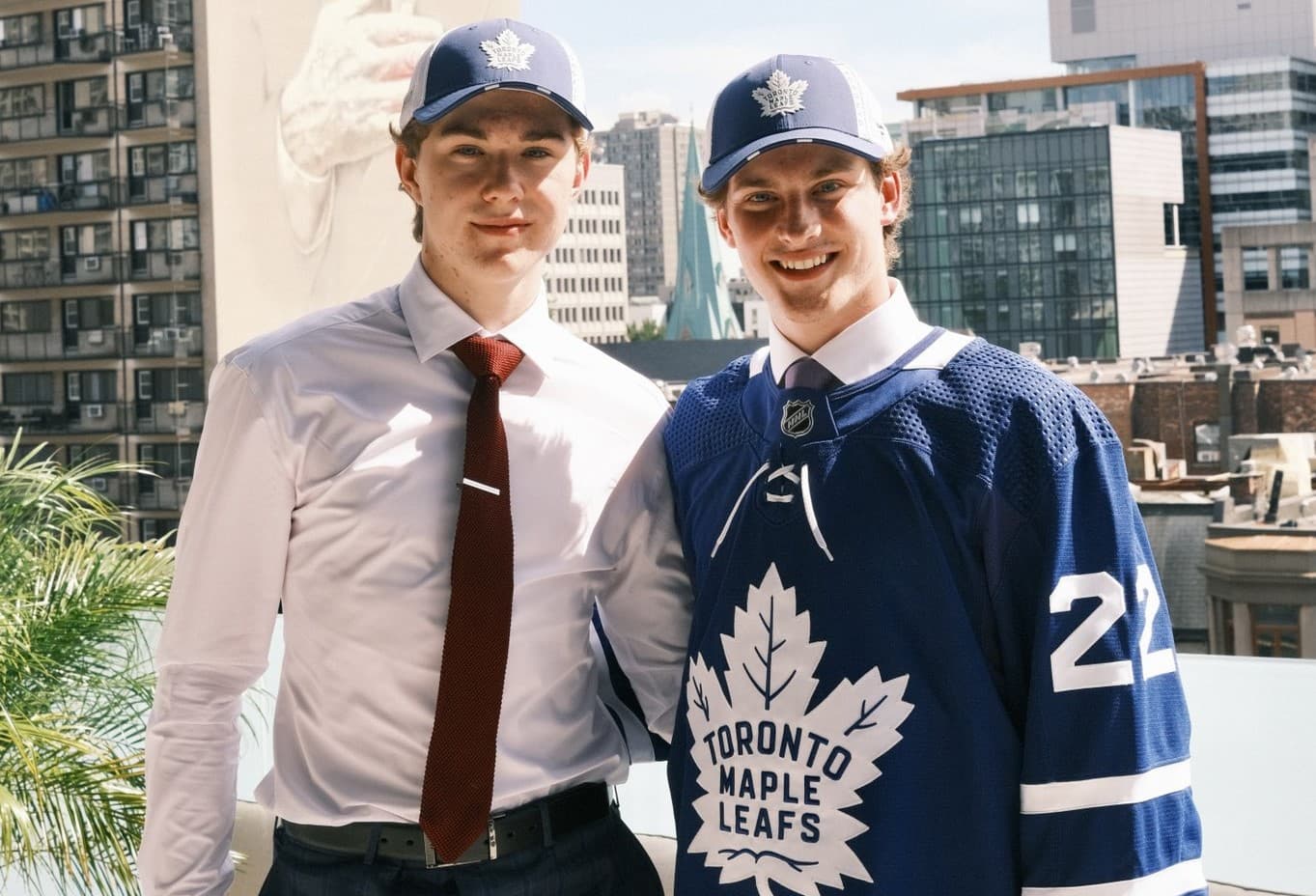 Photo credit:twitter.com/MapleLeafs
The Leafs went into the 2022 NHL Draft holding three picks but after a handful of trades on the draft floor, walked away with five new prospects in their system.
Kyle Dubas and his scouting staff – led for the first time by new Director of Amateur Scouting Wes Clark – were originally slated to pick 25th overall but when it became clear that the player they were targeting with that selection would no longer be available, they packaged that pick alongside embattled goaltender Petr Mrázek in order to deal his contract to the Chicago Blackhawks. There has been no confirmation, and there likely never will be, but it is believed that the player the Leafs were hoping would fall to the 25th pick was Liam Öhgren who was chosen by the Minnesota Wild at 19th overall.
When all was said and done on the opening night of the draft, the Leafs were without a pick but had shed the entirety of Mrazek's contract in exchange for moving down 13 spots from 25th to 38th overall where they eventually selected Kamloops Blazers forward Fraser Minten early on day two.
The Leafs' next scheduled pick was in the third round at 79th overall but once that pick rolled around, the Leafs opted to trade down to the 95th slot and acquire a fifth-rounder to help recoup some of the draft capital they had already traded away in previous deals. Ultimately, it seems the club was able to land the player they wanted and they selected hometown boy Nicholas Moldenhauer of the Chicago Steel in the 95th slot.
Dubas wasn't done there, however, and made another move to get back into the fourth round, shipping out the Leafs' 2023 fourth-round pick for Nashville's fourth-rounder this year. With the pick, they selected towering netminder Dennis Hildeby out of Färjestad in Sweden.
With the 135th pick that was acquired in the trade down from the 79th spot, the Leafs nabbed overaged Russian forward Nikita Grebenkin out of Magnitogorsk's system before landing the sliding Brandon Lisowsky from the Saskatoon Blades with their final pick in the seventh round.
---
Fraser Minten (Round 2, 38th overall)
C | Kamloops (WHL) | 6'1″ | 185 lbs | Shoots: L
The Leafs went a little bit off the public board with their first pick of the 2022 draft, selecting Fraser Minten 38th overall. He landed in the 74th spot on TLN's consolidated rankings with his highest ranking being 47th on Bob McKenzie's list. Given Toronto's lack of draft capital and their propensity for trading down to add more picks, it is safe to say that Minten is a player the organization had really zeroed in on – public rankings be damned.
"We think there's a lot of upside there," Dubas said when asked about the selection of Minten. "He hasn't played at a high level of hockey for that long."
One of the youngest players in the 2022 draft class, Minten just turned 18 days before the draft. He registered 20 goals and 35 assists for 55 points in 67 regular season games but really turned it on down the stretch, playing at a point per game pace and tallying nine goals to go along with 16 assists in his final 25 games. He carried that strong play into the postseason and helped lead the Blazers on a deep run, notching six goals and 10 assists in 17 playoff contests.
Minten is a two-way forward with a great compete level who oozes character and intelligence. He gradually took on a larger role on a strong Kamloops team over the course of the season, leading by example with his responsible play and willingness to engage physically.
Not only will he use his body to separate opposing players from the puck, but he shows good protection skills along the boards where he is able to scan the ice and make plays off the wall into the middle of the ice. He shares some similarities with last year's second-round pick, Matthew Knies, in the way that he competes, gets to the middle of the ice, and shoots the puck.
Minten has a heavy release that comes off his blade quickly on the curl and drag, he is a one-timer option on his off-wing, and he has good one-touch ability to quickly pounce on loose pucks and put them on net. He doesn't necessarily show elite spatial awareness in the offensive zone but he works hard to get into scoring areas where his wrist shot can be a real weapon.
Minten isn't an elite playmaker but he has shown decent vision and he has good hands in tight spaces that allow him to make plays under pressure to find teammates in open space. His skating is still a work in progress as well but he knows how to utilize his teammates to play a give-and-go game and added quickness will only make him a more dangerous player in that regard.
While the Leafs are betting on Minten's upside and growth potential, there is an element of safety with this pick as well. If everything clicks for him, he could eventually grow into an impactful middle-six center who can play in all situations while chipping in with some secondary scoring and even if he doesn't reach his offensive ceiling, there is a strong enough base of skills in his game for him to become a high-end bottom-six NHL forward.
---
Nicholas Moldenhauer (Round 3, 95th overall)
C/W | Chicago (USHL) | 5'11" | 170 lbs | Shoots: R
With their second pick of the 2022 draft, the Leafs selected Mississauga native Nicholas Moldenhauer 95th overall. He put up 43 points in 41 games during the regular season and added three points through four games representing Canada at the U18 World Championships to close out the campaign.
At first glance, the pick appears to represent good value as Moldenhauer landed the 80th spot in our consolidated rankings with his highest ranking being number 40 on Scott Wheeler's list.
Moldenhauer is a player that the Leafs' front office is plenty familiar with. Newly appointed assistant GM Ryan Hardy was with the Chicago Steel last year when Moldenhauer debuted for the club and Hardy would have played a big role in bringing him to the USHL after he was drafted by the Ottawa 67's in the first round of the 2020 OHL draft.
Moldenhauer is a feel-good story who had an incredibly difficult draft year. First, he missed the beginning of the season with a "mono-like" virus that doctors were unable to pin down, causing him to spend time in the hospital where he lost a significant amount of weight. After recovering from that, Moldenhauer returned to Chicago's lineup only to suffer a horrifying injury on his first shift. He was clipped up high with the skate of an opposing player, leading to a gash that ran from his chin to his ear. The injury resulted in emergency surgery and upwards of 175 stitches to seal the wound but it was very close to being a lot worse than that.
He would return to the lineup once again about a month later and it appeared as though he hadn't skipped a beat.
Moldenhauer is a supremely skilled and creative offensive player who plays a responsible game away from the puck as well. He has incredibly slick hands and can execute difficult moves at full speed, regularly stringing pass receptions into slippery dekes or quick return passes. He has a great motor and never stops hunting for space in the offensive zone, darting into open space to position himself for a return feed after dishing to a teammate.
He isn't the biggest player but Moldenhauer doesn't shy away from the difficult areas, utilizing outstanding contact balance to play through traffic and get himself into scoring areas. He has the puck skills to beat defenders and create his own chances but his shot also comes off his blade with power, making him a versatile scoring threat.
Moldenhauer will have to continue to add pace, as well as physical strength while learning to pick his spots to attack a little better but there is no questioning his offensive talent. With the difficult circumstances he was faced with in his draft year, don't be surprised if he breaks out in a big way in the USHL next season.
---
Dennis Hildeby (Round 4, 122nd overall)
G | Färjestad (SHL/J20 Nationell) | 6'6″ | 234 lbs | Catches: L
The Leafs traded into the fourth round and selected 20-year-old netminder Dennis Hildeby out of Färjestad with the 122nd overall pick. Hildeby had already been passed over in the draft multiple times but put up impressive numbers over a limited sample of games in 2021-22. In 12 games at the J20 level, he put up a 2.80 GAA and a .931 SV%. He matched that .931 SV% to go along with a 1.93 GAA in seven appearances in the SHL.
The first thing that stands out about Hildeby is his size, standing at 6'6″ and weighing over 230 pounds. He uses that size well to take away a lot of net and cut down angles on opposing shooters but can sometimes get caught overcommitting, taking himself out of the play. Hildeby shows good athleticism for such a large goaltender, however, and can recover to make difficult saves with his length and body control.
Hildeby is an obvious project – as any goaltender is – but the fact that he is already a little further along in his development at almost 21 years of age might have actually been an enticing factor for the Leafs. He is under contract with Färjestad for another two years but if all goes well, he could be ready to compete for NHL minutes not long after coming over to North America.
---
Nikita Grebenkin (Round 5, 135th overall)
W | Magnitogorsk (KHL/MHL) | 6'2″ | 183 lbs | Shoots: L
The Leafs dipped into the re-entry pool once again with the 135th overall pick, selecting Russian winger Nikita Grebenkin (or Grebyonkin if you prefer) out of Magnitogorsk's program. Grebenkin turned 19 in February and got into just one game for his KHL club but was a big-time producer at the junior level, netting 17 goals and 47 assists in 58 regular season games. He went on to add two goals and 11 assists through nine MHL playoff games.
Primarily a playmaker, Grebenkin displays good vision and creativity in the offensive zone. He is constantly scanning the ice for a passing option and can find teammates with slick passes through traffic in a timely fashion. Grebenkin is a high-end puck handler who not only has the skill to beat defenders one-on-one but shows advanced puck protection habits along the boards where he can create chances off the wall.
While he does most of his damage as a passer, Grebenkin also has a bit of a nose for the net where he can make goaltenders look foolish in tight. Beyond that, he has a quick and accurate release that can beat goaltenders from distance but he usually looks for a passing option when presented with time and space.
Grebenkin is a long-term project who will have to clean up his skating stride and improve his play away from the puck but he has a solid offensive skill set and should push for steadier playing time in the KHL next season.
---
Brandon Lisowsky (Round 7, 218th overall)
W | Saskatoon (WHL) | 5'9″ | 172 lbs | Shoots: L
With their final pick in the 2022 draft, the Leafs pounced on a player that many had forecasted to be chosen much earlier in the draft in Saskatoon Blades winger Brandon Lisowsky. He was the 91st ranked prospect in TLN's consolidated rankings, landing as high as the 53rd spot on McKeen's final list.
One of the WHL's most productive draft-eligible players, Lisowsky finished behind only Jagger Firkus and Matthew Savoie with 33 goals in 68 games. He finished the regular season with 58 points before adding another five points in five playoff games.
Lisowsky's greatest weapon is his shot, or repertoire of shots. He is an elite shooter who can release it with power from a variety of stances and hand positions, adding a layer of deception to an incredibly heavy shot. He can shoot in stride or off of a quick cut into the middle of the ice and he deftly changes his release angle to keep goaltenders guessing. He also has a heavy one-timer that makes him a dangerous powerplay weapon and he doesn't need a lot of time or space to get an accurate shot off.
Lisowsky doesn't have blazing speed but he has great agility and edgework to go along with a quick first step that helps him separate from opposing defenders and find open space. He lacks size and strength, however, and is a bit too straight-line oriented at this point in his development.
In order to make good on his potential as a pro-level scorer, Lisowsky will have to learn to utilize his teammates more efficiently while improving his defensive play and consistency. All in all, well worth the swing in the seventh round.
---
Though they entered the draft with just three picks, the Leafs were able to walk out of Montreal's Bell Centre with five new prospects in their pipeline, including four forwards and one goaltender. They were without a high-end pick and as a result, weren't able to land an elite-level prospect, but their 2022 draft class features a solid blend of NHL projectability and high-upside intrigue.
Now, Kyle Dubas and his staff will shift their focus to development camp where the club's newest prospects will step onto the ice for the first time wearing the Leafs' crest and begin their NHL journies in earnest.
(Statistics from EliteProspects.com)
PointsBet is live in Ontario. 
Get started here
.