Morgan Rielly has picked up right where he left off with a hot start to the 2023-24 season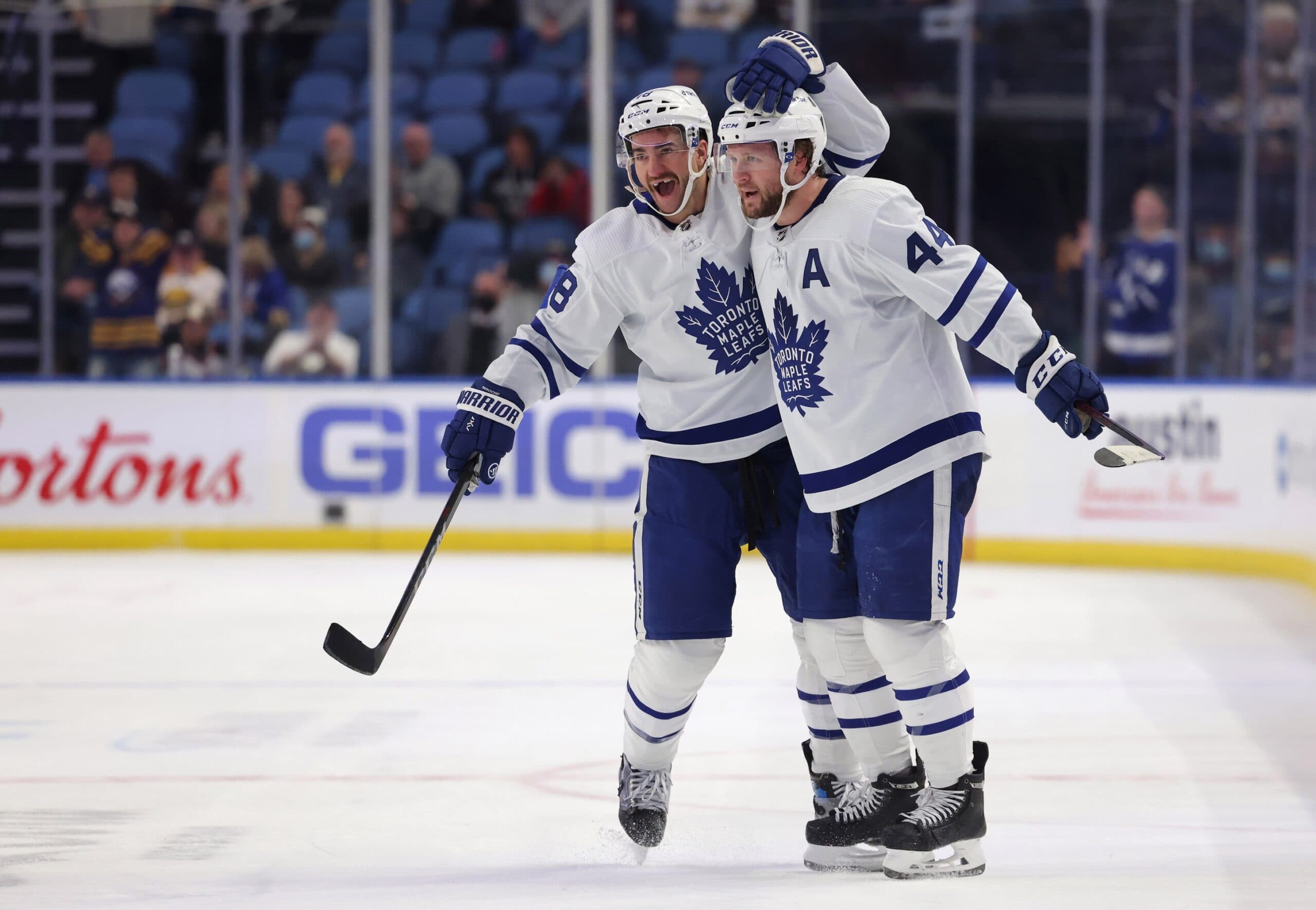 Photo credit:© Timothy T. Ludwig-USA TODAY Sports
When you look at the current Maple Leafs roster top to bottom, it's hard to come up with anybody who defines what it means to be a Leaf better than Morgan Rielly does. 
Here's a guy who was drafted fifth overall in 2012, hailing from a family of Leafs fans despite his Western Canada upbringing, who has genuinely been there for the good, the bad, and the ugly. He was subject to top-pairing minutes on some putrid Leafs teams, including the last-place finishers that allowed them to draft Auston Matthews, and has re-upped to remain a Maple Leaf twice, with his current contract taking him until he's 35 years old. 
Heading into what's now his 11th NHL season, all with the Maple Leafs, he's never been part of  a contract standoff, and despite never having a "C" on his chest, he's been a consistent leader during his time with the organization. 
The reason I've launched into a Rielly lovefest right off the bat is because sometimes, there are these moments where I just sit back and appreciate a player for what he does. It happened with Matthews after he scored his second hat-trick of the season in his second game, and after Rielly's performance against the Stars, it's happening again with him. 
It's not just last night's performance, though. I'm taking things back to last season, where until the end of the season, it seemed like Rielly was the subject of Leafs Nation's favourite pastime; discourse. And to be fair, it was certainly justified at times. The larger the number next to the dollar sign on your contract, the more you'll be subject to criticism when things aren't going well, and given that he was in the first year of his eight-year extension with a $2 million annual raise, this was the case for Rielly. That said, context is necessary for his struggles last season.
If you look back to early last season, you'll remember that the Leafs' defensive corps was in shambles. Rielly was forced to cover lots of ground with Jake Muzzin, T.J. Brodie, and Timothy Liljegren all injured for parts of those first few months, and he suffered an injury himself at one point. The result was a lot of shuffling defensive partners, a lot of extra ice time, and thus, an inability to develop chemistry with any partners – a recipe for disaster. 
Once the page turned to the playoffs, however, he was a new player. He popped off for four goals and 11 points in 11 games, including the Game 3 overtime winner against Tampa Bay, the game-tying goal in Game 4, and the opening goal in Game 5. He was playing the style of game he grew up playing, paired with an extra layer of confidence, and he looked exactly like the type of player the Maple Leafs envisioned when they selected him fifth overall in 2015. 
Rielly's been the same player so far to kick off the 2023-24 season. In seven games so far, he's got two goals and five assists for seven points. After Jake McCabe left with an injury last night, he put in over 26 minutes of work in his absence. Consider as well that he's been bumped down to the second power play unit in an effort to get new signing John Klingberg's game up to speed, reminiscent of 2019-20 when he did the same thing to get Tyson Barrie going. Talk about a team player. 
He's had some bouts with inconsistency throughout the course of his career, but there's been one consistent to the good parts – his partner. 
Look back to his breakout season in 2018-19, where he scored 20 goals(!) and added 52 assists for 72 points in 82 games. Nearly the entirety of that season was spent alongside ever-so reliable veteran Ron Hainsey. Now look at his 2021-22 season, where he nearly mirrored that performance with 68 points in 82 games. He played alongside T.J. Brodie all year. Now, what about the 2023 playoffs? Luke Schenn was riding shotgun with him from the start.
When Rielly was off his game early last season, consider that one day his partner was Justin Holl, Timothy Liljegren the next, and Jordie Benn the one after that. It's hard to develop chemistry and feel confident enough to play your game when you've got a different face on your right side every night.
It's almost like, if you give Rielly a consistent, defensively sound partner to play with, somebody who can stay home and man the fort while he jumps into the rush and plays his game, he'll thrive – what a wild concept. 
Rest assured, there are likely still going to be moments this year where he'll have a defensive gaffe and make you scratch your head. It's like that with any offensive defenceman. But when things get rough, it's worth a reminder that Rielly is a lifetime Leaf who wants to be here and nowhere else. And when he's utilized properly, he's one of the best puck movers in the league. 
Right now, he's flying the same way that he was in the playoffs, so it's easy to support him. But even when the going gets tough, it's worth a reminder that nobody represents the word "passion" quite like Morgan Rielly.